The guitar has made such a huge impact on all the genres. While it's mostly associated with blues, rock, and especially metal music, it spread far into other territories of the music world.
However, is it also possible to base rock music, for instance, on some other string instruments?
No, we're not talking about the bass guitar, but of some of the more "unconventional" choices here. The instrument in question is mandolin. And yes, it's been used in rock music on several occasions.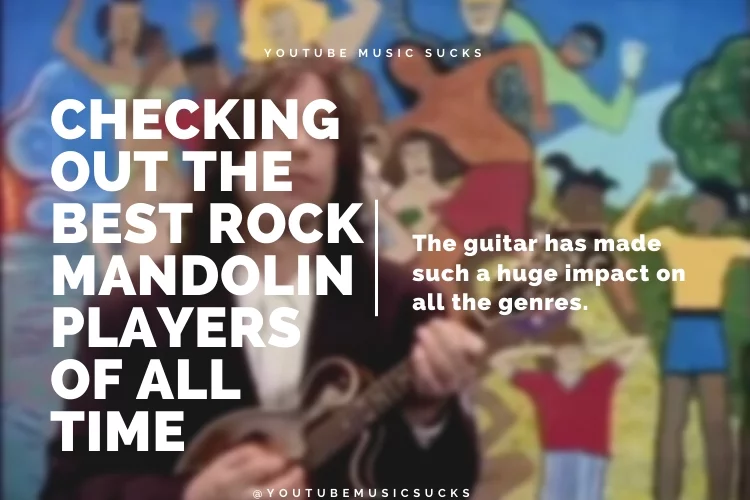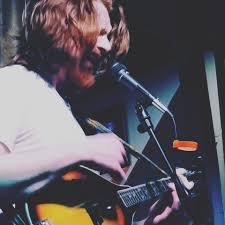 As you may already assume, it's not exactly the first thing that comes to mind if we're talking about rock music. This fine instrument goes a way back to the 18th century when it was slowly developed in Italy.
While there have been a few versions along the way, what we refer to mandolin now is actually Neapolitan mandolin. In modern music, it's also referred to as American bluegrass mandolin, since it found a lot of use in bluegrass music.
The standard mandolin has a total of eight strings, four choruses of two strings, meaning that they're all doubled with another string that's exactly the same pitch. These choruses are then tuned in perfect fifths.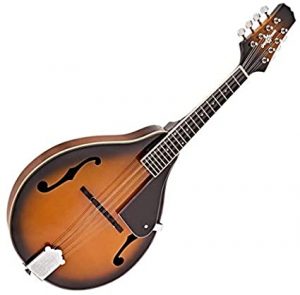 Its peculiar tone is very fitting in genres like folk, bluegrass, sometimes even country music. But it's interesting how the mandolin found its place in rock as well.
This is why we decided to go more into this topic and bring you the best mandolin players in this particular genre.
You just need to bear in mind that in almost all the cases these musicians are primarily guitar players and that mandolin was just a thing they decided to do on the side. So let's dig in and explore it.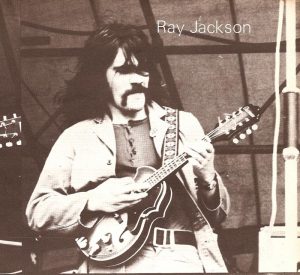 Rayjackson-large
Ray Jackson
Lindsay Raymond "Ray" Jackson, mandolin and harmonica player extraordinaire, must make this list, if only for his contributions to Rod Stewart's Every Picture Tells A Story, where he plays mandolin on the popular hit, Maggie May, not to mention Mandolins Wind, and Farewell, from the same album.
Oddly enough, his contributions to Every Picture Tells A Story are referenced in the following way: "The mandolin was played by the mandolin player in Lindisfarne. The name slips my mind." Well, then!
And, there was some contention here, because even though Ray played the Maggie May's popular hook, which he made up on the spot in the studio, he was only compensated for the session, which was at the time, only £15.
Speaking of Lindisfarne, this was Ray's folk rock band which he formed in 1970, and left in 1990, which saw him doing co-lead vocals with Alan Hull, where he was nicknamed "Jacka".
Ray also played mandolin on Jack the Lad's third album Rough Diamonds, as well as on Chris de Burgh's debut album Far Beyond These Castle Walls.
The man is a consummate mandolin player, but the inescapable Maggie May will probably always be what he is best known for, despite the fact that he vamped it on the spot at the time. Incredible!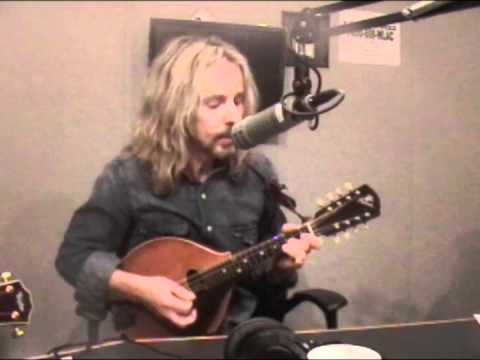 Tommy Shaw Mandolin
Tommy Shaw
Next, we take a look at a renowned musician from a classic rock band. Although not the founding member of Styx, Tommy Shaw has been one of the band's crucial parts since the mid-1970s.
We've all heard his great guitar skills, vocals, as well as songwriting talents. However, Shaw is an extremely versatile musician and has played with other bands as well, including Damn Yankees and Shaw Blades.
We also got the chance to hear him do a few solo albums. And he's also a skilled mandolin player as well.
Although not that often present in their music, Styx implemented this fine instrument in their legendary song "Boat on the River." This is a true example of how mandolin can work in such settings.
In case you don't think it fits rock music, just take a listen to the aforementioned hit and how it fits in. You'll be surprised.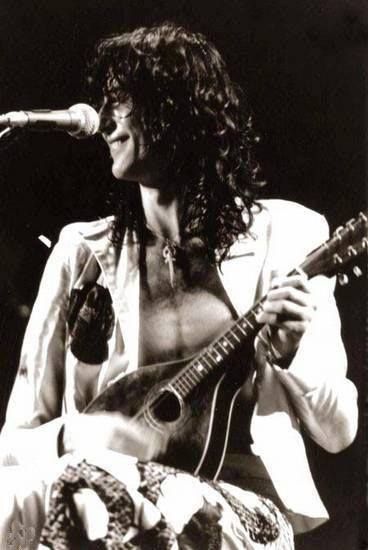 Jimmy Page Mandolin
Jimmy Page
Of course, Jimmy Page is a musician who needs no further introduction.
Starting his career in the 1960s, he honed his craft by playing as a session musician. And this was far from a simple task back in those days, as resources were pretty limited and guitarists were supposed to deliver good stuff right there on the spot.
However, his creative side was not really developing there, so he eventually formed a band with Robert Plant, John Bonham, and John Paul Jones.
Led Zeppelin was not only one of the bands to pioneer heavy metal music, but they also heavily experimented with different elements.
Especially Jimmy Page who loved implementing some unexpected instruments. One of his choices was the mandolin, which he used in a piece like "The Battle of Evermore."
What's more, Page continued to express his love for this instrument during his other projects.
He even has a very special triple-neck acoustic guitar, with the top part acting like the mandolin. Now, that's something different.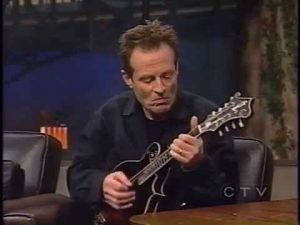 John Paul Jones Mandolin
John Paul Jones
Although Jimmy Page is often thought of as the creative mastermind behind Zeppelin's greatest riff, the massive multi-instrumental talent that is John Paul Jones cannot be ignored or underestimated.
Although Jimmy and Robert and especially John Bonham were clearly into the trappings of the rock star life and all of its side-effects, John Paul Jones was the most "modest" member of the band, casually adding new dimensions to the Zeppelin sound behind the scenes, including his amazing Mellotron and keyboard parts, not to mention mandolin.
He even sometimes played mandolin on The Battle of Evermore and sang Sandy Denny's part.
Over the years, John Paul Jones guested in numerous bands, playing bass with a variety of artists back in the day, like Madeline Bell, Roy Harper, Wings, and later, Lenny Kravitz, Jars of Clay, and Foo Fighters.
Speaking of Foo Fighters, he played mandolin on two of their tracks from the In Your Honour album, "Miracle", and "Another Round". He's also played mandolin with Gillian Welch, and Uncle Earl, and all female bluegrass group.
Dave Grohl, also having joined up with John Paul Jones in Them Crooked Vultures, is a huge fan of the man, and attests to his brilliance any chance he gets.
Overall, it is clear that John Paul Jones is a mandolin player of note, and definitely worth putting on this list!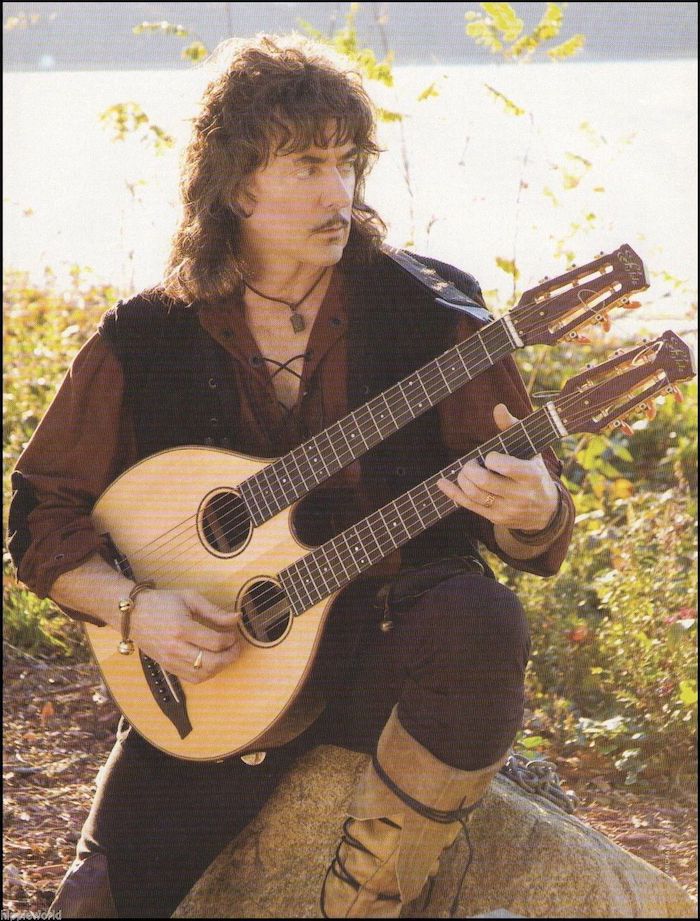 Richie Blackmore Mandolin
Ritchie Blackmore
Surprisingly enough, his "rival" from Deep Purple, Ritchie Blackmore, is also very passionate about the mandolin.
Although a musician that was responsible for shaping heavy metal music, Blackmore too had a fascination with many other music genres.
After exploring his other passion, which is medieval music, he began implementing mandolin in a project like the Blackmore's Night.
The group's entire opus combines medieval, folk, and rock music into a very peculiar-sounding whole.
Yes, it does seem a bit weird to see a musician known for blowing up his equipment on stage playing this kind of instrument.
But don't get fooled – Ritchie is as good on it as he is on guitar. This is exactly one of the best examples of his greatness as a musician and a performer.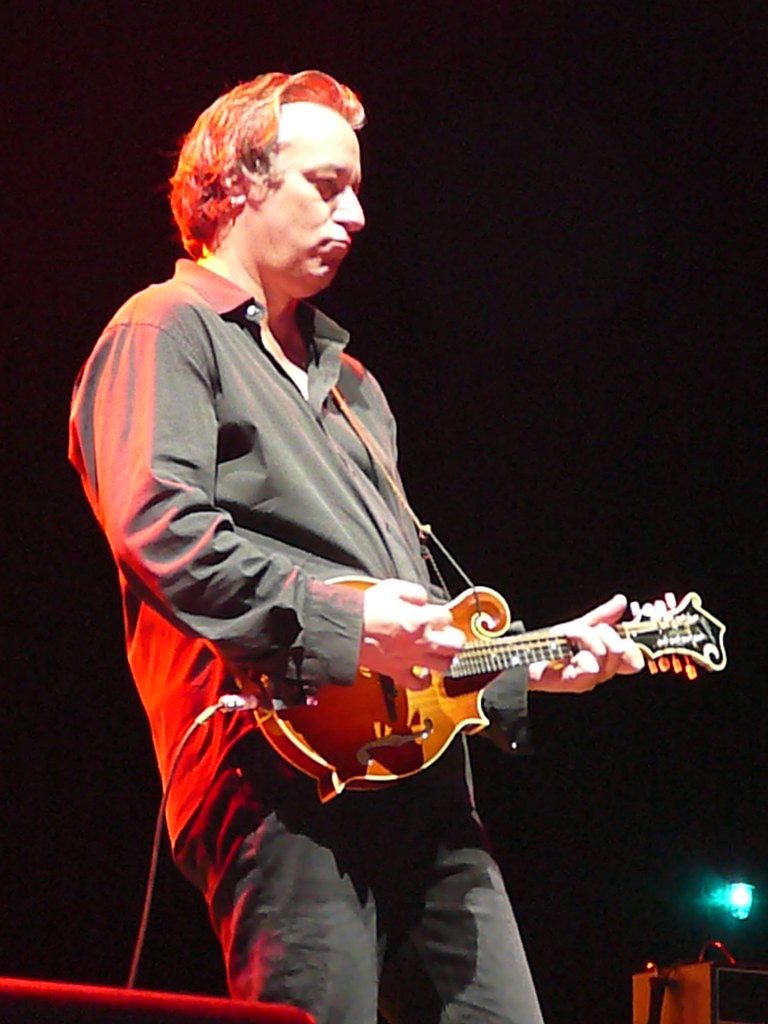 Peter Buck Mandolin
Peter Buck
R.E.M. started their career way back in the 1980s. However, it was sometime in the early 1990s when the band really blew up.
And although they're mostly remembered for their vocalist Michael Stipe, all the other members have their important roles, both in the creative process and their overall sonic output.
Here, we will focus on their guitar player and one of the band's creative forces, Mr. Peter Buck.
Unlike many other mentions on this list, Peter was way more focused on the mandolin compared to them. In fact, there are whole R.E.M. songs that revolve around this instrument.
The best and the most famous example is probably "Losing My Religion."
Interestingly enough, the main riff was written by Peter when he was just fooling around on his mandolin.
At that point, this instrument was just a simple way to get him out of the same old routine with guitars.
But it eventually became one thing he's very well known for, and that's being a mandolinist in rock music.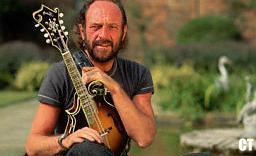 Mandolin Ian Anderson
Ian Anderson
It would be an understatement to say that Jethro Tull starter a real revolution in rock music.
The boundaries were pushed, and Ian Anderson led them into some intricate progressive waters, while also retaining some hard rock elements in there.
The band serves as an inspiration to musicians of all styles, even heavy metal. (They even got that unexpected Grammy Award for a metal album, but that's a whole different story.)
Talking about Ian Anderson, he's pretty much built his reputation as a flute player. He's quite often remembered as that one guy who decided to play flute in a rock band.
However, this was not the only unconventional choice in his music career. The famous Scottish musician is a multi-instrumentalist, and one of his choices is a mandolin.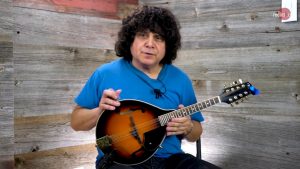 Ry Cooder With Mandolin
Ry Cooder
Although not reaching the megastardom status as some other of his six-string-wielding colleagues, Ry Cooder is still remembered by the biggest guitar lovers out there.
What's more, he showed his versatility as a musician by delving into so many different genres. What's more, he's also scored Wim Wenders' 1984 film "Paris, Texas."
But although his guitar skills are unprecedented, we'd like to point out that he's also fairly experienced with a mandolin.
But his most famous work on this particular instrument comes from the late 1960s. Back then, he was working as a session musician.
And none other than The Rolling Stones invited him to do his parts on the "Let It Bleed" album. To be more precise, he did his parts on "Love in Vain" from the record.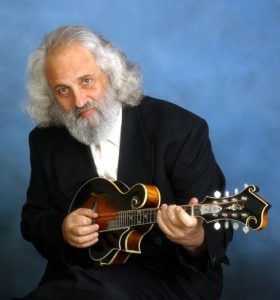 David Grisman
David Grisman
David Grisman comes as the only musician on this list that plays the mandolin as his primary instrument.
He's one of the biggest names in this world, covering many different genres, including bluegrass, jazz, and folk.
However, he also worked with a few rock bands over the years, lending his talents on studio recordings.
One of his earliest bands was Earth Opera, which focused mostly on the psychedelic rock. However, he's also known for joining in with Grateful Dead and their 1970 album "American Beauty."
On it, he performed the mandolin for two tracks, "Friend of the Devil" and "Ripple."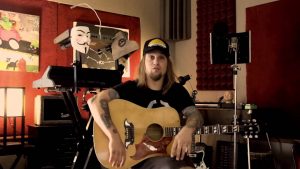 Christopher Thron Of Blind Melon
Christopher Thorn
Blind Melon is a very unusual band that came out of that whole grunge and alternative rock movement that emerged in the early 1990s.
Although not achieving the same status as some other bands from the era, they still had some pretty great music to offer.
But, of course, our talk here is about the best mandolin players in rock music. In the mid-1990s,
Blind Melon recorded an album called "Soup" which was heavily inspired by traditional Dixieland jazz.
This is why they decided to include some other instruments in there. So their guitar player Christopher Thorn took up the task of playing mandolin and banjo.
And we gotta say, he really nailed it on this record.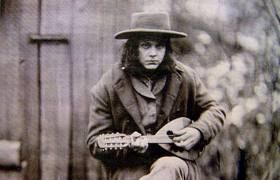 Jack White And His Mandolin
Jack White
Wait, Jack White? Playing mandolin? That's right.
While we all know Jack White as a guitar player with a very simple and effective approach to music, he's also experimented with a lot of other styles and instruments over the years.
And he's especially fond of his Black Gibson F-4 black mandolin that he implemented on occasion.
One of the examples is "Little Ghost" from The White Stripes' "Get Behind Me Satan" album.
It's really exciting to hear such a famous rock musician playing mandolin. Really mindblowing when you think of it.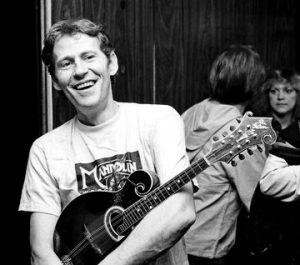 Levon Helm Mandolin
Levon Helm
You don't often fund a musician that's as energetic, creative, and innovative as Levon Helm. What's more, he also became known for his work as an actor.
However, he's mostly famous for being the drummer of the Canadian-American band cleverly named The Band.
But the thing about Levon, he was an extremely talented multi-instrumentalist. He was proficient on guitar, vocals, harmonica, and mandolin.
Of course, The Band was very innovative, with the members often trying out different instruments and other approaches.
When it comes to Levon, we can hear his great mandolin work on "Rag Mama Rag" from the group's self-titled second album.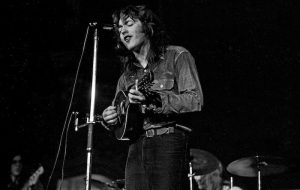 Rory_Gallagher_&_mandolin
Rory Gallagher
We could go on for days explaining the greatness of Rory Gallagher.
The legendary Irish musician made such a huge impact and has always been cited as the biggest influence, even by the almighty Gary Moore himself.
He was even called up by The Rolling Stones, but just ended up not taking the gig, being confident in his own solo career.
But what people don't know is that the legendary blues-rock musician was also proficient on the mandolin, as well as a few other instruments.
On occasion, he also played it live, pushing the conventional boundaries of the genre.
A great example of his abilities to implement mandolin as a blues-rock instrument can be heard on "Going To My Hometown."
Thanks for reading folks! Did we miss anyone, let us know in the comments!
Also check out: