There are a few different styles of mandolin available on the market, each of which evolved from the early musical models of the lute in the Middle Ages.
Typically players will use either an A style or F style, but there are other similar instruments invented for the purpose of mandolin orchestras, which is an orchestra that features primarily instruments from the mandolin family.

The two most commonly found mandolin types in current times include the A style and F style mandolin. You can also find the occasional antique bowl-back mandolin.
With this article we will delve into some brief history on how the different shapes emerged, as well as price points and musical styles that work best on each.
There are both bluegrass and folk mandolins. Bluegrass mandolins have differently shaped sound holes that allow the instrument to produce a good chop (chords that leave no open strings).
Folk mandolins have deeper, larger bodies with oval sound holes, as opposed to bluegrass mandolins that make use of f-shaped sound holes.
In folk mandolins, you will most often find flat tops and backs without carving.
A Style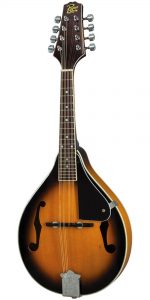 The A style mandolin has a pear- or tear-shaped body, or A-shape, which is where it gets its name, of course. This instrument is very streamlined and simple in design, which puts it at a lower price point than F style mandolins, for example.
Due to its simple design and lower cost, the A style tends to be better for beginner players. This shape has been around since the mandolin was invented, but the instrument used to be made with a bowl back.
This rounded back lent to an interesting sound but created some difficulty for the player holding and using it. In the early 1900s, during a great peak in mandolin popularity after the Paris World Fair of 1892, Gibson redesigned the instrument.
It was also at this time the F style was invented. A style mandolins today share a similar profile with a guitar. The sleek and flat back makes them very easy to hold against the body.
A style mandolins are favoured among beginner players, but also lend nicely to folk styles and Celtic music.
F Style

F style mandolins get their name from Florentine style.
F style mandolins are favoured by bluegrass, roots and professional players. They feature fancier design work including a scroll and point, and are at a higher price point.
They may not be ideal for the beginner player on a budget, but they are beautiful instruments that add a great deal of flare to the playing experience.
The F style mandolin was designed by Gibson in the early 1900s as a top of the line instrument, incorporating traditional mandolin design and sound while giving it a flat back and scrollwork on the body.
These extra design elements to the F style put it at a higher price point that the simpler A styles.
These mandolins have, in addition to their lavish embellishments, two f-holes like a violin or a single oval hole. The extra curlycues in the body increase the body volume, which contributes to the overall sound.
This extra element also makes it easier to place the instrument on one's thigh, so when the player is seated and playing, the instrument stays in place without much effort.
Bowl-back/Neapolitan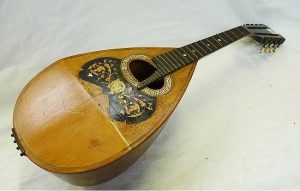 The bowl-back is exactly as it sounds: a fretted string instrument with a very round back that sits against the player like a bowl. It is the style of mandolin often depicted in film or television as a stereotype of the instrument.
It is also known as a taterbug or watermelon. This is a very old-fashioned style of mandolin that resembles early Italian lutes, the instrument from which the modern day mandolin evolved.
The deep bowl makes for deeper tones than the flatback styles, but they are rare to find. Often they are antique lute-violin hybrids and run a high cost.
They are less practical for playing purposes, but have undeniable strong tonal resonance.
Other Instruments in the Mandolin Family
Mandola/Tenor mandola







The mandola is tuned a fifth lower than a mandolin, and is slightly larger. It is tuned CGDA.
Bouzouki/Octave mandolin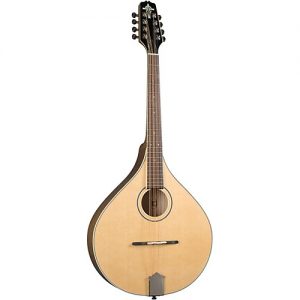 This instrument is one octave below a mandolin, using GDAE tuning. The Bouzouki is tuned an octave below the mandolin, like an octave mandolin, but has a longer scale length.
It has pairs of strings, but the lower strings (G and D) are tuned one string an octave above the other.
Mandocello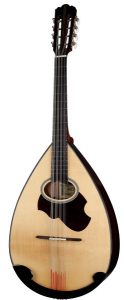 This instrument was invented by Gibson for mandolin orchestras, tuned an octave below the mandola at CGDA. It is similar to the bouzouki but has thicker/heavier strings to produce the deep sound.
Mandobass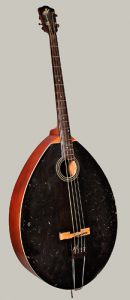 The mandobass only has four strings that are tuned EADG. It was invented in the early 1900s by Gibson for mandolin orchestras.