The combination of late nights and the occasional major technical blunder from time to time can be draining, so you have to have the right mindset and constitution for the job. The rewards, we think, justify becoming a wedding DJ
Becoming a Wedding DJ / Starting Your Own Business
One cool thing is that wedding DJs is that as a job they are ALWAYS in demand. Hence, it's not a bad idea to consider this as a legit business option. In fact, it's one of the coolest types of businesses I can think of.
And, if you make things easy by being a chill person and easy to work with and be around, you can get some on-the-job perks (*cough* free bar) as well as the gift that keeps on giving: more wedding DJ gigs.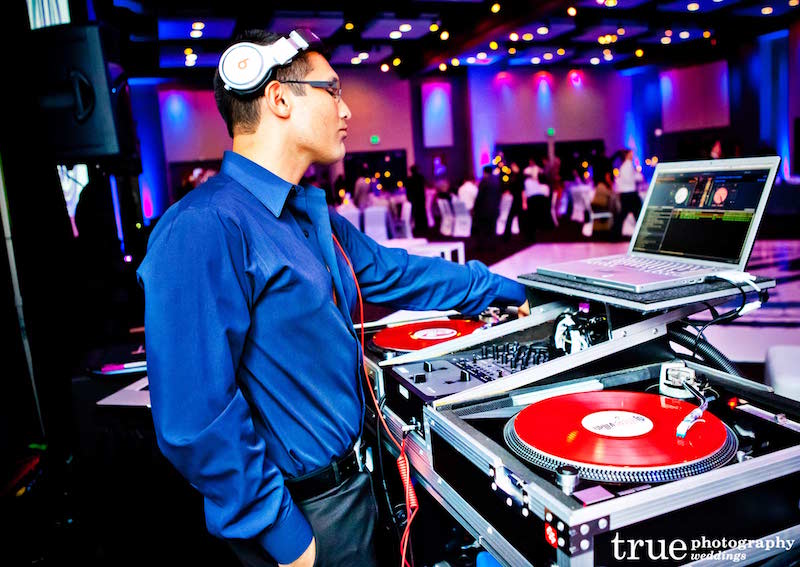 Wedding-djs-always-in-demand
Just don't charge too much, but also don't sell yourself short, since you're the one providing the equipment, and dedicating your time and presenting them with your particular skill set.
The fun times are on you, my friend, so charge reasonably and you'll be sure to get the gig.
But before you can get yourself that first wedding DJ gig, you need to know – what is your ideal DJ setup for weddings?
It can be overwhelming to think about in the beginning, but we'll give you an elemental equipment checklist. Well, as simple as we can make it, since you will be needing a few "little" things.
And so, here is a quick guide to your first wedding DJ setup, and everything you'll need to DJ your first wedding!
Deck / Controller / Mixer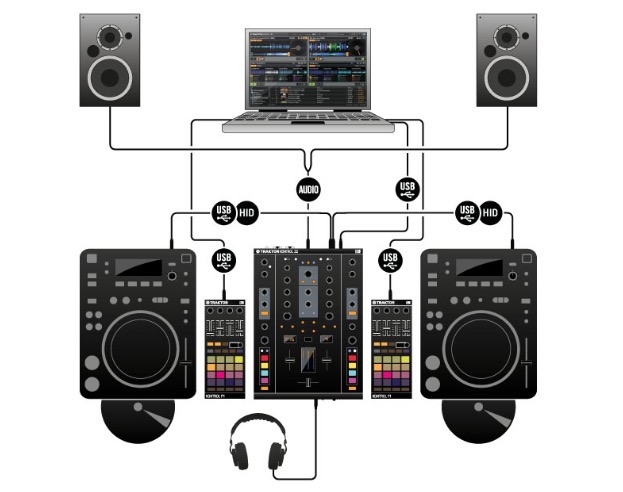 What Is A DJ Deck?
Let's get this straight. They're sometimes called DJ decks, they're sometimes called DJ controllers, and they are also called DJ mixers.
These terms are generally referring to the same device, which is in integrated music player.
Yes, just looking at the picture above, it does look like a shitshow of complicated equipment, and of course if you are just starting out what you do NOT want to see is something that has waaay too many buttons and switches.
Before you say "F— this! I'm going to become an accountant like my dad wants…" HOLD ON! As crazy as this mixer looks, its not necessarily that complicated.
Watch this video below which simplifies what these DJ mixers are all about, and we guarantee that things will make more sense shortly…
Ok, so assuming you watched that video above (you should it has great wedding DJ tips), let's quickly recap some of the key takeaways of what you need to know as a beginner DJ who's either just bought their first deck, or is considering it.
Basically, like Paul said, in the above example there are two decks, which each can play a cd. You control the volumes of each with the volume switches, and really those are your main concerns to start out with.
They also mentioned the AUX switch, which allows you to play stuff from your phone or computer. So, as you can see, having a piece of equipment like this, which is able to play cds, is a great asset for a wedding DJ.
Software and controllers – Cheap and easy DJ setup
As much as old-school DJs rant about them, laptops have become basic equipment for many DJs.
Weddings are no exception, since a laptop running software is much more mobile to carry around than crates and crates of cd's or vinyl records.
To use a laptop for your wedding gigs, you'll need specific DJ software and a controller, a piece of gear that you plug to a computer to have a more hands-on control – like a DJ joystick, essentially!
Another good thing about software DJing is that you don't necessarily need a mixer since you can mix inside your program.
Nowadays there's a plethora of software applications for DJing. Traktor and Serato are oldest players, but tons of other programs have appeared since they arrived on the scene.
Traktor
Traktor is developed by german company Native Instruments. It's a classic among DJ software and as such, it's compatible with a lot of controllers.
Recently, Native Instruments introduced STEMS, a proprietary audio format that in the same file holds the different instruments of the track (Say drums, bass, keyboards and vocals).
This allows you to remix on the fly and gives DJing you a new horizon. When getting started on wedding gigs you may want to keep it simpler, but STEMS prove that Traktor is a great program that pushes the industry forward.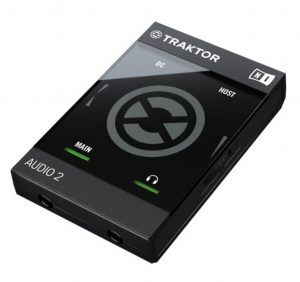 If you get started with Traktor for your wedding gigs, you know you'll be working with industry-standard professional software.
Here's a screenshot from Traktor: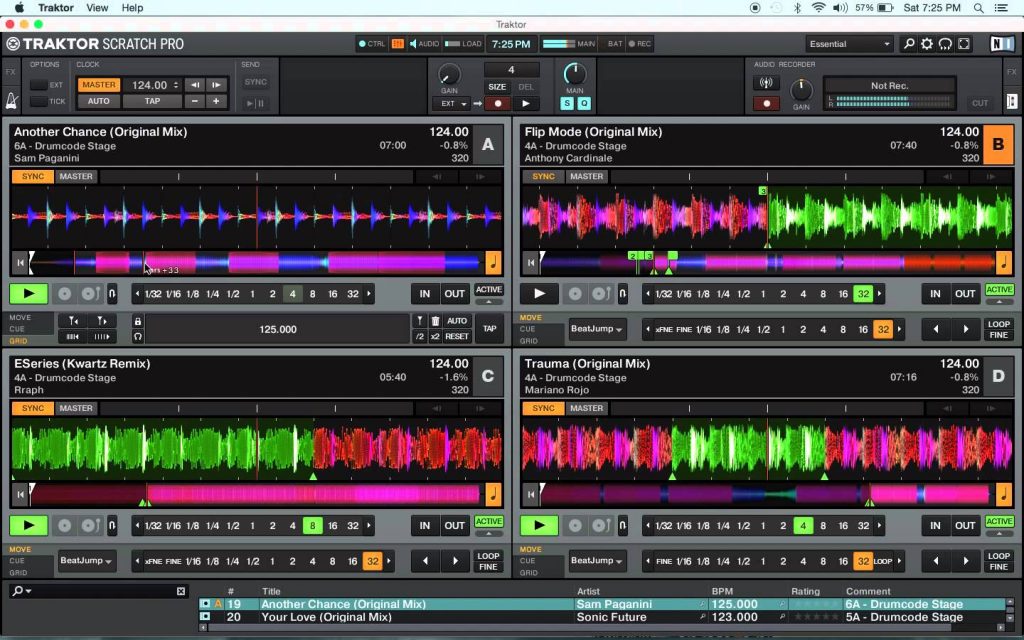 Serato
Serato is another classic DJing application, heavily rooted on hip-hop and scratch tradition. It pioneered the digital vinyl system, where you can use a vinyl turntable to control tracks stored on your computer.
Fans swear by Serato because of its stability: Used as one of its selling points, the software is known to run day in and day out without hassle or problems.
This makes it a "rearguard" program: New functions usually aren't added until the company is sure that stability won't be compromised.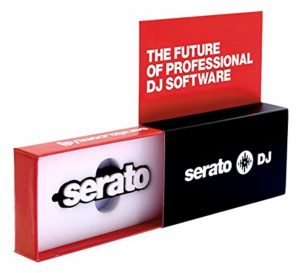 All in all Serato is a great choice and also offers a monthly subscription payment. Definitely check it out, whether it's for starting your wedding DJ business or for stepping your DJing game up!
Here's a screenshot from Serato so you get the idea of how it looks.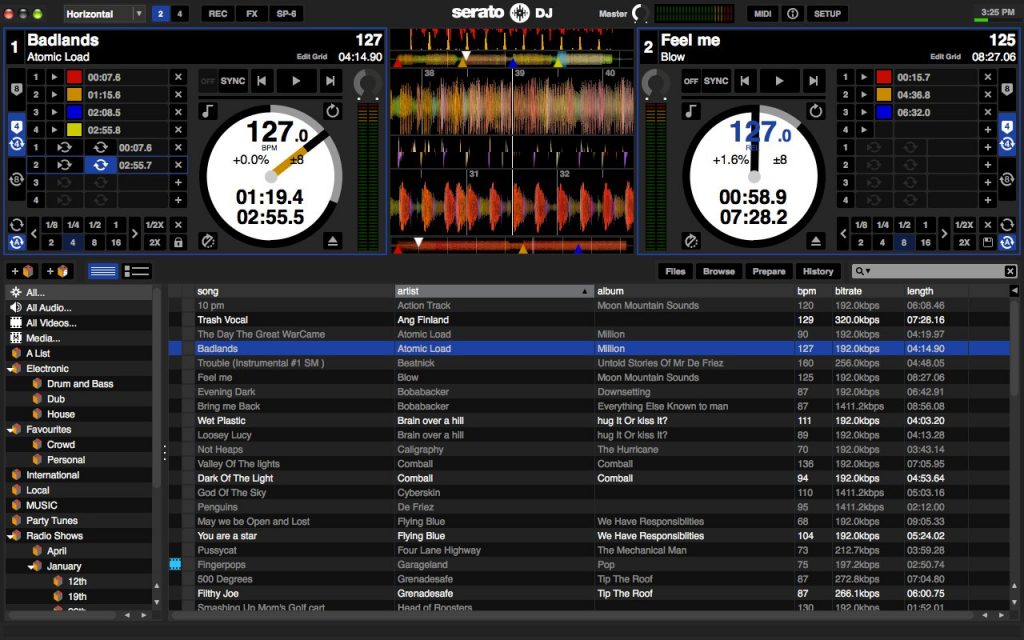 Free DJ Software Options
Of course there are a few free options to check out: PCDJ Dex lets you mix in up to four decks and Mixxx lets you explore its code to achieve greater customization capabilities. You can also opt for a paid version.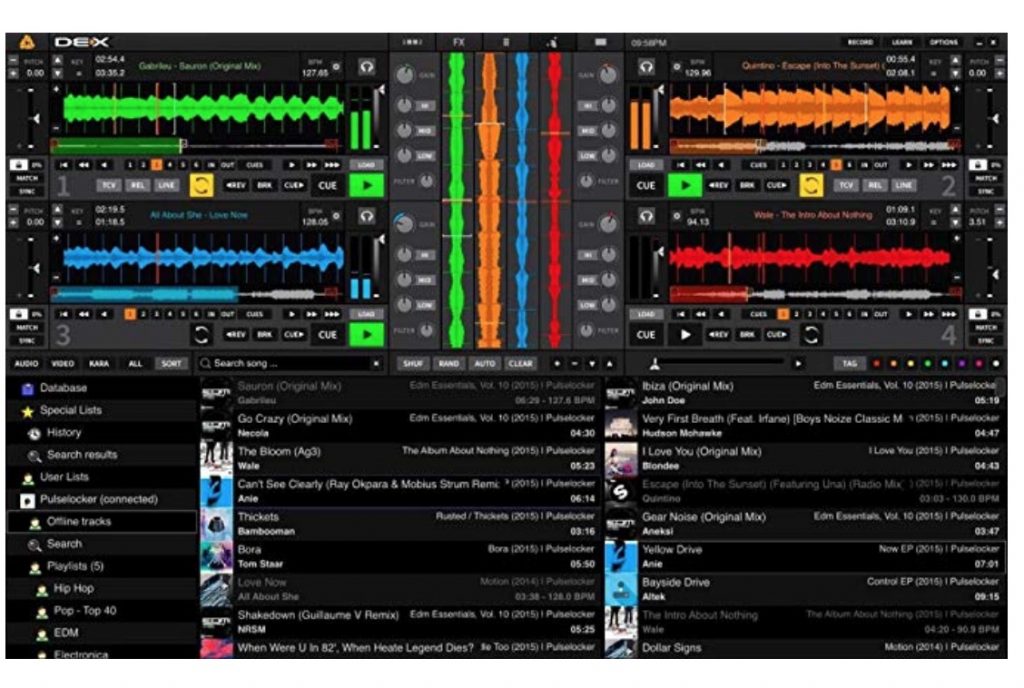 PC DEX in action.
Keep in mind that not every controller has a script for every DJing software (meaning that not all are compatible), so consider that when building your wedding dj setup!
Although the typical choice for the working laptop has always been Mac, PC's have come a long way and provided you take care of it and keep Windows updates under control.
Keep in mind that the computer will likely be the center of your wedding DJ gear, so you need it to be up to the task! You should be getting at least an Intel i5 processor, preferably with an SSD drive.
Aside from a controller and software, you'll need an audio interface, which basically takes sound in and out of your computer with better quality than your regular headphones jack.
Luckily, you don't need much for DJing, just a main output that will go to the PA and a monitor output to pre-listen your next track on your headphones.
Also, some controllers also act as audio interfaces, which makes them ideal for a mobile DJ rig!
DJ Controllers
Native Instruments Traktor Kontrol Z1 DJ Mixing Interface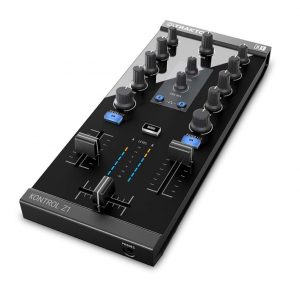 This is an entry level controller for Traktor Pro, which means that it will put you on your way to rocking the decks in no time and without much configuration process.
It includes audio interface capabilities so you can route your audio to your PA and your headphones directly from this gadget.
Notice that it doesn't include jogwheels, which may look annoying for experienced folks but seems reasonable considering the price, compatibility and the presence of the audio interface.
Korg Kaoss DJ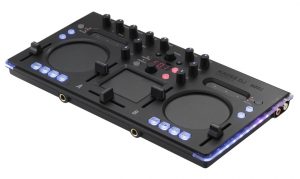 Korg is known for offering budget-friendly solutions that work amazingly well. Small and cheap, the Korg Kaoss DJ is Traktor and Serato compatible.
It comes with a kaoss pad, the classic korg tactile interface to add effects on the fly to your DJ set.
Coming with audio interface and hardware inputs (in the case you want to plug a phone or another audio source), the Kaoss DJ is perfect for a very mobile equipment DJ setup!
CDJs
CDJs are another choice when it comes to DJing. CDJs were originally meant to play CDs, working like the digital version of a turntable.
Nowadays, most modern CDJs can also read flash drives. This allows you to manipulate your digital tracks in the same way you physically manipulate vinyls on a turntable.
Here are some samples of excellent CDJs you can get today, as shown on Amazon, made by Pioneer.
Pioneer DJ CDJ-2000NXS2 Professional Multi Player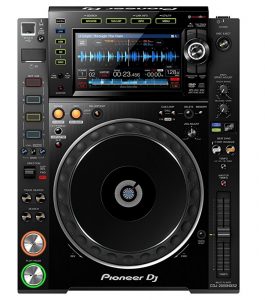 With a high quality sound card and a gorgeous tactile screen to search your best tracks on your collection, these babies feel –and hear! – like a charm.
The 2000NXS2 offer you a plethora of possibilities to take your DJ set to the next level. They can play SD cards, CD's, flash drives and can work as controllers for DJ applications.
Offering a whopping 96khz sampling rate, you can take your digital audio quality to the next level to have the crowd in the palm of your hand.
Pioneer XDJ-700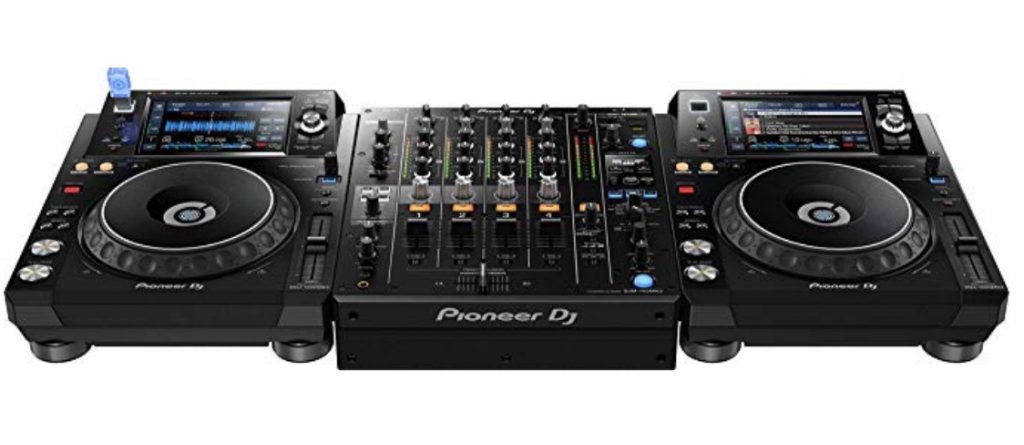 Siblings to the bigger XDJ-1000, these babies sit on a more modest budget while still offering plenty of power. With a nice LCD touch screen, you'll be capable of accessing your track collection in no time. Perfect for wedding DJ gigs and their occasional rush to find a specific track!
Also thanks to the Hot cue and Loops capabilities, you will be able to create loops on the fly!
Take a look at this walk-through of the CDJ-900NXS and you will see why a CDJ is an excellent piece of gear that you might like to acquire before hitting the wedding DJ gig circuit in your area.
Another pro of using CDJs is that they are very common on club set-ups, so if you decide to go down the CD way, you'll have the necessary skills to command a club dancefloor.
Vinyl Turntables
One option, although it will result in carting crates of vinyl everywhere, is some sick vinyl turntables.
Having vinyl as an option is becoming increasingly in-demand at weddings as vinyl itself is seeing a resurgence.
Vinyl these days isn't just seen as old school, but actually new and fresh and facing the future.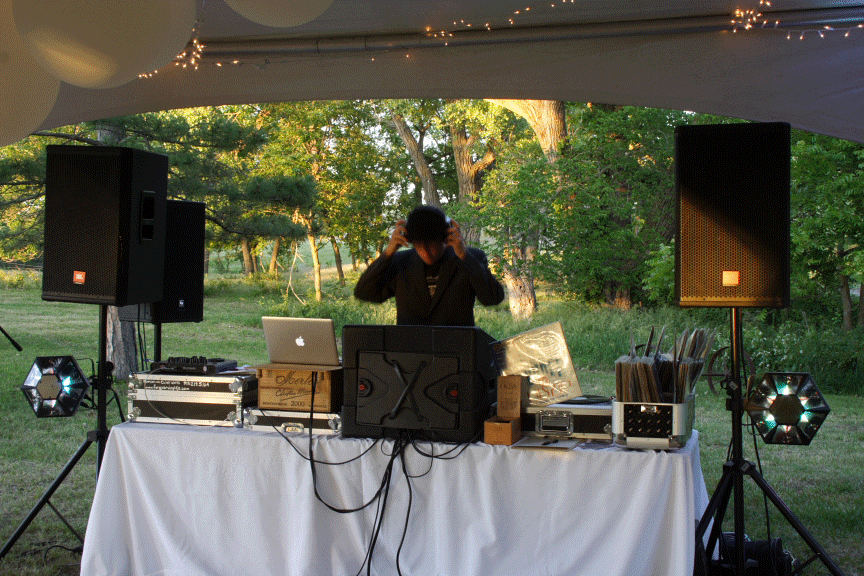 That said, you should know that bringing a vinyl turntable to your next wedding DJ gig doesn't mean ripping grandma's old record player out of the wall and throwing it in the van.
These new vinyl turntables are definitely looking dope, but they can still play whatever vinyl you like, whether it be hip hop or some old dusty jazz record.
And remember, vinyl = high quality audio, and its going to impress the blatant audiophiles at the wedding, and its going to treat everyone else to higher quality audio whether they are are aware of it or not.
Here's a sample playlist featuring vinyl, so you can hear the transitions, but you won't get the same quality, since this is obviously not being played on actual vinyl.
Vinyl Turntables = Cool Cache
Vinyl might not be every bride and groom's go-to for music selection, but if you present them with some choice, you just know some people are going to say "Did you say vinyl? That's awesome!"
So if you want to go hard into this wedding DJ thing, having some sick vinyl turntables at the ready can be a great option for certain types of weddings.
Here's a quick tip or two about DJing using turn tables at a wedding from DJ Bill Bara from Modern Era Weddings.
Keep in mind that only direct drive turntables can endure DJ performances, because the technology in belt drive turntables is not prepared to do scratch and move records.
Here are a few great direct drive turntables you can check out on Amazon that will get the party started.
Best Vinyl Turntables – Editor Picks
Audio-Technica AT-LP120-USB Direct-Drive Professional Turntable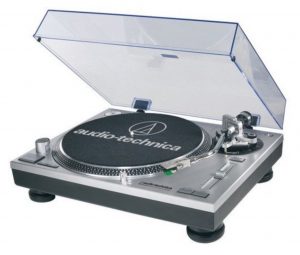 Offering a nice Technics vibe at an affordable price range, the AT-LP120s feel solid and work greatly as gig turntables.
Turntables usually need a special "phono" input due to their low volume outputs. The AT-LP120 bypasses this hassle with an internal phono output, which lets you plug it to a regular RCA input.
Stanton T.92 USB Direct Drive Turntable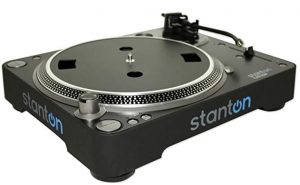 With a sturdy construction and with all the accessories you'll need to start dropping tracks, the Stanton T92 is a solid choice for your wedding vinyl DJ setup.
Like the previous turntable, the Stanton comes with an USB cable that allows you to digitalize your vinyl tracks.
Speakers For Wedding DJing
Up next, we're going to look at speakers, because you're obviously going to need to get your hands on some good ones for your first wedding DJ gig.
This may sound a tad obvious, but in order to output your music you will need speakers.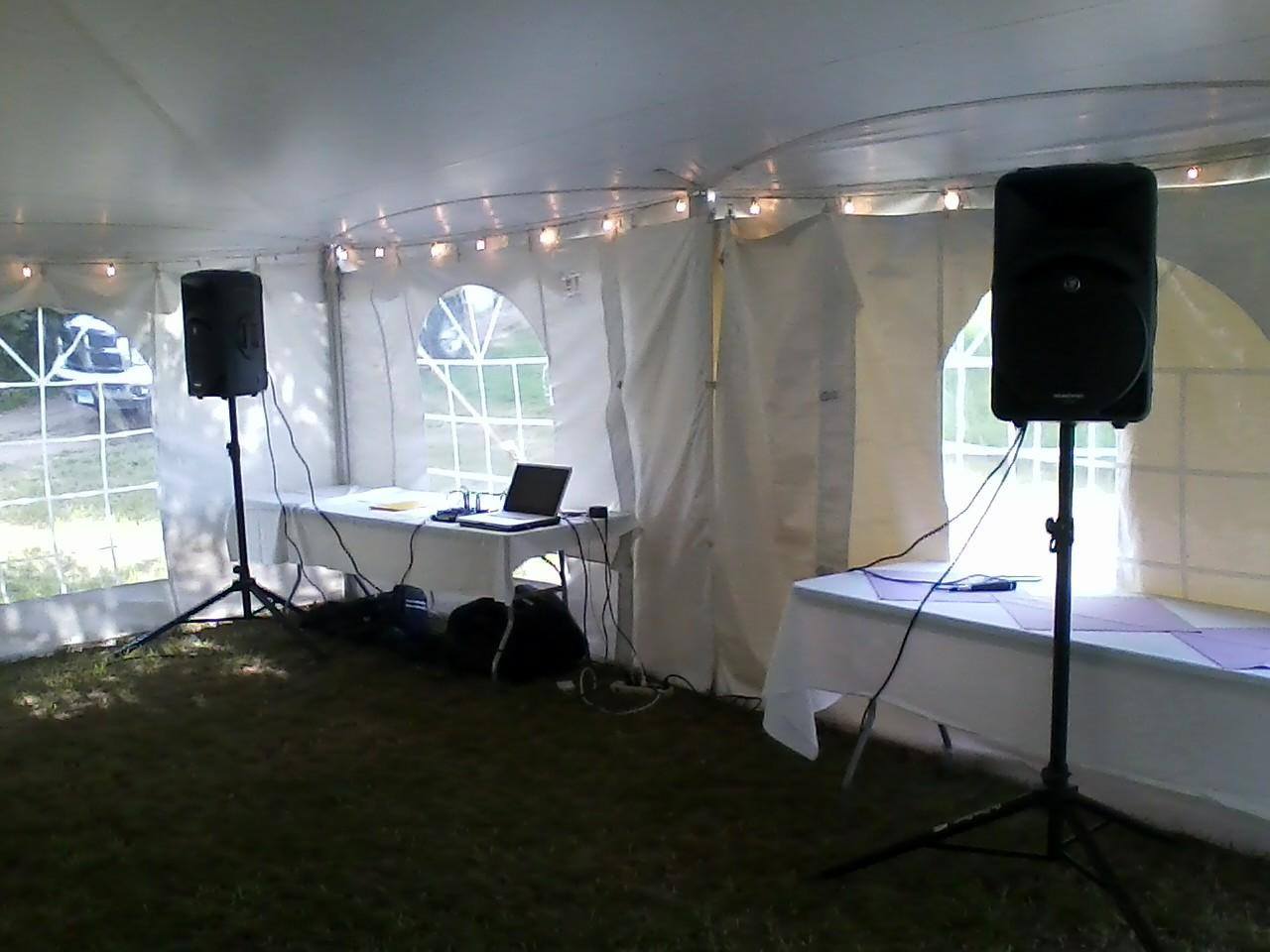 Ideally a whole PA system is probably what you will be needing at some point, but some good speakers are a must-have to start out.
Best-speaker-size-for-wedding
You might luck out and they'll offer to supply you with a PA / Sound System, but this is NOT something you should expect from anyone. You and your company need to be responsible for bringing ALL the gear – that basically goes without saying.
That said, think about it. If you have a good PA system, that will have speakers, not to mention many of them come with a mixer and a microphone.
Even if you aren't required to do any MC'ing, someone is going to want to use a microphone at some point, and this means that having the whole PA set-up is kind of crucial. Here are some of the best deals on PA / Sound Systems out there right now.
It might not be a bad idea, once you secure the gig and know who you're dealing with, to ask if there is anything you should not bring, because they might not want you to bring every piece of gear imaginable, but we suggest you be able to bring whatever is needed at the drop of a hat.
Speakers are one of those key pieces of gear that you cannot be caught dead without.
We will go into more detail about speakers in another post, but for now, let's just quickly talk about the size of speakers any wedding DJ will need to rock the party.
Find The Appropriate Speaker Size For Your Wedding Or Event
Ceremony/Reception – 50-75 people
We recommend: Namsung's Dual LU43PB 100 Watt 3-way Indoor/Outdoor Speakers in Black (Pair)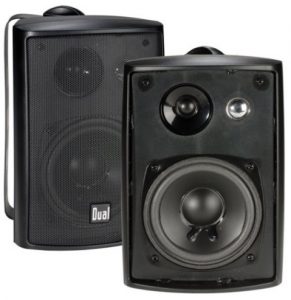 Cheap, resistant, nice audio quality, great for your first wedding DJ PA!
Ceremony/Reception – 75-150 people
We recommend: Seismic Audio – FL-15MP – Pro Audio PA/DJ 15″ Monitor – 100% Birch Plywood – 400 Watts RMS each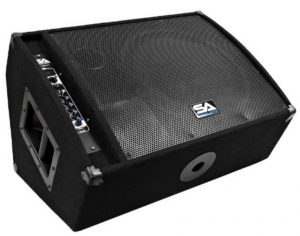 Solid construction and big volume. If you want to step up your wedding DJ setup, these are a nice way to go.
15 inch woofer guarantees a nice bass response. Since they are active, you don't need a separate power amplifier to make them sound.
Ceremony/Reception – 150-300 people
We recommend: PylePro PASC12 600 Watt 12" Two-Way Stage Monitor Speaker System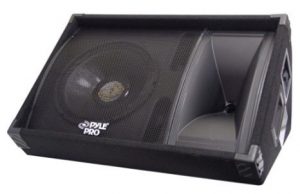 With a slightly more modest 12 inch woofer, these may not offer such a big bass response, but they can be used alongside a specialized sub low speaker.
Being passive, you'll need an amplifier, which is a separate piece of gear but almost always guarantees more and better sound.
Wedding Lighting & FX
If you want to really hype people up and get them in the partying mood, think about lighting and some special effects.
Each of these really deserve their own post, but, suffice it to say, you will probably be expected to have at least a mirror ball kicking around in your truck somewhere.
It all depends on the type of wedding you're DJing, and whether you are required to go classy, or full on get-down-get-funky party mode.
Here are, at least, a few ideas for cool lights you could have on hand should the need arises.
Music
A good wedding DJ set needs to have a large, engaging, and wide-ranging collection of music pieces.
If you want to keep your audience entertained, it is mandatory to engage them through the right tunes for the occasion, and this applies for every DJ.
Remember, this isn't about you taking over the party with your tastes.
You'll get more work the more you try to figure out what kind of music they want to hear.
Here is a typical 2016 wedding playlist to get you in the mainstream mood.
Adjusting to all these changing tastes in music is a challenge to any wedding DJ, and so you need to be ready with iPods, iPhones, hard drives, vinyl, and much more, because as you seek out various wedding DJ gigs, you just know that everyone is going to want different songs played in different ways, in different formats.
And then other people will have no clue what they want and expect you to know everything there is to know about music. So be ready!
In terms of tune-age, you should focus mainly on the safe bets, such as 80s, 90s or top 40 hits, especially with some disco and familiar dance tunes, for when the ambient gets a bit of loudmouthed later.
Choosing a list of songs that the guests can also drunkenly sing along to never fails. People kind of like this…
Or maybe like this…
Alrighty folks, that's going to do it for now.
If you are just getting geared up to go into the wedding DJ business, and you have yet to work your first gig, this article should give you a lot to think about.
Hope this helped!