If you're looking for a good way to have fun, meet new people, and then at the same time provide yourself with steady and sizeable revenue, becoming a wedding DJ is like a dream job for all of these reasons.  Wedding DJing has come a long way in terms of gear and what is expected of the DJ, and for every one couple who wants a romantic, classy, and toned down wedding, another couple expects a rager to end all ragers.  And that is where you come in…
That said, as fun as it can be, you should know that the wedding DJ profession can be quite demanding, especially because most wedding planners are looking for an individual who is both talented, committed, and who can really get the crowd going while multi-tasking like a champ.  The combination of late nights and the occasional major technical blunder from time to time can be draining, so you have to have the right mindset and constitution for the job. The rewards, we think, are worth it. 
Wedding DJs Always In Demand
One cool thing is that wedding DJs is that as a job they are ALWAYS in demand.  And, if you make things easy by being a chill person, you can get some on-the-job perks (*cough* free bar) as well as the gift that keeps on giving: more wedding DJ gigs.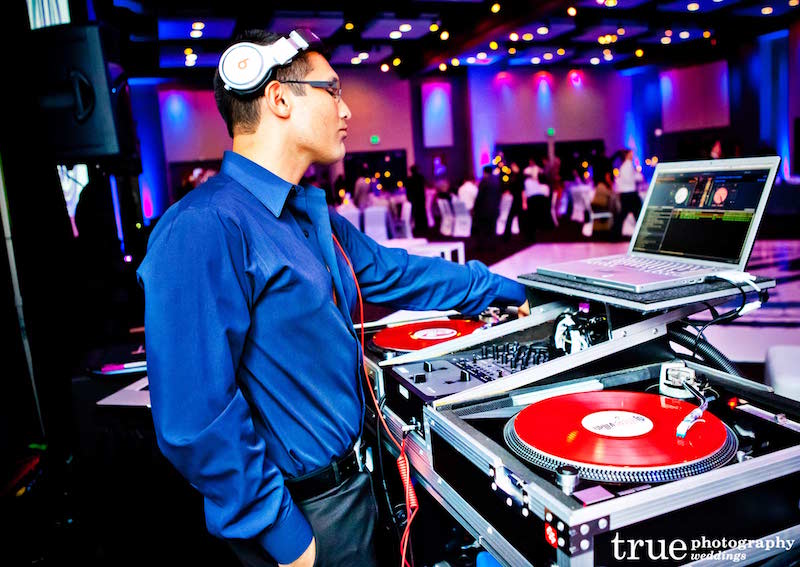 Just don't charge too much, but also don't sell yourself short, since you're the one providing the equipment, and dedicating your time and presenting them with your particular skill set.  The fun times are on you, my friend, so charge reasonably and you'll be sure to get the gig.
But before you can get yourself that first wedding DJ gig, you need the right gear.  It can be overwhelming to think about in the beginning, but we're going to make it really simple.  Well, as simple as we can make it, since you will be needing a few "little" things.
And so, here is a quick guide to having the right equipment needed to DJ a wedding in 2016. 
Deck / Controller / Mixer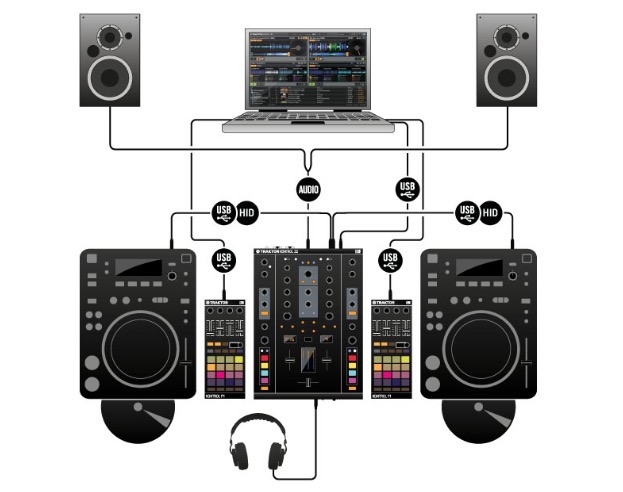 What Is A DJ Deck?
Let's get this straight.  They're sometimes called DJ decks, they're sometimes called DJ controllers, and they are also called DJ mixers.  These terms are generally referring to the same device, which is in integrated music player.  Yes, just looking at the picture above, it does look like a shitshow of complicated equipment, and of course if you are just starting out what you do NOT want to see is something that has waaay too many buttons and switches.  
Before you say "Fuck this!  I'm going to be an accountant like my dad wants…" HOLD ON!  As crazy as this mixer looks, its not necessarily that complicated.  Watch this video below which simplifies what these DJ mixers are all about, and we guarantee that things will make more sense shortly…
Ok, so assuming you watched that video above (you should it has great wedding DJ tips), let's quickly recap some of the key takeaways of what you need to know as a beginner DJ who's either just bought their first deck, or is considering it.
Basically, like Paul said, in the above example there are two decks, which each can play a cd.  You control the volumes of each with the volume switches, and really those are your main concerns to start out with.  They also mentioned the AUX switch, which allows you to play stuff from your phone or computer.  So, as you can see, having a piece of equipment like this, which is able to play cds, is a great asset for a wedding DJ.
Here are some options for great DJ mixers available on Amazon that you can check out and purchase if the price is right:
Vinyl Turntables
One option, although it will result in carting crates of vinyl everywhere, is some sick vinyl turntables.  Having vinyl as an option is becoming increasingly in-demand at weddings as vinyl itself is seeing a resurgence.  Vinyl these days isn't just seen as old school, but actually new and fresh and facing the future.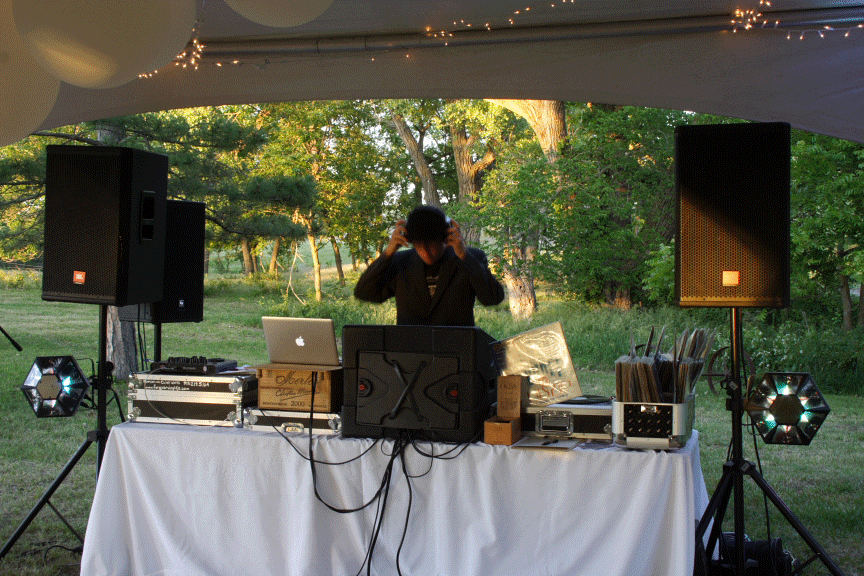 That said, you should know that bringing a vinyl turntable to your next wedding DJ gig doesn't mean ripping grandma's old record player out of the wall and throwing it in the van.  These new vinyl turntables are definitely looking dope, but they can still play whatever vinyl you like, whether it be hip hop or some old dusty jazz record.   And remember, vinyl = high quality audio, and its going to impress the blatant audiophiles at the wedding, and its going to treat everyone else to higher quality audio whether they are are aware of it or not.   Here's a sample playlist featuring vinyl, so you can hear the transitions, but you won't get the same quality, since this is obviously not being played on actual vinyl.
Vinyl Turntables = Cool Cache
Vinyl might not be every bride and groom's go-to for music selection, but if you present them with some choice, you just know some people are going to say "Did you say vinyl?  That's awesome!"  So if you want to go hard into this wedding DJ thing, having some sick vinyl turntables at the ready can be a great option for certain types of weddings.     Here's a quick tip or two about DJing using turn tables at a wedding from DJ Bill Bara from Modern Era Weddings.
Here are a few great turntables you can check out on Amazon that will get the party started.

CDJ
A CDJ is another choice when it comes to DJing.  A CDJ was originally meant to play CDs, and today it is something like the digital version of a turntable, as it has digital to analog sound conversion.  As well, it allows you to manipulate your tracks digitally in the same way you physically can manipulate your tracks with a modern turntable.   Here's are some samples of excellent CDJ's you can get today, as shown on Amazon, made by Pioneer.

Take a look at this walk-through of the CDJ-900NXS and you will see why a CDJ is an excellent piece of gear that you might like to acquire before hitting the wedding DJ gig circuit in your area.
Speakers For Wedding DJing
Up next, we're going to look at speakers, because you're obviously going to need to get your hands on some good ones for your first wedding DJ gig.  This may sound a tad obvious, but in order to output your music you will need speakers.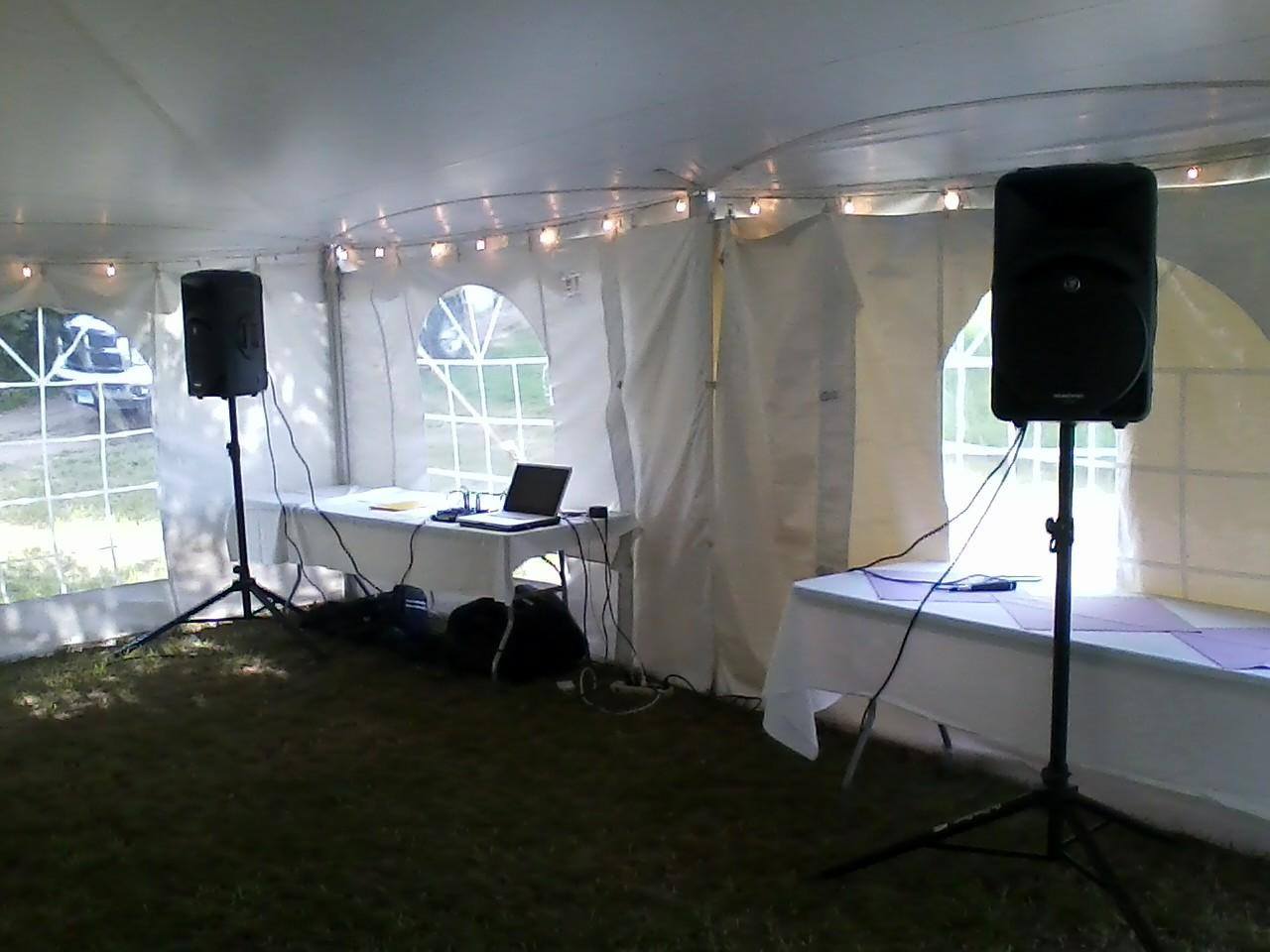 Ideally a whole PA system is probably what you will be needing at some point, but some good speakers are a must-have to start out.  You might luck out and they'll offer to supply you with a PA / Sound System, but this is NOT something you should expect from anyone.  You and your company need to be responsible for bringing ALL the gear – that basically goes without saying.     That said, think about it.  If you have a good PA system, that will have speakers, not to mention many of them come with a mixer and a microphone.  Even if you aren't required to do any MC'ing, someone is going to want to use a microphone at some point, and this means that having the whole PA set-up is kind of crucial.  Here are some of the best deals on PA / Sound Systems out there right now.
It might not be a bad idea, once you secure the gig and know who you're dealing with, to ask if there is anything you should not bring, because they might not want you to bring every piece of gear imaginable, but we suggest you be able to bring whatever is needed at the drop of a hat. Speakers are one of those key pieces of gear that you cannot be caught dead without.   We will go into more detail about speakers in another post, but for now, let's just quickly talk about the size of speakers any wedding DJ will need to rock the party.
Find The Appropriate Speaker Size For Your Wedding Or Event
Ceremony/Reception – 50-75 people
We recommend: Namsung's Dual LU43PB 100 Watt 3-way Indoor/Outdoor Speakers in Black (Pair)
Check for deals on these Namsung speaks on Amazon now  
---
Ceremony/Reception – 75-150 people
We recommend: Seismic Audio – FL-15MP – Pro Audio PA/DJ 15″ Monitor – 100% Birch Plywood – 400 Watts RMS each
Check for deals on this Seismic Audio speaker on Amazon now
---
Ceremony/Reception – 150-300 people
We recommend: PylePro PASC12 600 Watt 12" Two-Way Stage Monitor Speaker System
Check for deals on this PylePro speaker system on Amazon now
---
Wedding Lighting & FX
If you want to really hype people up and get them in the partying mood, think about lighting and some special effects.  Each of these really deserve their own post, but, suffice it to say, you will probably be expected to have at least a mirror ball kicking around in your truck somewhere.  It all depends on the type of wedding you're DJing, and whether you are required to go classy, or full on get-down-get-funky party mode.  Here are, at least, a few ideas for cool lights you could have on hand should the need arises.      

Music
A good wedding DJ needs to have a large, engaging, and wide-ranging collection of music pieces. If you want to keep your audience entertained, it is mandatory to engage them through the right tunes for the occassion, and this applies for every DJ.  Remember, this isn't about you taking over the party with your tastes.  You'll get more work the more you try to figure out what kind of music they want to hear.  Here is a typical 2016 wedding playlist to get you in the mainstream mood.
Adjusting to all these changing tastes in music is a challenge to any wedding DJ, and so you need to be ready with iPods, iPhones, hard drives, vinyl, and much more, because as you seek out various wedding DJ gigs, you just know that everyone is going to want different songs played in different ways, in different formats.  And then other people will have no clue what they want and expect you to know everything there is to know about music.  So be ready!  
In terms of tune-age, you should focus mainly on the safe bets, such as 80s, 90s or top 40 hits, especially with some disco and familiar dance tunes, for when the ambient gets a bit of loudmouthed later. Choosing a list of songs that the guests can also drunkenly sing along to never fails.  People kind of like this…
Or maybe like this…
Alrighty folks, that's going to do it for now.  If you are just getting geared up to go into the wedding DJ business, and you have yet to work your first gig, this article should give you a lot to think about.  Hope this helped!