The combination of late nights and the occasional major technical blunder from time to time can be draining, so you have to have the right mindset and constitution for the job. The rewards, we think, justify becoming a wedding DJ
Becoming a Wedding DJ / Starting Your Own Business
One cool thing is that wedding DJs is that as a job they are ALWAYS in demand. Hence, it's not a bad idea to consider this as a legit business option. In fact, it's one of the coolest types of businesses I can think of.
And, if you make things easy by being a chill person and easy to work with and be around, you can get some on-the-job perks (*cough* free bar) as well as the gift that keeps on giving: more wedding DJ gigs.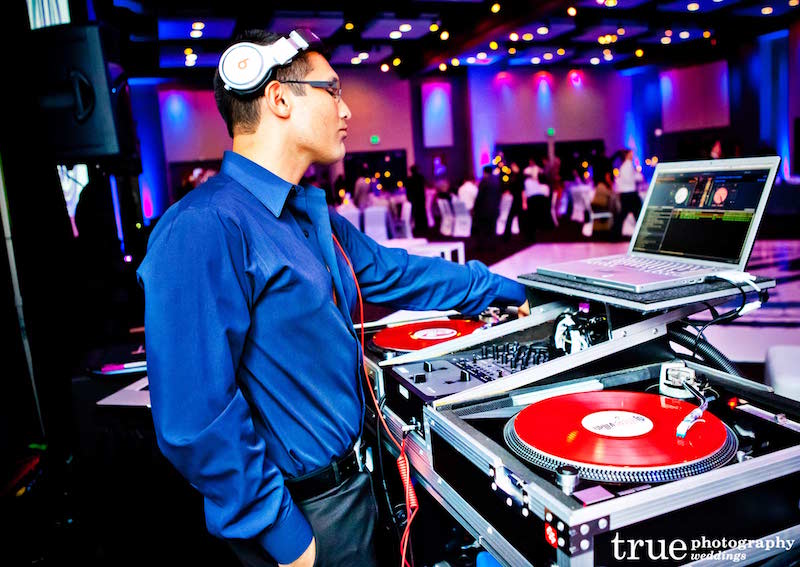 Wedding-djs-always-in-demand
Just don't charge too much, but also don't sell yourself short, since you're the one providing the equipment, and dedicating your time and presenting them with your particular skill set.
The fun times are on you, my friend, so charge reasonably and you'll be sure to get the gig.
But before you can get yourself that first wedding DJ gig, you need to know – what is your ideal DJ setup for weddings?
It can be overwhelming to think about in the beginning, but we'll give you an elemental equipment checklist. Well, as simple as we can make it, since you will be needing a few "little" things.
And so, here is a quick guide to your first wedding DJ setup, and everything you'll need to DJ your first wedding!
Deck / Controller / Mixer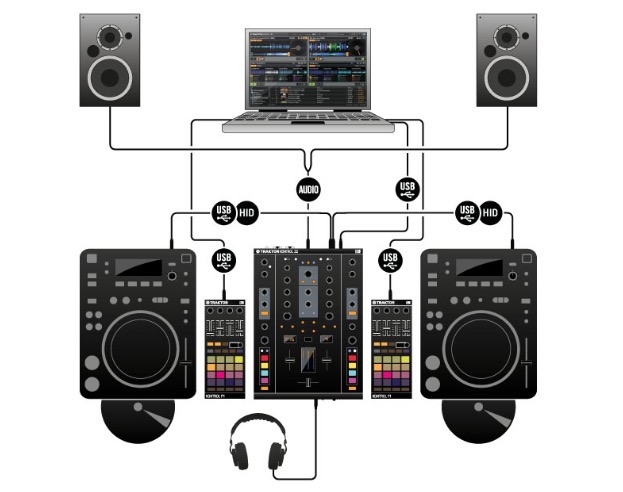 What Is A DJ Deck?
Let's get this straight. They're sometimes called DJ decks, they're sometimes called DJ controllers, and they are also called DJ mixers.
These terms are generally referring to the same device, which is in integrated music player.
Yes, just looking at the picture above, it does look like a shitshow of complicated equipment, and of course if you are just starting out what you do NOT want to see is something that has waaay too many buttons and switches.
Before you say "F— this! I'm going to become an accountant like my dad wants…" HOLD ON! As crazy as this mixer looks, its not necessarily that complicated.
Watch this video below which simplifies what these DJ mixers are all about, and we guarantee that things will make more sense shortly…
Ok, so assuming you watched that video above (you should it has great wedding DJ tips), let's quickly recap some of the key takeaways of what you need to know as a beginner DJ who's either just bought their first deck, or is considering it.
Basically, like Paul said, in the above example there are two decks, which each can play a cd. You control the volumes of each with the volume switches, and really those are your main concerns to start out with.
They also mentioned the AUX switch, which allows you to play stuff from your phone or computer. So, as you can see, having a piece of equipment like this, which is able to play cds, is a great asset for a wedding DJ.
Software and controllers – Cheap and easy DJ setup
As much as old-school DJs rant about them, laptops have become basic equipment for many DJs.
Weddings are no exception, since a laptop running software is much more mobile to carry around than crates and crates of cd's or vinyl records.
To use a laptop for your wedding gigs, you'll need specific DJ software and a controller, a piece of gear that you plug to a computer to have a more hands-on control – like a DJ joystick, essentially!
Another good thing about software DJing is that you don't necessarily need a mixer since you can mix inside your program.
Nowadays there's a plethora of software applications for DJing. Traktor and Serato are oldest players, but tons of other programs have appeared since they arrived on the scene.