Bass guitar is kind of like the Alfred to the Batman of lead guitar. Batman is obviously the lead attraction, but there is no way Batman can do what he does without the constant support and assistance of Alfred working away in the background. In music specifically, the bass follows the musical structure and underscores it with the bass notes to keep the structure together. Unless you are a bass player or the song has a particularly catchy bassline, such as "Another One Bites the Dust" by Queen or "I Want You Back" by the Jackson 5, you probably don't notice the bass, however if you take it out of a song there is a clear feeling of something missing.
Main Types of Electric Bass Guitars
Bass guitars (also known as electric bass guitars and standup basses) produce lower-pitched musical tones when compared to regular six-stringed guitar. The common form of bass is derived from the four string double bass, usually tuned one octave below the standard guitar's EADGBE. This tuning is generally used with a "slap-and-pop" thumb picking style or a fingerstyle, while a pick is also used with some basses.
The four main types of electric bass guitars are the solid body, hollow body, semi-hollow body and extended range. Each type has three variations: fully electronic (passive pickups), partially hollow bodied with a piezo pickup, and fully hollow-bodied with a microphone mounted inside the body. Also, the types vary in more detail: some have frets of one conventional size, while others have each fret larger than its usual width so as to aid playing of wider passages on the bass guitar neck.

The solid body electric bass is often referred to as a "Jazz Bass", but its tonal and playing characteristics are closer to those of an aggressive electric guitar than of the fretless acoustic double bass, the instrument which has historically been used for jazz. However, players have experimented with using other types of bass instrument, such as acoustic or tuned percussion instruments.

The Solid Body Electric Bass Guitar
The solid body electric bass guitar is the most common type used. It consists of an electric bass with a body that is solid wood (usually maple or mahogany), including a small pre-amp which boosts its signal strength and converts it into electrical energy for use by an amplifier. They usually have four strings, tuned EADGBE from lowest pitch to highest pitch, although some players tune to DGBE to mimic a double bass. Some musicians doing sessions in pop music also choose this instrument because it is lightweight and less cumbersome than a double bass when moving from one session to another.

The Hollow Bodied Electric Guitar

Hollow bodied electric guitars were introduced in the late 1950s and are known as "jazz boxes", "jazz guitars", "jazz pickups" or "jazz basses". They are fitted with a hollow wooden body to improve their ability to get a vibrational sound from the amplified string. A resonant chamber or well, either empty or partially filled with cloth or other materials, is sometimes added in front of the guitar-body which enhances the resonance and deepens the tone. There are two main types: semi-hollow guitars have an arched top and back but are solid underneath, while fully hollow guitars open at the bottom with no centre block. The latter are often louder compared to similar solid body guitars due to their 'breathing' sound.

The Semi Hollow
The Semi Hollow range provides players with innovative ways to modify their instruments according to evolving musical styles while retaining traditional playing methods. The result is an instrument that can be played in a quasi-acoustic manner, or plugged into an amplifier for increased volume and tonal range.

Semi-hollow instruments are rather popular among jazz musicians because they are usually much lighter to carry around than hollow bodied basses. Semi-hollow guitars are widely used also in fusion genre because they provide the necessary feedback when required.

Featuring superb workmanship, the Parker P44 Semi-Hollowbody Electric Guitar boasts specification that includes a solid maple neck with rosewood fingerboard plus dual humbuckers, one of which is wired out of phase via push/pull tone pot for unique two tonality output options. Ideal semi-hollow electric guitar for both beginners and experienced guitarists.
The semi-hollow body electric guitar is almost the same as the fully hollow body, but it varies in that it has a solid block of wood running through its center with hollow wings on either side to help strengthen the body against collapse. This model was known as the "frying pan" or "lazy Susan" because of some musicians' practice of flipping them over and playing them like a frying pan or spinning them like a lazy susan (e.g., Eric Clapton during Cream's live shows at whistle-stops). The back pickup on this style is less angled than a full thinline and usually protrudes slightly to protect the area around the volume and tone controls. The front pickup is usually angled so that it points towards the neck of the guitar, although some models (especially mass produced lower-end models) have a straight front. The earliest versions had an actual spinning metal lazy susan inside, but since then it has been replaced by a plastic or metal shell surrounding the pickups, while some models omit the rotating mechanism completely. Many people refer to these as "Thinline" pickups.

The Extended Range Bass Guitar
Extended range bass guitars typically have four to five strings. In some cases, there are six string models that provide two extra lower-tuned strings on either side of the standard EADG tuning. If you are a beginner, it may be best to stick with the four or five string bass guitars. This way you don't have to deal with extra strings that can sometimes get in the way while learning how to play.

Typical Models of Bass Guitars That Constitute the Standard Bass Guitars Used in Rock and in Music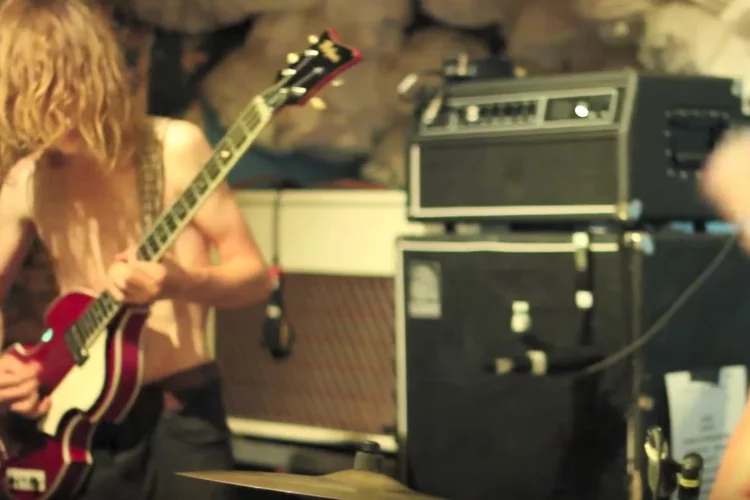 There are a couple of models of bass guitars that constitute the standard bass guitars used in rock and in music at large. They all have slightly different tones and uses and we're going to go over them and describe their essential sounds with musical examples.
Fender Jazz Bass

Fender is of course a huge company in the world of bass guitar just like it is in the world of lead guitar. The Fender Jazz Bass is probably what most bassists would consider the staple bass, sort of like the bass equivalent of the Stratocaster, a cardinal of bass playing. It is very diverse and versatile, and has an all-around tone of low rumble in addition to punctuated twang. Basically, you can do what you want with it. Its not too low to be poppy and not to poppy to be low and rumbley. Some good examples of Jazz players are Jaco Pastorius, Victor Wooten, John Paul Jones, and later period Geddy Lee.
Fender Precision Bass

This is the counterpart to the Fender Jazz. Slightly older and more "classic", it has a deeper bass tone and lower rumble. It was produced before the Jazz bass, and the Jazz was designed to contrast the Precision as a bit brighter with a range of slightly higher tones. The Precision is larger and bulkier than its Jazz counterpart and sounds like it. Its been made famous by Sting, who almost always plays the same beat up 1957 Precision, as well as James Jamerson (the bass player on all the Motown hits), John McVie from Fleetwood Mac, Steve Harris from Iron Maiden, and John Entwhistle from The Who.
Rickenbacker 4000 Series

There are indeed other Bass manufactures besides Fender, and Rickenbacker is probably what most bassists would consider the next one on the list. Rickenbacker 4000 Series basses have a unique voluptuous look. There sound is noticeably brighter and higher-sounding than the Fenders that have been previously described. The high-end tones are extremely noticeable on songs and tend to be far more in-your-face than other bass tones, which mostly meld into the background. There two 4000 models that are extremely similar in tone with very minor differences in design, the 4001 and the 4003. They tend to be a bit more expensive than Fenders but most bass players would say the commensurate uniqueness in tone and general high quality manufacturing is the reason why. Three of the most famous Rickenbacker Bass players are all progressive rock musicians, and the Rickenbacker Bass has earned a reputation as the number one prog rock bass. They are Chris Squire from Yes, Geddy Lee on the earlier (and most progressive) Rush albums, and Mike Rutherford of Genesis. Chris Squire in particular highlights the high-end tone of the Rickenbacker 4000 series, whereas Geddy Lee makes it growl for hard rock, and Rutherford is somewhere between the two.
Hofner Basses

The last of the fundamental Basses is the Hofner Bass. It has a distinct smaller frame and very symmetrical body shape. Hofners are not as widely used as the other basses in this article, however they deserve a spot on this list because this is the bass Paul McCartney played more or less exclusively both in the Beatles and throughout his career solo and with Wings. The Hofner has a unique thumpy tone, not quite as high as Rickenbackers and not quite as low as Precisions. The Hofner is responsible for that driving, walking bass tone that is present on almost every Beatles song. Carl Wilson of the Beach Boys is also known to have preferred Hofners, making it somewhat the iconic bass of early rock and roll. It has seen a bit of a resurgence due to its use in the modern psychedelic band Tame Imapala.
Every bass is unique and these models all have their strengths and weaknesses. The perfect bass for every musical need and niche exists somewhere out there if you do the homework, but whatever axe is chosen, it cannot be understated that the fundamentals of tone is always in your fingers. No amount of research will ever replace pure practice and dedication.
Conclusion for Types of Electric Bass Guitars
Electric bass guitars are available in a variety of shapes and sizes. You can choose the electric bass guitar that's right for you based on your playing style and preferences. There are four main types of electric bass guitars: solid body, hollow body, semi-hollow body, and acoustic-electric. Each type has its own unique features and benefits. Knowing which type of electric bass guitar is best for you will help you make an informed purchase decision and get the most out of your new instrument.