Sierra Hull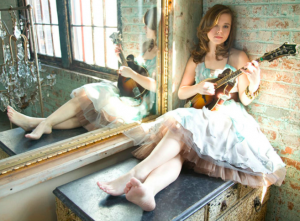 Sierra Hull is an American bluegrass musician. She sings and plays guitar and mandolin. She was signed to Rounder Records at the very young age of 13 and released a debut album three years later at 16, which hit #2 on the Billboard Top Bluegrass Albums chart.
She is from Tennessee, where she attended high school before accepting a scholarship to study at Berklee College of Music.
She began playing mandolin at the age of eight, and was surrounded by a family of music lovers who play with her and took her to bluegrass festivals. She performed with Alison Krauss at the White House in 2011.
Her talents are recognized internationally: she has received five International Bluegrass Music Association nominations and received the Bluegrass Star Award in 2013.
This award is given to musicians who serve to advance traditional bluegrass music by bringing it to new audiences while preserving its heritage.
Rhonda Vincent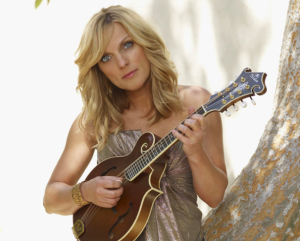 Rhonda Vincent is an American multi-instrumentalist, singing and playing mandolin, guitar and fiddle. Her career has spanned more than four decades, achieving success in the bluegrass genre in the 1970s, exhibiting progressive chord structures and multi-range vocals. In this time her peers were mostly male, and they respected her for her outstanding vocal and instrumental talents. Over the years, she has appeared on records with Dolly Parton, Alan Jackson and Tanya Tucker.
Her entire family is musical; the family sang on the Sally Mountain Show. She began playing mandolin at the age of eight, guitar at 10 and later the fiddle. She lived in a small town, but her family was full of musicians, so whenever she was home, they would all play together.
She sings bluegrass, folk and gospel, performing solo as well as with her band Rhonda Vincent & The Rage. She has won several awards from International Bluegrass Music Association and Society for the Preservation of Bluegrass Music of America. She is known as the Queen of Bluegrass.
Sarah Jarosz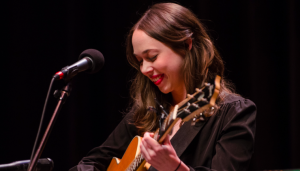 Sarah Jarosz is another young musical prodigy on our list. Born in Texas in 1991, she began playing mandolin at the age of 10 and released her debut album Song Up in Her Head, which she co-produced.
This album was released in 2009, and in the same year she enrolled in the New England Conservatory of Music, graduating with a degree in Contemporary Improvisation.
To this day, she has released four studio albums, her most recent winning a Grammy award for Best Folk Album. She has seen a lot of success and has been widely received with awe and admiration at her talent.
She has been referred to as a contemporary-bluegrass prodigy and is revered as one of acoustic music's most promising young talents.
In addition to mastering the mandolin, Sarah also plays the clawhammer banjo and octave mandolin. The octave mandolin has four pairs of strings in G, D, A and E, but is an octave below the mandolin.
She has covered many well-known songs in addition to her own written pieces, and has collaborated with many artists such as Jerry Douglas and Darrell Scott. Critics greatly anticipate what is yet to come of this young woman.
Caterina Lichtenberg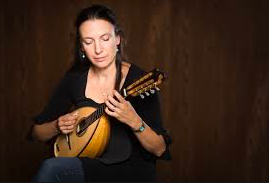 Caterina Lichtenberg was raised in Germany and graduated from the Music Conservatory in Cologne with the highest honours, where she now teaches as Professor of Classical Mandolin. Interestingly, this is the only position of its kind in the world today.
For over two decades, she has been recording, teaching and touring throughout the world including Europe, Japan, Taiwan, and South and North Americas. She is regarded as one of the most important mandolinists on the planet. She has covered pieces by Johann Sebastian Bach and collaborated with Mike Marshall, American mandolinist, combining their bluegrass, classical and jazz styles.
Caterina has released 10 albums to date, all in chamber music settings. She is a specialist on early period instruments, and has recorded on a 1775 mandolin as per invitation from the Ferdinandeum Museum in Innsbruck. She has performed with many orchestras internationally, and festivals. Her talents have also landed her positions of juror and lecturer at mandolin conventions and academies.
Sharon Gilchrist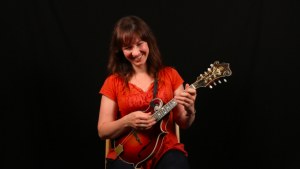 Sharon Gilchrist is an American mandolin player and instructor. She also sings and composes in the bluegrass style. She was raised in Texas and began playing mandolin when she was eight years old. At just nine years old, she and brother Troy Gilchrist played in a band together, which went on for another seven years. she had even played in this band with forming members of what would become the Dixie Chicks.
She moved to Nashville Tennessee to study mandolin after graduating high school. Since then she has performed and arranged music for several musicians. After her band Mary and Mars disbanded, she joined Uncle Earl, a team of female musicians who incorporated dance into their performances.
She plays bluegrass/Americana roots style, and is currently writing and recording music for films. She also teaches private lessons and mandolin workshops at music camps.