When the gods made heavy metal, as per the gospel of Manowar, one of their first and only tenets, were to play it as loud and wild as (in)humanly possible. Since those early days, cunning minds and champions heavy music have been finding new ways to make their guitar sound louder, meaner and nastier.
And let's be honest here – very few things in life feel better than when you plug in your guitar, strike that first evil chord and feel the very foundations of earth shake and scream at the tips of your fingers, or when you start laying down a deep, wicked gallop and an evil grin starts creeping up your lips as you something raw and animalistic stirring deep in your belly, and you're lusting to burst into a full sonic charge, no quarter to be given.
Well, distortion pedals are one of the things that make all this possible.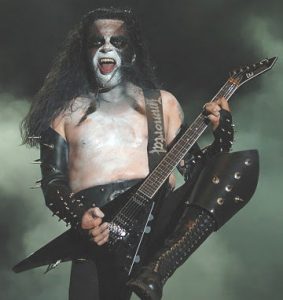 Although we'll be referring to the equipment in question as distortion pedals in the rest of this article, there are a few differences in ways various pedals dirty up your sound, and, technically, distortion is just one of the three effects from the unholy trinity of overdrive, distortion, and fuzz.
In short, overdrive enhances your fundamental guitar signal without drastic changes, distortion clips the hell out of it, and fuzz clips it so hard that it's barely recognizable (although when speaking specifically of metal, this one isn't used that often as it produces a warm, wooly grumble more characteristic of stoner rock for instance).
Of course, there are overlapping areas between the three, but here we'll focus mostly on distortion and pedals suited the most for aspiring metal ax-wielders. Without further ado, here are some of the best guitar pedals to use for heavy metal…
Electro-Harmonix Metal Muff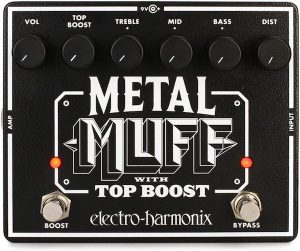 The metal successor to Harmonix' Big Muff Pi has been around for a while now and has proven to be a simple, yet effective solution for metal distortion, all wrapped up in a gorgeous design that just screams metal.
In addition to its name written in spike-y chrome script, you'll see several knobs that might seem intimidating at first glance, but all are very straight-forwardly arranged and you shouldn't have any trouble finding your way around it.
The Metal Muff sports a three-band EQ that helps you manage the gain, as well as a boost mode that really cranks up your signal.
It's suitable both for gentler distortion as well as producing sounds that might have come from Satan's own BDSM dungeon, and you'll find that it works great both with passive and active pickups.
However, if you're looking for a pedal capable of extreme amounts of distortion, look no further.
KHDK Dark Blood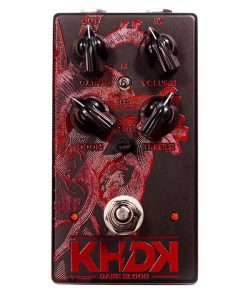 Is there a more metal thing than Kirk Hammett's signature distortion pedal?
This angry beast is perfect for both fans of Metallica as well as anyone who might be looking to hopefully stand toe to toe to Hammett when it comes to producing killer distorted tunes on your instrument.
The pedal itself looks gorgeous, with a red and black interface with a human heart painted on it. It is perfect for cutting off background noise with an onboard noise gate, but the real treat here is the Doom knob that really brings up that bottom end that Metallica's sound is known for, letting you wield the powers of metal gods Hammett and Hetfield themselves.
There's also a Hi/Lo switch which lets you play with two distinct modes – a gruff one for laying the foundation riffs (Lo), and a shrieking one that makes you soar through lead breaks with boosted top-end and sustain (Hi).
A surprisingly versatile treble control is the icing on the cake here. This thing comes with a fairly reasonable price too and is perfect for beginners and veterans alike.
Wampler Triple Wreck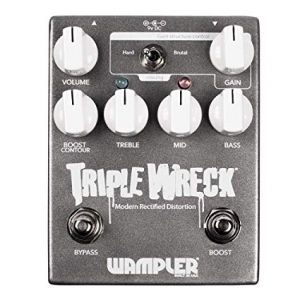 This one may not be a looker like the previous two, but let me tell you, it packs a brutal punch. Straight off the bat, you're looking at ungodly amounts of gain, which is complemented by – you guessed it – even more gain.
This blasphemous thing was made possible by Wampler's efficient three-band EQ and dedication to providing smoothly-nuanced gain curves.
Once you plug it in, you'll realize that, although you'll have command over more gain than you'll ever need, the pedal is very easy to temper and lets you play with a tremendous specter of distortion. It's all about them gainz bro.
Blackstar HT-Metal Guitar Effects Pedal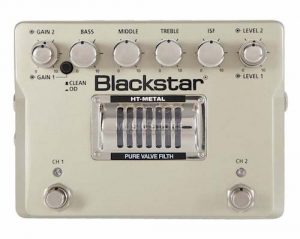 Coming from the company with a hefty reputation of making top-notch amplifiers for headbangers around the globe, the HT-Metal Guitar Effects Pedal is a product of extreme quality and reliability.
This pedal's cascading tube gain stages and the tube amp response are revered by amateurs and professional musicians alike.
It will provide you with a sound as gritty as Clint Eastwood's spit, with organic qualities of the excrement to boot – you won't hear anybody complaining about your sound sounding "too digital" despite buckets of gain and distortion.
Its vacuum tube circuitry is powered by a 300V DC connection, and the pedal's numerous features include 3-band EQ, Clean/Overdrive switch, and a tone shape knob, really letting you play with various effects as much as you want.
The Blackstar HT-Metal Guitar Effects Pedal is an all-in-one toolbox, perfect for both garage, studio and stage.
MXRM116 Fullbore Metal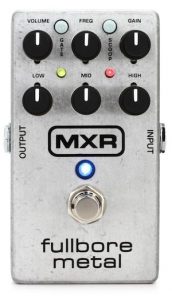 MRX has been around for ages, and in their case, 'age' most certainly equals quality and reliability.
This one gives you an incredible amount of bang for your buck, and really lays down the foundation of your metal sound. In addition to pure distortion, loads of features let you tweak your sound even further.
Although it is (arguably) the least pretty of the bunch, the MXRM116 Fullbore Metal pedal simply emanates with no-bullshit-just-metal big dick energy.
True to its meat-and-potatoes pedal nature, it is fully analog, with a built-in noise gate as well as true-bypass.
Also, this pedal gets the job done with underpowered single-coil guitars as well. If you're looking for a really heavy, industrial metal sound, this is as good as it gets.
Conclusion
Distortion pedals are essential tools for any musician intent on wreaking some heavy metal havoc. And after all, there's no reason not to use one – they're tremendous fun, and you'll be able to experiment with your sound like you never could without one.
Besides, not only will having a reliable pedal be a must-have if you ever decide to take your music to the stage, but it will also encourage you to take a stroll down that path as you realize how easy and fun it is to produce sounds that the gods of metal themselves would be envious of.
Each of these five is more than a solid pick, and any musician is bound to find one that suits his taste and budget the most. I hope that you do too.
Recommended Rig Run Downs