When people mention the electric guitar, the first thing that comes to mind is usually rock music and any of its numerous sub-genres.
That really comes as no surprise, considering the fact that most popular guitar players and artists became famous due to their work in this and other genres of music similar to rock, like heavy metal.
However, there are some guitar players out there who decided to step out of the box and take a completely different path.
If you have ever heard of Yngwie Malmsteen, you will know exactly what we are talking about.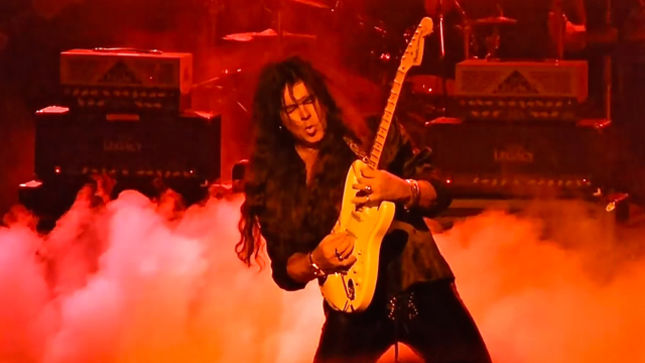 This legendary guitar player fused classical music with heavy sound and has become known for his incredible skill on the guitar.
Not rarely will you find that his name is used as a synonym for a virtuoso as his technique and music have pretty much shocked everyone since he showed up in the scene back in the '80s with his debut album "Rising Force."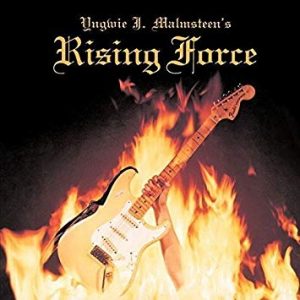 If you want to hear just how fast and clinically precise arpeggios can be, play any Malmsteen song and you will find out in a moment.
Or, instead, you can check out his famous video "Arpeggios From Hell" to start with.
However, Yngwie Malmsteen's playing style is not the only thing that is unusual about him.
It is fair to say that his choice of gear and equipment isn't all that mainstream either. After all, he is one of a kind maestro and has his own desires in crafting his tone.
In this article, we will be taking a closer look at Yngwie Malmsteen's guitar setup and see what this ultimate guitar master uses to achieve his refined sound.
Fender Super Champ X2 15-Watt 1X10-Inch Guitar Combo Amp

Dunlop Jdf2 Fuzz Face Distortion

Xvive V21 Echoman Vintage Pure Analog Delay Guitar Effect Pedal

Roland Re-201 Tubatape Echo ( Delay) With Spring Reverb

Guitars
When you look at most guitar players who have reached a skill level that puts them in the very elite category, you will often see them using rather unusual gear.
Or, if they somehow just use "normal" gear, then at the very least, they will have their own specific way utilizing the gear they have chosen for their main setup.
This is the case with Yngwie Malmsteen.
His choice of guitars and amps is not something that is generally seen among other musicians who play similar types of music. Either way, his own setup is an important part of his image, that is for sure.
In terms of electric guitars, there is only one model that Malmsteen is really passionate about.
If you weren't familiar with Malmsteen's work, and you decided to play one of his albums on your stereo, the last guitar you would imagine him using is the Fender Stratocaster.
However, Strats are his thing.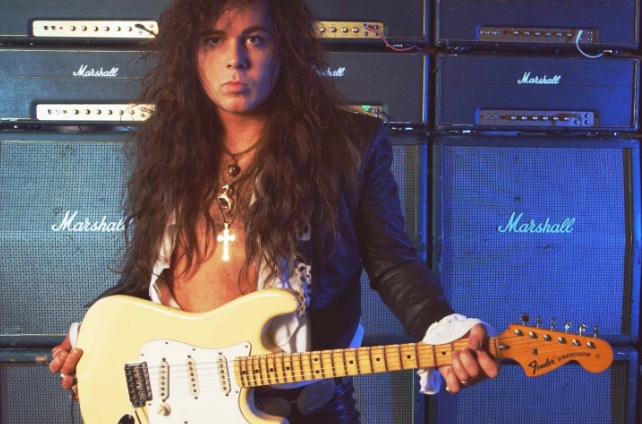 Not only that, but there is a very specific range of Stratocasters that he plays.
Guitars made in the period from 1968 to 1972 are acceptable, while anything else is not. His blonde Strat has become his signature item which is probably as popular as Malmsteen himself.
The reason for using only the Strats made within this four year period is the fact that Fender delivered them with a larger headstock.
Malmsteen is convinced that this larger headstock positively affects the sustain of the guitar. But with this being said, all of his Stratocasters are, obviously, heavily modified.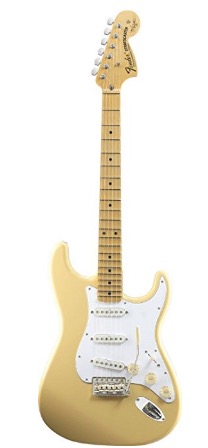 These modifications include minor things such as replacing the springs on the tremolo bridge with Wilkinson ones, to completely converting the neck and scalloping the fretboard. Different pickups are a standard for all of his Strats.
Even with all of the modifications, Fender has decided to make a Malmsteen signature model. Surprisingly enough, this is only the second signature series they made after Eric Clapton's.
Yngwie Malmsteen Stratocaster comes with most of the mods found on any of Yngwie's own Strats, with the inclusion of Seymour Duncan YJM Fury pickups.
Aside from a really cool name, these pickups bring a different twist to the classic single-coils.
Voiced by Malmsteen himself, these are designed to tackle both the heavy riffs and the fluid lead sections, ultimately giving an articulate tone no matter the situation.
In addition, the bridge pickup has a bit more output power to balance things out.
Of course, we should also not forget his use of acoustic guitars over the years. It's only obvious that such a virtuoso would pick Ovation as his weapon of choice.
Being heavily influenced by classical music, Yngwie has two Ovation Viper CV68 guitars with nylon strings.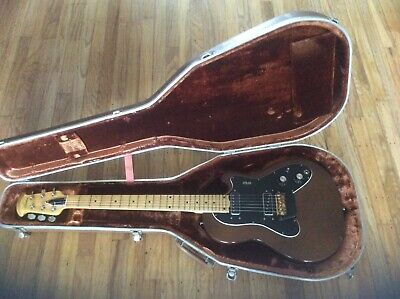 While these are not exactly classical guitars, their tone goes in that direction with the nylon strings.
As for some other acoustic guitars, he used Carvin AC175 Thinline for a few studio recordings over the years. But when it comes to live shows, where he does often perform acoustic pieces, he sticks to his Ovations.
Amps
Yngwie Malmsteen pretty much became known for his huge stacks of Marshall amps, creating a mind-blowingly huge wall behind him on the stage.
Of course, walls of amp heads and cabinets is nothing new, but rarely anyone has a similar setup to that of Yngwie Malmsteen.
The Swedish guitar legend uses 36 heads and a total of 22 cabinets during his live shows. All of the amp heads are Marshall YJM series, and all of the cabinets are YJM100s loaded with Celestion speakers.
Now, that's really something, isn't it? And it sounds a little something like this…
The above video doesn't show "the wall", but rather the sounds that Malmsteen makes.
As for the wall, this impressive wall of Marshalls is truly a sight to be seen. Oh, we found it. Check this out…
Interestingly enough, Yngwie doesn't use any of the effects or other features these amps offer. He only works with their raw sound.
On a slightly different topic, his wall of amps is different for another reason. If you come closer to any of his amps, you will find at least four or five picks stuck between the enclosure panels.
Each amp is riddled with picks, but it doesn't stop there. Pretty much any piece of gear he uses will be covered in spare picks.
But going back some decades in the past, Yngwie used to have some other amps as well. The most notable model is the Marshall JMP 50 MK II, made back in the early 1970s, most likely '71 or '72.
This one is a legendary amp head, featuring the power of 100 watts, and it's been used by many guitar players over the years, ranging from blues-rock to heavy metal styles.
There were also some other Marshalls in his collection, stuff like JCM900 4100 and JCM 2000 DSL 100. However, he's mostly fixated on his signature YJM 100 series.
Knowing that he's very adamant about his tone, it's only obvious that Yngwie will use an amp that's specially designed for him and his preferences.
Of course, all these amp heads need some solid cabinets. For that purpose, he uses Marshall cabinets with four 12-inch speakers in them. The speakers in question are the 75w Celestions, but in the past he also used the G12 30-watt ones.
The story goes that Yngwie also used Fender Roc Pro 1000 combo amp in some cases, most notably for his performances with the symphonic orchestra.
These amps are a bit difficult to stumble upon, making them somewhat of valuable collectible items.
Effects Pedals
When it comes to effects pedals and other effects devices, things are pretty straightforward in Yngwie Malmsteen's signal chain. The main part of his pedalboard is the Boss NS-2 noise suppressor and the CE-5 chorus ensemble, all combined with the Roland Analog Echo, Dunlop Cry Baby Wah, and the RJM Mastermind MIDI foot controller.
The CE-5 by Boss is a classic chorus pedal with the possibility to use it in a stereo mode. As explained by Malmsteen himself, he has this pedal on in most of the cases when he plays clean stuff.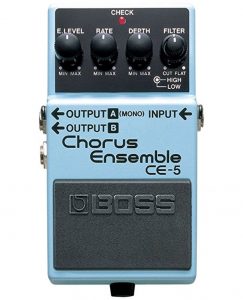 When it comes to delays, Yngwie has used the Roland RE-20 Space Echo and the Boss DD-3 delay over the years. The Roland one is a complex piece, basically like an effects processor specialized for delays. As for the DD-3, it's a classic delay by Boss, used by many amateurs and professionals worldwide.
Of course, he also uses overdrive pedals and one that he's satisfied with is the DOD Overdrive Preamp 250. But later on, he began using a special dirt box that he developed with Fender, the Yngwie Malmsteen Overdrive.
As one would expect from him, the pedal has a simple layout with just the level and gain controls on it. According to him, this Fender overdrive is "liquid sounding" and has no unwanted fuzz, which perfectly suits Malmsteen's style.
In many occasions over the years, Yngwie has expressed the importance of using pedals with true bypass over the ones that have buffered bypass. He's also a huge fan of analog effects and their warm "organic" tone, which can be seen with his use of analog delays.
You will often get the chance to see a Fuzz Face pedal somewhere near his effects pedal setup, but that is there only as an aesthetic detail. Which is pretty weird as the pedal is very well-known for its great tone. Either way, this practice shows Yngwies unique persona.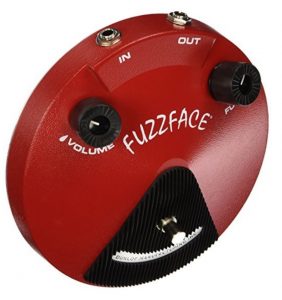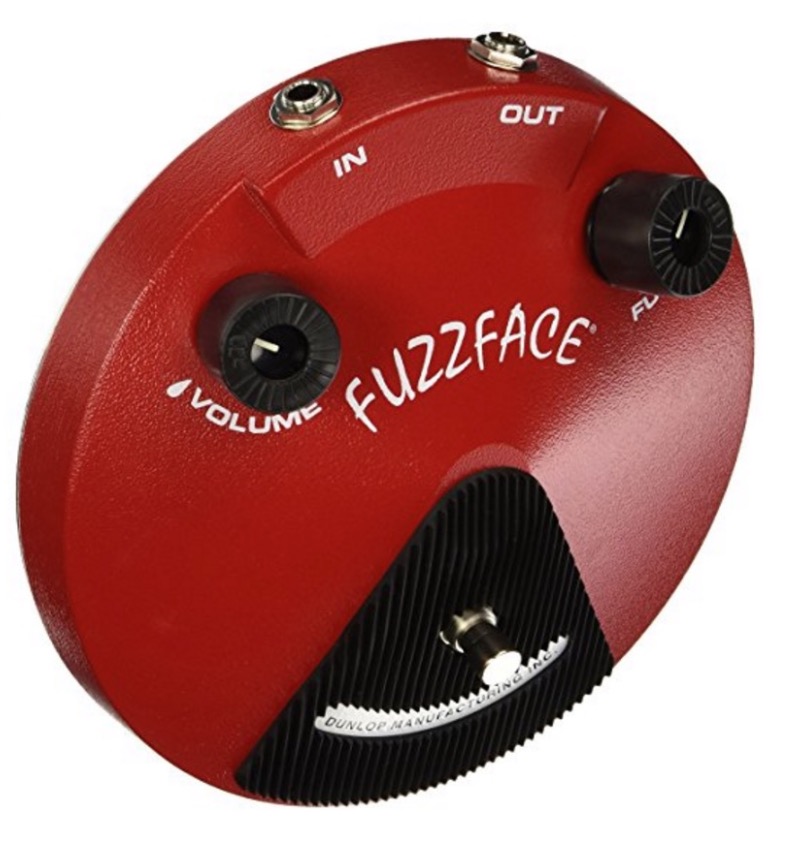 The aforementioned MIDI controller, the RJM Mastermind, is what he uses to control a variety of effects and signal in general. But what really makes this controller special are the two Ferrari stickers.
Yngwie Malmsteen once said that those stickers are just as important as any other thing on that controller. Without them, it simply wouldn't work. Here are some video demos of those above effects pedals…
The Boss CE-5
The Roland Analog Echo DC-20
The Boss NS-2 Noise Suppressor
RJM Music MasterMind MIDI Foot Pedal
The Cry Baby Wah
Conclusion
The way Yngwie Malmsteen plays guitar and the music he creates are both very unique. His modern interpretation of classical music puts him in a very different category of guitar players.
Not only was he among the first to actually play this type of music, but the consensus is that Malmsteen created a whole new genre of metal, ultimately inspiring musicians of all different style and becoming the best example of modern guitar virtuosity.
Today, a large number of known bands attribute their success to the influence Yngwie had on them as they were starting out.
His guitars and amp setup are among the more interesting ones even today. That wall of Marshall amps is definitely not something you will often see on stage.
At the end of the day, Malmsteen is considered to be one of the few true masters of guitar.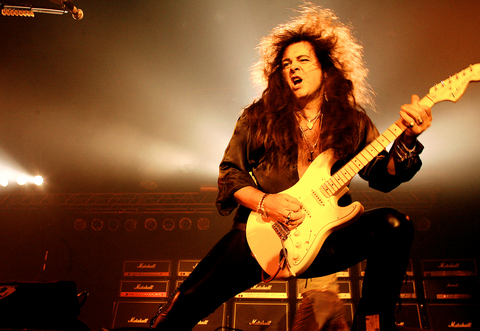 As such, it's not really that odd to see him use what can only be considered a very unusual choice of gear. However, when you are at his level, you will do anything to get that edge in your tone.
Malmsteen's way of achieving that is having 36 Marshall amp heads running through 22 cabinets. One thing is certain though, it's not that easy to replicate his tone.
In case you really want to, begin with a classic Fender Strat with three single-coil pickups on it. Of course, any kind of a Super Strat type of guitar with the possibility to use three single coils is a good option.
Getting the signature Malmsteen pickups would also be a great idea, as this is the very basis of his tone. Many times has he expressed his opinion that singles are superior to humbuckers.
The Yngwie Malmsteen signature Fender overdrive will also be a good addition, although you can also go with something like a Boss SD-1. A delay pedal is a must, and something like Boss DD-3 could do the trick for this purpose.
As for the chorus, CE-5 in cleans would be a good idea, although any kind of a cheaper copy or just a regular cheaper chorus could come in handy in case you don't want to spend too much.
The beast mode here would be to go with his signature Strat and the YJM Marshall amp, although that might be a bit expensive. However, we do know how much of a precise player Malmsteen is, meaning that his technique is of great importance to the tone.
With this in mind, probably the best way to start copying Malmsteen's tone is to practice. A lot.
Related Articles about some of this gear!