If we were to look through the history of rock music, it wouldn't take long for us to realize the importance of particular amps, pedals, or guitar models that made an impact on the genre.
What's more, one particular piece of gear along with a random accidental decision can be responsible for a total revolution in a genre.
Such an example can be seen with the Rolling Stones and Keith Richard's use of Maestro FZ-1 Fuzz-Tone on the legendary hit "(I Can't Get No) Satisfaction."
And this wasn't the only example of a simple compact pedal completely changing the genre.
There are a few great examples, like Boss DS-1, Electro-Harmonix Big Muff Pi, and Ibanez Tube Screamer, just to name a few.
But the one that we're interested in here is the legendary Pro Co Rat.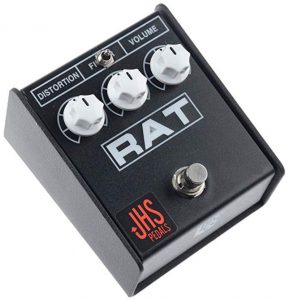 Many guitar players like to side with one of the clans – overdrive, classic distortion, and fuzz.
Each of these distortion types has its own distinctive clipping process, which results in a different type of tone.
However, Pro Co Rat sits somewhere close to the distortion, but still not that far from the fuzz territory.
We could say that it offers both brightness and chaos of the fuzz effect, while still keeping tightness we can hear with classic distortions.
Offering that unique-sounding heavy tone, it eventually became so widespread that guitarists of many different genres began using it.
But the pedal's simple controls and special kind of tone mostly won the hearts of hard rock and heavy metal legends.
This is why we decided to take a closer look at the pedal's history and see who used it over the past few decades or so.
Pro Co Logo
History of the ProCo Rat
But before we begin, let's find out more about how this pedal came to be and its different versions over the years.
The story begins in the late 1970s, right around the time when rock music was seeing some significant changes. Obviously, this was the perfect time for a new pedal to emerge.
Scott Burnham (pictured below, right), one of the employees in Pro Co, which was then a cable manufacturing company, always enjoyed modifying different distortion pedals.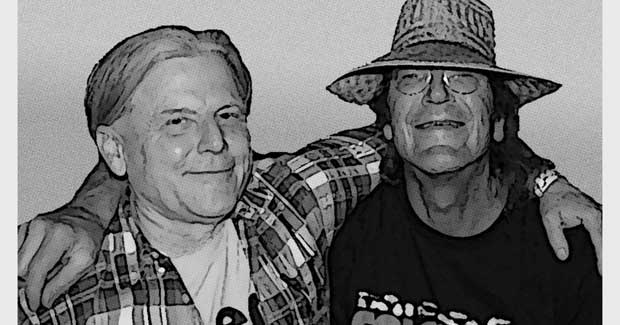 After a while, he made a decision to try and create his original circuitry. This was a pretty lucrative idea at the time, as distortion pedals as we know them today weren't that easy to find.
Interestingly enough, this peculiar circuitry came as a result of an accident – Scott added a wrong type of a resistor in there.
Luckily, the resulting tone was more powerful than anything he'd ever heard at that point. After playing around with this new circuitry, he finally came up with the name – the Rat.
Starting its production in 1978, the pedal saw a huge breakthrough in the 1980s.
There were a few different iterations of this original version, but the real change came in 1988 with the release of Rat 2.
About a year later, the company also released Turbo Rat, with a noticeably fuzzier tone.
Years went by and we got more and more different versions of the Rat. These pedals include Fat Rat, You Dirty Rat, Deucetone Rat, Solo Rat, and others.
Needless to say, its peculiar tone made it really popular among the famous guitar players in the 1980s, 1990s, and even in the 21st century.
But the most surprising thing about Rat is that it's not expensive at all, making it a great choice for beginners or any other guitarists on a budget.
So let's see – who are these famous guitar legends who used the Rat over the years?
Jeff Beck Playing Guitar
Jeff Beck
Ever since the 1960s, Jeff Beck remains up there as one of the most influential guitar players of all time.
But the secret behind his huge yet incredibly subtle tone is not due to some elaborate rig. No – Jeff just uses a Pro Co Rat pedal. Well, at least he did for a significant portion of his career.
Combined with some legendary amps that he uses, like Fender Bassman, Vox AC30, or any of the Marshalls he loves, it produces a really powerful tone.
After all, what else would you expect from such a pedal when it's paired up with these tube-driven monsters?
Visit Jeff Beck's official website
David-Gilmour Playing Guitar
David Gilmour
If you were to hear David Gilmour's guitar tone for the first time in your life, you'd never assume that he would use a high gain distortion pedal.
However, he has quite a history of using some pretty heavy stuff, like Big Muff Pi, or even Boss' HM-2 Heavy Metal that's mostly known for its use in those more extreme genres.
Another one of these examples is Pro Co Rat.
To be more precise, Gilmour used the famous Rat 2 version. You could see this particular pedal model in his live rig, most notably for the legendary "Pulse" live album.
Knowing that his tone still retains some of the more refined and softer traits, this proves that Pro Co Rat is actually a very versatile pedal.
Which is really a surprise for a device that only has three basic controls. When put in the right rig, it can add that much-needed sustain and attack without ruining the warmth of the tone.
Visit the official David Gilmour website
Robert Fripp Playing Guitar
Robert Fripp
King Crimson's creative force, Mr. Robert Fripp, is one of the most innovative musicians of the 20th century.
Although he's a guitar player, it's really hard to just look at him as a regular 6-string rock star.
In fact, he even reinvented the approach to the instrument with his technique, theoretical knowledge, and the practical implementation of both.
Interestingly enough, Fripp is a Pro Co Rat user.
But he's also known for using EHX Big Muff Pi, so the accent on the overall sustain and "thicker" tones are something he's very fond of.
And these are just some of the reasons why he inspired so many guitar players in metal music.
Visit Robert Fripp's website here
John Scofield Playing Guitar
John Scoffield
Looking more into the "old school" side of guitar-based music, we also have Mr. John Scoffield on this list. And this is yet another of these "unexpected" mentions.
Nonetheless, this, once again, proves how Pro Co Rat can be versatile. In many cases, this depends on the other pieces of gear, but Rat is capable of creating very unique tones in almost any setting. And having such flexibility is what makes one pedal so great.
So whenever you hear John Scoffield play with distortion on, there's a high chance he's using the almighty Rat.
And if you still haven't gotten the chance to listen to Scoffield's music, then you're missing out a lot.
Visit John Scoffield's website here
Joe Perry Playing Guitar
Joe Perry
Now going over to the classic rock and hard rock territory, we have Aerosmith's main axeman and one of the Hollywood Undead members, Joe Perry.
Joe is pretty well-known for his extensive collection of many different guitars, amps, and other gear.
Some very valuable pieces can be found in his collection. But even with such a vast and impressive arsenal, he still often used a Pro Co Rat pedal in his signal chain.
This is one of those guitarists that that's more expected to stumble upon on such a list.
After all, Perry is one of the guys who developed and defined hard rock and heavy metal music.
Therefore, Rat was an obvious choice for a distortion pedal back in the day.
Visit Joe Perry's website here
James Hetfield Kirk Hammett Playing Guitar
James Hetfield and Kirk Hammett
And there's no surprise to see Metallica frontman James Hetfield and lead guitarist Kirk Hammett in here.
Pro Co Rat was an indicator that the music was changing. At the same time, Metallica were one of those bands who were actually changing the music with their unique approach to songwriting.
With the birth of a faster and heavier movement in metal music, a pedal like Rat is an expected choice.
After somewhat of a turbulent start, the band finally got the chance to enter the studio and record their debut album "Kill 'Em All."
In order to get that dirty tone that still retains all the tightness, James and Kirt used the Rat. And the results are more than impressive, we must say.
To this day, the album is praised for its innovativeness and especially its raw and powerful guitar tone.
Visit Metallica's website here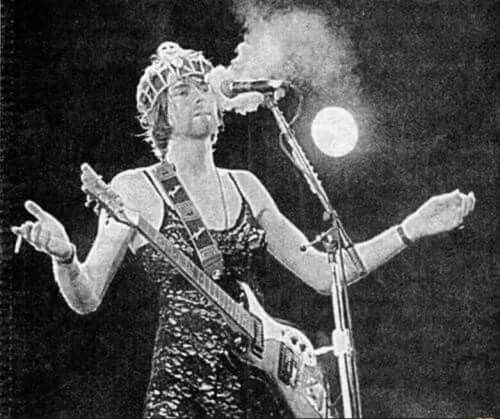 Kurt Cobain
The late 1980s and the early 1990s saw another significant change in the world of rock music.
Slowly, but surely, the stereotypical songs about sex, partying, and other superficial issues were replaced with more serious topics reflecting on the society and an individual's place in it.
And with such a different artistic approach also came the change in the guitar tone as well. It became darker, grittier, and more in the vein of early heavy metal from the 1970s.
However, both glam metal and grunge guitarists used the Rat, which just further proves that this pedal was extremely potent and versatile.
That's exactly why a grunge legend and an impeccable songwriter like Nirvana's Kurt Cobain decided to use one of these.
Dave-grohl-guitar
Dave Grohl
Although first getting the spotlight as a drummer, Dave Grohl also became known as a great guitar player, singer, and songwriter.
And knowing he was in Nirvana with Kurt Cobain, it's only obvious that he'll use the same distortion pedal.
The somewhat fuzzy distorted tone of the heavy rhythm guitars you can hear on some of the Foo Fighters' songs is actually due to Pro Co Rat.
As Dave himself explained, he uses this pedal when he's layering rhythm guitar tracks in the studio. Knowing what Grohl's music is like, this pedal is a perfect choice for it.
Visit the Foo Fighters website
Nuno Bettencourt Playing Guitar
Nuno Bettencourt
Emerging around the same time when the grunge movement started shaking up the world of rock music, Extreme kicked off their career as well.
Although doing something that's a bit different compared to grunge, they too relied a lot on some heavier tones.
This is exactly why their lead guitarist Nuno Bettencourt opted to use the Rat back in the band's early days.
And even years later, Nuno still uses this legendary pedal. As he explains, he can't go without a Rat when playing through any of his Marshall amps.
Just thinking of how awesome this particular combination is, we completely understand Nuno's decision.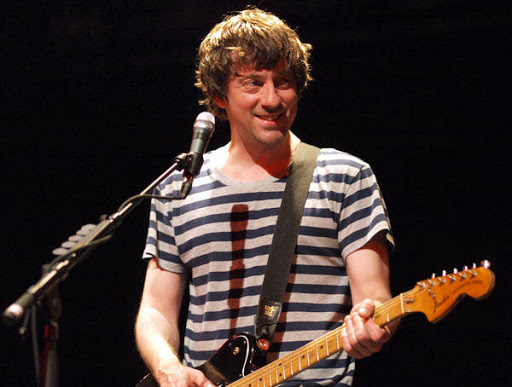 Graham Coxon
Blur is one of those bands that blew up in the late 1990s thanks to just one hit song.
In their case, it was the legendary "Song #2," featuring that easily recognizable riff by Graham Coxon.
Being their creative and sonic force, Coxon was really conscious of his guitar tone. In fact, he's one of the biggest pedal freaks of all time.
And in his signal chain, he often uses the Rat as his main dirt box.
And if a pedal maniac such as Coxon loves this pedal so much, that just speaks about how great it is.
Peter Buck Playing Guitar
Peter Buck
It's a little weird to see R.E.M. and their guitar player Peter Buck on this list. While most of the guys in here are known for heavier tones one way or another, one wouldn't think that about Buck.
Nonetheless, the famous musician really loves the tone of Pro Co Rat. One of the most famous examples is R.E.M.'s entire "Monster" album.
Released back in 1994, there's a whole lot of song parts where Buck recorded through the Rat.
Again – another example of how this pedal finds use in almost any subgenre of rock music.
Thanks for reading our list of the most famous Pro Co Rat guitar pedals users. Did we forget anyone? Let us know in the comments!
Visit the Rat Distortion website here
Also check out…