The 1990's were the time of significant changes in rock and metal music. The rise of grunge and alternative rock movement opened up new horizons and completely changed the game for the coming generation of musicians.
One of the bands that made a huge breakthrough later during the decade was Blur.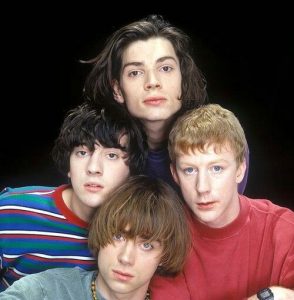 Fitting into the alternative rock category, while also keeping some of those Britpop and indie rock traits, they paved their own way to success.
The biggest breakthrough came with their somewhat unusual but really catchy "Song 2″ that, by now, everyone knows as one of the most influential rock anthems.
But the band wouldn't have the reputation that it has today if it wasn't for guitarist Graham Coxon.
Now, he is not your typical guitar hero rock star, the kind that spawned from the 1980s after Van Halen blew everyone's heads off. Pretty much a reaction to it.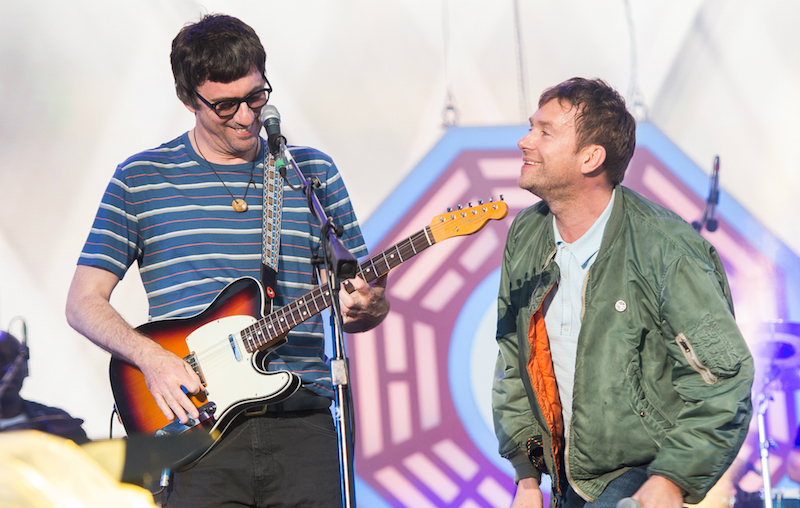 Since he began his music career in the late 1980s and the early 1990's, Coxon is more in the vein of grunge guitar players, with just a hint of other elements in there.
But above all, he's a very versatile musician, multi-instrumentalist, and – above all – a great songwriter, having written a ton of songs with Blur and also a lot of cool solo stuff.
In his teens, Graham was already well acquainted with a few different instruments. Aside from the guitar, he also played the flute, drums, and saxophone. There were a few bands he was a member of, but it was only in Blur (originally called Seymour) that he found success and fame.
However, as you may know, we're all huge guitar gear nuts over here. So what we're really interested in is tone and how he got it.
Coxon has a pretty exciting and – dare we say it – somewhat unconventional collection of guitars, pedals, and amplifiers.
There's some stuff in his arsenal that's pretty unique. But it's not like you'd expect anything less from a musician like Coxon. So get ready and let's dig into it.
Guitars
Like we said, his guitar collection over the years has been pretty interesting, and we can even find some unusual stuff in here.
So let's start with his Fender Telecasters that he's so well-known for. The one that's been with him for so many years is his 1952 Tele.
Even if we ignore Blur's greatness, this is a very valuable instrument with all the original parts and original cream finish from its production back in 1952. Graham used this one all throughout his career.
Here's Graham talking about his experiences with Tele's.
There are a few other very valuable Fender Teles worth mentioning here. For instance, there's this one that Graham is referring to as being made back in 1969, although some sources claim that it's 1968.
This is not unusual for guitars from the '50s and the '60s. Either way, this is yet another wonderful cream-colored instrument.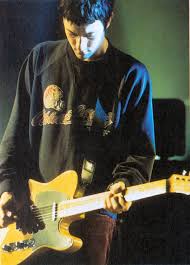 But what makes it interesting is the ash body, rosewood fingerboard on maple neck, and Gibson's vintage PAF humbucker on the neck position. The bridge features a regular Fender single-coil.
Among other Teles, we can also find his 1972 Deluxe, which is the guitar he used extensively during the band's 2009 reunion.
Also worth mentioning is midnight blue Tele, but not much is known about this instrument.
Now, since he's become known for these guitars, it was only a matter of time he'd make his signature Tele with Fender. This instrument is based on a classic '69 Telecaster.
Visually-wise, the only significant difference is in the pickguard. What's a little unusual is the fact that it has a humbucker pickup in the neck position, Seymore Duncan's SH-1.
Meanwhile, the bridge position is the classic vintage-styled single-coil by Fender.
As for Fenders in general, Graham is also a huge fan of Jaguars and Jazzmasters. He also owns a few of these instruments.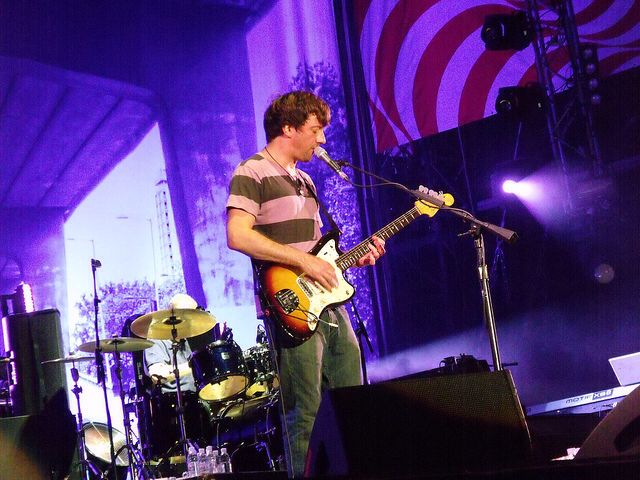 There are also plenty of other interesting electric guitars we should mention here. There's a small collection of Gibson Les Pauls that Coxon has been using over the years.
One of his earliest LPs is the black Custom one. This guitar has been used both live and in the studio, most notably on Blur's 1997 self-titled album.
Graham also owns a '56 Goldtop '56 reissue with two P-90 pickups.
We can also find a tobacco sunburst one, but not much is known about this instrument, except that it had a black pickguard that has since been removed.
While we're at Gibson guitars, there's also an SG that dates back to 1962, back when these were called Les Pauls.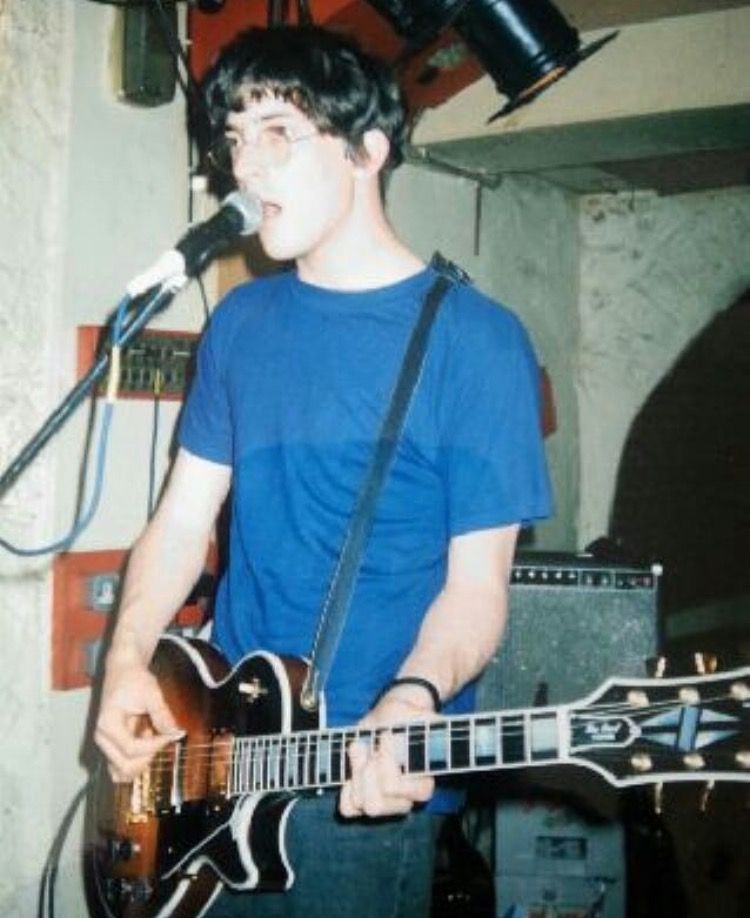 To make things more interesting, we decided to cover some of his unusual guitars here. One of the examples comes with his Fender Coronado 12-string.
It's not a type of instrument you'd see that often, and it looks like a mutated Gibson 335 with a twisted Fender headstock.
There's also stuff like Rickenbacker 330, Burns London Sonic, and a few others, although he rarely uses these instruments.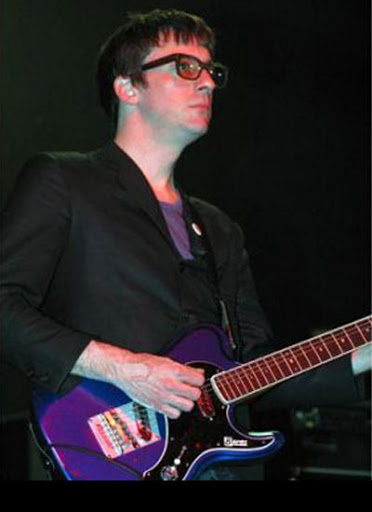 As for acoustic guitars, he has one great custom piece built by Ralph Bown, his OM model.
Graham used this guitar both live and in the studio for quite a while now. It's a very unique instrument and includes an L.R. Baggs M1 pickup.
There's also an inevitable Gibson acoustic guitar in there, a piece like J-160E. He also owns a Martin OM-28V.
Amplifiers
When it comes to guitar amps, Graham Coxon's setup has never been really that exciting.
There's nothing wrong with that, but there's only a handful of amps that are worth mentioning here.
For instance, his main amplifier is his Marshall 1959 SLP.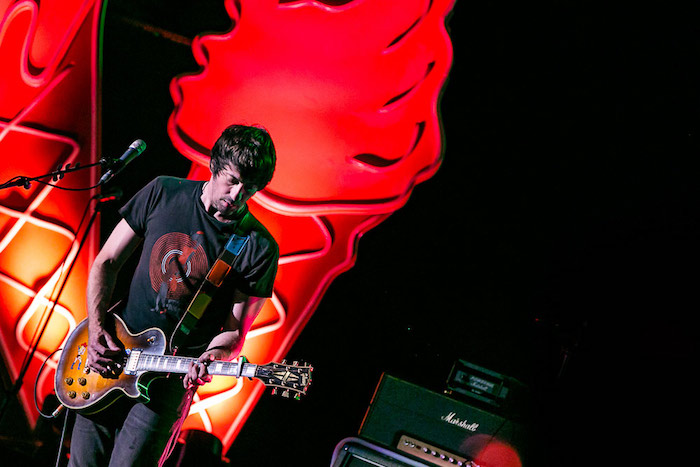 You can usually see him using two of these on the stage, paired up with the '69 Marshall cabinets, each bearing four 12-inch speakers.
In this setup, however, Graham quite often used an attenuator for each of the amps.
The one he's fond of is Marshall PB100 Power Brake, and it goes between the amp head and the cabinet. This way, he reduces (or "soaks") the power from the amp before it goes into a cabinet.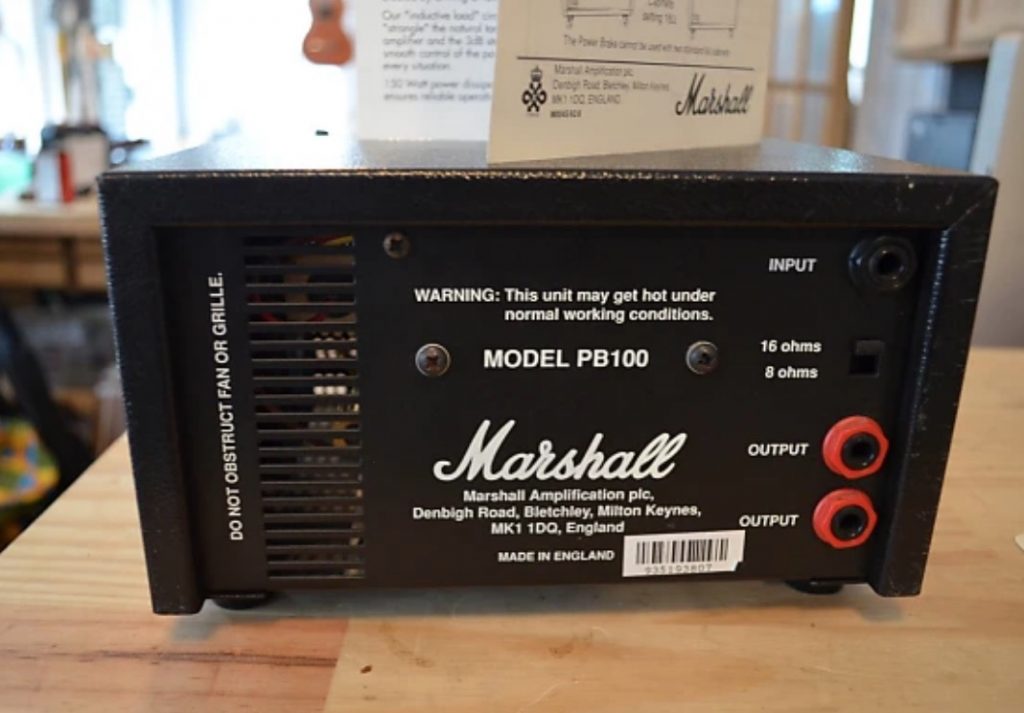 As we said, nothing else is really that exciting, or at least we don't know enough to share all the details.
It is known, however, that he has used plenty of combo amps. Some claim that he has used Orange rocker 30 and a classic Marshall 1962 Bluesbreaker.
As you can see, he's pretty much a classic straightforward Marshall guy. Nothing really exciting, but it gets the job done.
Pedals and effects
But contrary to his amp setup, Graham's pedalboard has always been really exciting.
He is, after all, a bit of a pedal junkie, and has relied more on effects rather than amps in shaping his tone. There's a lot, so we don't know where to begin.
Let's go with distortion pedals first. And what a better way to start than with the legendary ProCo Rat 2.
He's been using this one quite a lot, and you can sometimes even find more than just one of these in his live setup. It's a simple yet really effective distortion.
In addition, he's also used another version of the ProCo Rat pedal, the company's well-known Turbo Rat.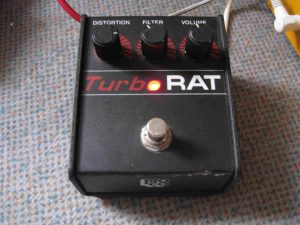 This one is a little harsher-sounding compared to the standard ProCo Rat, although it features pretty much the same control configuration.
Since Blur is so-well known for their "Song 2," we can't help but mention the DOD FX76 Punkifier pedal. And this is a rather unusual one.
The Punkifier is both an overdrive and a fuzz, which is really weird as overdrive features soft clipping and fuzz has an extremely harsh clipping process. All in all, you'll never be able to find a pedal like this one.
Another unusual one is the old Shin-Ei FY-2 Companion Fuzz. Produced back in the 1970s in Japan, these are pretty rare to find these days.
Back then, they were pretty innovative. However, these are pretty straightforward and feature only two simple controls for volume and gain.
It's not completely certain what he used FY-2 for, but it clearly shows his great interest in vintage-oriented stuff.
Of course, it's literally impossible for a guy like Graham to go without the classic Boss DS-1.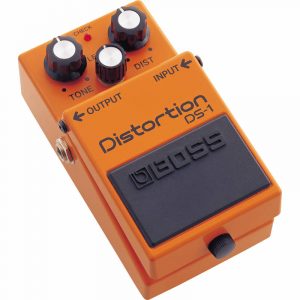 This simple piece can be found on many pedalboards even to this day, both with amateurs and professionals. Just a classic piece.
T-Rex Mudhoney Distortion is another one we could see and hear Graham use over the years.
While not exactly the "mainstream" choice here, the pedal is as creamy-sounding as its name would suggest.
There's also the Mudhoney II version, although Graham has been using the original model for quite some time now.
With so many different distortion pedals in there, it's only obvious that there's supposed to be a noise gate somewhere.
Of course, it's not like Coxon is a hard-hitting heavy metal player, but fuzz and classic distortion pedals can get a little "messy" here and there.
For this purpose, Coxon's choice is Boss NS-2. It's a fairly versatile and useful example of a noise suppressor.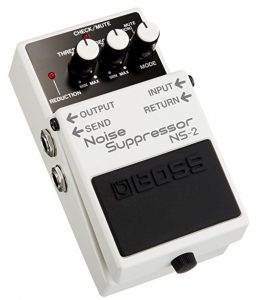 While we're at it, Graham is a huge Boss pedal fan. Aside from the aforementioned pedals by the legendary company, there are a few worth mentioning as well.
For instance, he uses the classic DD-3 Digital Delay. It's the classic choice among Boss lovers, even though it has a shorter maximum delay time.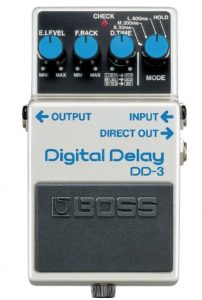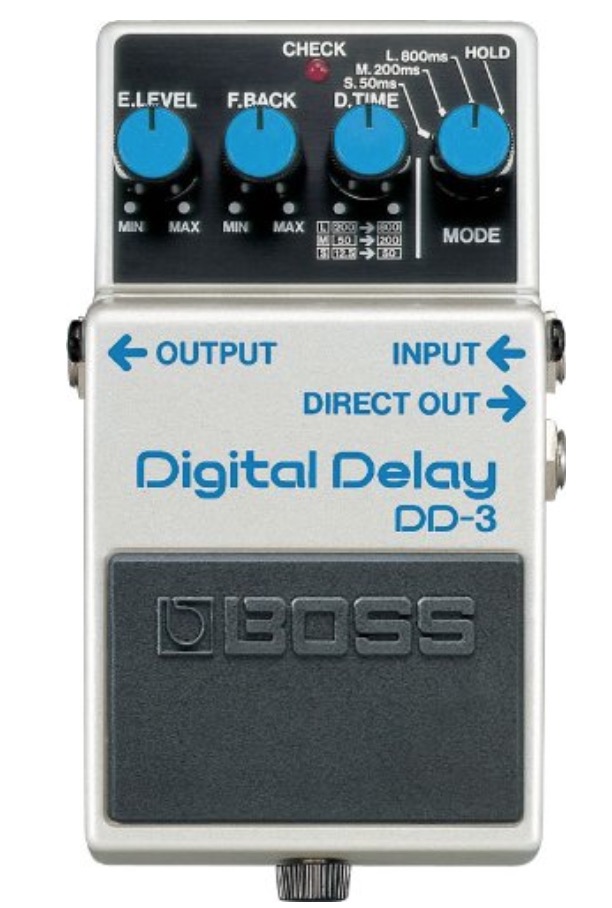 Speaking of Boss delay pedals, there's a rather interesting old unit somewhere to be found in his pedalboard.
The one we're talking about is the DM-2, which is the company's famous analog delay from the 1980s.
These kinds of delay pedals relied on the so-called "bucket brigade devices" to store the signal and repeat it. This results in somewhat of a saturated and even slightly muffled repeated tones.
Again, another example showing how Coxon is into older stuff.
Going over to other Boss pedals in his inventory, we can also find the VB-2 Vibrato, PN-2 Tremolo and Pan, BF-2 Flanger, TR-2 Tremolo, and even the RV-5 Digital Reverb.
The PN-2 is a rather interesting one.
Despite having only a handful of controls, there's so much stuff that you can do with it.
As you might have suggested, it's capable of delivering stereo output that shifts the signal from one channel to another according to set speed and depth. Otherwise, you can use it as a regular tremolo.
Then we have some pretty exciting stuff by Line 6. Most notably the FM4 Filter Modeller.
There's actually a lot of stuff that you can do with a filter pedal, but this thing brings it to a whole new level.
The FM4 is practically closer to a synth pedal as it replicates some classic old synths. It comes with mindblowing 20 factory presets, as well as 4 user presets.
All in all, it's really fun to use. Not really surprised to see this one in Graham's collection.
Another one of those complex series of Line 6 pedals is DL4 Delay Modeller.
There's just so much stuff that you can do with it, anything from standard delays and echoes, up to wacky bouncy stuff.
What's more, it can also replicate some analog and lo-fi stuff. Who could have thought that a delay pedal would offer you so much creative freedom?
But from all the delays in his collection over the years, nothing can really beat his Akai E2 Headrush. It's not an easy one to find, which is really a shame.
This pedal does so much stuff, anything from simple delay up to very complex looping. With it, you can also replicate some of those vintage tape-based echoes.
However, its biggest strength lies in all the looping features and overdubbing.
Talking of weird delay pedals, he also used Carl Martin's EchoTone pedal.
Released in the late 2000s, it's kind of similar to DeLayla XL, although EchoTone is a little bit more versatile.
It operates with an additional switch for two different delay times and another one for tempo of repeats.
We may as well stop there, since Graham's bag of guitar pedal tricks does run very deep. From album to album, he's a bit of a kid in a candy store, trying out various things on various tracks.
This is made all the more exciting by the fact that he's not afraid of layering guitars on top of one another, to get exactly the effect he wants for any given song.
This is why we love Graham, as he was and is, to a large extent, the sonic architect of Blur, although everyone involved in that band brings their own brand of genius to the mix.
Conclusion
If you aren't your typical shredding rock guitar hero type of guitar player, but love sheer inventiveness when it comes to guitar playing and especially songwriting, Graham Coxon is definitely someone to check out.
He's played on some of the world's biggest stages, delivering quirky riffs that are both melodic and mosh-able to tons of fans around the world, which is a big reason Blur is so beloved.
In other words, he's just your regular affable brit, but with a huge knowledge of guitars, guitar history, pedals, and so on. So definitely worth diving into to see what he's up to at any given time.
Have you given him a listen, or used any of the gear he uses? Drop us a line below.
BONUS: Some great video interviews with Graham Coxon