With the popularity of all sorts of singing shows on TV like The Voice, X-Factor, and American Idol, it's no wonder that the popularity of singing and karaoke has taken off to new heights.
Everyone wants to be a singer, and, the great thing is, anyone who wants to be, can be!
Editors' Picks: Top At-Home Karaoke Machines 2022
Why You Might Want a Home Karaoke System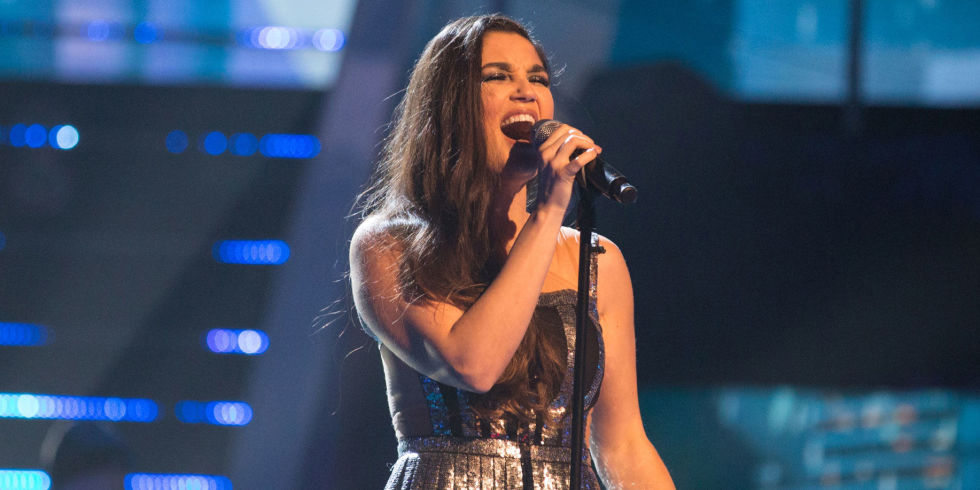 There's really just two places you can do karaoke - out at a bar, or at home.
As far as the bar scene goes, we realize that exclusive karaoke bars can get quite price-y, and sometimes if you rent one of those private karaoke lounge rooms, you can run up a tab the likes of which you've never seen before.
The reason we mention bars at all is because most people we've talked to have karaoke experience mainly from doing it at bars from back in their college years, since home systems weren't available until more recently.
The thing about going to the bar to do karaoke is, you basically have to wait your turn and might get to sing once in like 3 hours, since karaoke nights at bars and pubs can be insanely popular whenever they appear.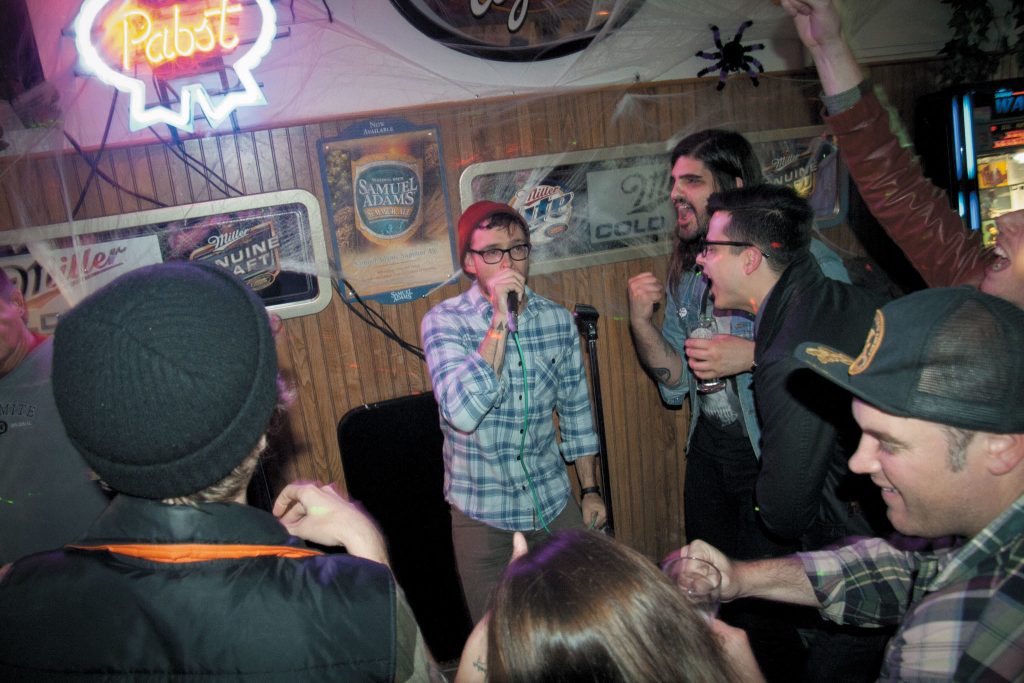 On top of THAT, bars are certainly not for everyone. Based on the scene above, is this where you want to be hanging out? Probably not.
The people are often obnoxious, drunk, and overall, will make you hate doing karaoke. There is something satisfying, however, about impressing a crowded bar full of people with a particularly on-point performance.
Oh, and also - GERMS. Do you really want your mouth on a microphone that's been on some random person's mouth that you don't know and don't want to know? If not, avoid the bar scene. Or.. bring your mic cover (essentially a mic condom).
The majority of karaoke fans, as it turns out, are not bar or club go-ers at all. If you're reading this, you probably have kids of your own, or you might even be a kid (not of age to go to bars), and, besides having no time or money to visit bars, you probably would rather just do karaoke at home, if you could.
Luckily, karaoke systems are made now for home use, and this is good news for those who love to sing!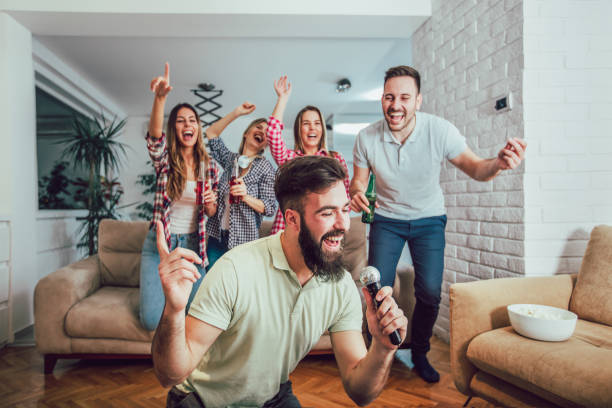 Buying Guide for The Best Karaoke Machine
A Quality Speaker
Home karaoke systems are generally "packages" of things, meaning that you're usually getting several different things at once, like a speaker with a microphone, along with a control unit to select your songs (this is the basic karaoke system setup).
The one system shown below, by Ion Audio, has a decent speaker, so take a gander at that. (We'll be reviewing it in detail later).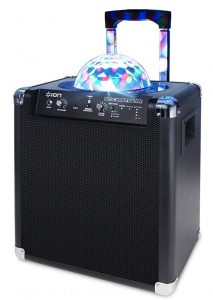 Anyway, the way these systems work is, the crappier systems on the market will, somewhere along the line, skimp on quality for some, if not all, of their equipment, and then you're stuck using essentially inferior audio gear.
That's why you have to look at what you're actually getting with the system you're purchasing, and scrutinize it somewhat, until you're sure that each piece isn't junk.
With speakers, there is no exact specifications that will let you know that it isn't junk per se, but the qualities you'll be looking for in general include: loudness, bass and treble functionality (ie. subwoofer), as well as just making sure the speaker doesn't look like it's el cheap-o when it comes to the build of the thing.
That means, zoom in on the knobs and buttons to make sure they don't look like they were just slapped on.
Also, you don't want a speaker that looks too big, or too small. If it's looking oddly tiny-looking, chances are it's not going to give you the sound you want, and if it's oddly huge, like something you'd see on stage at a Metallica concert, then it's just plain overkill.
Make sure you read plenty of user reviews to ensure that it doesn't have a solid 1-star rating with everyone saying it's garbage. If that's the case, that's a warning sign and a half right there!
A Quality Microphone
Microphones are another essential part of a home karaoke set-up, and they are notoriously hard to eyeball in terms of quality, probably more so than speakers. At least with speakers, you can at least get some sense of quality at a glance by examining how big / small it is and whether the knobs look cheap.
With microphones, they more or less are all the same size, and whether the mic was spray-painted gold or silver is NOT going to indicate whether you are dealing with a quality mic, just like a gold plated speaker does not indicate inherent quality either. Do not be fooled by things spray-painted gold. 🙂
Ok, so what I'm saying here, first of all, is - does the karaoke system in question even come with a microphone? It should!
One thing you can look for that might tell you something about a microphone's quality is that if it uses a standard quarter inch jack, and that is going to be a step down from a dedicated XLR cable, which looks like this: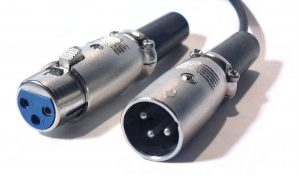 These are XLR cables (above) are what most high quality mics require. When you go to a concert, this is what they're using, no doubt.
And this… is an XLR to quarter inch jack, shown below: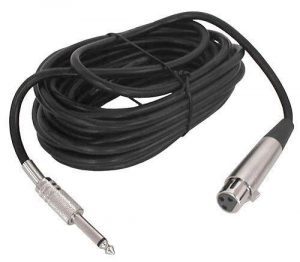 So what we have here is one end being XLR, and one being quarter inch. Got it? Ok…
Without getting too technical, strictly XLR-based mics (as in both ends being that three-pronged end) are generally used to power fancier microphones. If the mic attaches via a quarter inch adapter (as shown in the pic immediately above), it's probably going to be, on average, not as good as a strict XLR based microphone.
The reason, as far as I know, that XLR mics are better is because XLR-dedicated mics can use phantom power, which is a something associated with much more sensitive vocal mics, like this one: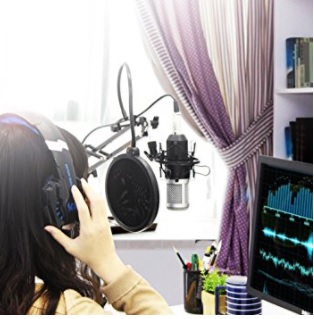 These fancy mics are usually ribbon mics, meaning they are using a ribbon to get some sensitive audio performance, and those mics are in need of XLR / phantom power technology.
Whereas a typical karaoke mic looks like this: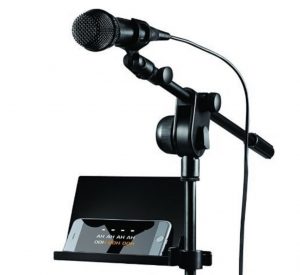 Most karaoke mics are not dedicated XLR, to my knowledge. Most of them look as they do above, and that's fine. Again, to be clear, the XLR is just the cord that attaches the mic, and the technology behind that, not the mic itself. I'm not saying that karaoke mics that aren't strictly XLR-based are going to be junk.
But, in knowing this one difference, you can start to see that mics all come in different "classes", ie. there are great vocal mics, and you won't be seeing them coming bundled with karaoke systems, because a good mic can be mega expensive. For instance, a high quality dedicated vocal mic can easily run you $1000.
That said, you don't really need a great "vocal" mic for karaoke. What you need is something durable, that is practical and functional. Something similar to this mic here, the Shure 58, which is an industry standard for performing mics around the world.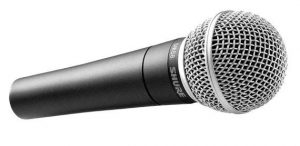 So, basically, if your karaoke mic looks anything like this baby, then you're good, because this is a mic that your average rock star would use performing at a stadium, so they can run around, jump, and the mic can fall and roll off the stage, and it's no big deal!
The Right Accessories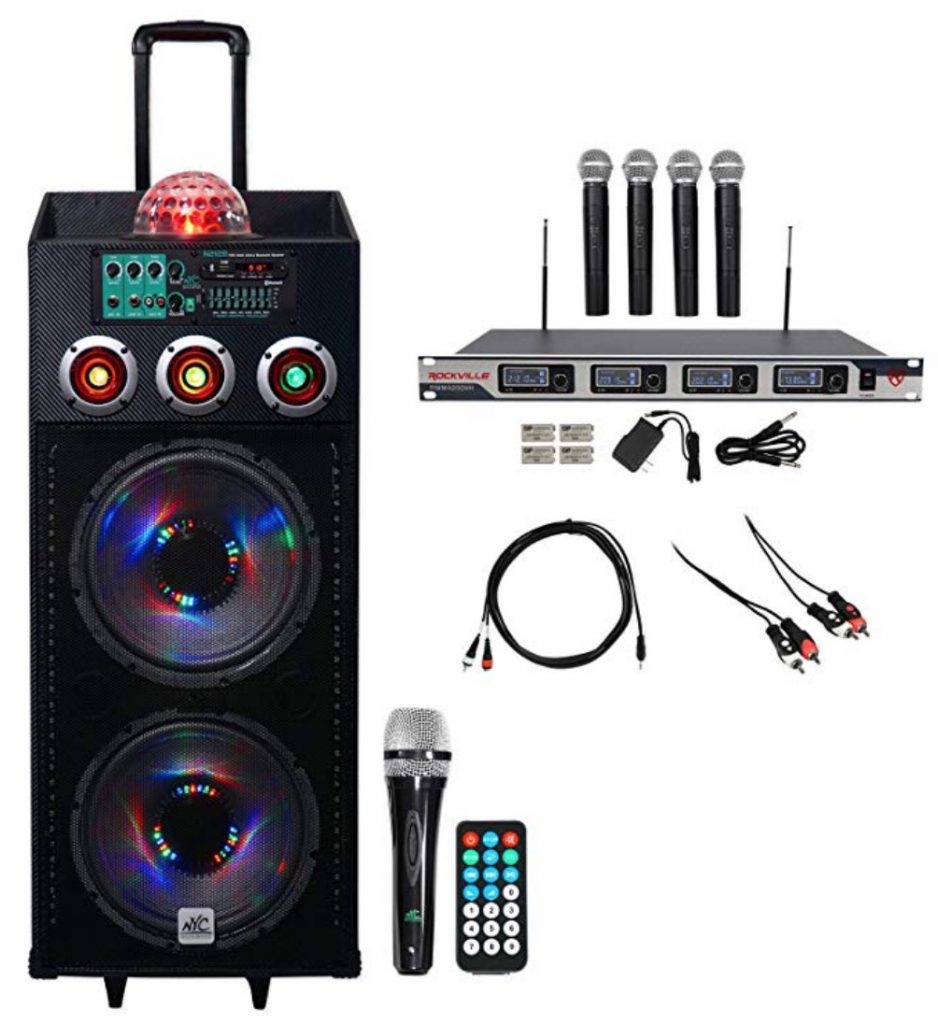 When it comes to accessories, you just have to know what are going to need and what you will actually be using.
For instance, the above model by NYC Acoustics actually looks great, and, from all accounts, sounds great. But…I don't see a stand for holding my smart phone, if that's going to be what I use as a screen for accessing the internet and reading my lyrics.
So, you can't really judge a system but what it does or doesn't have, but you can certainly be aware that one thing you want is a mic stand, and if you don't see a mic stand, don't expect to GET a mic stand.
If there's no documentation that the mic stand has an adjustable arm, and the box doesn't say "adjustable arm", for you to adjust your mic position, then guess what? It probably isn't going to be in the box.
Oh, and when something is called an "accessory", it usually means it's something extra. So, keep that in mind, because you just want to make 100% sure that the basic unit you are buying comes with all the essentials you will be needing.
If you want a karaoke machine that has 1. a speaker, 2. a microphone with 3. a mic stand and 4. an adjustable arm, and then 5. some kind of stand to put your phone on, and then 6. a remote control that you can use to change your sounds and settings, I'd recommend that you keep looking until you find a karaoke system with all of those things.
That said, sometimes you can modify your needs, so that you can forego the mic stand with adjustable arm because that's something you can buy at your local music store. Same with the stand that holds your smart device. That means you're really just after a good speaker, a good microphone, and that's it.
Remember also that some systems come with built-in software (ie. the Singtrix) that you can use to have the complete set-up right away, and that might be your preference, but don't cry if you get a karaoke system that doesn't come with 10 000 songs because that system never advertised that it DID come with 10 000 songs.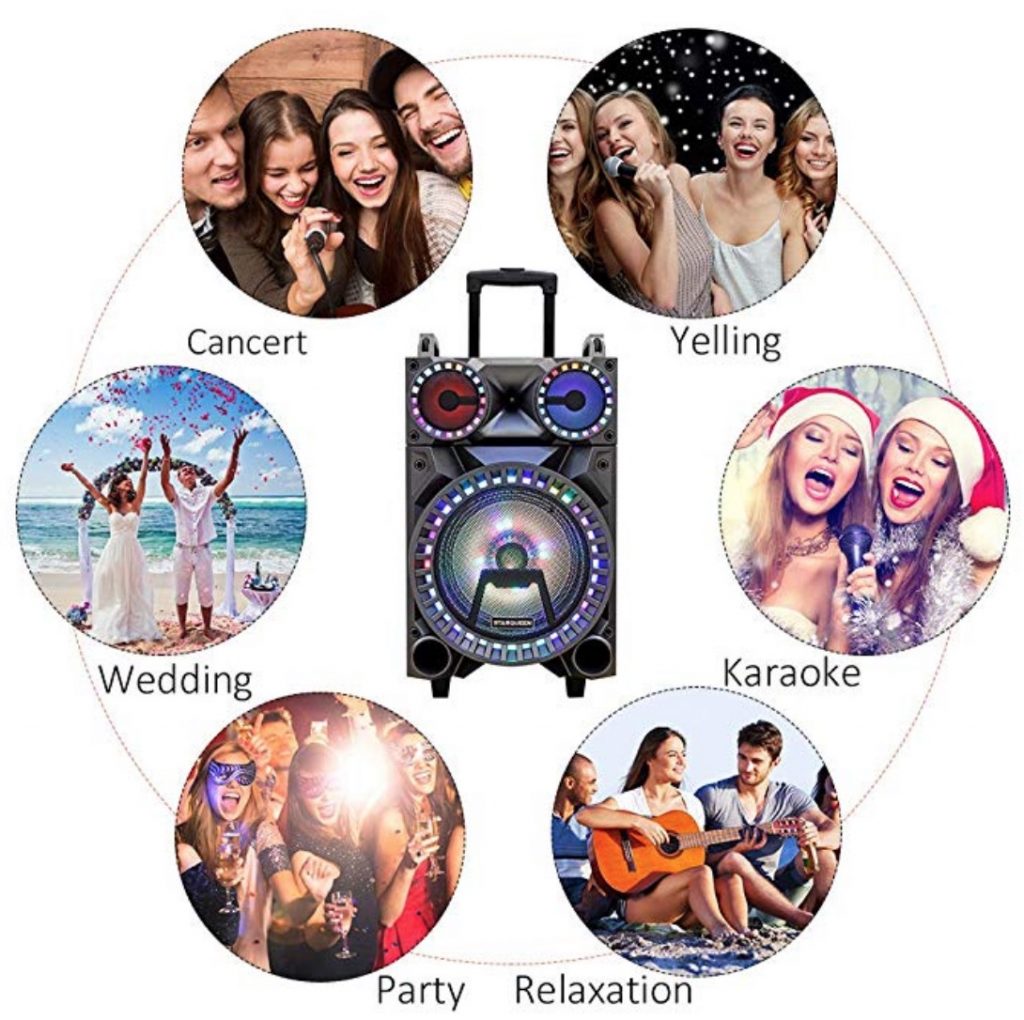 Wireless Systems
Sometimes, the microphone that comes with your system will be wireless, meaning it communicates with your speaker via bluetooth. But not all the time.
Other times, your microphone will attach to the control until via a mic cord.
One option or another does not make or break whether the system is any good, but, if you do opt for a wireless microphone, that means you have more freedom to run and jump, and not trip over wires.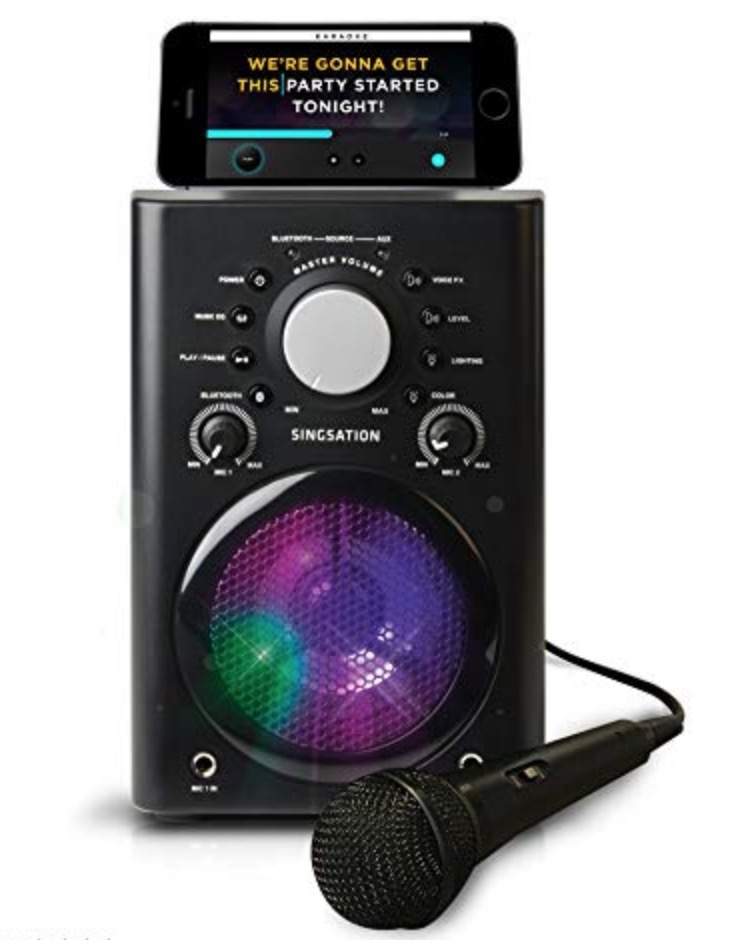 There will, of course, be a range that the wireless microphone has, so make sure you look out for that, because you can't expect to be 100's of feet away from the unit and have it work properly, if that's not what it was designed for.
Other parts of the system may also be wireless, like the connection between your phone and the speaker, or the control unit and the speaker, but this is all dependent on the design of the system, and is just something to consider when purchasing.
Viewing Screen
Another consideration is…what will you be reading the lyrics off of? Will it be a built-in screen, will it be one of your devices, ie. a laptop, iPhone, tablet?
Will it be your big screen TV, which is linked somehow to your karaoke system?
Will it be some giant projector screen?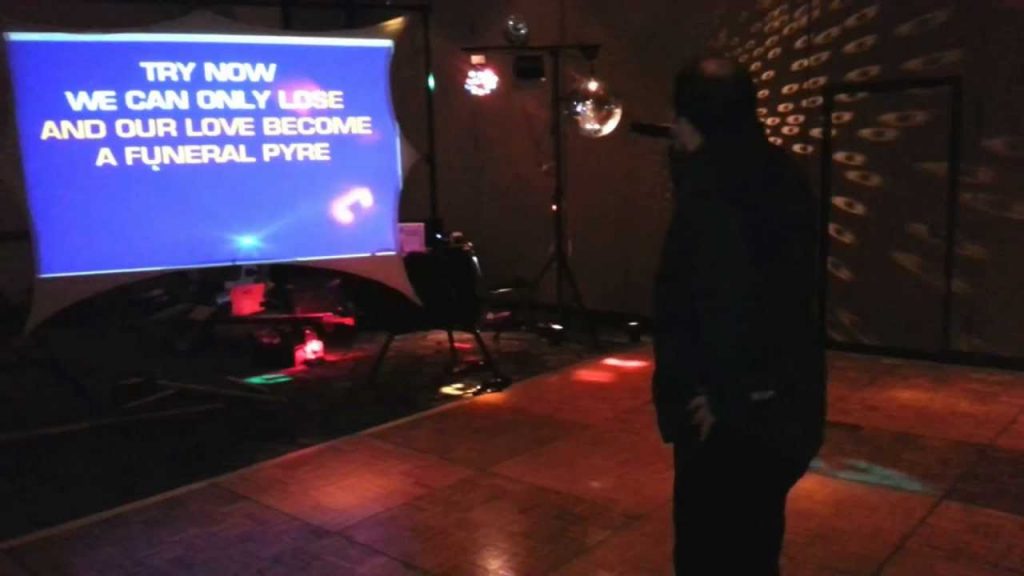 The screen you will view it on depends on what the system you're interested in offers, and what your own preference is. Some are fine reading it off their phones, or tablets. Some want it built in to the system. Some want a huge screen, either their own television or even bigger than that.
It also depends on the event happening around it. Obviously, if the screen is too small, and the room is too big, or there's too many people, that's not going to work.
Overall, just be aware of what size screen you're looking for and see what systems offer that in some way, whether it's built in, or connected by a cable.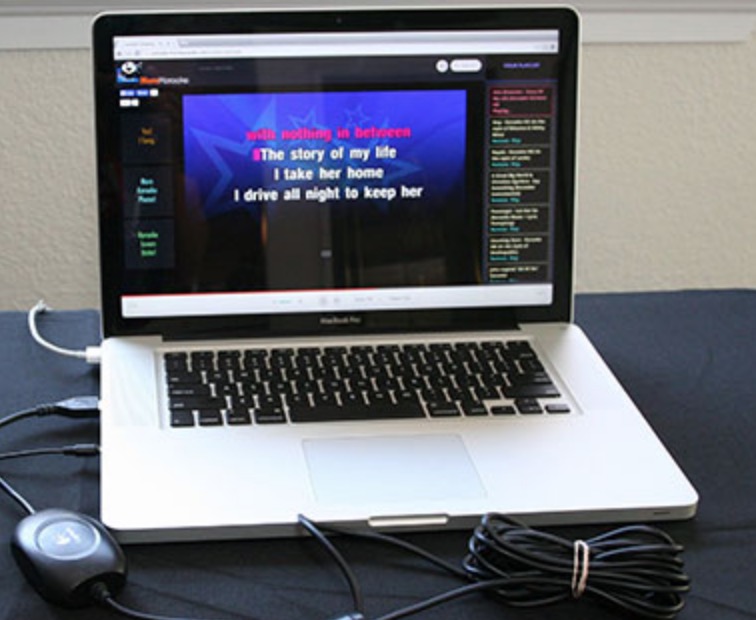 Top 10 Best Best Karaoke Machine Reviews 2022
Now that we've hashed a few things out on what to look for if you want the best home karaoke system for your needs, let's get to the systems themselves.
The following machines are all high quality, so far as I know, and well reviewed by users everywhere.
That said, the price points do range as some systems provide more features than others, including an entire built-in software set-up.
A good system with all the trimmings is going to cost you probably upwards of $300, you should note, due to all the gear that comes with it. Even a simple karaoke system has a few components, which necessitates it not being $50. Trust me, you wouldn't want a $50 karaoke system. Also, a microphone on its own is not a karaoke system.

If you have the money to spend on something super spectacular that costs $1000, by all means, go for it. If you only have a few hundred dollars, that's fine too. Budget systems that are high quality are still available.
Let's get to the nitty gritty of each of these karaoke systems!
Wireless Karaoke Machine, TONOR PA System K20) - Link
Product Description
And now the disco ball comes with user friendly features that are easy to use even by first timers or beginners. The wireless microphone has an adjustable volume control which offers you the freedom to choose whether your voice should be loud or soft while singing. It can amplify any sound from various devices such as phones, tablets and laptops. It is great for any gatherings like Christmas, birthday parties and weddings where there are people of all ages.
The wireless karaoke machine also comes with an English/Chinese user manual for easy reference in case you get stuck.
Features:
There is a built in rechargeable battery that allows you to enjoy your favorite music anywhere at any time, whether it be for an outdoor party or a romantic evening in the garden.
It has a USB port and SD card slot for playing songs from your computer, tablet, smartphone and other devices.
The Detachable handle makes it be carried easily anywhere you want, perfect for home, party and karaoke club.
You can connect a microphone or a guitar with an auxiliary input to enjoy your entertainment much more.
It also has a built in FM radio antenna that allows you to listen to your favorite radio program wherever you are.
You can also use it as a power bank with an USB port for charging your mobile devices. This is the most handy karaoke speaker you will ever come across!
What's included in the package?
1x wireless karaoke speaker system 1x remote control 1x RCA cable 1x microphone 1x adapter 1x AUX cable

Moukey Karaoke Machine Speaker,540W Peak Power Bluetooth 5.0 Karaoke System-PA Stereo with 10" Subwoofer - Link
Description
The Moukey Karaoke Machine Speaker can be portable and specially designed with a handle for moving it around the house or even the patio. It is built with a rechargeable battery, which means you don't have to worry about searching for extension cords when you want to use it outside. The speaker has 2 microphone jacks and this ensures two people can sing together or that two people can sing into one microphone. The weight of the speaker is only 22 pounds and it measures 33 x 23 x 24 inches. Although, I doubt anyone would carry this out of their living room easily because the speakers alone weigh 8 pounds. It has a 12 month warranty with a 30 day money back guarantee if you are not satisfied with your purchase.
The Moukey Karaoke Machine Speaker also comes with a tripod stand so you don't have to mount it on a wall or anything like that. When you turn on the speaker, it automatically goes onto bluetooth mode so you can use whatever device you have at hand to play music from- whether it's your phone, tablet, laptop etc… The mic volume can be adjusted and you can also adjust the actual music volume. The speaker is able to project music within a 100ft radius, which means the sound should reach across a good sized room if there are no other obstacles in your way. If you do have any issues with this product, I would say try emailing their customer service department before giving up on it. And if you are looking for an inexpensive speaker with bluetooth 5.0, this is one of the best options available in my opinion.
Features
VOLUME&BASS SETTING CONTROL KNOB: MOUKEY Bluetooth speaker has two knobs in the middle, which are Volume & bass setting control knob. You can use it to adjust volume and bass according to your situation.
EASY TO TRANSPORT: This bluetooth speaker is very easy to transport because it is light in weight(about 25 pounds). You can carry this product in one hand.
2 X MIC INPUTS(XLR&1/4" Jack): This bluetooth speaker has XLR & 1/4 mic inputs, you can connect 2 microphones at the same time. So you can sing with your friends at the same time in two separate rooms.
USB,SD PORT: It has a USB port and an SD card slot. Using this, you can play your favorite songs conveniently from the USB drive or SD card.
AUX IN/OUT: You can connect Moukey Bluetooth speaker with most types of audio devices(eg. TV) via its AUX IN & OUT ports.
Advantages:
Affordable price: Moukey Bluetooth speaker is not a high-end product, but it has a reasonable price. So you can enjoy a karaoke party at your house without worrying about the budget.
Quality Improvement: Through customer feedbacks and suggestions, Moukey company improved its quality from time to time. So you can get a better product by choosing Moukey Bluetooth speaker.
Light weight: It's very light in weight, so you can carry it to any place easily without much effort. You just need to connect the bluetooth speaker with an audio device and then you are good to go.

Singtrix Home Karaoke System - Link
Let's start off with one of the most fun karaoke systems for home use we've come across, and that is the Singtrix Home Karaoke System.
The thing we love about this system is that Singtrix, as a company, seems to know what karaoke lovers want and they have tried their best to deliver it here with this great package, including everything you need to sing as much as you want to your favourite songs.
With this system, you can basically indulge in karaoke all you want, until the cows come home, or family physically has to pry the mic out of your hands.
It's a plug and play system, so the idea here is that set-up time is minimal and singing time is max-imal.
What You Get with the Singtrix Karaoke System
First of all, let's just run through what you get with this bundle - you get a 40-watt speaker, which packs a sub-woofer and is designed to be portable.
You also get the control panel, or studio effects console that has over 300 effects that come with it.
Also, the system comes with a microphone that is of decent quality, a mic stand with adjustable arm, all the cables you need, plus some custom faceplate inserts (pink, orange, black, blue) so you can change the "look" of your system.
There is also a card which shows what all the effects are and the number assigned to each.
The Speaker
In regards to the speaker, we love it because it is both powerful and portable, giving you the "big" sound you want from a karaoke setup to make the experience feel legitimate.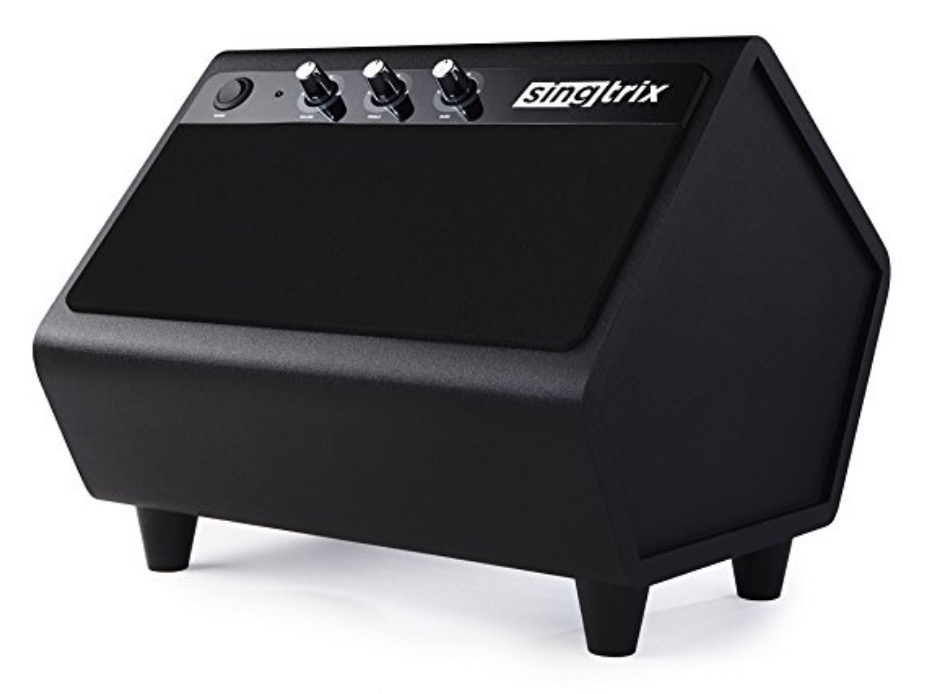 It's not a complicated speaker, which is good for people who aren't extremely technical. In other words, you don't have to be a band geek to operate this speaker. Just about anyone can do it.
However, if you are a band geek, ie. someone who plays in bands and sees this kind of equipment around, this speaker will look familiar to you, because, it really is just a typical-looking all purpose speaker / studio monitor. It can double as a bluetooth speaker for other purposes like gaming or just playing stuff off of the internet.
The Singtrix speaker has bass, treble, and volume knobs which are big and clearly labelled, and sits on 4 sturdy legs, and is angled slightly up, as it should be, to project to the audience, rather than having to be put on a table or chair. The sound is aimed at your ears from the get-go, and that's how it should be.
When the speaker is on, there's a nice blue light to tell you that it's on, and so you'll know when it's on or not on. Some people get a bit freaked out by big speakers, because they aren't sure if the speaker is on and hence is going to blast them with unexpected sound when they turn things on, for instance.
With this speaker, just turn the volume down but make sure it's on with the blue light being visible and you should be fine. Turn it up slowly to see where your volume levels are at.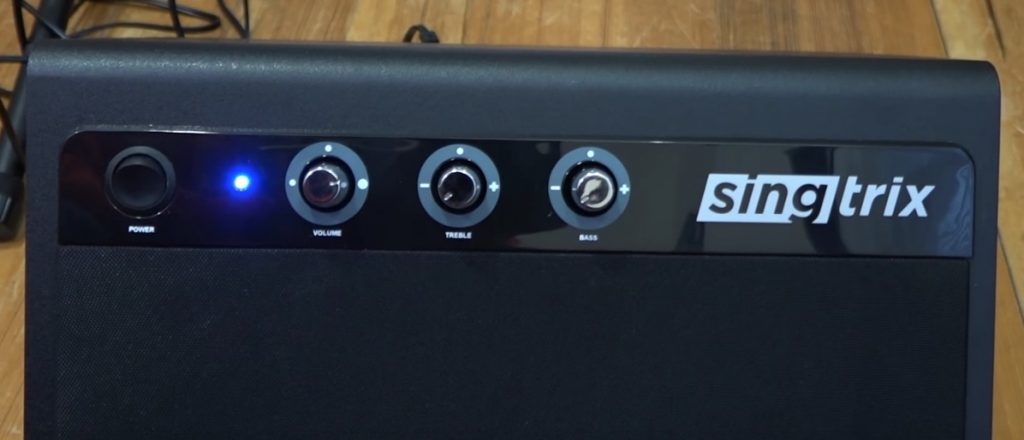 The settings on the speaker can be handled manually on the speaker itself, but it can also be controlled by the Singtrix app (more on that shortly).
The speaker then feeds its audio cables from the back of the speaker into the control unit, which we're going to talk about next.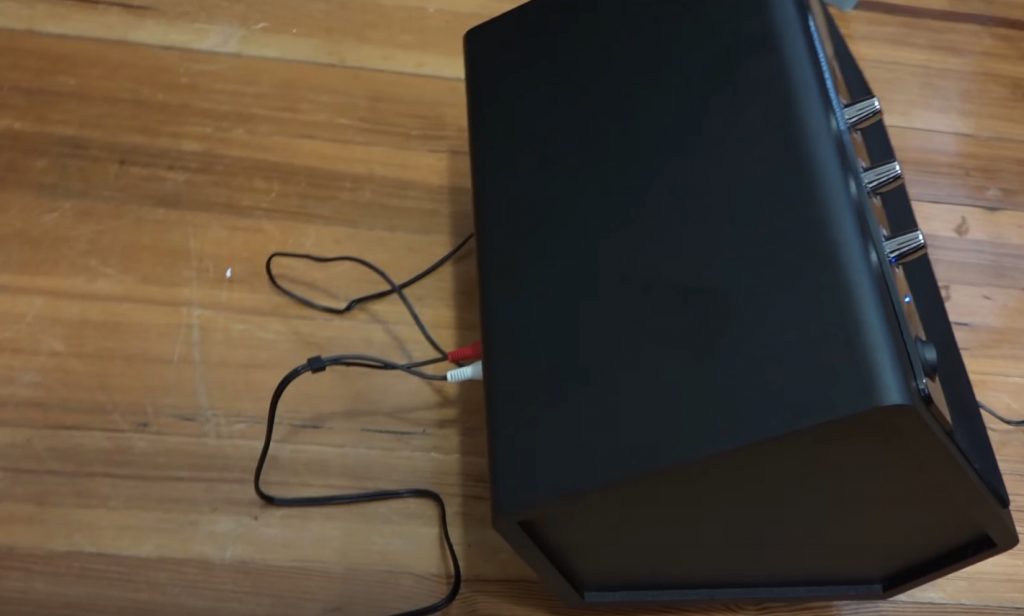 Singtrix Control Unit (Back and Front)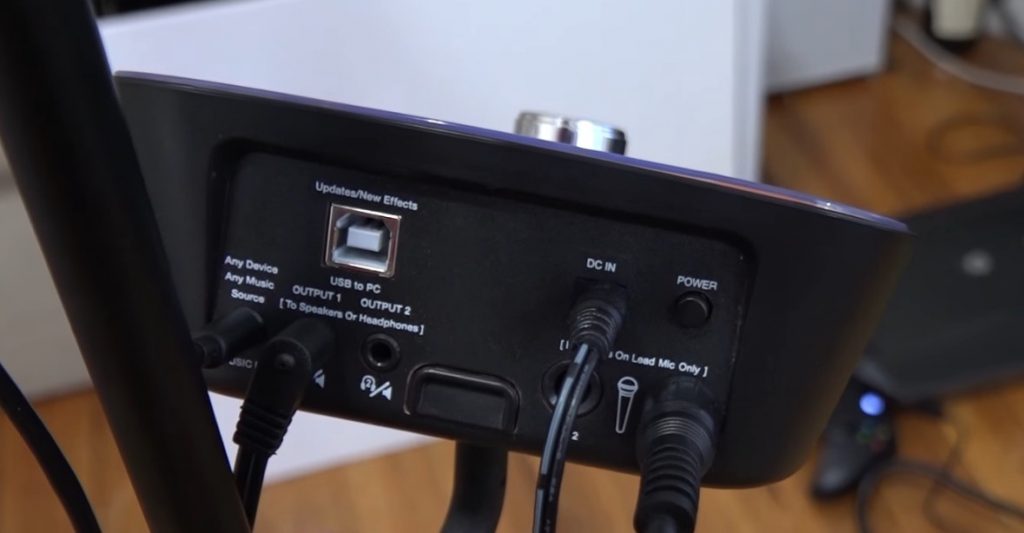 Here's the back of the control unit. As you can see, there are a number of ports on the back of the Singtrix control unit, and, as far as audio equipment goes, this is about as complicated as it's going to get. So, if you're tech-adverse, don't fret too much, I'll try to simplify this here for you.
This back area is where you plug in your speaker, the power adaptor so that the whole system can be powered up, your microphone (or microphones, as you can attach two for a lead singer / back up singer situation), a USB port for adding any updates to the system if you so choose, and the headphone jack. That's about it!
Now, here is the front of the Singtrix unit where you access all of your vocal effects and the volume of your mic.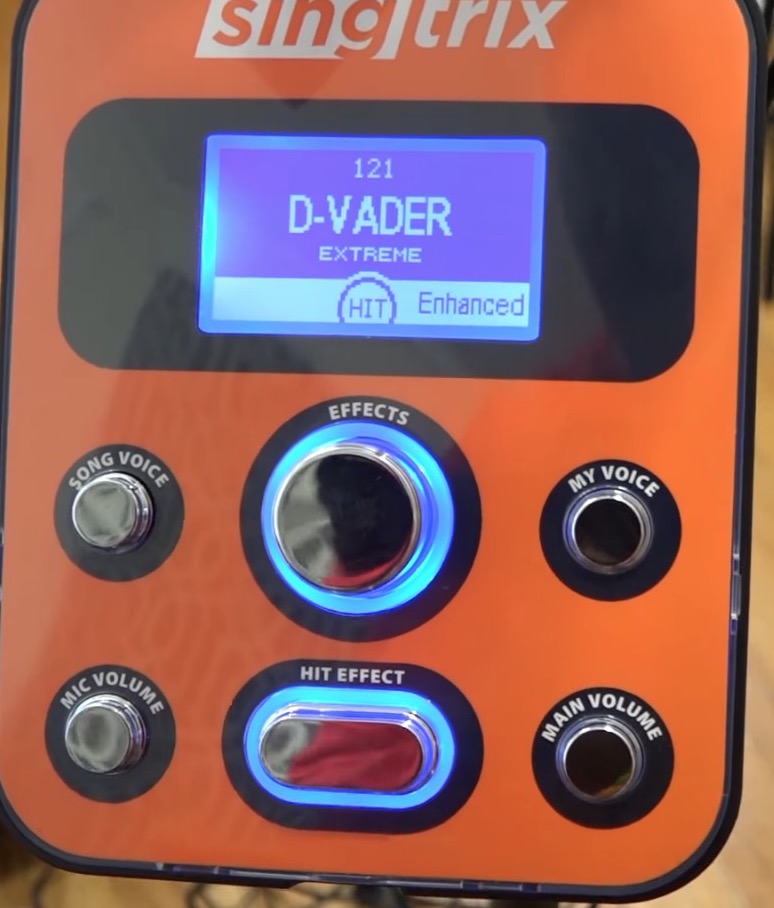 There are a ton of vocal effects (350) you can access, and you can also pitch-correct your voice, which Singtrix claims can make you sound good if you're bad and great if you're good.
The thing is, as is usually the case with any device that has 350 options, some of those options aren't going to be great. In fact, some are going to make you sound terrible. But really, that's just part of the fun, isn't it? There's that odd time you'll want to sound like a robot, and that option is there for you if you need it.
Mostly, however, the effects do add something to your vocals, and you can enjoy countless hours toying around with your voice to make it sound the way you want, just like any professional singer in a studio.
If you think you're a "bad" singer, you can use things like pitch correction to "fix" your voice, but I recommend not using that, because to me there's always something unnatural about the sound of auto-tune. It's up to you, though.
There are also additional functions that provide harmonies, and all sorts of extra goodies that you can spend hours exploring on your own or with friends to get a really cool sounding vocal performance happening.
It's really no different than being in a studio, with all manner of slight tweaks at your disposal. It's a singer's dream, this system. All the benefits of studio equipment but in your home where everything is relaxed and casual as you like it.
This makes the Singtrix an excellent option for practising, whether your plan is to sing at the next Christmas party, or audition for The Voice.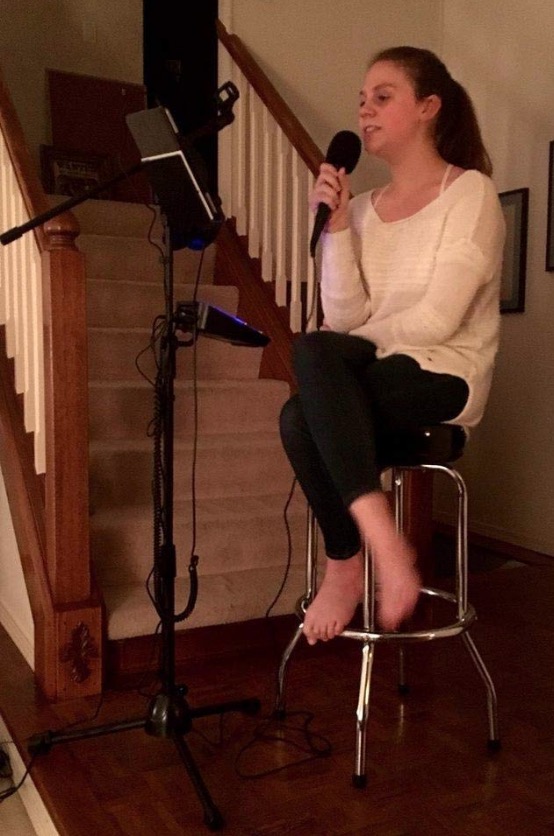 Singtrix App and Pay Membership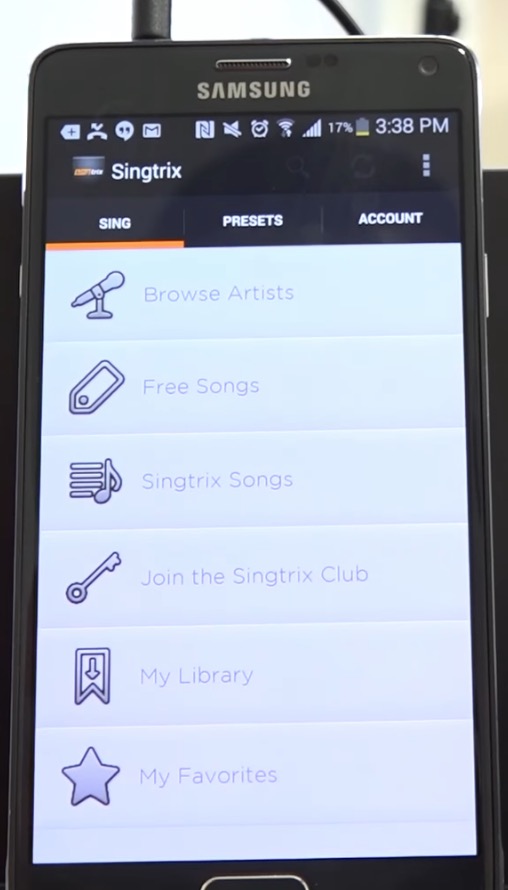 Now, this is where things get really interesting with the Singtrix karaoke system.
Via your smart device, you can access the Singtrix app, which then gives you access to the Singtrix member program and all that comes with it.
I won't quote prices directly, as they are subject to change, but I will say that currently the prices are affordable on a monthly basis for getting access to a large library of songs (10 000+), as well as other options to enhance your Singtrix home karaoke system experience.
The app itself is fairly easy to navigate, and, for the monthly fee, you do get a fair amount of what you might call "extras".
We recommend exploring their member program, at the very least.
Customizing Your Setup
Now let's be real about this. Not everyone wants to buy a karaoke system for however much money and then have to tack on a monthly fee to actually use it, and, luckily, you don't have to.
Why? Because, as you may know already, all the songs you could want to sing are already on Youtube waiting for you. Which means, you can just hook your smart phone up to the Singtrix system, and rather than use the Singtrix app, you can just go to Youtube and you're away to the races!
Is there any downside to doing this? Not really. The versions of most karaoke songs that are on Youtube are just as good as any you'll find.
It does bring up an interesting point about what actually defines a home karaoke system. Well, it's simple, I think. It's just a mic, a speaker, and a screen to see the song lyrics and maybe some entertaining backdrop.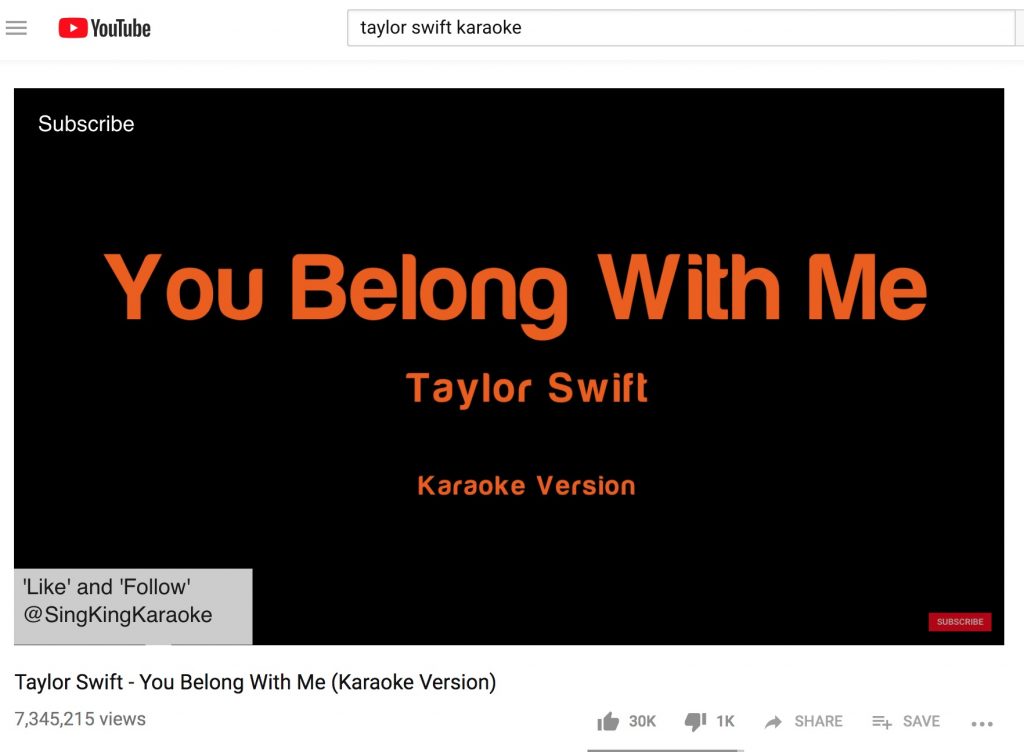 If there is any downside to avoiding the Singtrix app altogether, it's that you don't have access to any of their cool stuff, but then again, you may not want or need it.
All in all, the Singtrix home karaoke system is an excellent system that can really get people excited about singing, and makes an amazing Christmas or birthday gift for the budding vocalist in your family.
The last thing we will mention about this system is that there are various "bundles" you can get, including the family bundle and party bundle, and each of these systems is slightly different, so be aware of that before you purchase.
Cons:
Purchasing an account - some people dislike having to buy in to use something they already purchased
Some effects are unflattering and essentially pointless
Some says the harmony feature doesn't sound that great
If you're expecting the pitch correct to completely make you sound amazing, it can't really work miracles, sorry

ION Audio Block Party Live Wireless Speaker System - Link
Rockin' The Block!
The Block Party Live by ION Audio is a speaker system made in the spirit of old "block parties" from back in the day, when someone would crank a boom box and a party would form around the music. These were often held in New York City in the late '70's / early '80's.
A little somethin' like this, complete with DJ's, dope jams, and everyone having an all around great time!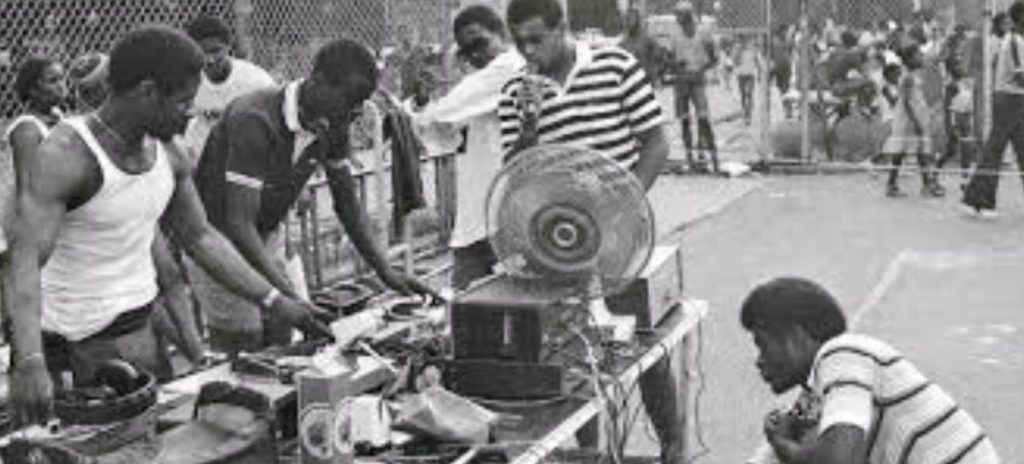 We can see how the Block Party Live takes inspiration from old school parties like this, in that it acts like a giant boom box, and the name certainly speaks to the communal fun you can have with this speaker system.
Notice we didn't call the Block Party Live a karaoke system. This is because, although the Block Party Live isn't necessarily advertised as a karaoke system (they call it a portable wireless speaker system), that's kind of what it is, is a karaoke system…or can be, if you so choose.
Actually, it advertises itself as a bluetooth speaker, primarily, as well as a glowing party machine on wheels (complete with coloured disco ball - a total highlight), which it also is.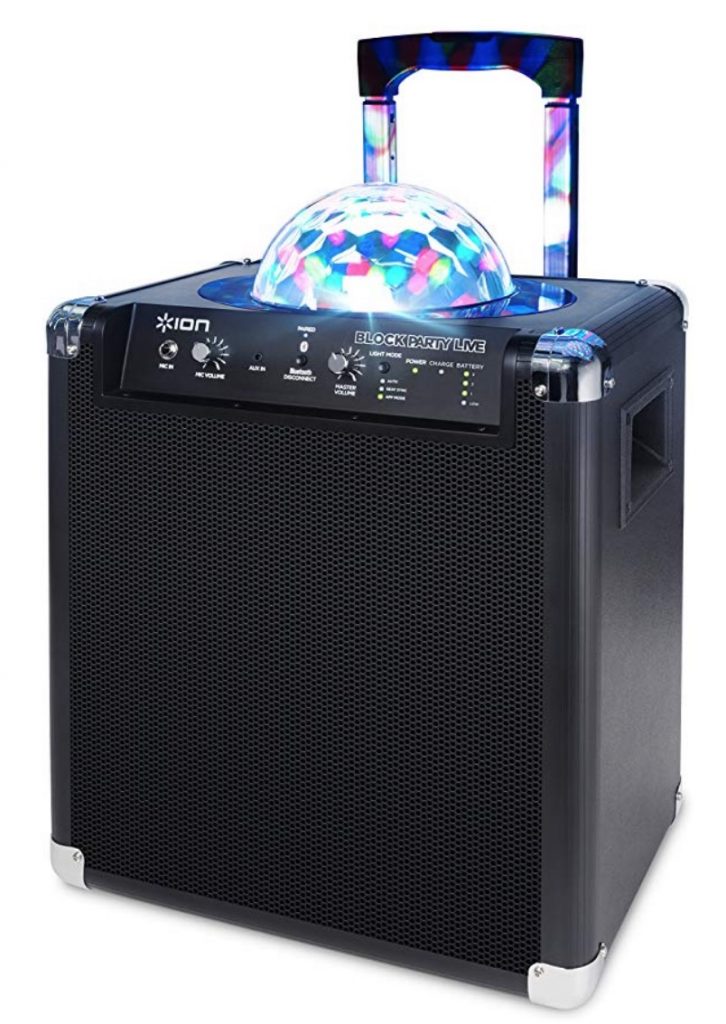 Components
Then, just when you think this is simply a speaker system, lo and behold, it so happens to come with a dynamic microphone, which is basically 2/3rds of what you need to constitute a karaoke machine, is a speaker and a microphone.
What's missing, then? The screen with the music and lyrics playing so you can follow along. That's what's missing.
The Block Party Live is essentially, in terms of components, equivalent to the speaker alone of Singtrix karaoke system, except with an added disco ball on top, minus the mic stand, minus the clip on stand for your wireless device, but including a dynamic mic that is comparable with the Singtrix system.
What's important to note is that, from what I've seen, the Block Party Live is slightly less expensive than the Singtrix karaoke system, although that makes sense, as the Singtrix is a fully equipped karaoke system, and the Block Party Live is just a speaker, more or less.
In either case, you're still using your own smart device (tablet, laptop, iPhone) to use as the karaoke device / screen, which the songs are playing from, and the lyrics are displayed on.
But that's why there's Youtube!
Just clip your phone onto something, turn on Youtube, and search for whatever karaoke song you want, and there you go! Instant karaoke party!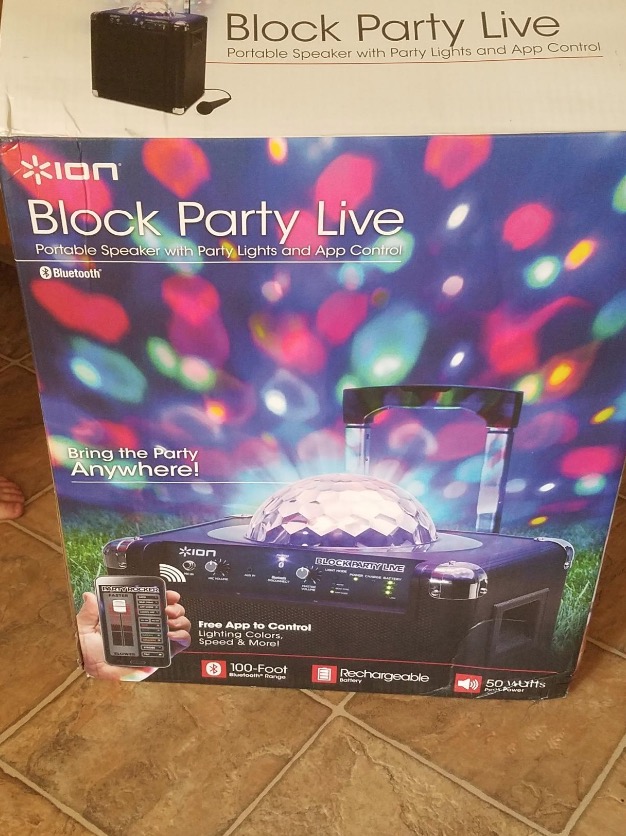 Bluetooth or AUX Cord
Because this is a bluetooth enabled device, you can easily play music from another blue tooth device, including your phone, which, if you have any kind of wifi, gets you on the internet, and hence, access to Youtube or any other video platform where karaoke can be found.
At that point, if you play a karaoke track off the internet, and can view the screen so you can also read the lyrics, then the Block Party LIVE becomes a karaoke machine just like that.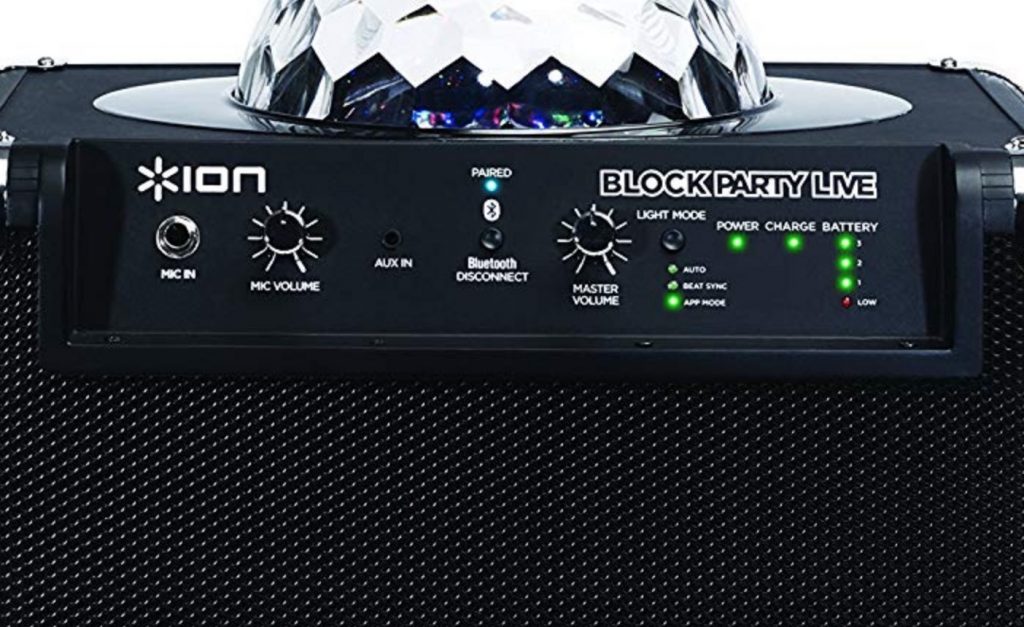 Don't trust "no wires" because you're superstitious like that? Then just plug in an aux cord and use that to hook the Block Party Live to your smart device of choice.
Announcement Mic… for Singing?
With the dynamic mic that it comes with, you can sing through it. However, the way that ION Audio puts it, you can use the mic to make announcements through it during whatever ceremony you're supposedly at, but of course you can also sing through it too.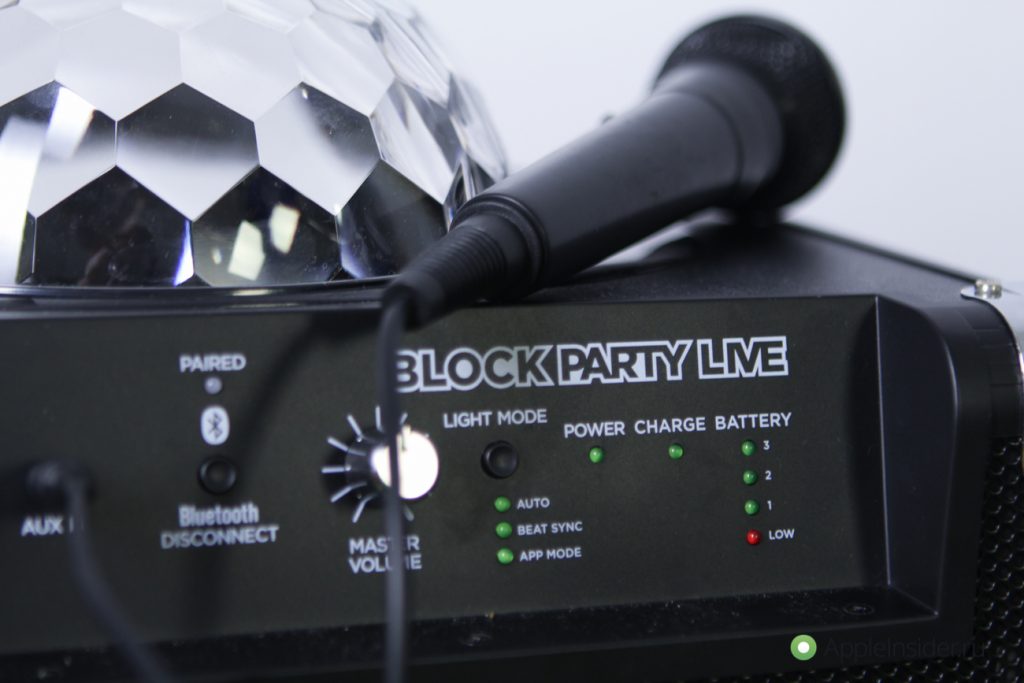 That isn't to say you couldn't buy this to use at weddings or other parties. It almost would serve as some sort of business type of speaker, if only there wasn't a disco ball on top of it, begging to be lit up.
However, if you work with liberal-minded people, you could almost take this thing to meetings or seminars and do a funky powerpoint presentation with it.
It is a wired mic that it comes with, so you have a cord to contend, with that runs between the mic and the speaker. There's no using a bluetooth mic with this speaker, even though it is bluetooth enabled device, which is a little weird. You could always try it.
I get the sense that they (the manufacturer, ION Audio) think of the Block Party Live more like a speaker you'd take to a wedding and play tunes at, making announcements or just DJ'ing an event in general. That said, there's really no reason you can't use it for karaoke as well.
People are already doing this, in fact.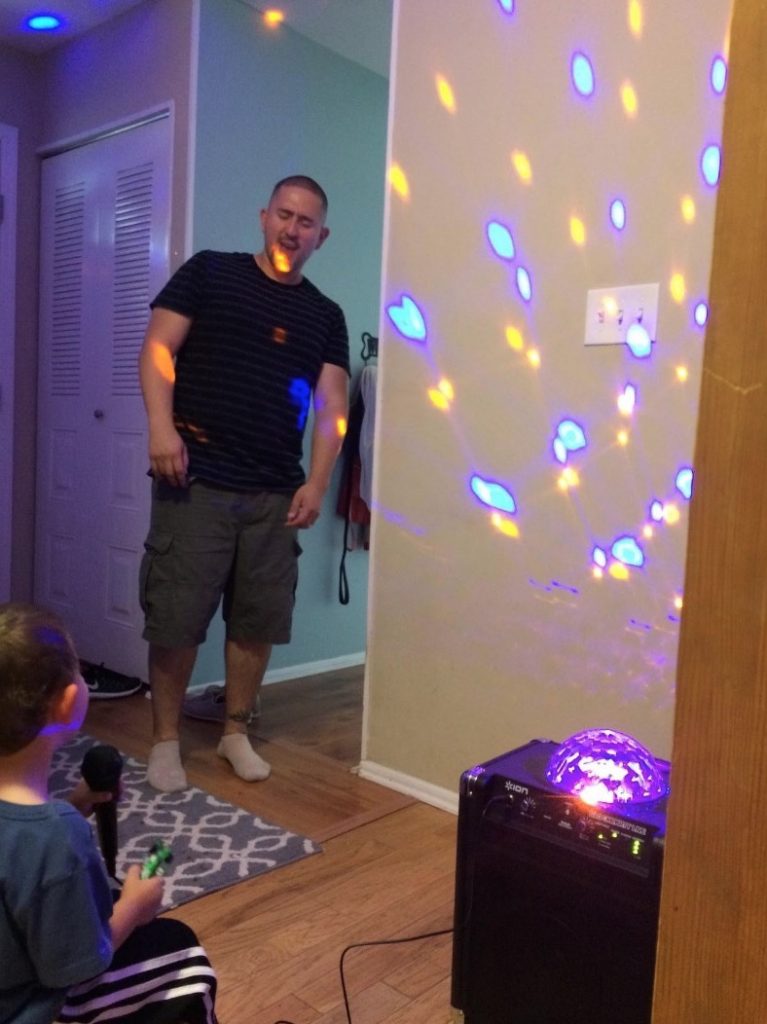 Gets The Party Started
As I said, it is missing a stand of some sort to hold your phone, but really, all you need is something to set your phone / laptop / tablet on, and you're good to go. The sound will go through the Block Party Live, and things will be rockin' and rollin'.
Or, you could just rig it so your internet is HDMI'd to your big screen TV and then the party can really kick into high gear. Because then, you'd have not only karaoke on a big screen TV, but big sound from the Block Party Live, and a dynamic mic to boot.
FYI, dynamic mics are the same kind as the Shure 58 we mentioned earlier, which isn't to say you should abuse the mic, but you can certainly dance around with it and do high leg kicks.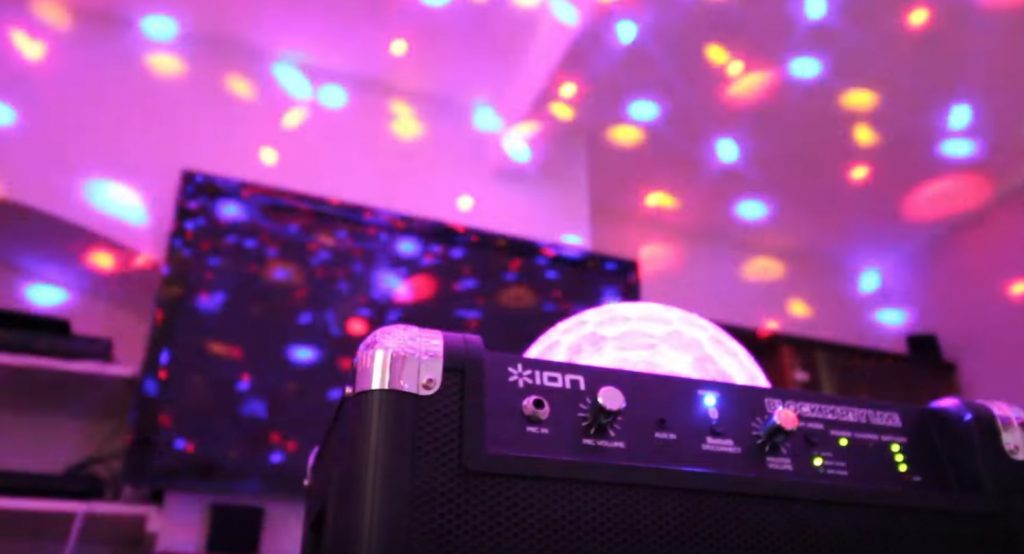 The mic is not wireless, however, so you can't run around the entire house with it. You need to stay relatively close to the unit.
App Functionality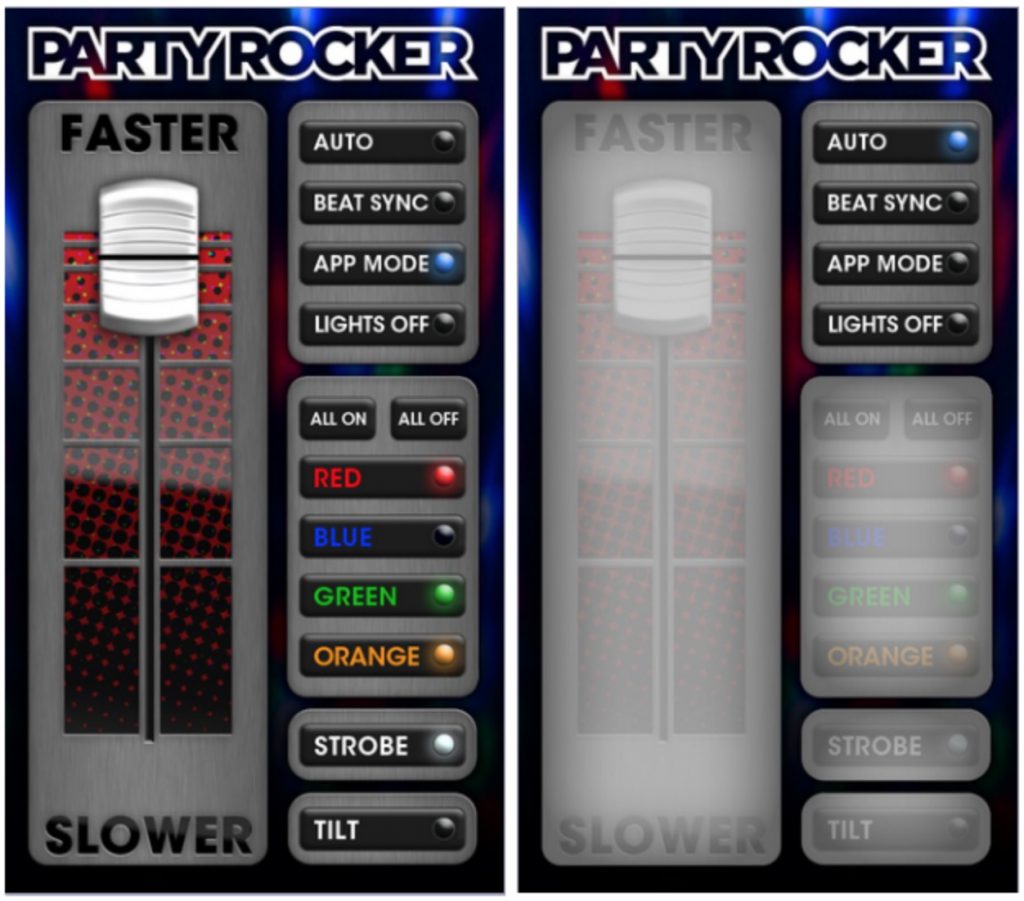 Whereas the Singtrix has an app that lets you toggle through effects and whatnot, the Block Party Live has an app that lets you play with the disco ball.
Up until now, we've referred to the disco ball mainly in passing as something that will "bring the party" and add some fun to the proceedings, but, when you take a look at this app, you'll see that there's more to the disco ball than meets the eye.
Specifically, you can manipulate the colours, the speed of the strobe, the synchronicity of the light with beats being played, and more. If you want to actually go deep into disco-ball land, you sure as heck can.
For some, this is a great feature of this system, for others, it's something to set and forget or simply ignore. It really depends on you, but personally, I find this feature of the Block Party Live to be really cool and a major selling point!
Portability
The Block Party looks to me almost like a piece of luggage, as it has a large handle you can grab for added portability.
With the combination of the wheels on this thing, the durable cabinet housing, and the handle, you feel like you should be running through an airport with this thing.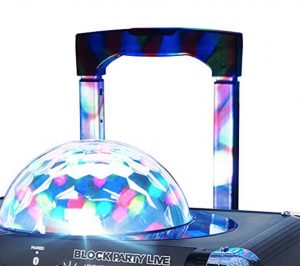 To some, the portability of a given karaoke system wouldn't be a big deal. For those who want to set up their karaoke system at home and leave it there permanently, the telescoping handle and wheels on the bottom that say "take me with you where ever you're going" may not be of much use.
You just push the handle down, recess the wheels, and the speaker looks like it's not going anywhere. But just as easily, the wheels come back, the handle comes up, and away you go.
Being 20″ tall, and 26 pounds, this adds to the portability of this speaker system, as it is not overly large and you can set it on top of things without it taking up a huge amount of space.
Of course, for some, overall portability is a big plus and even necessary, depending on how you plan on using this system. You can move it around the room easier, or wheel right out of the house and off to the next party.
Battery Powered
This is a battery powered unit, and comes with 1 12V battery.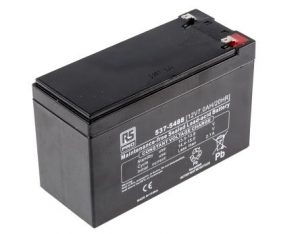 The beauty of the battery power, in this case, is that say you wanted to take the Block Party LIVE to have a party at the beach, or camping. You totally could!
Because it's bluetooth enabled, and essentially wireless (unless you opt for wires), this very fun looking modern speaker can be wheeled out just about anywhere, and so that means the party essentially comes to you, once you crank the tunes and get the lights going.
You might think the battery isn't going to last through an entire party, but this thing can rock all night long. Then, at some point, if you can recharge the battery by plugging this speaker into a power source, you'll be good to go for the next party the next night.
Cons:
Isn't a complete karaoke machine per se - needs
Doesn't come with a mic stand
Doesn't come with a stand for holding your phone or tablet (again, it's not advertised as a karaoke system)
Unlike the Singtrix, the speaker here is not angled upward, so you might have to elevate this puppy so sound is aimed at peoples' ears, not their feet

Akai KS800-BT Bluetooth Karaoke System - Link
The next machine I'll recommend is the Akai KS800-BT Bluetooth Karaoke System.
Brand Recognition (For Me, At Least)
One thing I like about Akai as a brand is that I have some other Akai gear that I love, like the Akai Mini, which is a little midi keyboard that I've had for a while now. They make a lot of music gear - keyboards, controllers, drum pads, and none of those devices tend to be stinkers. So I know Akai to be a reputable brand, and I trust them, to a degree.
Anyway, I was all over this machine when I first saw it, because I thought that if Akai made a karaoke system, it must be good, like the rest of their stuff.
I would say it is a good machine, and certainly different in many ways from the ones mentioned thus far.
For instance, whereas the Singtrix seems centered around 100's of vocal effects, and the Block Party Live is focused with that disco ball and the fact that it has a handle, the Akai KS800-BT is obsessed with…being set up like an old school VCR, with recording capabilities?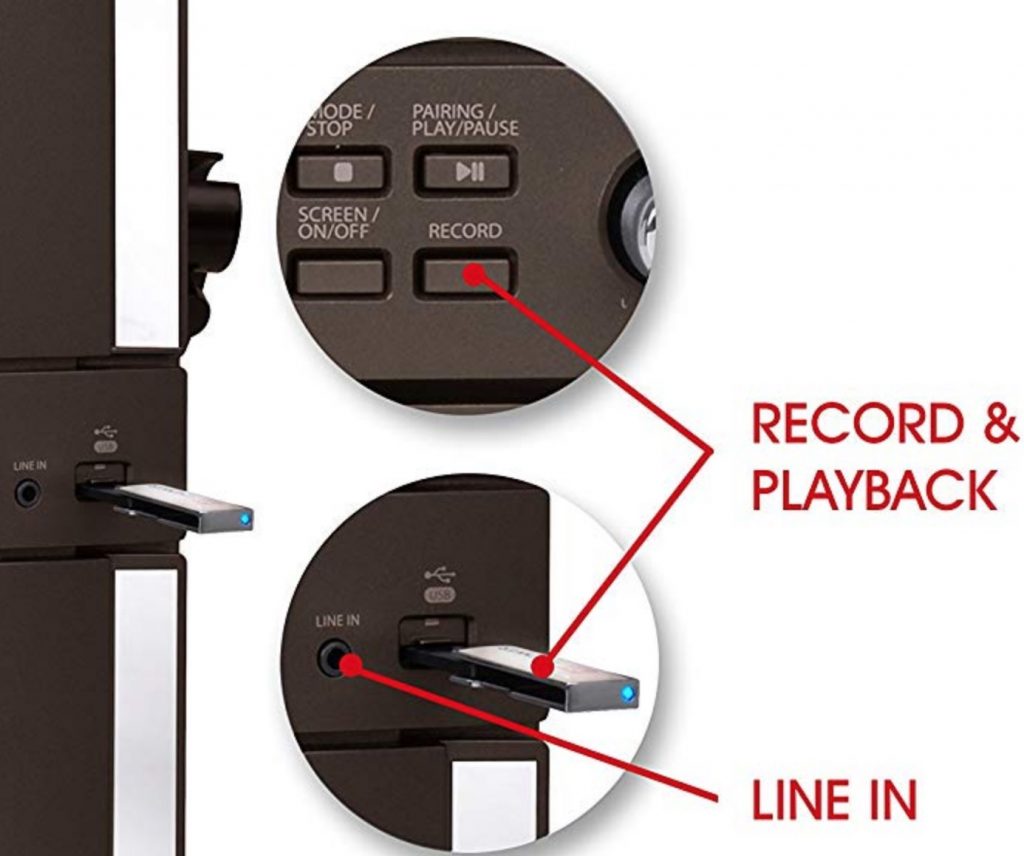 Front Loaded
I love the term "front loaded" or "loaded" in general, when it comes to products being advertised as such. It generally reminds me of food - loaded cheese fries, for example.
In this case, Akai refers to this device as being "front loaded", and I guess what they're referring to is the fact that all the action on this system takes place on the front. You have the screen on the front (the "big" 7 incher), the USB port, the CD player, the speaker. It's all on the front, baby!
The idea here with the Akai KS800-BT is that you can record yourself and your performances, and, using the USB, or bluetooth, you can share your amazing job on, say, Facebook or Instagram.
This is not something I would necessarily do, but, since I'm a fan of old school devices that do let you actually record things, like old tape decks and things, I do like this function, and I think some other people would LOVE this function of the Akai karaoke system here.
But I'm getting a little ahead of myself. Let's talk about the CD player, and the screen.
CD+G / CD Player Built In
The Akai KS800-BT uses CD+G and CD technology, which is built into the machine. For those who don't know, CD+G is music plus some minor graphical abilities, or, in other words, your basic karaoke screen.
So, yes, this machine uses CD+G's that feature your favourite songs. This is done via the CD player mounted on the front.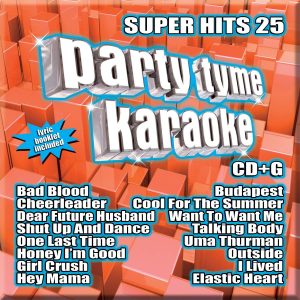 You can also play just regular CD's on this machine, making it a CD player as well. ALSO, you can use bluetooth or you can plug in through the back via aux cable to have your smart device appear on the 7″ screen on the front.
So, if you have a big collection of CD+G's (karaoke cd's), or can obtain them somewhere, you will be well stocked for songs, at least in this format.
Some people enjoy having their own karaoke cd collection, although, with access to Youtube, you don't really need physical cd's unless that's your thing.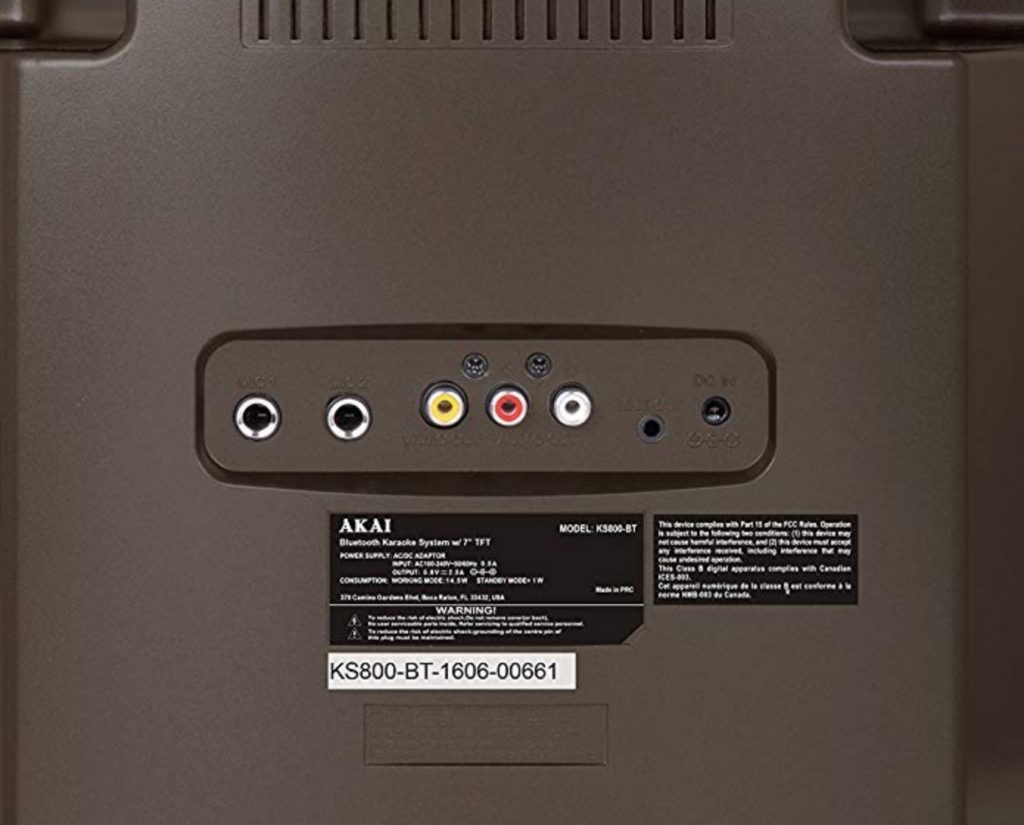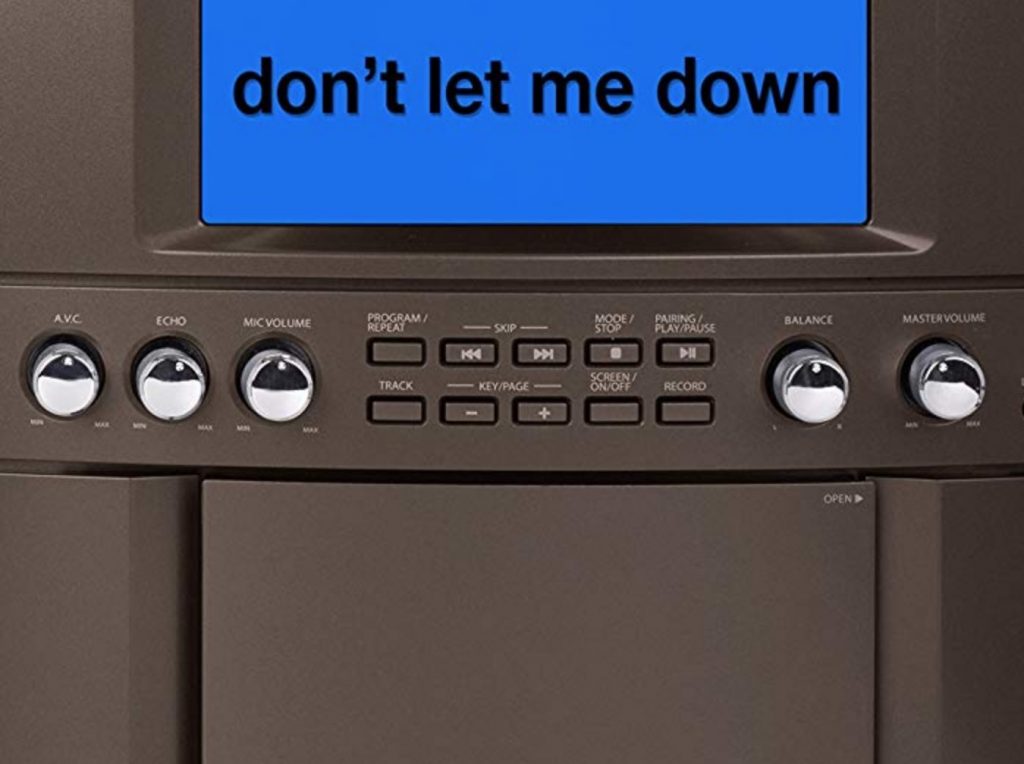 Big 7″ Color Display Screen
See, this is where I'm a bit confused, because the 7″ display screen is 7″ inches, but for a screen, I wouldn't call it "big". Maybe compared to an iPhone, it's big, but not compared to much else.
That said, if you're just using this karaoke machine in your living room, with family and friends, then this screen size is passable. It depends if you think 7″ is big enough. Personally, I think it's a little small, but it doesn't really bother me. I guess, in relation to the entire size of the unit, which is 17.3 inches high to begin with, 7″ is a sizeable percentage.
Then again, if your purpose is to use this karaoke machine in a larger space and a bigger party, the actual screen provided isn't going to work. You might have to resort to reading off your phone, or your tablet, for which the Akai KS800 has a cradle on the top.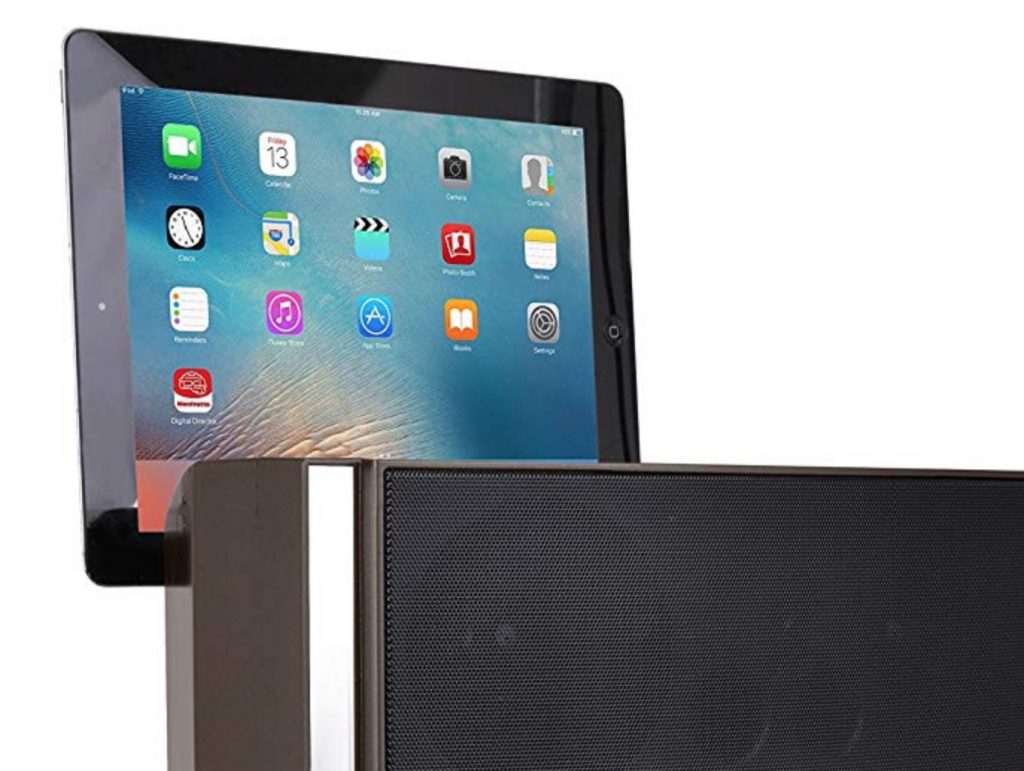 Or, once again, you can rig it to your television somehow so you can gain access to a larger screen. I find that my laptop suffices, but there's still something cool about the unit having the screen built right into it, which makes me want to use the 7″ screen provided. It's like little mini cinema.
An RCA cord for attaching this machine to your TV does come included with the system, by the way.
The speaker provides 10 watts of power for family entertaining, Akai says. Again, that's fair enough, but don't think you are going to be using this machine to party in anything much larger than a living room. It just isn't that big, but as long as you know that, and it doesn't bother you that the unit isn't that big, it's fine.
I almost forgot to mention that the Akai KS800 does come with a wired dynamic mic. Again, not the most amazing mic ever made, but appropriate for this unit, I'd say, and not much different in quality from the other units I've reviewed here. Like I said before, karaoke machines aren't known for having top quality mics that come with, but they are usually quite passable.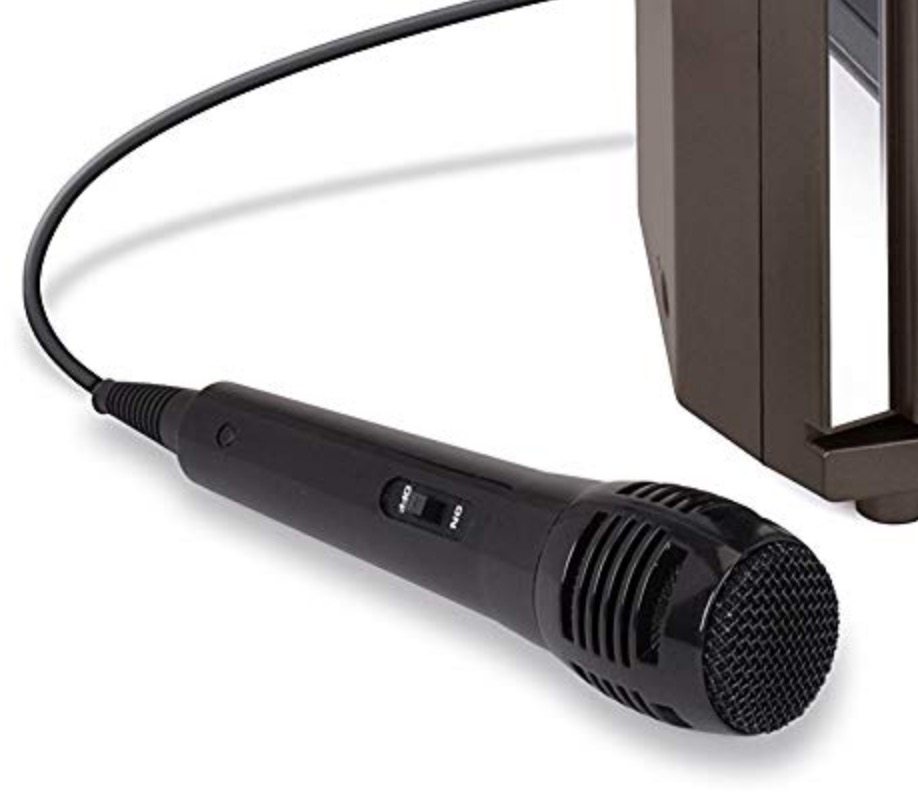 I like how the machine itself comes with a mic holder. That, I must say, is a nice touch!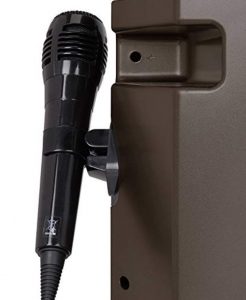 One more thing on the topic of mics - there are two microphone jacks. So, if you want to up your game with a separately purchased, higher quality mic, you can always do that. There are plenty of mods to be made here, if you're the mod-ing type.
Affordable
One thing that does put all of this into perspective is the price. At around $100 (from what I've seen), the Akai KS800 is much more affordable than some of the other systems, which are multiple times more expensive.
It's the kind of karaoke system that would make a great gift, as it comes with everything it needs to actually do karaoke, including the microphone, the speaker, the CD+G, the bluetooth capability, the screen.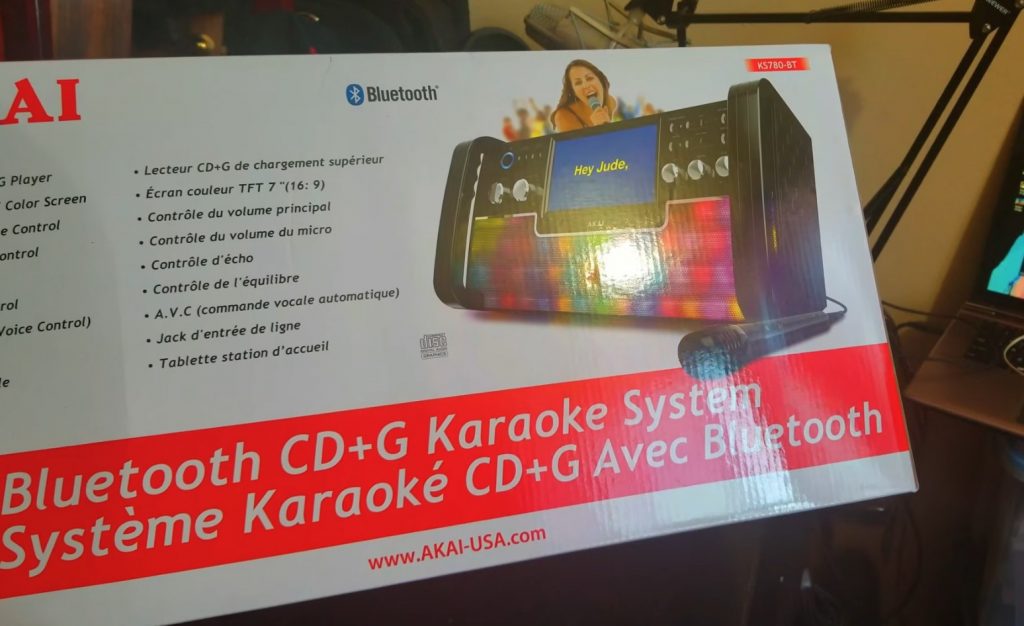 Of all of the systems I've reviewed so far, this one is actually the closest to a complete setup, since the Singtrix lacks a display screen, as does the Block Party Live.
Being that it's one of the less expensive options, you're not getting a huge system. You're getting a compact one, though it does have all it needs to deliver the party, just not the biggest party ever thrown.
Summing Up The Akai KS800
The Akai KS800 does have its charm, I will admit. I like how it's an all in one unit, I like how you can record things, I like the USB port-ability. I like the aesthetics of it overall.
I think, for some, this will be the machine of choice, because it is so inexpensive, made by a reputable brand (with good customer service, by the way), and has a lot of flexibility when it comes down to it, because of the bluetooth.
Cons:
Not the most powerful system available (could be louder)
No headphone jack
Screen really could be a bit bigger
Entry level system

Memorex Sing Stand 2 MKS-SS2 Home Karaoke System - Link
The Sing Stand 2 by Memorex is a nice little starter package karaoke system that seems to have simplified things to the point where it offers you just what you need, and doesn't overdo it.
What does that mean? Well, first off, the Sing Stand 2 is fairly inexpensive. Last time I checked, this product was around $150, which I think makes sense for what's being offered here.
And there appears to be a limited 90-day money back guarantee, although don't quote us on that either, as these things are subject to change.
Interestingly, the focus of this karaoke is…yes, the stand itself! It's basically just a stand. But wait..it's no ordinary stand… the speaker is built into the bottom of the stand, and that's where most of the functionality comes from.
Oh, and of course the stand is adjustable. That's definitely worth mentioning, so it can easily adjust to the height of the singer.
Like the Akai system we mentioned, Memorex is another name you may have heard before. This is a brand with some staying power in the industry.
What Comes With It?
The Sing Stand 2 actually comes complete with: the stand which has the attachment for your device, the speaker (located at the bottom and acting as the stand support), plus 2 mics, 2 mic cords, an 11-inch line in cord, 7-inch line in cord, device safety strap, user manual, and a cord management clip!
The cord management clip is a good idea, for one thing, because it allows you not to be bothered by the cords so much, because there are cords involved here.
How It Works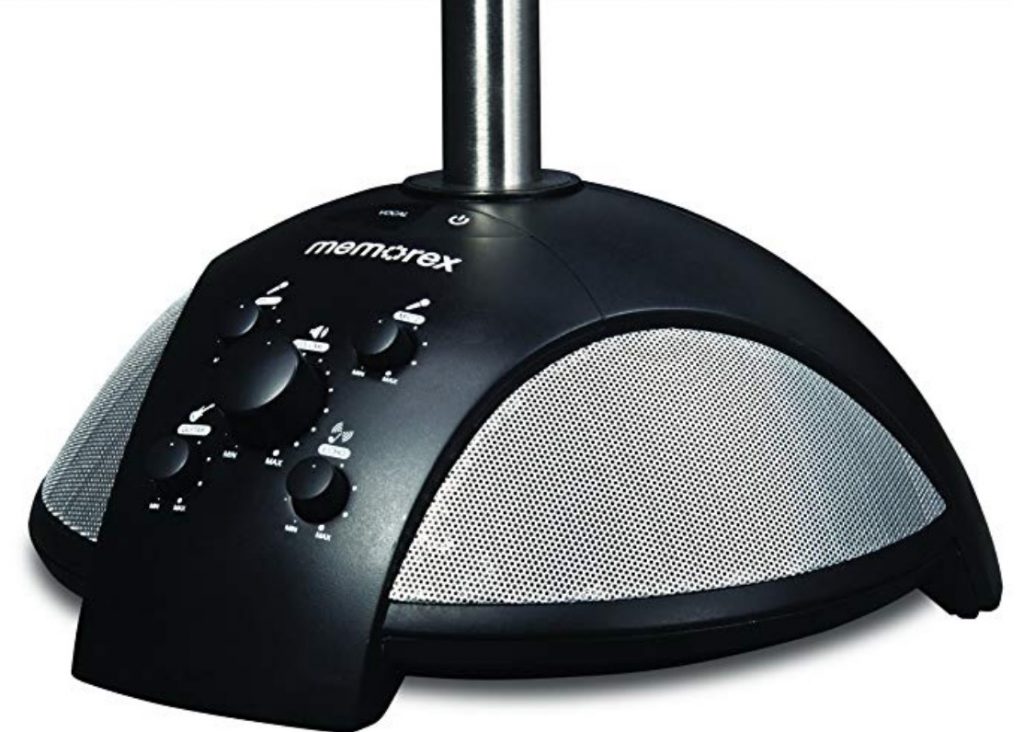 As you can see, the controls you're going to need to access most of the time are all on the little dome shaped speaker unit at the bottom of the stand, with control over the volume of both mics (it comes with 2, so you can have duets), the music itself, the vocal echo effect bank (adding that "superstar" quality to your vocals), and the guitar volume.
Based on the size of this speaker, you might think that it can't get loud, but it actually can get pretty loud. But with two 5-watt speakers powering this unit, it can actually pump up to a good volume.
You have control over the volume via the speaker and via your device, and overall, you can get this thing up good and loud. It is similar to the Akai though in that with the amount of power it has, it's not going to be filling up a banquet hall, or auditorium. Still, it's pretty good for home use with friends and family.
Yes, you can even plug in an electric guitar or keyboard and accompany the vocalist on this one, which is a fun idea.
The place where you put your smart device is nicely sized, able to fit whatever type of device you might have snugly. Unless it's a laptop. You can't put one of those on there!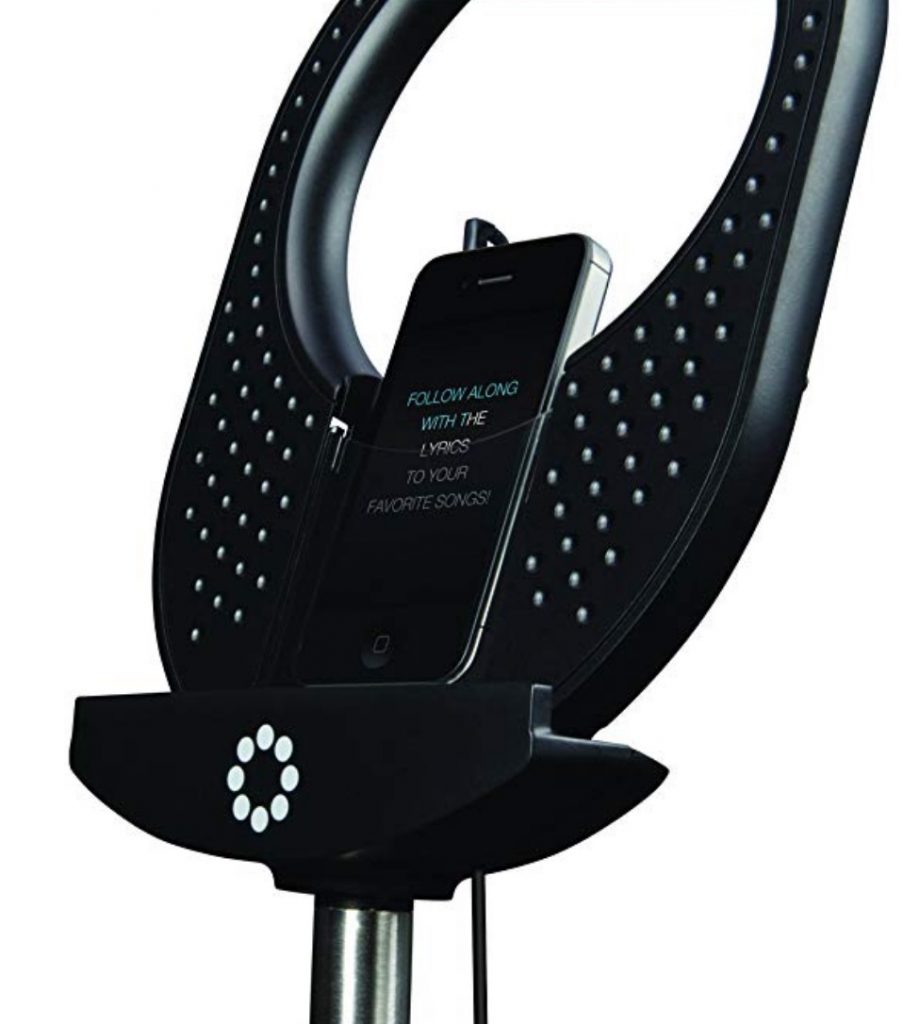 Unlike the Singtrix, you have only 1 effect on your voice, which is the echo provided by the speaker. I think there's two ways someone could feel about this.
Either, you'll wish you had 350 effects like the Singtrix has, or you'll be like "Ok, one is fine. I'm good with one, thanks!" Personally, I don't really need to have 350 effects to choose from, but still, it's a fun idea.
Fun Times
I think the real strength of this karaoke system is in both its simplicity, and the fact that they've tried to make this less of a "system" and more of a fun device that anyone would want to play with.
The Sing Stand 2, because of the stand itself, and the fact that you will be attaching your device to the stand, makes you want to stand beside it and sing.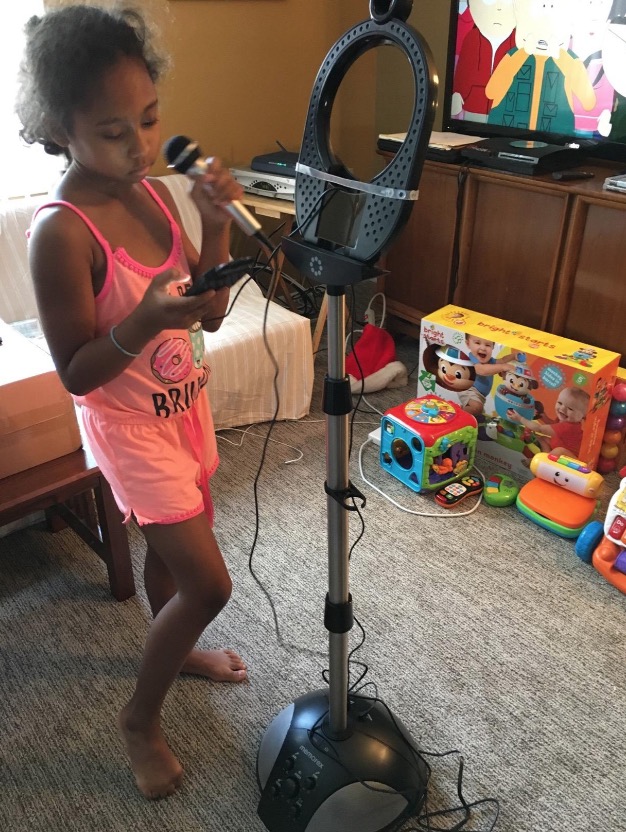 There is something about a good, well-made mic stand that makes a singer want to sing. In rock concerts, rockers will lean on their stand and use it to rock out with the help of the stand.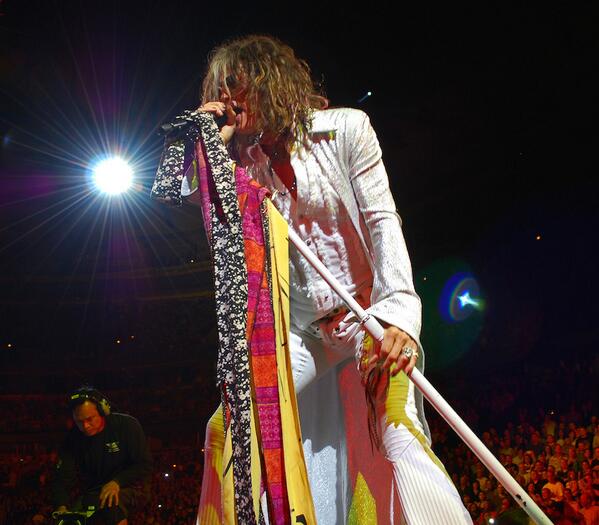 You can't really do this with the Sing Stand 2, but maybe you could if you held your phone in your hand.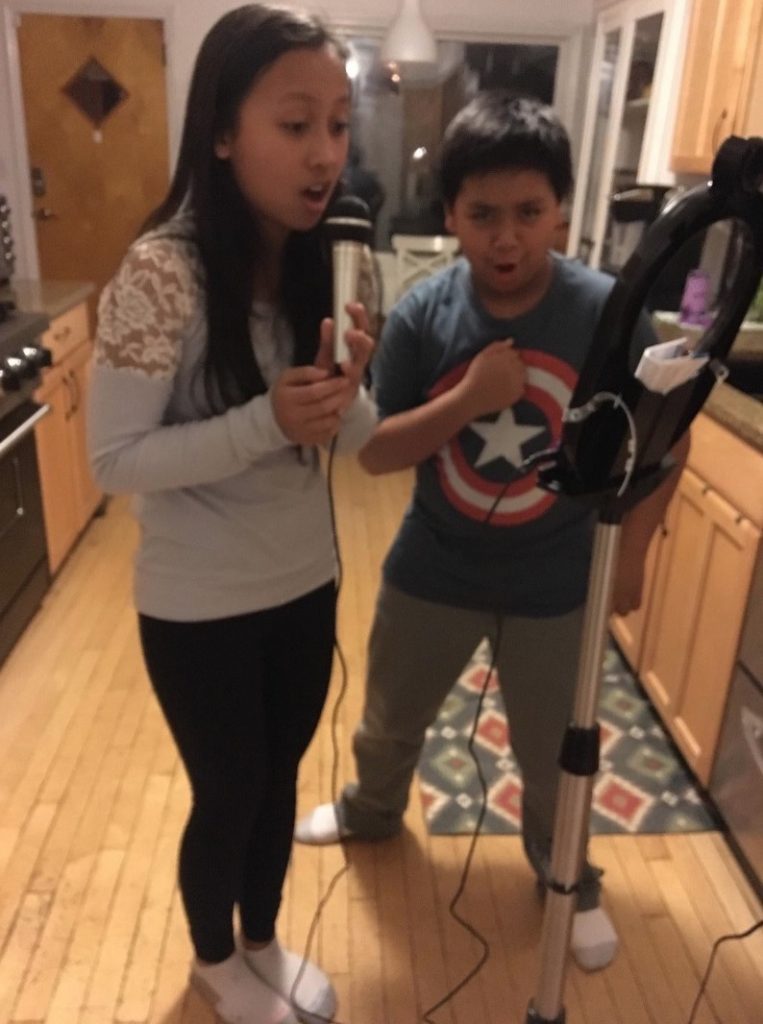 Simple Setup
Because the Sing Stand is really so simple, and somehow inviting, it really has a feeling of want to "try" karaoke, for people who maybe are a little shy at first.
I've seen people who wouldn't normally do karaoke step up to the Sing Stand and use it, simply because it's just them, their smart phone, and the mic. Maybe it's something about there being no intimidating large screen or large speaker that is looming nearby.
For kids, this Sing Stand 2 is perfect in the sense that they can step up to the stand, place their device on the holder, and casually give karaoke a shot.
The setup here is really quite easy. Couldn't be much easier. That's another appealing aspect of the Sing Stand 2.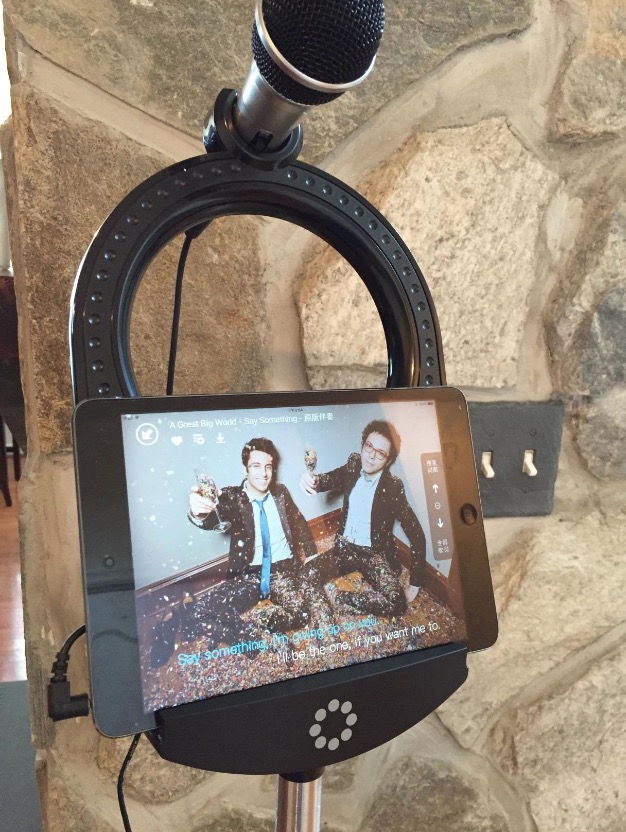 On the other hand, if you're someone who is looking for the whole all-in-one package with the screen included, and not having to use your device as the main source of the karaoke itself, then you may not like the Sing Stand 2. It's really just a starter karaoke system, after all. It's not a "serious" system, or any kind of huge thing.
I do think, honestly, that most people are used to playing content straight from their smart phones, and so most people, and especially kids, are going to be more than comfortable using their smart phone as the source of the karaoke.
Vocal Enhancement Switch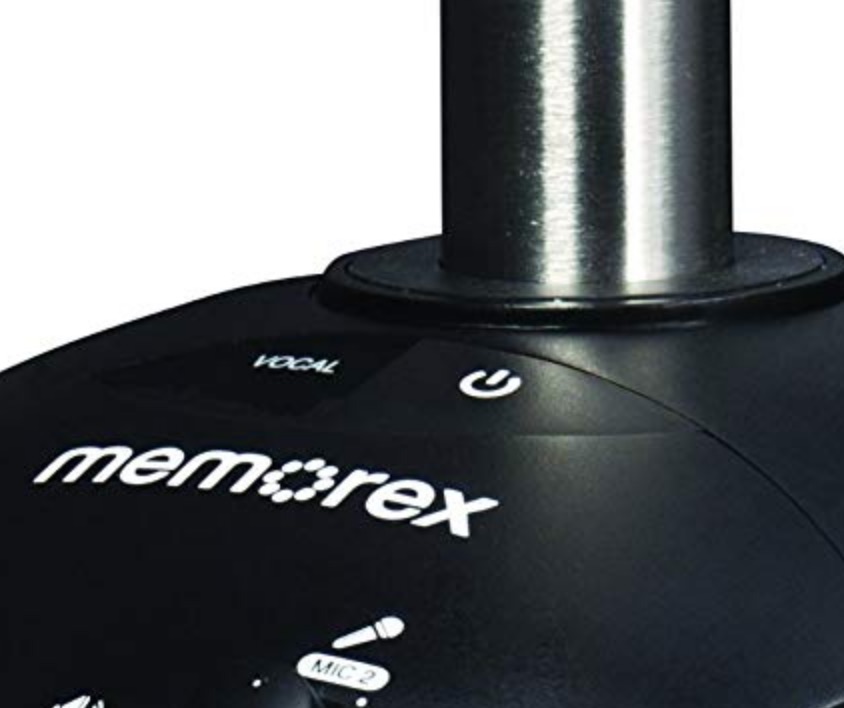 A nice feature of the Sing Stand 2 is that it has a built in vocal switch on the speaker, which Memorex calls AVC (auto voice controls). This isn't exactly pitch shifting. In fact, it's not that at all.
What is does is it "features" the voice better, with a little bit of creative EQ'ing, allowing for you to hear yourself better, if the karaoke version of the song you're using for some reason doesn't compliment your voice enough with the music.
This switch is located beside the power switch on the speaker at the bottom.
Wired System
The Sing Stand 2 isn't an elaborate setup, but it is a wired setup, so it doesn't have any bluetooth capabilities built in.
As we said, the wires could be pesky, and that's of course why they have the little wire management device - to help you avoid getting tangled in wires.
Cons:
Not a complete system without the use of your device
Speaker could be bigger
Is almost more of a fun toy than a "serious" system

RockVille Power GIG RPG-122K All-in-One Karaoke System - Link
We have just enough time to mention one more karaoke system, and that's the RockVille Karaoke System!
The last system here we recommend mainly to the pros, who may have thought that the previous machines were piddly and you've been yearning all of this time for something that you can use at an outdoor event, or maybe a large scale party. Not something that looks like a toy.
Well, here it is that machine. This RockVille machine is a beast!
Power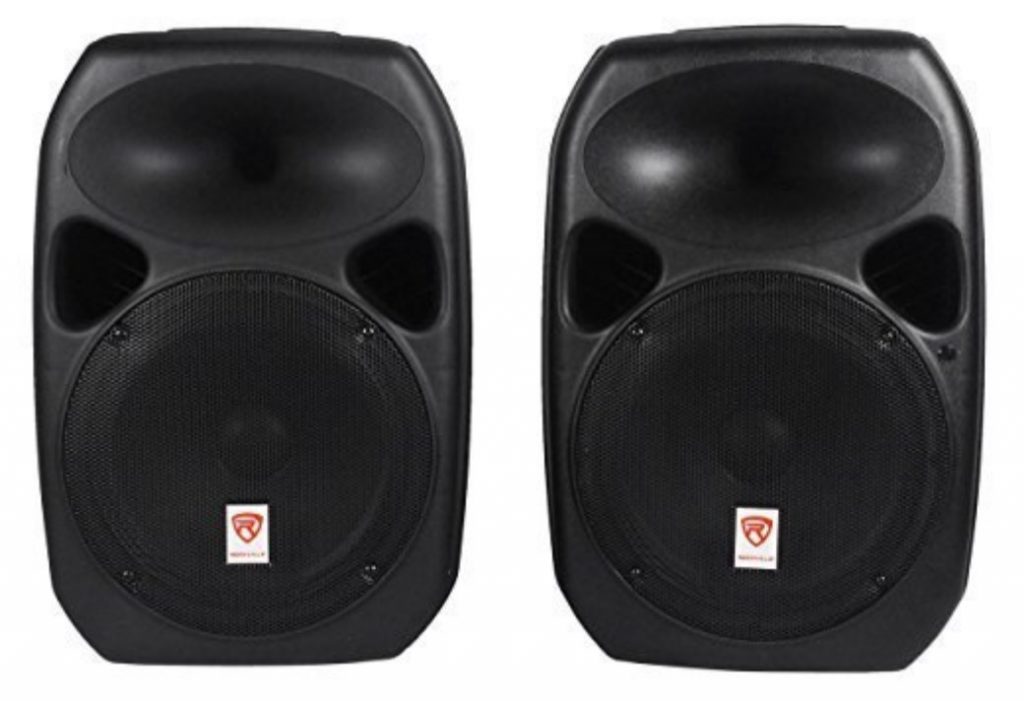 PA System Modded Into Karaoke System
I should just say, out of the gate, that this is clearly a PA system with a karaoke stand and mics added in.
To me, the approach RockVille has taken is that (btw, this is just my opinion).. anyway, RockVille is coming from the angle of most karaoke systems are inadequate in some way, and it is probably better to approach things from the PA angle, rather than from any other angle, such as the let's make something nice that the kids will think is cute and fun.
This is because, I think, a PA system is, once again, fairly close to what a karaoke system needs to be. Just take your average well made PA system, complete with stands, add some wireless mics, a smart phone stand and clip, varnish it all black, and Bob's your uncle, right?
That's not to say RockVille didn't do it lovingly, because I think that they did. There appears to be more care put into this unit than most of the other ones, I'd say.
Where's The Screen? Ohhh…
This RockVille system does lack what 4 out of 5 of the ones we've reviewed today don't seem to have, and that's some sort of offering for a screen to view the karaoke on.
But, like the others, the RockVille people know that the best way to go about things is just for the user to use their smart device, hop on Youtube, and away you go. Having a built-in screen only really leads to a cost-ineffective situation, really.
People already have their screens, and they're called their phones. Even kids have their own phones! Most people would probably rather use their phone or tablet anyway, nowadays, rather than a built in screen.
It would seem that today's karaoke systems and your modern smart phone are a match made in heaven, especially considering the existence of Youtube.
More Features of the RockVille Karaoke System
It comes with two large 1000 watt speakers (pictured above), two wireless microphones with a transmitter, and a device tripod that allows you to hold your device right in front of you without you holding it (pictured below).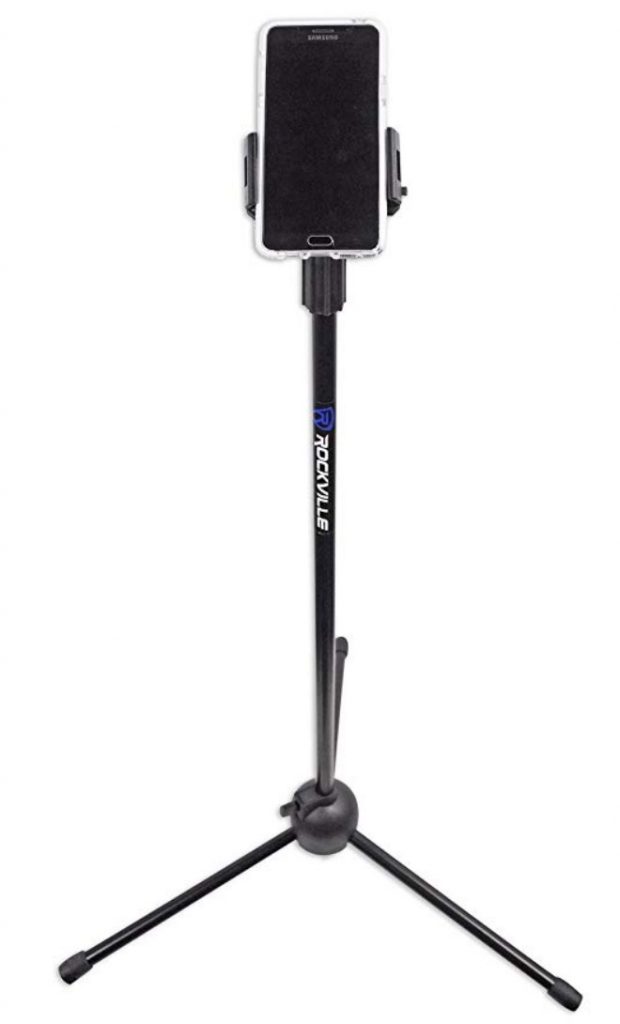 The two specially made microphones were designed to limit feedback and avoiding any type of interference. The system can be paired to any smart tv as well as it's compatible with bluetooth. This system is made to exceed your expectations on all fronts.
RockVille is a company that's been doing this for a while, and they know where they stand in this market. They're selling to pretty much the opposite group of karaoke fans from who the Memorex Sing Stand 2 people may have been advertising to, and I'm talking about the hardcore karaoke people, the pro DJ's, and the grown-ups.
The point with this system is to provide unparalleled sound quality via a system that is stacked with features, from the bluetooth, to the FM tuner, to the USB / SD player, to the A-40 mic cartridge, to the 115/230 Volt Switchable for international use. This thing just has a lot of features, and that's because RockVille is really going for broke here to please the customer.
This is a great system for those who are thinking about starting up their own karaoke business. However, having this type of system is great to have on hands as the speakers are quite useful and would blow anyone away.
This karaoke system can also be controlled with a remote allowing you to fix minor problems with the sound that you hear using the remote.
Specs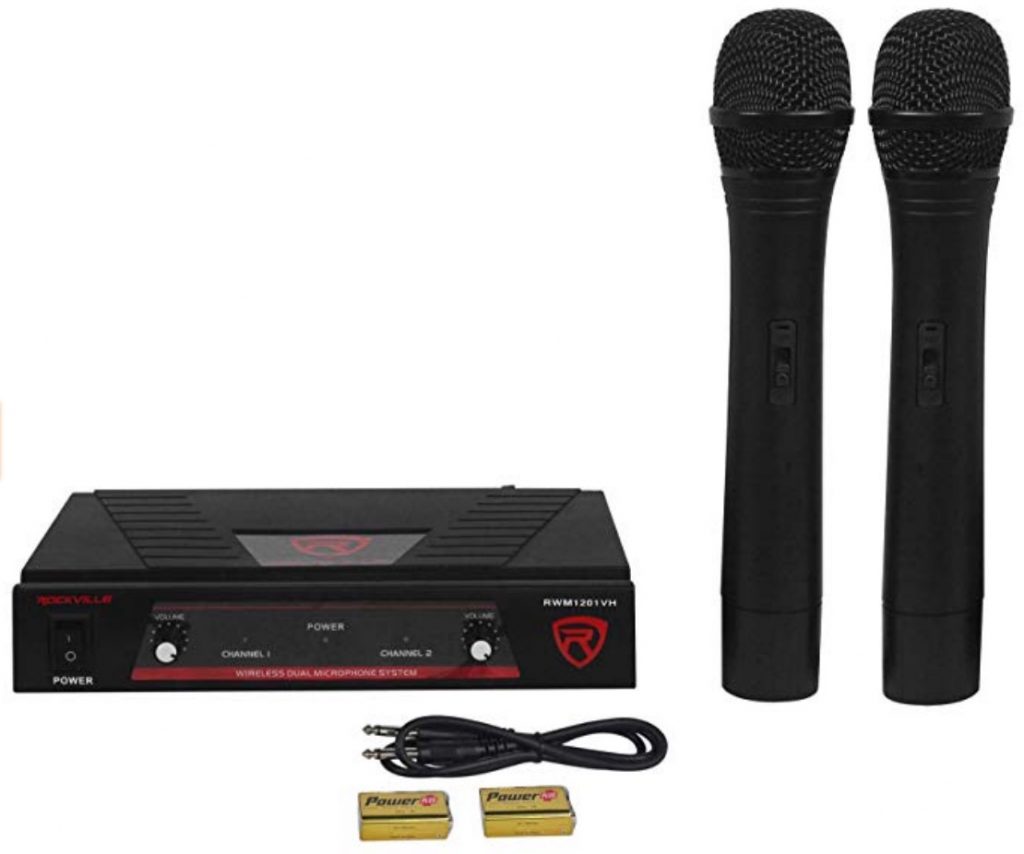 This RockVille karaoke system has more specs than you can shake a stick at. It has so many specs I don't even dare try to list them all. Here are the mic specs alone:
A-40 Cartridge
Plastic mic body with rugged construction
Construction: Sponge Ref-shake Type
Type: dynamic
Steel Mesh Grill
On/Off switch
Polar Pattern: uni-directional
Beautiful Black Finish
Frequency Response: 60 - 13Khz
Impedance: 630 Ohms ± 15% @1kHz
Sensitivity: -72 ± 2dB @1kHz
Even the RCA cables (there are two that come with this system), are ridiculously tricked out. How can you trick out a cable, you ask? All you have to do, I guess, is make it nickel-plated, with 100% copper conductors, and then add OFC spiral shields.
This, of course, adds to the efficiency of signal transfer and durability, plus the clarity of the signal. The spiral shields do offer that sweet, sweet EMI and RFI rejection you have always wanted.
Cons:
Depending on your event size, this system might be overkill
Less simple, more technical
Not as "fun" as the others
Comparing Models - Which One Rules?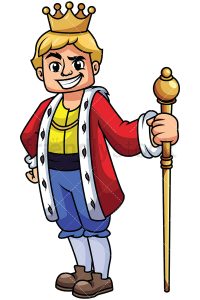 Essentially, compared to the other karaoke systems we've talked about so far - the Singtrix, the Block Party Live, the Sing Stand 2, and the Akai - the RockVille has both more gear, which is bigger, better, has more power, and is explained very thoroughly in their documentation of said gear via their website and provided manuals.
Now, I'm not saying that the RockVille is the best home karaoke system out of all of them, but it's certainly the one that you might want to go with if you're going big. That much is clear to me.
Interestingly, the price of the RockVille Karaoke Machine, at around $300 (again, don't quote me, it changes), is comparable to the Singtrix, which I last saw around that price as well.
So how to choose between the two? If you recall, Singtrix has a simpler aesthetic, focuses on vocal effects, and seems designed for parties, whereas the RockVille hear, at around the same price, is more for bigger events, and seems to be less about having fun than getting the nitty gritty details of how sound works down to a science.
Still, you know when someone is smart and knows everything, and then there's someone else who's just the "fun" guy. People tend to gravitate to the fun guy because he's fun. In this case, most of the other systems we've looked at are rooted more in fun than anything else.
The Block Party Live is fun because it has that disco ball. The Memorex Sing Stand is fun because it's just a nice little stand with a fun little speaker. The Akai is fun because it has the screen built into it and comes with CD+G technology. And the Singtrix is fun because you can sound like a robot and it has different coloured plates for the device holder holder. Cute! Fun! Yay!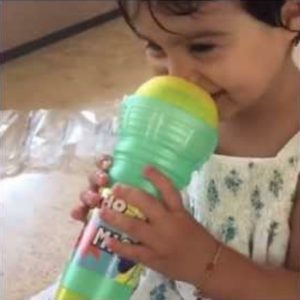 But how fun is it when you throw a street party and your DJ quits because he can't hear the bass? Right, now you're f***** p******!
So, if you were to go with the RockVille, I'd say…consider what's at stake here for you. Are you having a little get together with family and friends? Using the RockVille for that, is probably overkill. Grandma doesn't need those two PA speakers blasting.
For a nice, fun little party in your living room, maybe of the other systems would be better. Probably.
Having a huge outdoor event where there is money on the line and time is running out? The that's when the RockVille is your ace in the hole.
If you're an audiophile, or even someone who is in the audio business, or the event planning business, choosing the Rockville makes more sense because it's a formidable unit that stresses covering all the bases over fun.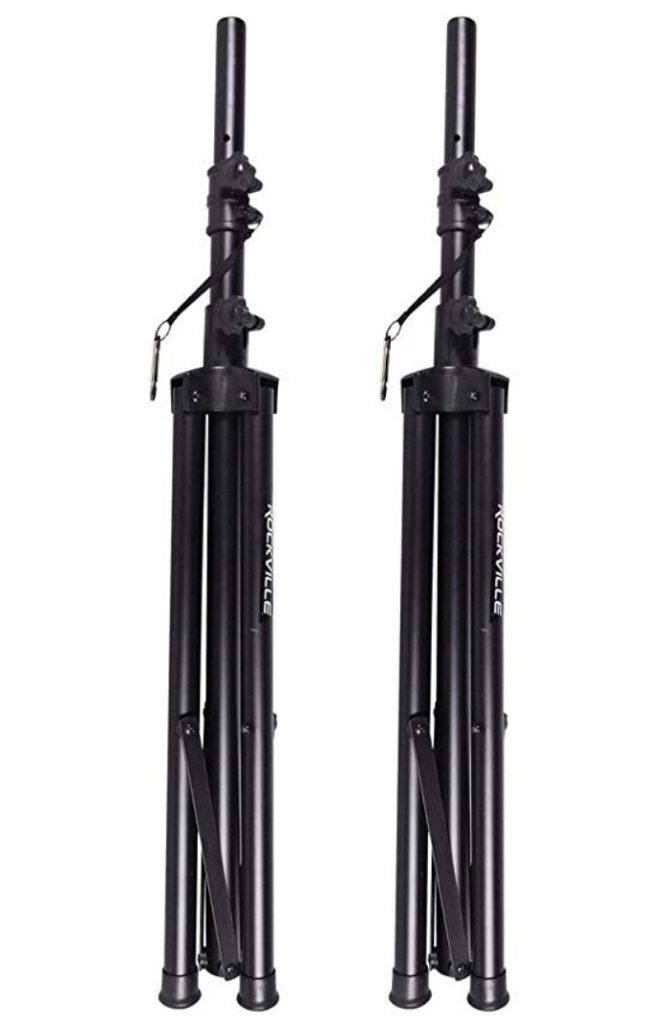 What Is a Karaoke Machine and What Does It Do
A karaoke machine is typically an electronic device that plays music while you sing along with the lyrics shown on the screen. If you've ever wanted to become a star, now is your chance. Singing into a microphone is not necessary, although it may be easier for some to use one.
There are many different karaoke machines available on the market today. Prices start as low as $100 and go up to $1000 or more for a professional system.
If you're not sure where to begin, you can start off small and work your way up as you become a karaoke star. Karaoke machines are perfect for birthdays, family gatherings or even individuals who want to sing in the comfort of their own home without having to worry about microphones and noise.
What's even more exciting is that many of these machines also double as music players, so you can sing your favorite karaoke tunes while the parents dance to the latest pop songs.
How to Use a Karaoke Machine
Once you understand these simple steps (and watch our video above), it's as easy as 1-2-3...
Insert your Audio CD into the CD player and press play on the CD player. Take your microphone and plug it into the karaoke machine's MIC port.
The karaoke software in the machine should automatically start playing, but if not, press Play on the controller. Press lyrics to search for the song you want to sing.
If you are singing along with your friends, take turns singing the same line. Take turns when each person needs a break to catch their breath or adjust the microphone volume/gain settings on the karaoke machine.
The Benefits of Using a Karaoke Machine
Many people turn to use one when they're having a party, since it is very exciting and entertaining for guests to listen to their favorite songs and sing along. They can also use it at home if they don't want to go out somewhere. However, not everyone knows all the benefits that come with owning one. Today, we will discuss some of them in order to convince you that it's a great investment.
Useful for any age group
Karaoke machines are nice because not only can adults enjoy them, but so can children. If you have kids who are interested in singing, they would love to use it. Not only will you get to listen to them sing, but it is also good for their development. They can practice on staying in tune and getting more comfortable with the microphone before performing at school or any other place.
Enjoyable for all music lovers
Karaoke machines are great for anyone who loves music, since it takes whatever songs they like and makes them into something to enjoy. It is especially nice for people who love listening to the radio or their favorite music artists. They can use it to turn their vocals into karaoke tracks that anyone can sing along with.
More fun for social gatherings
People often go out to karaoke bars in order to enjoy this activity together with others. But now, everyone can take part in it at home without having to leave the house. This will make getting together much more enjoyable and exciting because you don't have to worry about driving somewhere else or spending too much money on drinks and food while there.
Reduces the stress of singing alone
Even if you love to sing and do so often, there are still certain circumstances where it can be a bit nerve-wracking. This is why karaoke machines can help out a lot since everyone will get to watch you and cheer you on. It makes the entire experience much more exciting for everyone involved.
More active participation
Everyone who goes to a karaoke bar knows that it's nice because the performer sings along with their favorite songs. But this isn't usually the case when someone sings by themselves at home or elsewhere. However, with a karaoke machine, anyone who uses it is practically guaranteed to hear their voice echoing back to them as they listen to the instrumental track.
More fun for a wide range of occasions
There are many different activities that people enjoy doing while going out to a karaoke bar or restaurant. But with a karaoke machine, they can make it more personal by using it at home and performing any time they want without having to spend too much money.
Comes with multiple features
Karaoke machines come with a lot of benefits, but they also provide so many other amazing things that you might not even realize. Such as the fact that they can be hooked up to your television and home stereo system. This way, everyone will be able to watch and listen in better quality.
It will also save space in your home since you won't need too many devices. And it has the option of working with MP3 files, which means that you can sing along to any songs that are on your computer or in your personal collection.
Helps you get in shape
Karaoke machines can actually be part of a workout routine. All you need to do is hook them up to your television and use it as part of your daily exercise schedule. It will make the whole process much more enjoyable because you won't have to sit around for hours, but it can still help improve your health.
Increases confidence
Singing along with your favorite songs will not only make it more interesting, but it will also help you feel more confident. People might find themselves performing better in other activities as well because they are happier and have a better attitude.
Helps with vocal projection
It can be difficult to project your voice during singing, which is why using a karaoke machine can be very helpful. Because you won't have to worry about the instrumental track, you will be able to practice projecting your voice more often and with different types of songs.
It can also help you learn how to control it better by seeing what works compared to what doesn't work when using a karaoke machine.
Different Types of Karaoke Machines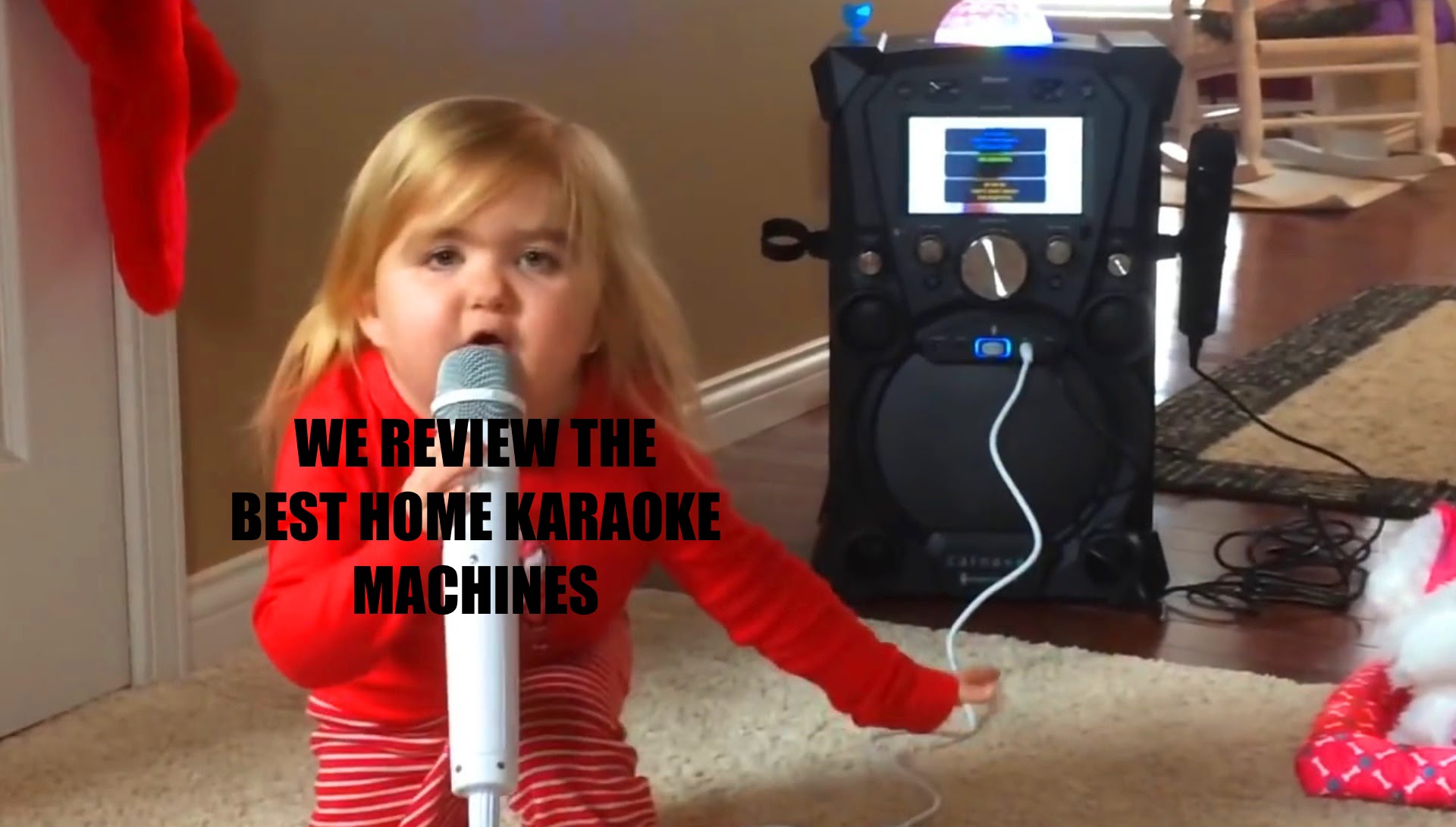 Today, people all around the world participate in karaoke events at their local karaoke bars or they even use their own personal karaoke machines. As these devices have evolved throughout the years, there are now many options and types of machines to choose from. We will will highlight the four major types of karaoke machines.
Karaoke on DVD/Blu-ray Discs
This type of machine plays discs that contain songs specifically chosen for karaoke events. It is simply a player with an attached TV screen and speakers with the words appearing on the screen as they play, allowing anyone to sing along. These discs contain the song itself and the instrumental version, allowing people to sing either part of a duet.
While there are many different types of discs available for this type of karaoke machine, they all work basically in the same way: once you insert a disc and press play, it plays both songs (instrumental and vocal) automatically. While some companies offer only their own discs, other manufactures' machines can take any brand's karaoke disc; however, not all brands will work with each machine.
This is one of the most common types used because it allows anyone to become a star without having to hire musicians or sound equipment. Just buy a few discs and start singing! This makes it great for karaoke parties or corporate events, where you might not know many people. Karaoke on computer
This type of machine is very much like the one described above because it doesn't require anything more than a TV and speakers, but the main difference is that these machines are designed mainly to be used with computers. However, there are some brands which allow people to play their CDs as well, making them versatile karaoke machines for all occasions.
The way these machines work is simple: they will be equipped with USB ports that you can use to connect your laptop/computer and then simply download songs from websites such as YouTube. Once you have downloaded the song that you want to sing along with, just plug in your microphone and start singing! This is a great option for karaoke events at home, as you can record yourself and share your songs with family and friends.
Karaoke on phones
This type of machine allows you to use your phone as a micro karaoke machine. You simply download the app from Google Play or AppStore, then download the song that you want to sing from YouTube or another source, plug in your microphone, and start singing! This is an excellent choice for those who are always on the go because it requires little preparation and you don't have to carry bulky equipment around with you. It is also great if there isn't technology available where you will be going or if someone doesn't have a computer handy.
The one downside about this type of machine is that the sound quality might not be as good as some of the other options; however, it still sounds great and allows you to sing wherever you are. Since most phones today have pretty decent speakers, this shouldn't be a problem for most people.
Karaoke with microphones
This type of karaoke machine may come in many different forms such as software (apps) or even apps on smartphones; but regardless of the form, they all use microphones instead of discs or computers to play songs. Many brands offer their own special mixes and include song lyrics along with the music so everyone can sing along together without having to look at a screen. This option can make karaoke more interactive and social because when each person's microphone turns on, everyone around can hear that person's voice, encouraging the audience to sing with them.
This type is especially great for occasions where guests are more familiar with each other because it allows them to interact with each other without needing an intermediary device. Karaoke apps are also excellent for small gatherings or children's events because they don't require anything more than a group of people who like singing along together!
xxUseful tips
The price will be one of the most important factors in determining which machine is right for you.
To pick your friends' brain about their experiences and what brand/machine they recommend.
Read reviews on certain brands of machines before making your final decision.
Once you've decided on which type of karaoke machine you want to purchase, make sure to read the specifications carefully. This will help you choose your machine based on your specific needs
Buy now at eBay, Etsy, Walmart (subject to availability)
Singing Machine SML385UBK Bluetooth Karaoke System with LED Disco Lights, CD+G, USB, and - Walmart, Etsy, eBay
Singtrix Portable Karaoke Machine On Shark Tank, Kids & Adults, All-In-One Karaoke - Walmart, Etsy, Ebay
BONAOK Wireless Bluetooth Karaoke Microphone,3-in-1 Portable Handheld Karaoke Mic Speaker - Walmart, Etsy, eBay
Karaoke USA Karaoke System - Portable, Black (GF844) - Walmart, Etsy, Ebay
Portable Karaoke Machine for Kids & Adults - Singsation Burst Deluxe - Comes w/Mic, Phone - Walmart, Etsy, eBay
Conclusion for Karaoke Machine Buyers

I hope you enjoyed our recommendations and find the karaoke system that fits your needs. These are some amazing systems and all of them are worth the money, but only you know what you need, and so go forth and choose wisely. Your next party's awesomeness hangs in the balance!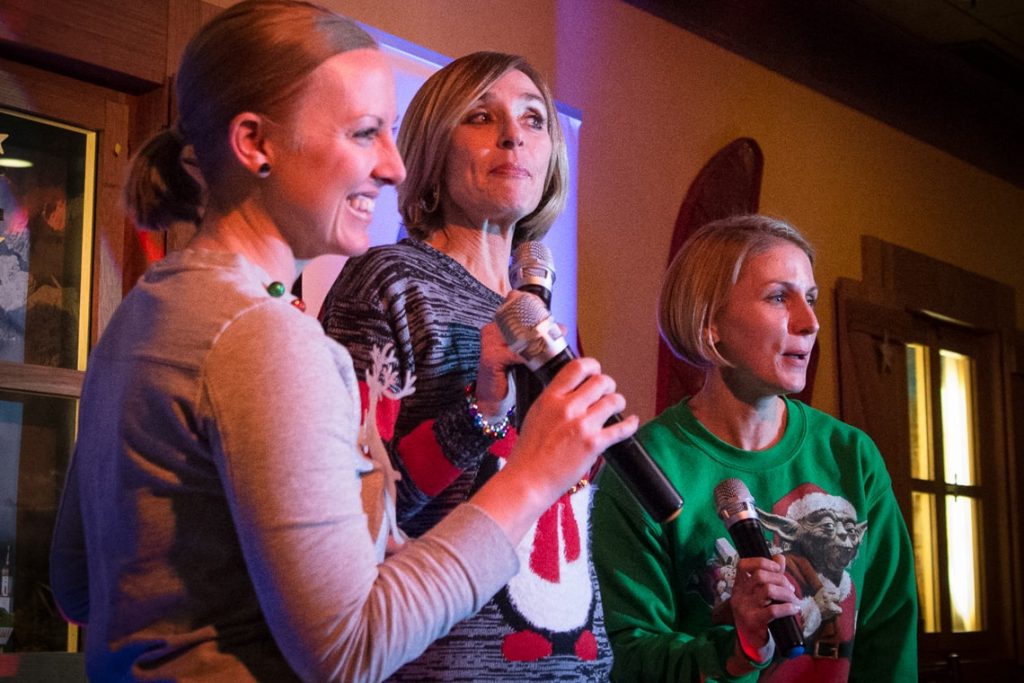 Also, if you have any comments, please make them below, I am interested to hear what others think of these systems!