Over the course of the past three or four decades, we've seen rock music change drastically. And with the emergence of the various heavy metal subgenres in the 1980s, we've witnessed the guitar being taken to previously unseen territories.
Both technically and sonically, players pushed the limits and the movement of guitar shredders was born. One of these young virtuosos back in the day was John Petrucci who has, over the years, built his reputation as one of the most proficient guitar players of all time.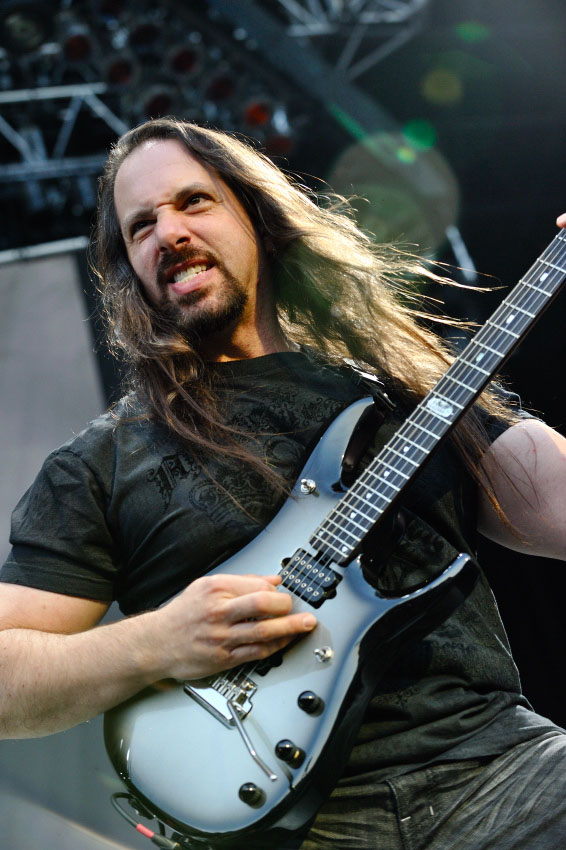 The classic old-school Gibson/Fender plugged into a Marshall amp was replaced with new combos.
For Mr. Petrucci, this magic combo was Music Man plugged into a Mesa Boogie amp, and it's a safe duo that he keeps using to this very day. So let's dive in and find out more about his signature JP-2C amp that came out just a few years ago.
---
The Mesa Boogie JP-2C Amplifier

Background
But before we get into this intricate piece of gear, it should be noted that Petrucci was inspired by the guitar sound on Metallica's legendary 1986 album "Master of Puppets."
The secret behind this heavy, huge, and yet somehow controlled sound was the Mesa Boogie's Mark IIC+ amp. And it was this particular model that inspired Petrucci's JP-2C signature amp.
---
Main features
This is a pretty versatile and powerful piece of gear, with five 12AX7 tubes in the preamp and four 6L6 tubes in the power section. The full output power of the amp is 100 watts although there's a power soak option for 60 watts.
But there are two things that make the amp pretty special. First, it has three channels with completely independent controls. All of the channels have their 3-band EQ, gain, master volume, and presence knobs.
But what's also amazing here is that each of the channels has its own special features. The clean channel has a special kind of midrange control that has a so-called "Variable Gain Boost Control" that works from 5 to 10 marks on the knob.
Channels two and three are for lead playing and both have a pull option on the gain knob, which gives you that additional boost, and a pull feature on the presence knob as well that provides players with the frequency shift.
The reverb, which has its independent channel controls placed on the back panel of the amp, is a long-tank spring-type reverb.
Second, it features two independent switchable 5-band equalizers that can be used with any of these three channels. You can switch them on the front panel of the amp.
These EQs are controlled with sliders and have these frequencies: 80Hz, 240Hz, 750Hz, 2200Hz, and 6600Hz.
While we're at EQs, there is a "Shred" voicing option that gives some additional tone shaping options for channels 2 and 3. According to the guys from Mesa Boogie, it's really useful for rhythm tones by adding a new dimension to it, although it can be pretty neat for leads as well.
---
More features
Another great feature ñ there's a footswitch that comes with an amp that switches between the channels, turns the reverb on and off, and switches between the two aforementioned independent 5-band EQs.
Aside from that, the amp also has a MIDI in and MIDI thru/out on the back for some additional connectivity and controls using external MIDI units, with the total of 256 possible programmable combinations which also include using the built-in effects loop.
As if all this wasn't enough, the JP-2C features a built-in cabinet emulator called "CabClone" that can come in handy for both studio and live situations.
It's essentially a DI box with additional controls that you can use independently (go through the CabClone output directly into the PA or the mixing board) or you can blend it in with the sound you get from mic-ing the amp.
---
Design
Despite its numerous features explained above, JP-2C is a very compact little amp. And, another important issue for some guitar players ñ it looks great.
It keeps the old Mesa Boogie design and still incorporates all these great controls, providing guitar players with an all-around great experience. The front panel also includes a plaque with engraved John Petrucci's signature.
Mesa Bookie also released a special Limited Edition series of JP-2C heads, featuring a custom finish and actual personal signatures of John Petrucci and the company's engineer Randall Smith.
These also come with a flame maple front panel, the special "Boogie" inlay, and a whole other bunch of great design goodies.
The amp itself comes either in the head format or as a rack unit.
---
Performance
As already mentioned, the JP-2C was inspired by Mark IIC+ and the old-school Metallica sound from their well-known third record, the tone Petrucci is still very fond of. The clean channel can get into some crunchy overdrive territories if pushed to its limits, especially if you set the mids between 5 and 10.
Although the second channel is intended for lead playing, its best characteristics show in rhythm use, giving players that punching "in-your-face" metal sound. But don't think that it's just for metal since there are some pretty tasty crunchy blues lead and rhythm tones.
Compared to the second, the third channel is a bit warmer and has more sustain, which is extremely useful for lead tones.
It has its own specific color and with the various voicing and EQ combinations, it provides guitar players with soaring lead tones that can cut through the mix without piercing through everyone's eardrums.
---
Conclusion
To put it simply ñ it's worth every damn penny. It's versatile, it's powerful, it has a great dynamic response, and there was absolutely no compromise in the creation of this unit. By trying it out, you can clearly see that Mr. Petrucci himself participated in the design of this beast of an amp.
However, bear in mind that this is a pro-level amp and that it might be a bit tricky for entry or even intermediate level players. It does require some experience if you plan to get the best out of it.