Last Updated on
By Youtube Music Sucks
The advent of progressive rock has created a very interesting niche genre over the years. Much like the classic rock itself, prog rock has evolved in ways which were unpredictable and somewhat even unexpected.
Today we have many bands which label themselves as progressive, however only one has truly pushed that title to its very limit.
Dream Theater is not the band that invented progressive metal, but they surely have elevated it to where it is today.
Ultimately, they pushed it to the limits previously thought impossible, and countless musicians these days cite Dream Theater as one of their biggest influences.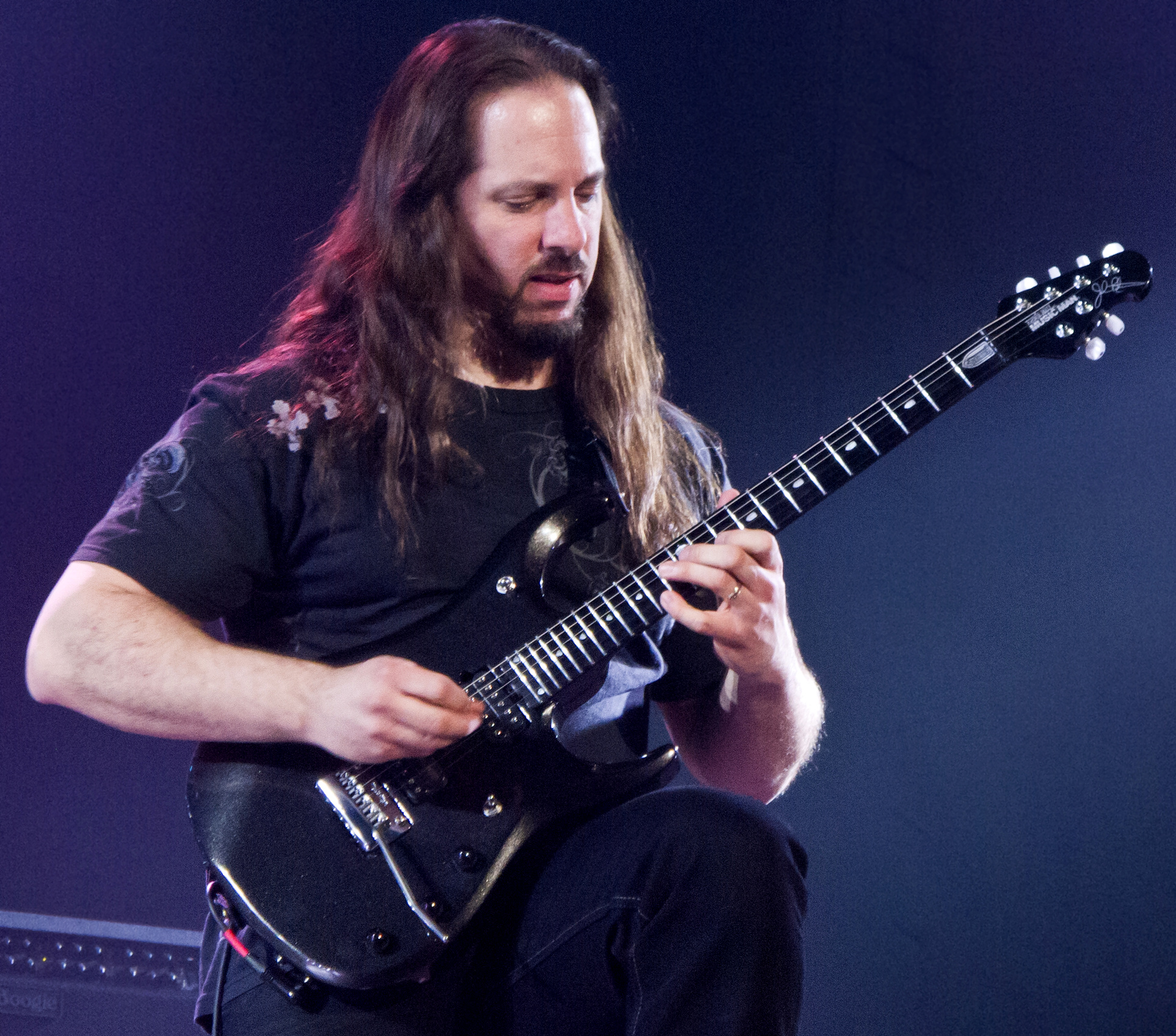 And they certainly deserve all this praise. Each member of this iconic band is an extremely talented and skilled musician.
However, among equals, John Petrucci is one who stands out the most. Well, at least among the guitar lovers out there, since his technique, knowledge of music theory, composing skills, and the ability to put together complex tonal structures put him in a category of guitarists where only the greatest reside.
To put it simply – this man is a true guitar genius of our age. There are essentially two main components to what makes Petrucci so interesting.
First, and the most obvious one, is his skill. He is one of the rare guitar players to explore the limits of guitar technique without sounding clinical.
The other factor, of course, is the gear he uses to achieve his tone.
---
John Petrucci Rig Rundown
Progressive metal on its own is highly dependent on finely tuned equipment. Once everything is plugged in and rolled off, the combined tone of the whole band just has to be clear enough to allow each detail of each instrument to push to the surface.
Dream Theater's ability to get this done, and even push the envelope in some ways while doing so, has been known for years. Creating music with such 'limitations' meant that Petrucci and the rest of Dream Theater required a specific level of skill and experience to dial in everything just right.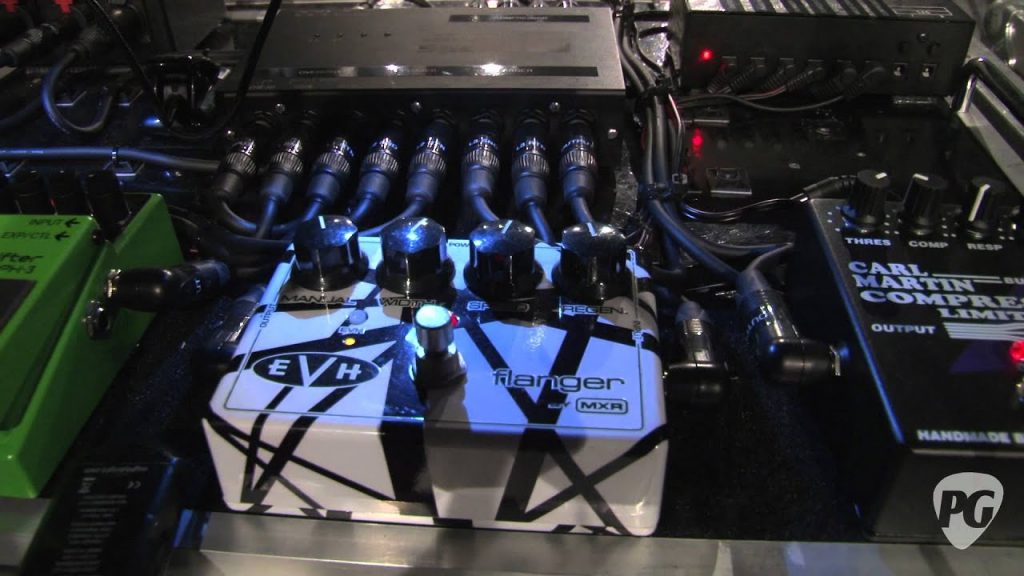 So, with all this being said, in this particular rundown we're going to take a look at what type of equipment John Petrucci uses, or has used, and how that reflected on his tone and overall performance over the years. As usual, we will start with guitars and then move on to amps, accessories, and all the other gear.
---
Ernie Ball Music Man John Petrucci Majesty 7-String – Red Sunrise
Jim Dunlop Jp95 John Petrucci Signature Cry Baby Wah Pedal
Mxr M83 Bass Chorus Deluxe
Tc1210-Dt Spatial Expander Plug-In With Hardware Controller
Guitars
When it comes to guitars, there is really only one brand that Petrucci really trusts to deliver the necessary performance, and that's Music Man. So much so that John has developed a very healthy relationship with the company, which has later resulted in full-fledged cooperation.
One of his signature models, which he's been using extensively, is the Ernie Ball Music Man John Petrucci JP12. When it came out, this guitar is basically the material incarnation of everything Petrucci wants and stands for.
Specially designed with ergonomics and performance in mind, the JP12 has a pretty slim neck and a radius of 20 inches. This obviously shows that the instrument is intended for lightning speed shredding.
Of course, there are 24 frets and the cutaways are designed in such a way to allow players to reach those higher notes more easily. And let's not forget how awesome they look.
This whole wonderful experience is rounded up with Crunch Lab and LiquiFire pickups.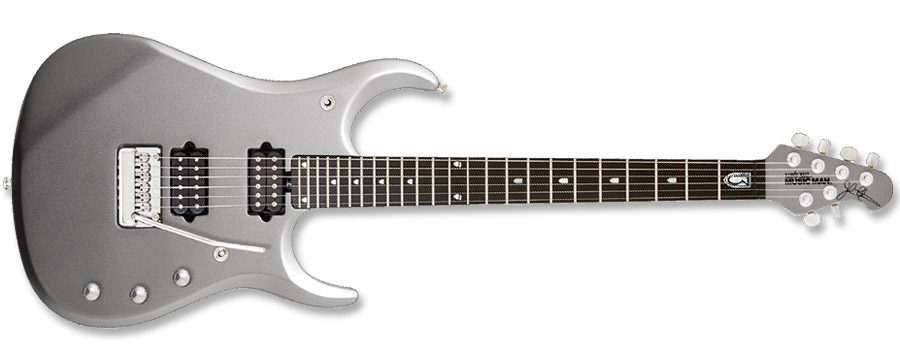 There are also Ernie Ball Music Man JP11 series, which are a bit different from the JP12, but generally offer the similar type of experience. You'll get most of the features from the JP12, including the same type of pickups and the same type of neck.
Trying to frame Petrucci's potential into a single guitar is simply impossible. That's why he has a number of Music Man guitar series which either bear his name, or are a direct result of his ambitions.
However, in recent years, Music Man made a brand new guitar series in collaboration with John Petrucci. Featuring a few models, the series is called The Majesty.
What's really exciting here is that this is actually the original name of Dream Theater, back when they were in their formative years.
Some would say that The Majesty is the ultimate electric guitar. Well, this is not that far from the truth as it is designed to get the best out of one player's performance and deliver a huge variety of quality tones.
Aside from the very detailed body design that allows you to easily reach higher frets, more easily rest your picking hand on it while still managing to retain its beauty, this guitar also has a custom John Petrucci bridge, DiMarzio Rainmaker and DiMarzio Dreamcatcher pickups, as well as a piezo bridge pickup.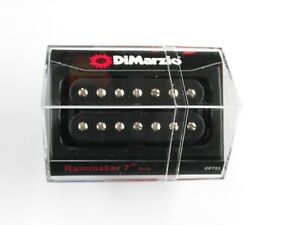 As if this wasn't enough, The Majesty guitar has an active preamp in it, a gain boost option, and an option to blend in piezo and regular pickup tones. Now, if this isn't impressive, we don't know what is. Hey, and there's also a 7-string variant of this model! He began using them in the late 2010s, and it seems that he'll be rocking on them for quite a while.
Going over to some weirder stuff in his arsenal, we have another Music Man – the JP Blue Spark Doubleneck. It's a special piece he used here and there over the years, with the 12-string as the top guitar and the regular 6-string as a bottom guitar.
Check this video out…
But even though Music Man will always be the brand associated with Petrucci, he has also used a number of Ibanez guitars in the past.
For instance, the famous instructional DVD "Rock Discipline" is where we can see one of the Ibanez guitars he is very well known for, the signature JPM100 model.
Made throughout the second half of the 1990s, the guitar had two DiMarzio pickups, 24 Dunlop 6100 jumbo frets, Lo-Pro edge tremolo bridge, and Picasso-inspired paint job.
There are, of course, a few other interesting models in his collection, but these Music Man and Ibanez guitars are what he is mostly remembered for.
---
Amps
Petrucci's obsession and drive when it comes to building a perfect guitar, is surprisingly not present in his choice of amps. In this area, Petrucci follows that old adage which states that you should fix something that isn't broken.
Ever since he first heard MesaBoogie amps, it was pretty much a done deal. On any given day, you will find him with two Mark IVs hooked to a set of MesaBoogie 4◊12 cabs. These are of course loaded with Celestion vintage 30 speakers.
Here is John Petrucci talking about the JP-2C.  Check it out!
This is his standard rig. With that said, he has been using Mark IIC+ heads in the past, as well as Mark Vs.
Even so, you will rarely find an amp that isn't a MesaBoogie in his inventory. The IIC+ is basically the amp he based his signature model JP-2C on and it is the same exact model that Metallica's legendary "Master of Puppets" album was recorded on. This particular record is what inspired him the most in achieving his own kind of tone.
The JP-2C is a very advanced tube guitar amplifier, featuring three channels, specially designed gain controls, and (the most exciting part) two completely independent 5-band EQ's that work with all three of the channels.
Just imagine the world of possibilities you get with it: you have three channels with their own individual 3-band EQs, and with each of these channels you have two independent 5-band graphic EQs.
And we haven't even covered all the details and additional little features of the JP-2C, but you probably get the idea of what a beast of an amp this one is. Yeah, the price is between $2,500 and $3,000 depending on the exact model, but it's definitely worth it.
---
Effects Pedals
Due to the nature of progressive metal, Petrucci has been prone to using a whole variety of effects pedals. His pedalboard is not as busy as some, but it's interesting and most definitely exciting enough to get into here.
Some of the regulars which you can see on his board during any given performance are the Ibanez Keeley mod Tube Screamer TS9DX Flexi overdrive pedal, the good old classic Boss DS-1 distortion pedal, MXR Stereo Chorus, TC Electronic 1210 Spatial Expander Stereo Chorus Flanger and many more.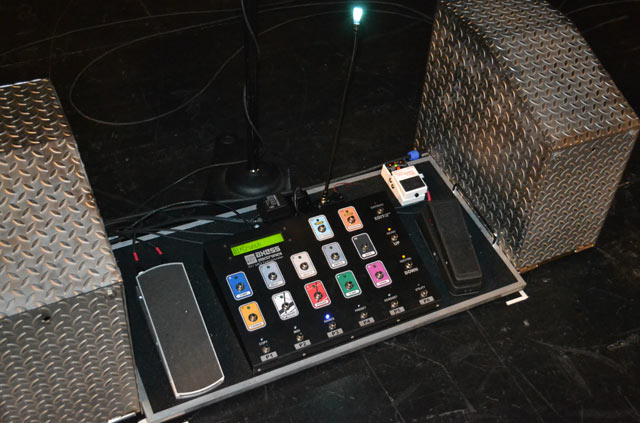 With that said, Petrucci likes to use a whole variety of rack mounted effects and processors. Standalone pedals are great to an extent, but the level of sonic work Petrucci is doing requires something a bit more flexible and powerful.
For example, instead of using a standard reverb pedal, Petrucci will have his TC Electronics 3000 multi-effects processor, hooked up on the rack. There's also a whole lot of preamps and other rack mounted units present during every one of his stage performances.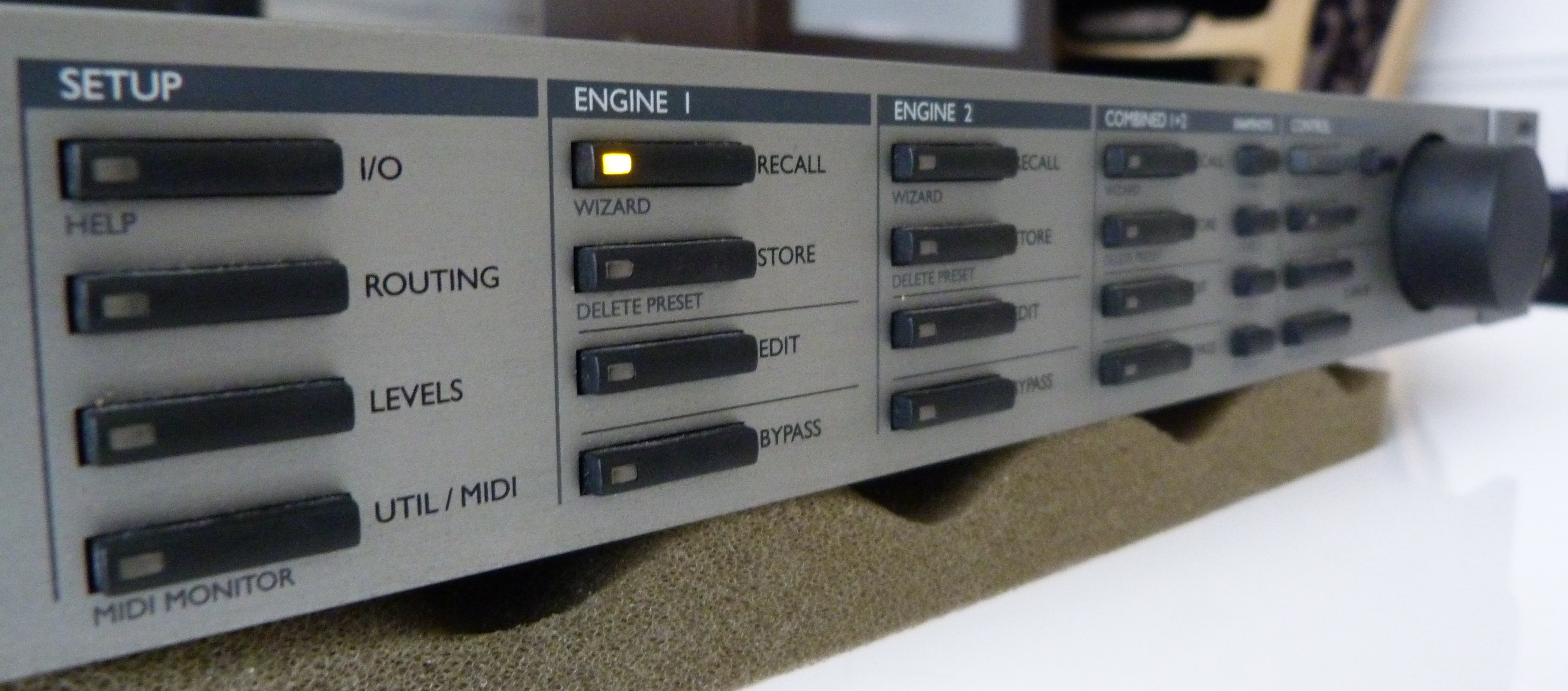 Going over to some other rack-mounted effects, there's a special piece by Dunlop called Cry Baby DCR-2SR.
Now, while most people imagine wah as standalone pedals, this is a very intricate (and fairly expensive) piece for pro-tier musicians.
Unlike standard wah pedals, this rack-mounted effect unit has an abundance of controls and a very detailed EQ that allows you to fully customize your wah tone.
As for other pedals, it's pretty clear that John is a huge fan of TC Electronic's products. There's the PolyTune tuner, the Corona Chorus, Shaker Vibrato, Stereo Chorus Flanger, and the Vortex Flanger.
Here's a demo of the Vortex Flanger…
He also has one signature product with TC Electronic, The Dreamscape. This is essentially a multi-effects modulation pedal, giving players an abundance of vibrato, chorus, flanger, and other tones.
As a side note, John was one of the first guitar players to really popularize the use of Dunlop's Jazz III picks. Before he came along, these were used mostly by musicians looking for that heavy attack. These days, Dunlop Jazz III is more or less the quintessential metal pick.
Being such a virtuosic player, it's only obvious that John's choice of string bears a huge significance for his performance and tone. Being so satisfied with Ernie Ball Music Man, he also uses the company's well-known Slinky strings.
---
Final Thoughts
What makes Dream Theater so special is the fact that every single band member is on the very edge of their instrumentís skill range. That isnít all that surprising once you learn about all of their backgrounds.
Petrucci stood out in this elite company due to his ability to convey emotion through technically sound guitar sections. He can blow your mind with his speed and complexity, but at the same time tell a story with his music.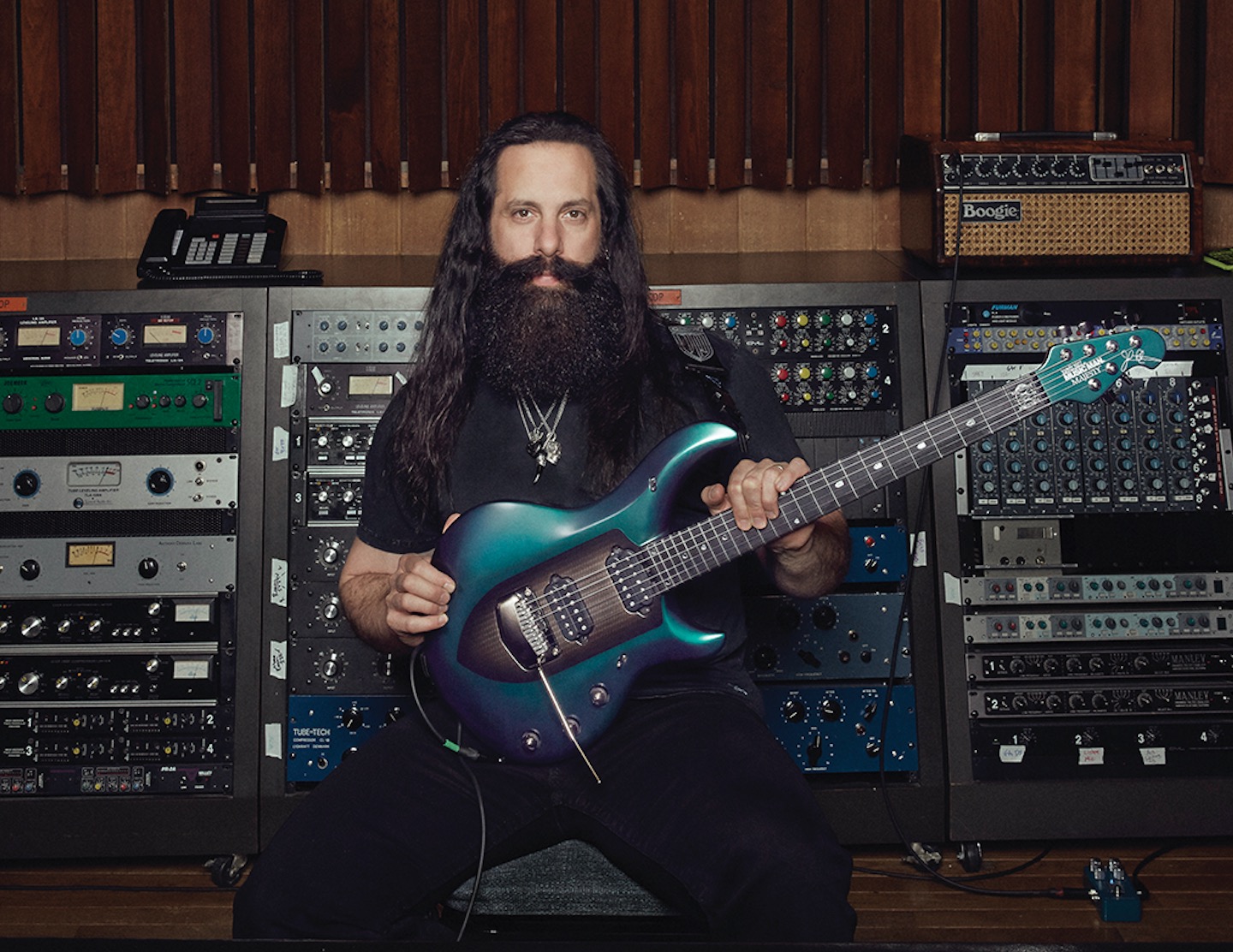 As cliche as that sounds, finding a guitar player capable of performing at such a level is pretty rare. To figure out his tone, one must first practice enough to get a hold of the proper guitar technique and relentlessly work on their chops.
But even if you do have the skills, replicating the tone might not be the easiest task here. First off, most of the gear that we mentioned here, which is of huge importance to his overall tone, is quite expensive.
Take a look at The Majesty that he's using – it's an instrument that not everyone can acquire and is mostly aimed at professional musicians.
And then we have the Mesa Boogie JP-2C amp head, which is also another high-end product.
Generally speaking, if you are trying to figure out how to get that Dream Theater sound for yourself, we can recommend that you find yourself a Music Man guitar, and possibly a pair of Petrucci's set of pickups.
As for the amps, a potentially effective alternative would be to get yourself a quality digital amp modeller, like Kemper or Axe-Fx, that can roughly replicate some of his gear.
If these are just not your thing, then there are some tube amplifiers that might be of use here. We can recommend something like a classic Marshall stack further enhanced with a Tube Screamer or any of its clones.