Last Updated on
By Youtube Music Sucks
Fender's Stratocaster is by far one of the most popular guitar models in the world. After all, it is one of the oldest solid body electric guitars, and its design is so timeless that it has only slightly changed over the years.
When it comes to genres of music this legendary axe is mostly used for, metal is definitely not found near the top of that list. There is only a hand full of metal guitar players who have managed to achieve a great metal sound with a Stratocaster, and one of them is Yngwie Malmsteen.
To be fair, Malmsteen's music is all about fast arpeggios and classical shapes played in a more modern way, on a modern instrument. Due to the nature of his music, he is not trying to make his Strat do the very thing that is simply not compatible with metal.
He is not playing rhythm riffs under high gain distortion. With that said, his music is still considered to be metal. Today we are going to take a look at his signature model Stratocaster, and talk about what this guitar has to offer.
Fender Yngwie Malmsteen Stratocaster Review
To this day, Fender has created a number of signature model Stratocasters for various influential guitar players. The first artist to ever be paid tribute in this way by Fender was Eric Clapton. The second one – and this is something not a lot of people know – is Yngwie Malmsteen.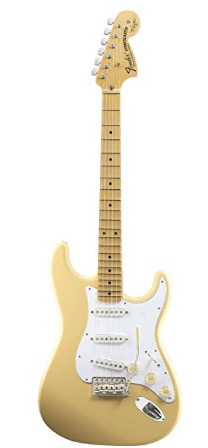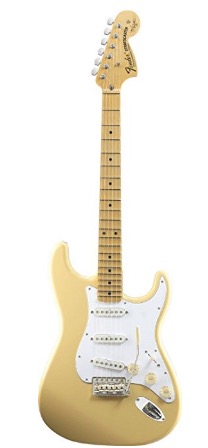 An interesting thing about Malmsteen's Strats is that they are all heavily modified. When he takes a factory Strat, he changes a lot of small and not so small things on that guitar. Malmsteen even goes so far as to add another bolt where the neck is joined to the body. Additionally, only Strats made from 1968 to 1972 are acceptable to Yngwie because of their larger headstock. Fender Yngwie Malmsteen Stratocaster brings a lot of these modifications.
Features
From a distance, Malmsteen's signature Fender Stratocaster doesn't look that much different from a regular one at all. The only thing that might come across as odd is the color of the body. You don't see many Vintage White Strats anymore, but this particular model only comes in this color. Now that you are close, you will realize that the shape of the body is a bit modified as well. With that said, you can choose between the black pick guard or the white one. Tonewood is standard typical Alder – a choice of wood that hasn't changed for half a century now.
Where things get interesting is the neck. We are talking about a standard maple C profile neck that comes with either maple or rosewood fretboard. What makes it interesting is that the fretboards are all scalloped. On top of that, you will see a larger headstock. These are some of the modifications Malmsteen insisted on, and one that is found on all of his personal Strats.
Hardware comes in form of an American Vintage tremolo bridge on one end, and Fender legendary F tuners on the other. Interestingly enough, the nut on this guitar is made of brass, and one of the string trees is missing. Additionally, strap retainers on this Strat are Dunlop's Flush Traplok design.  In terms of electronics you are looking at a series of Seymour Duncan YJM Fury single coils. Malmsteen used to be a DiMarzio type of guy,  but lately he has switched to Seymour Duncan. Fender also delivered his signature model with DiMarzio pickups but made the same switch to SD as Malmsteen.
Performance
When we talk about the performance of Fender Yngwie Malmsteen Stratocaster, we need to separate two things- sound and playability. In terms of sound, those Seymour Duncan YJM single coils are capable of producing a full tone that has a lot of range but is a bit skinny on the trebles. Mids are pretty saturated, and you have solid low frequencies that give the whole tone some girth.
Check out this Ben Wilshire shred video using the Yngwie Malmsteen Strat.
Compared to previously installed DiMarzio single coils that came with the earlier versions of this guitar, SD YJMs are slightly better. One thing that you will also experience with these pups is that single coil hum. These are definitely not noiseless, although the amount of buzzing is not that big of a deal. In all essence, if you want that signature Malmsteen sound, this is the guitar that will deliver it straight out of the box.
Now, in terms of playability, things get a bit more complicated. That scalloped fretboard acts like a filter of sorts. Not only is it uncomfortable to play even for more experienced guitar players, but it's borderline impossible for beginners. It's fair to say that you will feel like you've just started playing guitar when you pick this bad boy up. Needless to say, it will take some time for you to adjust the way scalloped neck works.
Final Thoughts
Fender Yngwie Malmsteen Stratocaster is by far one of the most unique Strats you can find on the market. Due to all of the modifications Malmsteen insisted on, this guitar is definitely not something everyone can play. As a matter of fact, only a small number of guitar players will find this thing comfortable straight out of the box. Aside from the modified fretboard, the guitar sounds amazing. You definitely get that Yngwie tone that has a lot of people are craving for.
The instrument's somewhat restrictive nature affected the pricing and popularity of this guitar as well. For an American made Stratocaster with so many aftermarket parts, Fender Yngwie Malmsteen Stratocaster is actually quite affordable. However, the fact that you need to completely reconsider the way you fret a guitar in order to play this thing makes the price reasonable.
If you are a Malmsteen fan, we don't need to tell you how important this guitar is. It's vital if you want to recreate his tone, especially considering that his other gear isn't that exclusive at all. Most of his tone's color comes from his guitar, and this signature model Strat gives you that performance.