You see it all the time: DJs holding headphones against their head as they do magic on the mixer to drive the crowd wild.
How Do DJs Use Headphones?
It seems like headphones are an essential DJ item, but, what do they use them for?
It turns out that DJs use their headphones to listen the next track they will play. This is called "cue" or "pre-fader listen" and it helps a DJ select a track and match its beat to the track that is playing through the PA.
In other words, the headphone pre-listen gives the DJ a way to listen to a track "in private" to prepare it to mix it in.
'Ok, so if I want to be a DJ, what do I have to look for when checking out headphones? And what are the best?' You may be thinking. Since we are here to help, we created a list of the best headphones for the aspiring and experienced DJ alike.
Since headphones have several uses that range from the studio to the booth, there are different designs that manufacturers can apply.
Open-Back vs. Closed-Back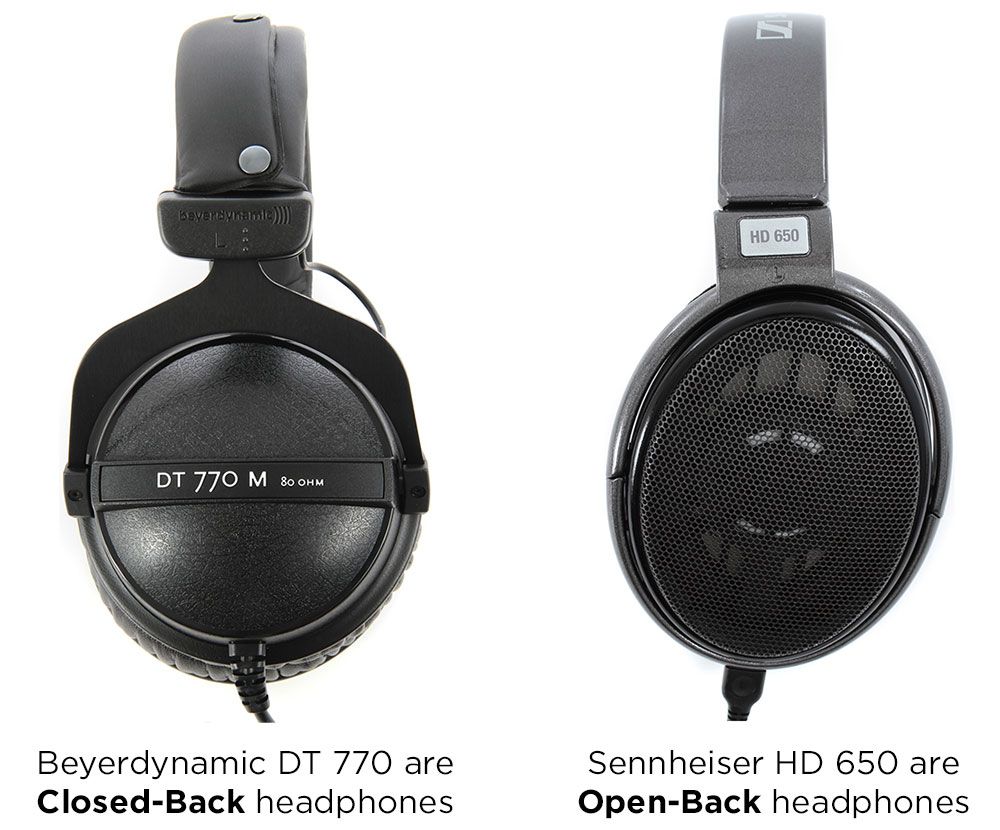 A main feature of booth-friendly headphones is that they are closed-back, meaning that the design was made to isolate from the outside sound as much as possible.
This makes sense if you consider the loudness and noise present in a booth or electronic music stage.
Headphones that are more studio-oriented tend to be open-back, which makes them a bit more comfortable for long sessions and give them a more "natural" sound, not so isolated from the environment.
Rotatable Ear Cups
DJ headphones are often ergonomically optimized for listening through one ear only.
This is extremely important since it allows you to keep an eye (or ear!) on the current track playing through the PA and the crowd.
Booth headphones should allow you to do this in several positions, holding one earcup against your ear with your hand or keeping it in position with your shoulder.
The Right Sound
It's not enough for DJ headphones to just sound good, they need to have a special sound.
Since they are your preview device to your next track, they must allow you to hear every component of it.
And they need to do it in a noisy environment, so they need to sound loud!
Having said all this, let's get to it and talk about the best headphones for DJing…
---
Monoprice 8323
Monoprice Premium Hi-Fi Dj Style Over The Ear Professional Headphones – Black With Microphone For Studio Pc Apple Iphone Ipod Android Smartphone Samsung Galaxy Tablets Mp3
The Monoprice 8323 are dirt cheap. But can good can they be for DJing, sitting in the $20-$30 price range??!!
Turns out that pretty good! For starters, their ear cups can rotate, which is pretty comfortable to use them on one ear. Also, you can fold them to put them away, which make them pretty comfortable to carry in a back-pack along with the rest of your gear.
The build quality is decent: Nothing out of the ordinary but despite being made of light plastic, they seem like they can endure the usual DJ treatment.
Sound quality on the Monoprice 8323 is decent, I mean, we're talking about 30 dollar headphones! Highs could be a little more sculpted and refined, but general frequency response plus good noise isolation, make them good company for the booth.
All in all, a good pair of headphones to get started with your DJ carreer and not worrying about having to upgrade for some time!
Commonly asked questions about the Monoprice 8323
How are these headphones for noise cancellation / sound isolation?
They do a pretty good job, although not 100%.  There is less noise cancellation in the bass frequency end, than in the treble end of things.  In other words, it's better at blocking out treble.
Would a true audiophile be satisfied with these?
Maybe not, but they're still a great set of headphones for the price.  If you're a discriminating listener with audiophile level hearing, buying under $30 headphones maybe it's the best option for you, since presumably the rest of your gear would be top tier.
Are these headphones good for other purposes, ie. gaming and other types of music?
Lots of people use these headphones for gaming, and on all manner of other devices.  If you're missing some little piece, many people have been known to mod these headphones until they work perfectly for the task at hand.
---
Shure SE215
Moving up in the price/quality scale we have the Shure SE215, in the $90 – $ 100 range.
What sets these guys apart is that they are in-ear headphones, or more appropriately, earphones. Right now, you are probably thinking about the little crappy stock earbuds that come with smartphones and thinking "why the hell would I want to DJ with that?!". But bear with me!
These are not regular cheap earbuds, but instead, the Shure SE215 have a little soft plastic part that sits comfortably inside your ear canal, providing much better noise isolation and reducing the need for high volumes.
Since they are a bit bigger than earbuds, their design is made to wrap around the upper part of your ear, instead of hanging freely.
This makes for a comfortable DJing use, where you could leave one of these guys on all the time and just boosting up the volume from the mixer when you need to cue a new track.
Sound quality is nice enough for such little earphones, offering a nice frequency response in low and mid frequencies.
Treble frequencies don't shine much though, since it's not easy to offer a set of headphones that can really be up for the task of true audio quality in this price range.
The SE215 are mainly marketed as in-ear stage monitors for musicians, a kind of use use that has a lot in common with DJ needs.
If you are up to the challenge of using in-ears, these guys may be the right choice!
Commonly asked questions about the Shure SE215
Is there a warranty with Shure when it comes to these headphones?  If so, how long does it last?
It should be for 2 years, from my experience, and it will be honoured as long as it wasn't your fault and you didn't damage them on purpose.
Is there a black case included here?
Yes, the case with the "Shure" logo is included, as well as 3 silicone ear tips, as well as 3 foam ones, plus an earwax cleaning tool.
What's the durability of the Shure SE215 like?
By all accounts, these are durable headphones with strong cords, and ear hooks.  Not easy to break them unless you somehow go insane and try to smash them.
---
Audio-Technica ATH-M50X
Audio-technica has a reputation for creating quality products with very reasonable price tags.
These headphones, sitting in the $150 range, are marketed as an integral solution for all things audio: Take them to the booth, but also use them to track and mix in the studio. That said, how possible is it to deliver as promised on all fronts?
As far as construction quality goes, The ATH-M50X are rugged and seem like they can endure the stage and booth treatment, offering a wide head band and tough looking cups.
Although the cups are big, noise isolation is not as neat as it could be, but it's possible that this is a trade-off for studio audio quality.
Indeed, when it comes to audio quality, the ATH-M50X offer a different kind of sound than the other headphones: Although they are not super clean and neutral studio headphones, these can be described as DJ headphones that can still be useful for tracking and mixing tasks.
This is interesting and useful for DJs that also produce music, since very few headphone models can boast sounding right for several settings.
Commonly asked questions about the Audio-Technica ATH-M50X
How is the sound quality of these headphones across various devices?
Depending on the source itself, the sound quality is all around very high quality.  The only thing that will lower the sound quality is the source.  The headphones are set up to process high quality sound, if that's what you feed into it.
How comfortable are these headphones for wearing with reading glasses over long periods of time?
Users have reported some discomfort over several hours of listening, but generally, these are headphones which will conform to your head without pinching.  You should be fine to wear glasses and use these headphones.
How much noise is cancelled with these headphones?
A fair bit, due to their closed back design.  Although they're not 100% noise cancelling headphones, most dins, fracases, and melees are effectively blocked out.
---
Sennheiser HD8 DJ
Warning: Now entering the $300 tier! As it should be at this price tag, Sennheiser delivers what's promised:  No nonsense kick-ass DJ headphones.
For starters, they come with a nice soft case that's very comfortable to carry them around safely, two spare earcup pads and two cables that you can switch around: a coiled cable and a straight longer one.
Build quality is supreme: Being metal the main material (yes, including the headband), they feel like they could last forever.
The cups are elliptical instead of round, which makes them feel really comfortable. The shape and design are very ergonomic and wearing them doesn't get tiring, even in long sets. Of course, the headphones adapt very well to one-ear use.
In terms of sound quality, the HD8 DJ are excellent: The audio is super clear and defined through all frequencies.
Low frequencies shine: Since it's easy to lose them in the club context, Sennheiser has gone the extra mile to ensure that you can appreciate the basslines of your tracks correctly.
Noise isolation is greatly achieved, helping you to take care of your ears by reducing the need of high volumes. But, if you ever need to crank them up, the DH8 DJ can achieve high-pressure levels and they will definitely bite back.
There is no doubt that Sennheiser has created a pair of headphones that will deliver what's promised and last for at least a big chunk of your DJ career. This comes with a price of course, but it's one definitely worth paying.
Commonly asked questions about the Sennheiser HD8 DJ
Is there any sort of sound bleed with these headphones?  Can people hear what I'm listening to?
No, these are closed back headphones and there's no bleed, so no one should be able to hear anything, unless you're DJing with one headphone off.  In that case, yeah, probably.
If the ear cushions get worn down, can I replace them easily?
Yes, replacements can be ordered online.  HD8 ear pads for the win.
I have a giant head.  Will that be a problem?
No, these headphones should fit nicely on your giant head, no problem.
---
Wrapping Up
Whether you are testing the waters of an aspiring DJ career or if you are looking to raise the bar with your next pair of headphones, we believe this list will serve as a reference of the current DJ headphone market.
The market changes constantly and there are always new releases, so stick around for the next list!