When it comes to creating and selling royalty-free music online, I must admit that, until recently, I was only vaguely aware of the concept.
But, as a musician and someone who is always trying to explore new potential money-making ideas, there comes a time where such ideas enter your awareness and you ponder them. Sometimes even act on them.
Such was the case when I came across Diva Production Music, a Youtube channel that talks in depth about this very topic of making a sustainable business out of producing sought-after royalty-free music for the corporate world.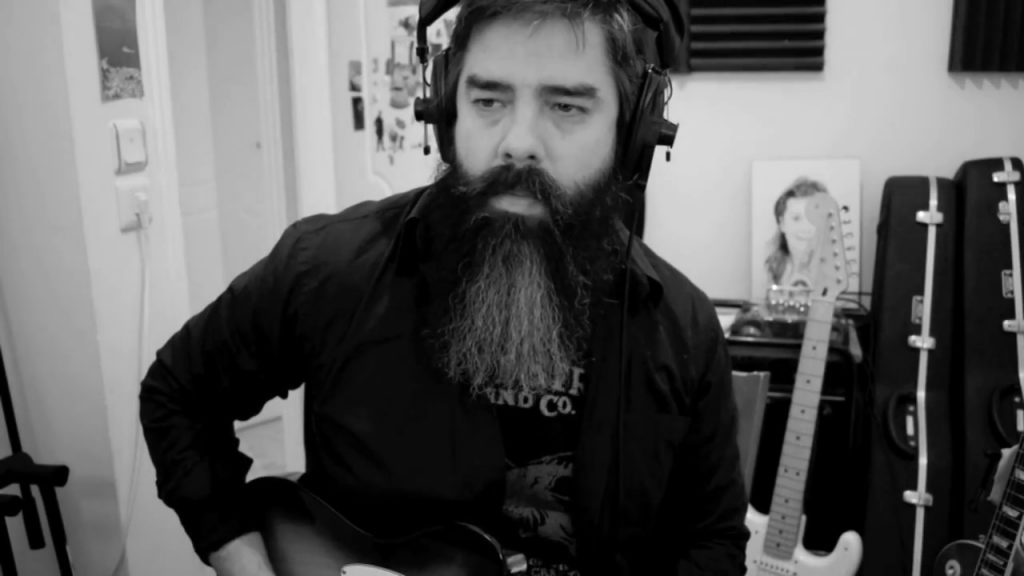 Back to him in a moment, as he is the subject of today's article and interview. First a bit of context, if I may.
So, everyone who is of working age knows something of the "corporate world", like it or not. As a musician, for a long time, just those two words together equated to "sellout", and made me cringe slightly.
Same with my friends, too – we all hated the idea of the corporate world, and wanted to avoid it at all costs. To be honest, for me personally, that has equated to making music independently and seeing no income for my efforts for the past 20 years.
I also taught music, because, as they say, those can't do, teach. A reductive definition to be sure, but somewhat true, I'll admit.
But here we are in 2018, and, lets face it – everyone needs to make a living. Also, the music business has changed tremendously in the past 20 years. If you don't know that, you must have been living under a rock.
Then
Starting with the onset of the internet in about '95, and then on P2P and file-sharing platforms like Napster and Limewire at the turn of the century, the control was forcibly taken away from those who run the music business, and "given back" to the people.
File "sharing" AKA theft (Lars was right all along) was in vogue and has been ever since.
The big music labels had to watch as everyone started simply taking everything that they had previously put a pricetag on, for free.
This of course went for movies, games, and everything else that could be turned into a file, and the entertainment industry tried their best to stop it. And continually failed.
Now
Fast forward almost two decades. Independent musicians are now simultaneously more empowered to enter the world of entrepreneurship on their own terms, while at the same time far less attached to the idea of becoming a famous rock star one day.
This, I think, is not only because the "rock star" model was always somewhat of a lie, but also because there are many more options for starting actual legitimate online businesses open to individuals now that the age of the internet is beginning to mature slightly.
This is essentially where people like Daniel Carrizalez (AKA Diva Production Music) comes in to the story. Daniel is a musician, and has spent years honing his craft, composing songs and using all the gear he has at his disposal.
There came a point where he had to make a choice between using his skills as a musician to earn a living online, or earning his living in some other way (ie. a "real" job in an office or factory, perhaps).
The "rock star" notion was not something he was interested in, since it really is just a dream that comes true only once in a blue moon. It is not a viable career choice to a man with a wife, an 8-yr old daughter and a new baby.
So he began taking his music making abilities more "seriously", if you will, in that he wanted to make music, but also he needed to earn a living.
Emphasis on the word need. Becoming aware of the new wave of internet marketing types, and jobs related to that field, Daniel began to explore his options.
One site that stood out to him in his search for potential job opportunities was Audiojungle.

Audiojungle is a sub section of the Envato Market, which is a much broader business that offers a multitude of services, one such being offering website themes and options to business owners.
The overarching concept of Envato, to my understanding, is to be able to hook up an online business person with whatever they need to help improve their own services.
Audiojungle, specifically, is a service that offers music to anyone who needs music for a commercial, or product of any kind, but lacks the musical element.
On Audiojungle, the music is pre-made by professionals (such as Diva Production Music ), and sold to those who are willing to pay for the license so that they can make use of it.
Without the license, if a person were to use this music, it would be considered stealing. With the purchase of a license (and there are various types), the buyer can now use the music they've purchased to use in their own project.
After watching some of Daniel's content, I became more and more interested in the idea of using Audiojungle to make money with my music, and so I contacted him.
Luckily, he was willing to answer some of my burning questions on this matter. So, here is our interview. Enjoy!
Q: How long have you been making music?
A: I've been making music since I was a teenager, but composing and producing stock music only the last 4 years.
Q: What kind of music do you enjoy listening to?
A: I enjoy all sorts of music, especially rock, alternative rock.
Q: What kind of music do you enjoy making?
A: I enjoying making a lot of acoustic guitar music and experiment with different elements. At the moment, I try to focus on making corporate music, the one that is required and is most popular for media projects.
Q: When did you become aware of Audiojungle?
A: In 2014, I did an extensive search on making and selling music online, and Audiojungle was one of the top marketplaces for that.
Q: Was it difficult to get started on Audiojungle? What's the basic process for doing that?
A: Yes, it was difficult. I had no idea what stock music was and even though I knew all about music composition and production, I'd never done commercial music before.
The basic process involves setting up and author's account and uploading your track. The music that you are uploading should reflect your strengths and ability to create more, quickly and effortlessly.
Q: What type of music do you specialize in making for Audiojungle?
A: I specialize in inspirational and feel-good music, particularly in the genres of rock, pop, folk and/or corporate.
Q: What type of gear setup do you have to make the tracks you make?
A: I am running ProTools on a Macbook pro laptop, use different WAVES plugins for the production of the music, an Eleven Rack as an interface, a SansAmp as a base preamp and a microphone preamp to record acoustic guitars. I also have a midi keyboard and a selection of different guitars, both electric and acoustic.
Q: How big is Audiojungle, community wise?
A: The community of Audiojungle is quite big and growing very fast.
Q: Is it competitive at all?
A: Yes, it is but the key here is not to compete but to create the best product for each and every project. I am a creator, NOT a competitor.
Q: Do you ever hear form Audiojungle for any reason or Envato for that matter?(ie. do you talk to a rep or is it hands off mostly)
A: There are no reps involved but if you need to contact support, there is a system available. But each author is on their own, and it is up to you to decide on your presentation and marketing of your music.
Q: How much of your work for Audiojungle is inspiration, how much is work work?
A: Inspiration comes after I start working on a new project. I believe that work is a good thing and inspiration comes from working on your craft. Inspiration, like motivation, will always let you down. One that creates cannot wait for inspiration to arrive; you find it only through working!
Q: What are their basic standards for whether a track is suitable for their platform?
A: Over the years, the bar has been raised higher and higher, both in composition and production. That means that the tracks uploaded and accepted back in 2010 most likely, will not be accepted now. The review process is very thorough nowadays and an author must continue to improve and polish their skills. The final result should be broadcast quality, like the music you hear on a TV commercial or YouTube ad.
Q: Who reviews the tracks submitted and how long does that process take?
A: There is a group of reviewers in Audiojungle and the review time varies depending on the number of submissions. It can be anything from 7 days to 15 days for a song to be approved and up or sale.
Q: Who uses Audiojungle from the customer side, as far as your experience tells you?
A: Costumers are video-makers, film-makers, advertising companies and of course, YouTubers!
Q: What's the price range of songs on Audiojungle?
A: A song can be sold based on the length of the music, starting from $12-15 to $19 for a standard license. The price will directly depend on the license purchased, for example, ie. broadcast license or film license.
Q: Does anyone try to pirate Audiojungle tracks that you know of?
A: Yes. I have personally heard and informed Audiojungle on tracks being used with the watermark.
Q: What kind of musicians do you think would be good authors on Audiojungle?
A: A good author on Audiojungle is any musician with the right mindset to be at the service of others, in this case, the other media makers and content creators.
Q: Anything else you want to add?
A: In order to become a successful stock music composer, we must be aware of the market's needs, without comparing ourselves to other composers.
And…that about wraps things up here today! To learn more about Daniel and Diva Production Music, visit his Youtube channel here, and don't forget to subscribe!