"Forget all the equipment, forget the music, at the end of the day it's just literally frequencies and their effects on your brain. That's what's everyone's essentially after."
Aphex Twin, born Richard David James, is an electronic music artist born August 18, 1971, who has come to be associated with genre descriptors such as IDM (intelligent dance music), ambient, techno, and overall "experimental" music. He can be described in these ways, yes, but his resume goes on…he is also a record producer, composer, performer, remixer (sometimes for ca$h), DJ, and just an all round musical fellow who grew up dreaming of beats and tunes.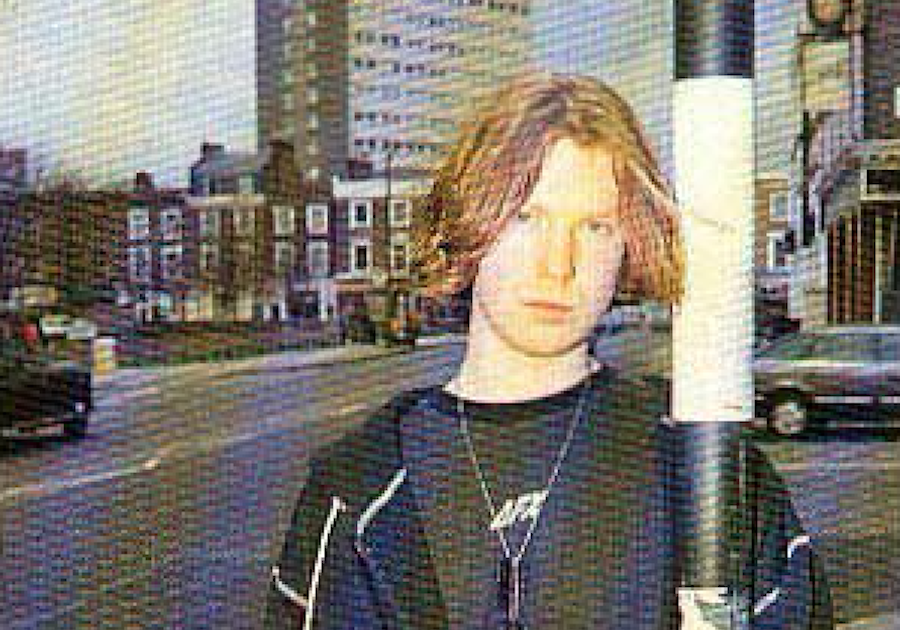 Richard D. James has been making groundbreaking tracks for decades now, and is generally considered on of the most important electronic music makers of all time and is loved by fans and musicians alike. However, it would seem that Richard doesn't take himself quite so seriously as an important musical figure, preferring to remain in relative obscurity and to troll as many people as he can. Sometimes his music can even seem rather troll-like. This, to some, gives him his particular charm… but can you really trust this face?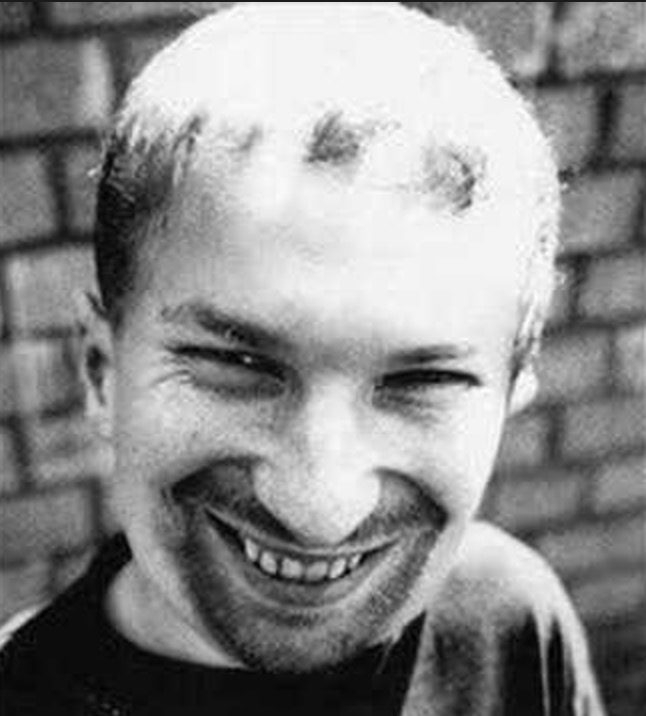 Of course not. In any case, we figured, hey, let's look at the convoluted history of the man behind the slightly off-putting visage. Who is this Aphex Twin guy, anyway? He seems to not want to really be known at times, and other times he is hard to escape, but that only makes us wonder… Is he perhaps a Satan worshipper? Your garden variety techno knob-twiddling dweeb? Some kind of hacker dude? A EDM bigshot like Hardwell? An actual twin to a brother who died at birth? Who??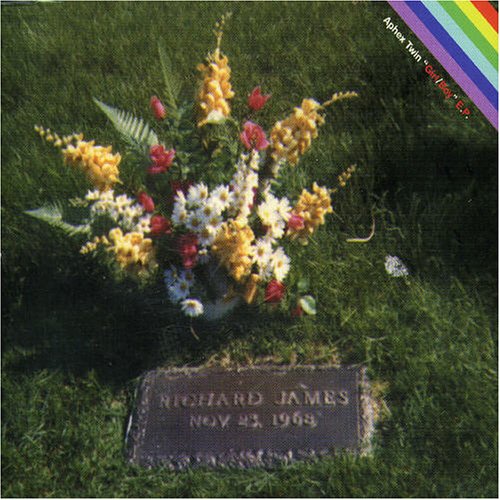 Sweet Baby (Richard D.) James
Richard D. James grew up in Lanner, Cornwall, in the United Kingdom, but was born in Limerick, Ireland. He has two older sisters, and his parents are Welsh. While the demonic emblematic omnipresent face may suggest otherwise, the future AFX was a fairly contented child according to James himself, who was generally left to his own devices in this scenic area of England. Let's check it out for ourselves, shall we?
Left to explore the countryside and feeling apart from the wider world, Richard was a curious sort with an active imagination enjoyed doing his own thing. These qualities remained with him into his adult life.
An 11-year-old Richard took an early interest in electronics and, after winning a competition in school where he farted around with a Sinclair ZX81 and got this machine to make some sort of "really weird noise" when the volume was cranked, even though it was apparently incapable of doing so. This netted Richard 50 pounds, and his career in music was thus launched! For anyone wanting to geek out a bit, here's the "Grandaddy of Computers".
Ah, that hit the spot. Anywho, the story goes that Richard began composing and producing his own tracks early on, in his pre-teenage years, and, one the hormones were in full swing, he became a DJ and spun tracks in several locations around his neck of the woods, ie. the Shire Horse Inn in St. Ives, as well as the Bowgie Inn in Crantock, as well as at some local beaches. Here is that very same Inn as seen through a very strange neon lens. Could this be how Richard saw it?
College Yrs
In college, his interest was electronics and engineering, which naturally connected him closer to the music he was already making. At Cornwall College, where he studied in his late teens, Richard received a certificate for engineering. He was known, according to one of his teachers, to wear headphones a lot, even during class. Scrutinizing audio was obviously a primary concern for Richard.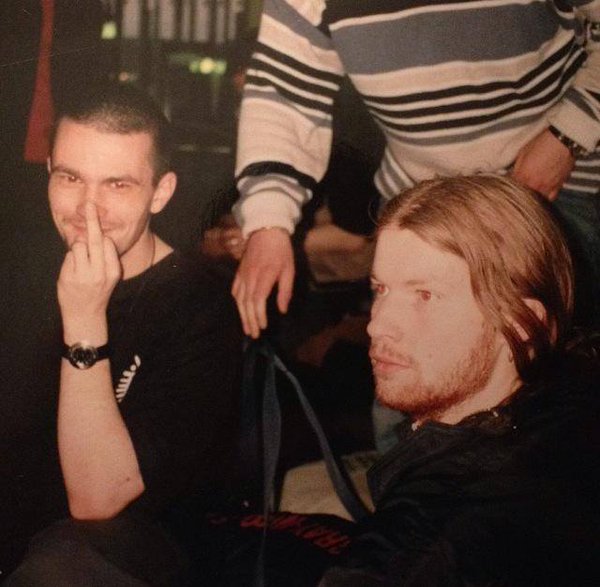 Being in such an isolated part of the country, it was difficult for Richard to gain access to the types of music that interested him the most, namely techno, electronic shit, and the like. This lead to him making tapes on his own of this type of music that was not common where he was from, so he could play it for friends and immerse himself in it fully. While working as a DJ at the Bowgie pub, he met Grant Wilson-Claridge (the dude giving the finger above), who was also a DJ.
"I'm just some irritating, lying, ginger kid from Cornwall who should have been locked up in some youth detention centre. I just managed to escape and blag it into music."
Grant was interested in what Richard was up to, and, after hearing some of his original material, encouraged Richard to make records with his involvement. This got Richard more interested in vinyl, as he was now entering the world of record producing. The two friends were beginning to create their own little world of unique electronic music in a more rural part of the United Kingdom. Keeping it interesting, no doubt.
First Releases and Rephlex Records
If you're a fan of Aphex Twin, you'll know that his first release was called Analogue Bubblebath, released as a 12-inch in 1991 on Mighty Force Records. Here he worked alongside Tom Middleton, AKA Schizophrenia, to produce the track En Trance To Exit. A popular radio station in London, called Kiss FM, picked up the EP itself, which did help it to become a success.
Rephlex Records was founded in 1991 was Richard D. James and his friend Grant Wilson-Claridge, who both had a strong love of Acid – not the drug, but the musical genre – which was both much maligned and much loved by the people of Britain. In fact, many people were wholly unfamiliar with it, and so Rephlex set out to expose this genre to new ears and change others' minds about it. Can you teach a farmer to dance?
Two Analogue Bubblebath's were released between '91 and '93, with one credit to AFX and one with no name on it. Another EP, released under the name Bradley's Beat, also emerged, as did yet another of Richard's monikers, Bradley Strider. It was around this time that Richard went to Kingston Polytechnic to take a course in electronics, however, he was quickly being consumed by techno music and would soon focus on his career in music exclusively.
Alternate Egos and SAW 85-92
More alter egos surfaced at this time when Richard was staying in London, having left school – Blue Calx, The Dice Man, Polygon Window, Power-Pill… more tracks were created, found their way on to releases by Warp Records, as well as a number of compilations. Meanwhile, Richard was seemingly without permanent residence, living in both an empty bank and near or actually on a roundabout in Elephant and Castle in South London.
"Well, I just bought a massive bank and I've moved into it on my own."
It was in 1992 that Aphex Twin started to really get the praise heaped upon him, with the release of Selected Ambient Works 85-92, which was his very first full length record under the Aphex Twin name. It was sited as a landmark album for ambient music, and was seen by some critics as taking what Brian Eno had done for electronic music to the next level. That said, although many consider this to be Aphex's first big breakthrough album, it wasn't the highest quality as it had been compiled on tape and lacked fidelity as a recording.
But this didn't stop 1992 from becoming Aphex Twin's year. This was also the year that Digeridoo came out, and enjoyed airplay on Kiss FM in London thanks to DJ colin Faver, and even charted on the UK Singles Chart coming in at #55. As well, the now famous Pac-Man EP came out under the pseudonym Power-Pill, and Caustic Window released four Joyrex EPs. These tracks seemed to hint at what drum and bass music would soon become, although Richard claimed that Digeridoo was designed to make obstinate ravers go home.
Outpouring and SAW Vol.2
1993 and 1994 were also big years for Richard in terms of creativity, with a formidable outpouring of songs that came out under his various guises, including Bradley's Robot by Bradley Strider, the Quoth EP and Surfing on Sine Waves by Polygon Window, a couple of EPs by Caustic Window, a 3rd Analogue Bubblebath, the now-legendary "On" EP, and, as if that weren't enough, Warp released Selected Ambient Works Volume II, which is an album that continues to inspire, amaze, and confuse as time goes on.
Richard has credited the creation of these tracks to lucid dreaming and synaesthesia, which does make a lot of sense when you listen to them. They are quite abstract as far as songs go, and extremely ambient, buoyant, and dreamlike. They even messed with Gracenote, the worldwide music database that makes it its mission to catalogue tracks in the most detailed way possible. Without simply stated titles, even Gracenote was given the slip on many of these tracks. Following this Aphex Twin Classics and a 4th Analogue Bubblebath (he just loooves to bath in analogue with soap, doesn't he?), as well as GAK. 1994 was, as mentioned, a big year for Richard creatively speaking, and this basically solidified him as not only a force to be reckoned with in the music industry, but a real gamechanger.
"There's a lot of melancholy in my tracks."
He Cares Because You Do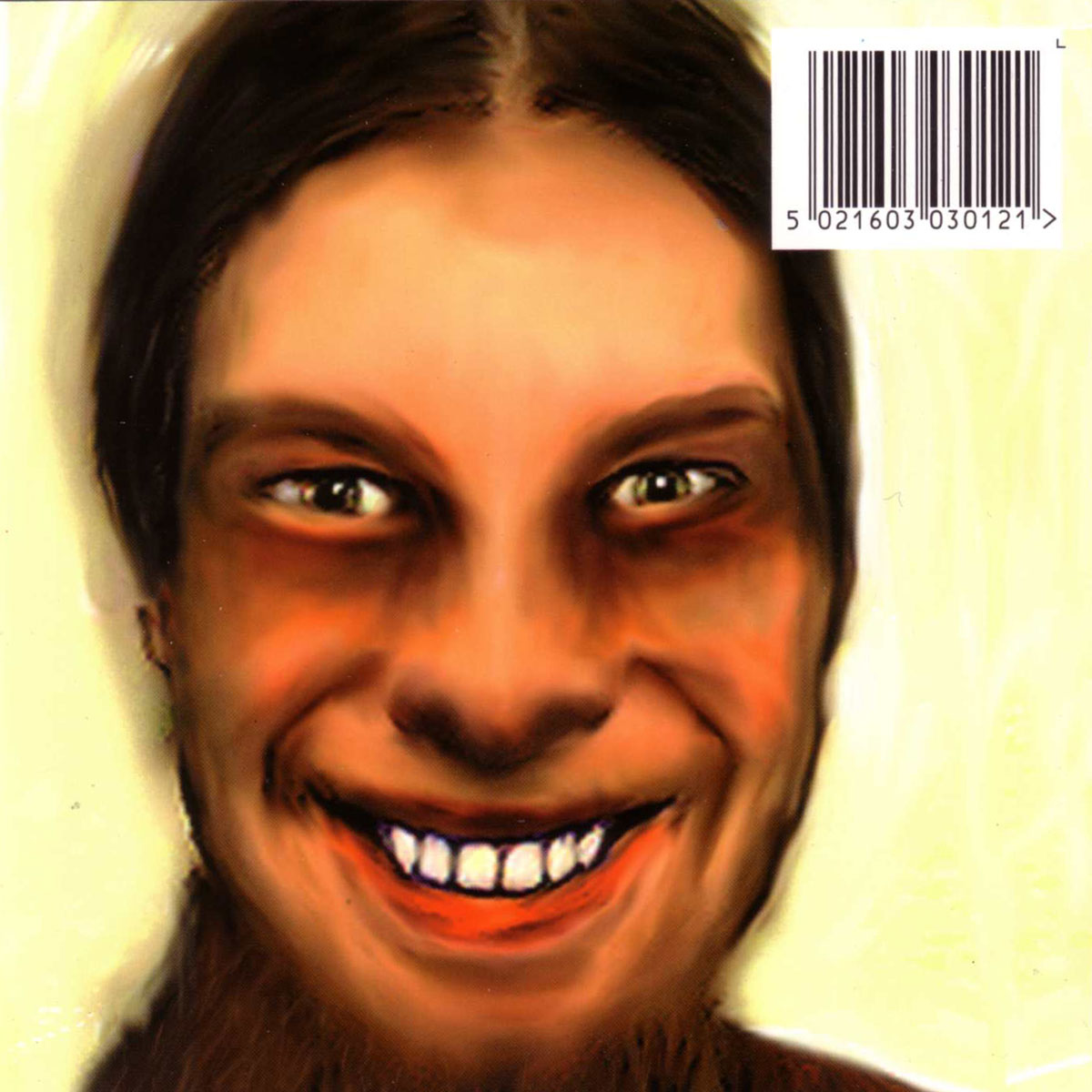 1995 was hot with anticipation. Could Richard keep 'em coming? Turns out, yes, yes he could and did. …I Care Because You Do was the beginning of the scary sort of mocking play on Richard's face that began adorning future works, as well as videos. This one came in the form of a rather creepy looking painting on the album cover.
The tracks on this album had been brewing over the past 5 years, but they were a major leap forward as far as Richard's overall work was concerned. They range in styles, with some of Richard's most beautiful melodies and beats, not to mention the crowd pleasing Ventolin (above).
Analogue synths were the instrument of choice here, and this was to be the last time that Richard was entirely dedicated to them. Famed composer Philip Glass also makes an appearance around this time, creating a version of the album track Icct Hedral, which came out on Donkey Rhubarb. 1995 saw Richard also dip into a style called drill 'n' bass for a release called Hangable Auto Bulb EP.
"The best musicians or sound-artists are people who never considered themselves to be artists or musicians."
In The Jungle…
1996 saw further development of Richard's musical approach, as he released the innovative Richard D. James album via Warp Records. At this point, the beats became crazier, the synths became synthier, and the overall feel was that of a wild experiment, with moments of abandon balanced with moments of sublime melody, and then other seriously weird stuff thrown in just because. Around this time, there was a proliferation of "jungle" music entering the zeitgeist, with even the likes of David Bowie beginning to toy with the genre (ie. Earthling at the beginning of '97), not to mention The Prodigy and other lesser known acts like Omni Trio and Tango and Ratty. Aphex Twin trumped them all with his self-addressing album, adding more speed and some aggression by way of full throttle beats and snare rushes that blurred past you as a listener tried to take stock of the music aurally.
That said, this album was not the same as Atari Teenage Riot and it was not really designed for raves, but for headphones. Whatever this album is, critics latched on and it was added to many best lists including all time best electronic albums list that continue to crop up.
Come To Daddy
Come To Daddy EP came out in '97 and drew even more attention, as by now Richard was officially considered a genius in music circles and people were waiting to see what would be next. He made a video with Chris Cunningham for the album's first song and title track, Come To Daddy, featuring some rather disturbing stuff.
At the same time, Richard has said that he thinks it's basically just his version of bad death metal, saying it was basically the product of some drunken nights and joking around. Still to this day, the song has its distinct fans who take the song a bit seriously, such as Dillinger Escape Plan who covered the track both on disc and live.
"Sometimes I just hit the keyboard in a way I'd like the rhythm of the tracks to sound."
It was around now that Richard was starting to take less enjoyment out of the whole MTV thing and being famous, and started to creep back into his natural state, which seems to be one of relative obscurity. But not before releasing Windowlicker in 1999, his hit video (again with Cunningham helming it) that features a very long limousine and some what-was-now archetypal creepiness from RDJ.
Drukqs
There was a slight pause of 2 years, and then in 2001 Aphex Twin came back with Drukqs, featuring heavy influence from John Cage and Erik Satie with experimental piano music combined with computers. Ever perplexing, there were some tracks with titles written in Cornish, and this was a double album at that so it was somewhat hard for fans and critics to grasp what exactly Richard was going for here, except maybe to keep them on their toes with something completely unexpected. Reviews for this album were mixed, but it was generally agreed upon that many of the tracks had merit at least in terms of melody. All in all, it was not what you'd consider a "hit" album and maybe that's how Richard wanted it. The next time fans would hear from Richard was via his Rephlex Records label.
Analord
2005 was the year of the Analord, which came out in eleven EPs and brought Richard back to his AFX moniker. Over the course of these albums, 42 tracks were released featuring both digital and analogue equipment, heavy on drum machines – in particular Roland machines such as the classic 808.
But also weaving through the mix was a number of rare vintage synths and beat making machines, including Roland's MC-4 and the TB-303 and then we can't forget the Synton Fenix. Tracks were pressed according to James' specific tendencies at the time, going straight to vinyl, although he was convinced to also create a compilation on compact disc called Chosen Lords, featuring 10 tracks culled from these sessions. An additional 20 tracks appeared on the Rephlex website in 2009 for download, beefing up the series significantly.
"I'm a really good hacker, but I'm not a sensible person."
The Tuss
In the years prior to Syro, which was released in 2014, Richard was busy being unfamous and trying to throw people off his trail by working under the name The Tuss, and having Grant Wilson-Claridge state that this was not Richard, but two other artists. Later, it seemed that it was in fact Richard as both Brian and Karen Tregaskin used one of Richard's rare synths – the Yamaha GX1. Later, Richard finally admitted that he was The Tuss. Coming up to 2014, Richard played a few select shows – one was a tribute to Krzysztof Penderecki, and another paid tribute to Steve Reich.
Syro, Soundcloud, and a blimp
With some interesting marketing in 2014 including a blimp and the dark web browser Tor, Aphex Twin finally came back with his first album since Drukqs, called Syro.
This was followed by Computer Controlled Acoustic Instruments Pt2 EP, and then a flurry of random users on Soundcloud released tracks that seemed to be by Aphex Twin, but there was some confusion around this. Eventually, it was clear that Richard was at it again, doing subversive things involving his music, his fans, and the internet. His presence on Soundcloud gave way to previously unheard tracks, and entire unheard albums with Richard making brief but insightful comments along the way. His Soundclouds were going down, and returning, with tracks popping up here and there under different accounts. His fans seemed to be keeping pace with him quite admirably, despite the haphazardness of his online behaviour here.
In most recent years, Richard launched his online store featuring a slew of new tracks.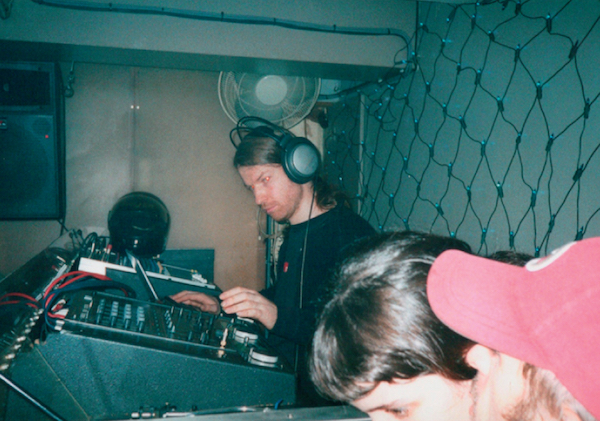 With Richard starting to play the odd show, and releasing more tracks, we may have entered a golden age of Richard's music, with more of it now available directly from the artist himself. Being the enigma that he is, it is difficult to say what will be next.