Last Updated on
By Youtube Music Sucks
Just how important Megadeth was for the evolution and propagation of metal is easy to figure out. They've introduced a lot of new ideas that weren't necessarily present in the mainstream scene.
Just how important Megadeth was for the evolution and propagation of metal is pretty easy to figure out. The band has introduced a lot of new ideas that weren't necessarily present in the mainstream scene before.
One more thing this band did was to show people that driving leads can push a song to a whole new level. However, there's one man that stands behind this band's greatness, and that's the guitarist and singer, Dave Mustaine.
What's more, some would even argue that Megadeth is Mustaine's solo project. However, this is debatable and better left for some other occasion.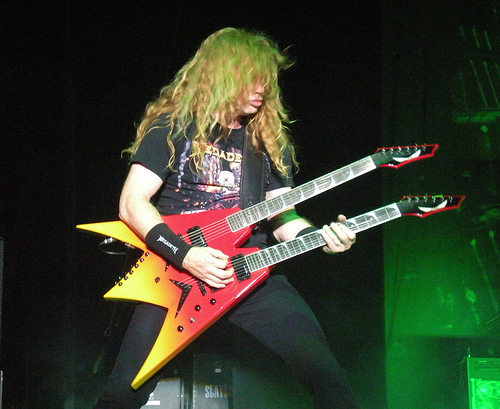 This hard-working, innovative, and talented musician is known for using a variety of pretty interesting guitars. Although his tone is a little "conservative," it pretty much set the standards in all of the sub-genres of metal music.
So with all this said, we figured that we could take a look at what kind of guitars and gear Dave Mustaine has been using over the years.
After reading this guide, you'll get the overall idea of how you can replicate his legendary tone, at least to some extent.
Just to remind everyone who we're talking about, here's a clip of Megadeth playing live and you can hear that tone live and loud in this blistering solo from "She-Wolf."
Guitars
We are going to kick things off with the guitars that Dave Mustaine uses.
If there's one thing that you can tell straight away, that is Mustaine's affection for Flying V guitars and other "unconventional" guitar body styles.
He was also among the first metal players to use electric guitars with two necks. With that said, let's check out some of the notable models he was seen using over the course of his career.
B.C. Rich Bich Perfect 10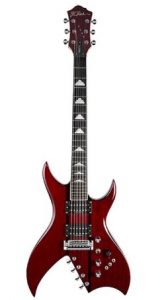 When he was just starting out, long before he ever laid his hands on a Flying V of any kind, Mustaine rocked a B.C. Rich Perfect 10. It was a decent guitar, and it still is.
However, his relationship with this particular model didn't last for too long. Just when the 1980s rolled around, Dave Mustaine shifted his focus to some more interesting models that just started appearing on the market.
Either way, B.C. Rich Perfect 10 is somewhat of an unusual instrument, featuring an unconventional design. But these were the late 1970s and early 1980s, so companies were open for experimentation.
Hardcore Megadeth fans will still respect this particular B.C. Rich, and give it a certain amount of credit for Mustaine's success so far.
Bc Rich Handcrafted Bich10Suptr Bich 10 Supreme 10-String Electric Guitar, Trans Red
As soon as Mustaine first saw this guitar, he changed camps for good. His love for Jackson began in the mid-'80s and has resulted in an endorsement deal with this company.
Needless to say, he could choose whichever guitar he wanted at that point, but Dave still remained in the Jackson camp for a long while.
The significance of Jackson King V is the fact that it was one of the first Jacksons Mustaine ever played. Because of that, this guitar definitely deserves praise and attention.
After all, this devilish-looking "V" model is one of Jackson's longest-running products. Starting their production in the 1980s, the guitar's main features are almost unchanged to this day.
It's a standard thrash metal banger with two humbucker pickups on it.
Jackson King V Kvxmg X Series Electric Guitar – Black
While we're at Jackson's V models, Mustaine has his "Number One" Jackson. This silver-colored instrument has been in use since the "Peace Sells" album, and he's been recording a huge portion of Megadeth's studio recordings with it.
In addition, he used it for many of Megadeth's live shows. There are many other Jacksons in there, including the KV1, Y2KV, and even the unusual Y2KV double-neck guitar.
This last one is a weird instrument that was used by Mustaine for a while, mostly around 2001. But it was auctioned off along with most of his other Jacksons, so it's no longer in his possession. There were actually a few of these in his collection, but their whereabouts are currently unknown.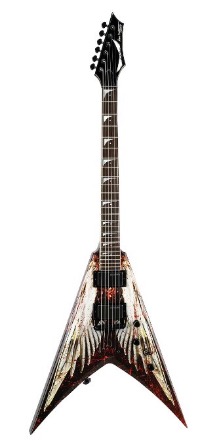 Mustaine's gig with Jackson wasn't the only endorsement deal he ever made with guitar manufacturers. Dean was another brand that was more than happy enough to work with this incredible artist. Over the years they have released a number of Dave Mustaine signature model guitars that all featured the Flying V design.
On a similar note, he had a short stint with ESP as well, which also produced some Flying Vs based on Mustaine's input. The guitar model in question is labeled as DV8, but he also has a few other versions, some even featuring some thematic Megadeth artwork on them.
Dean Vmnt Dave Mustaine Peace Sells Electric Guitar
---
While we're at ESP guitars, he also has his signature Axxion Dave Mustaine model. This is a fairly unusual guitar, with the innovative and unconventional design being its most notable trait.
The guitar was actually conceived by Mustaine himself decades ago, but no other company other than ESP was up to the task of actually bringing this instrument to life.
Although we don't think of him as an acoustic player, Mustaine has some great stuff in this department as well. So as far as the acoustics go, he prefers stuff like Ovation T357.
Of course, he also made his signature acoustic guitars with Dean and he owns a few Dave Mustaine Mako signatures.
Just to pay tribute to all the great guitars in his collection, we should also mention a few Dean Zero signature guitars, as well as his Ibanez Destroyer.
---
Amps
When it comes to amps, Dave Mustaine started pretty simple but ended up using a variety of different brands and amp models.
What you will notice is that most of his amps, at least ones he is personally fond of, are various Marshall models.
Mustaine never really felt the need to swap them for anything else, while he included various preamps to get the desired effect.
Marshall JCM800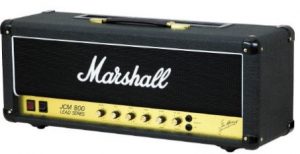 Back in the old days, Marshall JCM800 was a very popular choice for many metal lovers. It was used by a large variety of artists, but it just seemed to be naturally good at delivering a more than just a decent metal sound.
As a matter of fact, Mustaine used the JCM800 to record a number of Megadeth's initial albums. Ever since then, his love for Marshall has only grown.
Marshall Jcm800 2203X 100W Tube Head
Marshall JVM410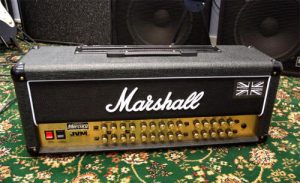 Another notable amp we have to mention is the Marshall JVM410.
It has found its way into Mustaine's set-up quite recently, but he was more than happy to use it for a very long period of time.
Did it significantly change the sound of the band? No, not really. Marshall amps are Marshall amps.
They all share that same core quality which is the main reason why so many people love them in the first place. The Marshall JVM410 is just a more modern representation of that very sound.
To put it simply, the first thing that comes to mind at the mention of Mr. Mustaine is a Marshall stack.
Any of his setups is Marshall-oriented and there have rarely been any other brands in his rig. He always paired the Marshalls with matching cabinets, like the classic 4×12-inch V30.
Aside from the aforementioned JCM800 and JVM410, he also used the company's power amplifier, the very powerful and potent EL34 100/100. It's not certain what preamp he paired it with, but he used it occasionally over the years.
---
Effects
If you've been listening to Megadeth for any significant period of time, you will know that Mustaine's tone is pretty conservative.
Dave isn't exactly a fan of large pedalboards that are filled with layers upon layers of distortions, overdrives, and those wacky colorful choruses.
His policy is to get the best sound out of those tubes and use that to achieve the wanted results. With that said, Mustaine does use some guitar pedals.
Zoom G2.1DM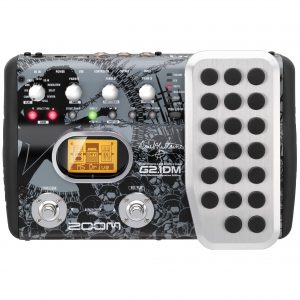 One of the most interesting things you will find in Mustaine's signal chain is this Zoom effects processor, the G2.1 model.
Not only was it designed based on the input of this great guitar player, but it pretty much gives you that Megadeth sound straight out of the box.
In fact, it is so good that Mustaine himself uses it quite often. This is definitely an unusual choice of an effects pedal for a high-level metal professional. Usually, guitar players of his caliber will stay far away from devices like these.
However, no one can deny the practical value of this unit.
At this point, Dave even has a special signature version of the processor, labeled as G2.1DM. It's a fairly cheap device and you can get some great Megadeth tones right from the factory.
But although he's not keen on having many pedals and other devices, this doesn't mean that there's nothing else to mention in Dave's rig. There are a few straightforward pedals that he used over the years, like Boss CH-1 Super Chorus.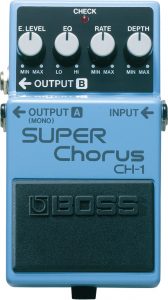 This classic pedal is pretty popular both among professionals and amateurs.
It has four basic controls on it, as well as an option to use it as a stereo effect. Just one simple classic Boss pedal that gets the job done without too many fancy complicated additions.
Looking further into the matter, Dave does use a few pedals here and there. Another example that he implements occasionally is TWA Triskelion 2.0, also labeled as "Harmonic Energizer."
This is a fairly rare and expensive one, but it provides some very harmonically rich distorted tones. You won't find any other dirt pedal like this one.
Aside from the aforementioned Zoom multi-effects processor, he also used DigiTech's GSP1101 preamp.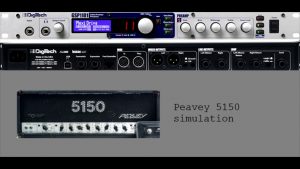 This is a very detailed and advanced rack-mounted piece. It's nothing like the G2.1DM, but rather a fully professional piece.
According to some confirmed data online, Mustaine also implemented Rocktron Prophesy rack-mounted guitar effects processor. This was most likely during the mid-2000s.
To control the rig, he also used the Rocktron All Access LTD Foot controller.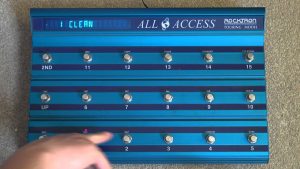 There are some theories about other pedals that he used, but some of the stuff has just not been confirmed.
And again, as we said – he was never really keen on having too many pedals. As we can see with these multi-effects processors, he likes to keep things simple.
It's definitely easier to have multi-effects units rather than complicated pedalboards.
---
Conclusion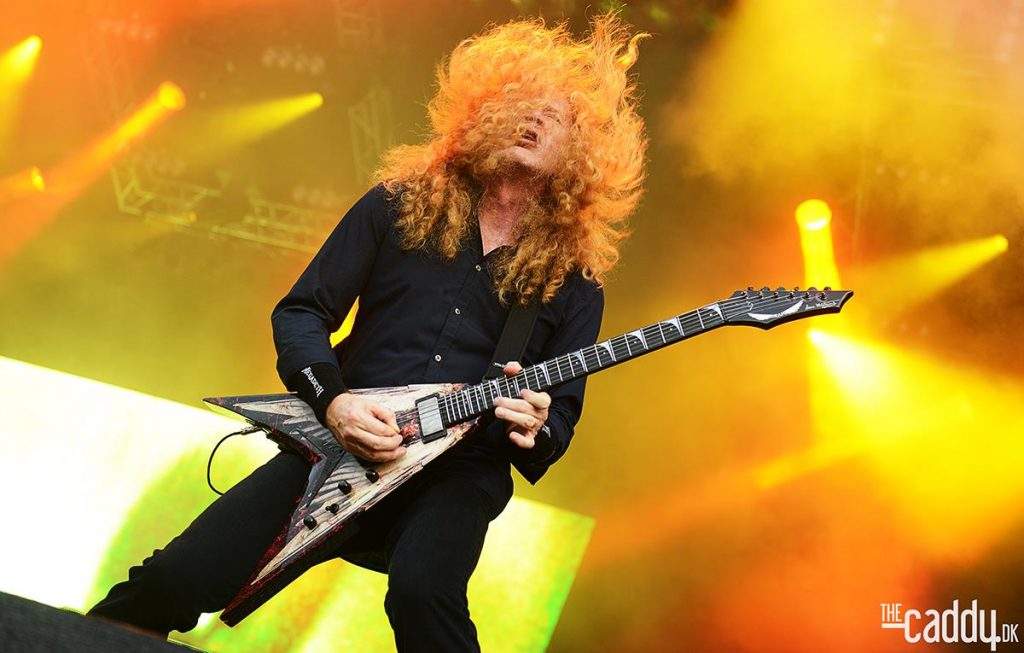 In this brief guide, we gave you a rundown of the most notable guitars and gear that Dave Mustaine used over the years. As you can imagine, he most likely has a much wider range of equipment than what we listed above.
It's worth noting that most of that gear is rather stage-oriented stuff that you probably won't need to use anytime soon. The stuff we listed will be more than enough to perfectly replicate this tone.
Sure, it's not that complex of a tone to emulate, but if you want to literally mirror his setup, these instruments and accessories will get you there with the least amount of effort.
On the other hand, a lot of the stuff that we mentioned would be pretty expensive for an average guitar player looking to emulate Mustaine's tone.
If you want the cheapest option, getting a Zoom G2.1DM comes as a great solution. But if you want to make it more convincing, then using a tube-driven Marshall can do the trick.
Some additional overdrives that would get the natural tube distortion running would be a great addition, as well as a simple Boss chorus for some of the clean parts.
Mustaine's very simple and spartan approach to his gear has led many to follow his example. This is especially true today when a lot of guitar players are ditching their solid-state amps and are turning to more traditional tube amps to get that organic sound.