If you are a fan of either DJ'ing or playing records at home via your turntable, you'll soon become familiar with some of the "lingo" that goes along with owning such a device. One such term is the "tonearm", which is a very important part of the turntable that you should be aware of.

For the record, there are essentially three types of tone arms, which we will be discussing in this article.
What does the tone arm do?
The tone arm serves a variety of functions, as you might imagine, although it is only a small part of the larger whole of the system. That said, it's job(s) are quite crucial to everything running smoothly with your turntable.
A stable and slightly longer tone arm (12″ vs 9″) will cut back on various types of audio distortions you might encounter (ie. tracing distortion).

Tone arms are ideally set up to allow you to add a cartridge and then adjust it accordingly without any issue

A rigid tone arm will cut back on vibrations that will result in inferior audio

Tone arms give you a means to control the playback of your record as you like it, and set up accurate points where you want the needle to "drop"
Here is a quick glossary of terms that you're bound to encounter as you get familiar with vinyl records and how they work:
VTF

– tracking force

Azimuth – ability of the tone arm to rotate sideways – you can extend your own arm and turn it over one way, then the other – that's the idea!
VTA – the angle of the stylus when it is rotated backwards or forwards
Anti Skate – the amount of centripetal force exerted
Watch this video showing tonearm adjustment of azimuth on the fly…
Ok, now on to the 3 types of different tonearms you will likely encounter in your travels through the vinyl-verse.
#1 – Gimbal Tonearm
Your average tonearm is likely to be this type – a gimbal based tonearm. A gimbal, if you aren't aware, is a device that permits a body to incline freely in any direction or suspends it so that it will remain level when its support is tipped. You can see how this might be useful here for the application of playing records.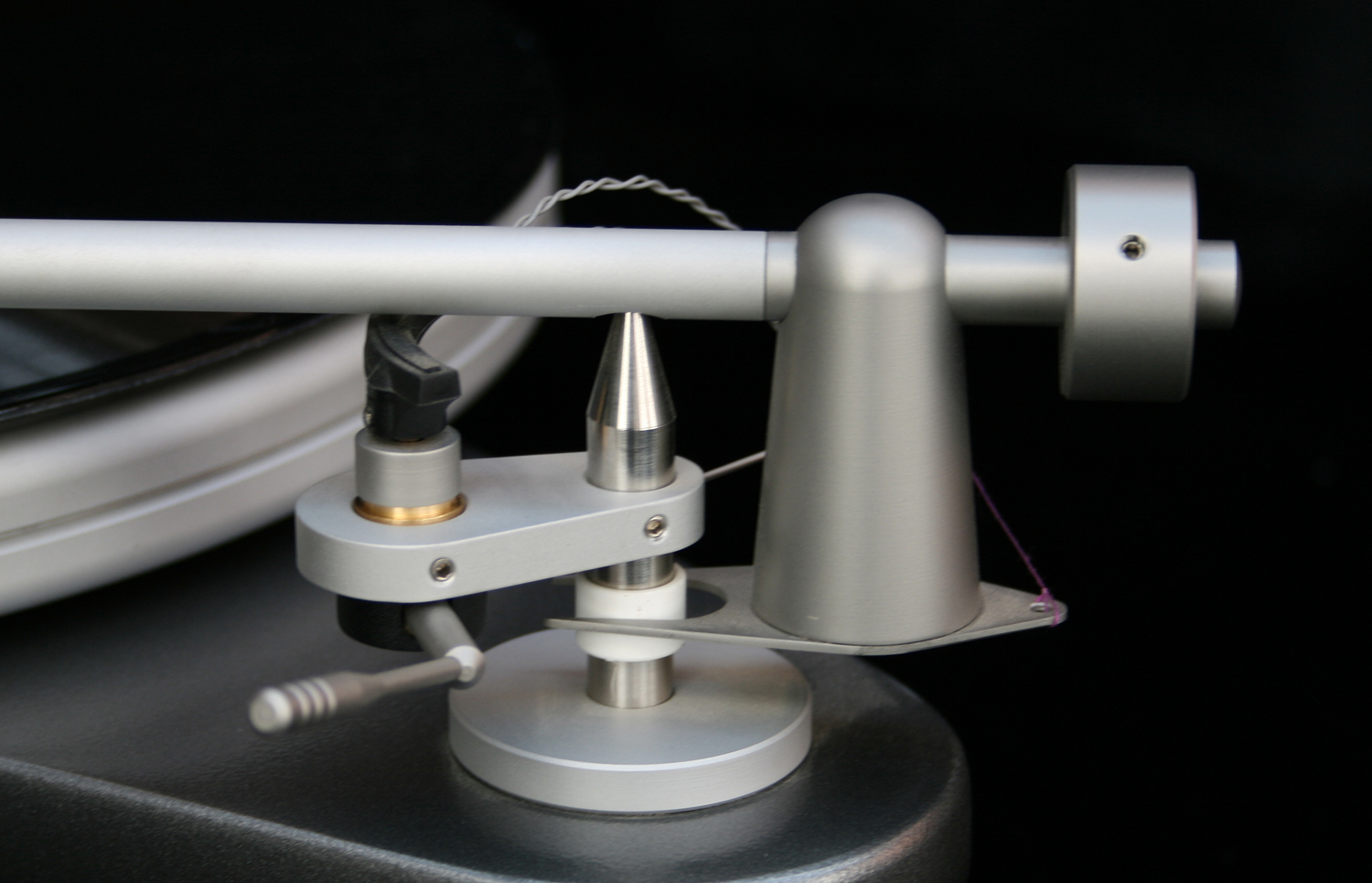 This is a simpler design of tonearm which is characterized by having one fixed point in the back which pivots, allowing the tone arm to pivot just 2 directions only – vertically, and laterally. As such, there should be no twisting, but tracing can be achieved, and any warps in your record will be handled with ease and grace.
When people design these types of tonearms, they have specific goals in mind, such as keeping things smooth and steady, with as little friction as possible. Also, they want to keep noise from the bearings minimal. With tighter bearings, the noise will get reduced, but then friction is increased. Between these two things, the designers want to find the most happy medium – this is their challenge.
So let's take a look at the pros and the cons of this type of tonearm design.
Pros:
This is the most common type, and it's known to work well

Also easiest to set up

Other designs are more expensive
Cons:
As mentioned, there is increased friction due to the design which sometimes can be unavoidable

As well, we mentioned bearing resonance, which happens as the bears age, and they will need to be serviced periodically

Design can lead to some tracing distortion
#2 – The Uni-Pivot Tonearm
These kinds of tonearms are different from the gimbal ones in that they possess only one bearing instead of two which are positioned at 90 degree angles to one another. The overall objective of the uni-pivot tonearm is to go beyond the limitations of the gimbal tonearms by eliminating the bearing resonance vs friction issue which we mentioned before. As such, the idea here is to have a downward facing needle, upon which sits a cup that will rest on top of the tonearm housing.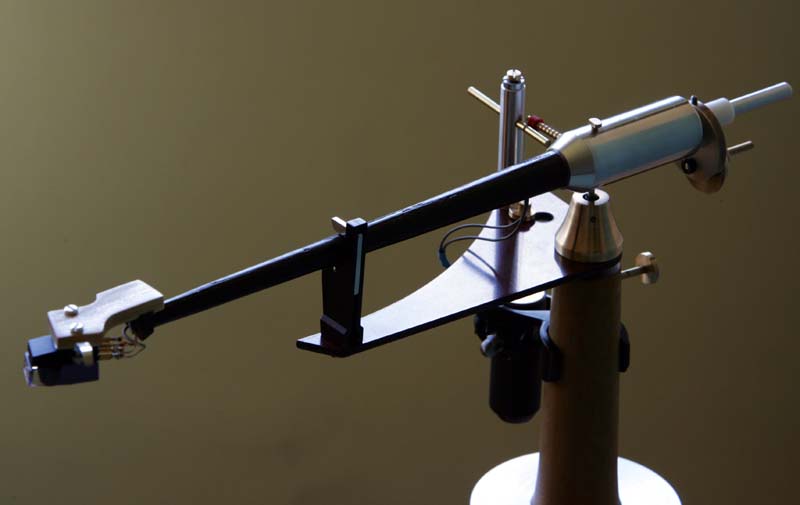 There is nothing really wrong with this design, and it is often a preferred choice for audiophiles. That said, there's a bit of a catch we need to mention as well. Because of the uni-pivoting nature of this tonearm, they can seem slightly less sturdy due to the fact that they can rotate in all directions. In addition, if you are a novice, you might have a heck of a time setting up one of these types of tonearms, and you will need to be very fickle about the azimuth so that things are absolutely level.
Pros:
You'll get as close to no friction as possible with one of these

Less worry about bearing work needed

The afformentioned bearing noise will be practically eliminated
Cons:
Because of the pivoted nature of this tonearm, you will run the risk of tracing distortion

If you are a novice, as we said, it will be harder to set up – especially the azimuth

Some people don't like the floaty nature of these tone arms

A little less sturdy
#3 – Linear Tracking Tonearm
So we've been talking about the pro's and con's of tonearms which move, or pivot, and how distortion will find its way in if anything is off in any slight way.
Luckily, here comes the linear tracking tonearm with the solution to these issues. Why is it called a "linear tracking" tonearm? This is because we have the entire arm that effectively does the tracking in a linear fashion. As such, there are no "bad" angles of the stylus, and it stays locked in the groove and all should be well.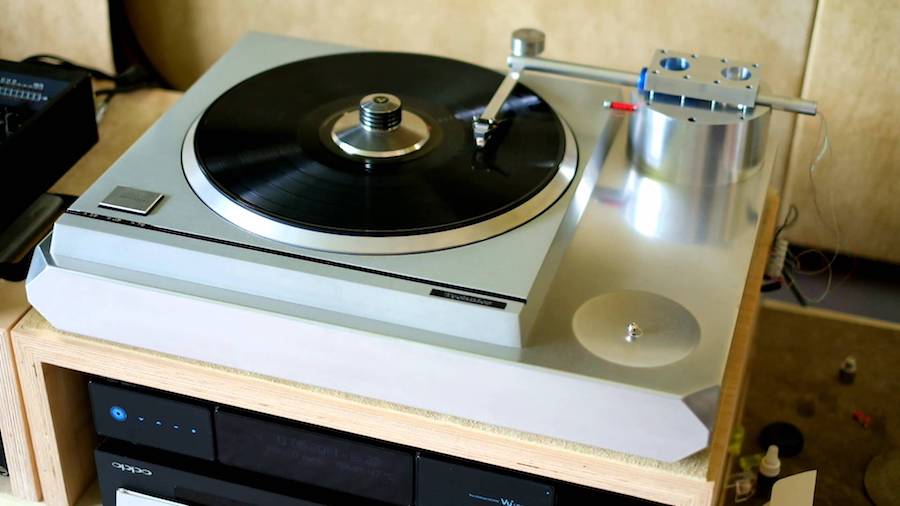 Of course, with such a clear advantage, you might expect yet another catch? Well, you'd be right! The catch this time is the expense of such a tonearm, which is high, and the setup, which is not easy either.
With this type of tonearm, you find that it has "air bearings", which means your arm will be gliding on air that gets pumped into the tonearm itself.
All in all, the linear tracking tonearm is what we might call the "best" kind of get, but you need to be dedicated to whatever audio pursuit you are chasing to want one of these, as there are some clear affordability challenges, plus the pain in the butt setup.
Pros:
Basically takes care of all the previous cons we mentioned with the other arms, such as high friction, tracking distortion, and bearing noise
Cons:
Needs some maintenance to be kept at optimal levels

Expensive, more so than the other two

Set up is a pain!
Wrapping Up
So, now that you know all of these characteristics of these various tonearms, which one do you want to purchase? Again, you will have to look at your bank account and then you will have to look at what you are trying to do, and keep all of that in mind when you get yourself a new cartridge for your turntable. We hope you choose wisely, and stay safe out there and btw kids, do not use drugs!