There's hardly any musician out there that's as influential to metal music as Mr. Tony Iommi.
Widely considered to be the one individual who created the entire genre on his own, it was his riffs and songs he wrote with Black Sabbath in the late 1960s and the early 1970s that brought him the fame he has today.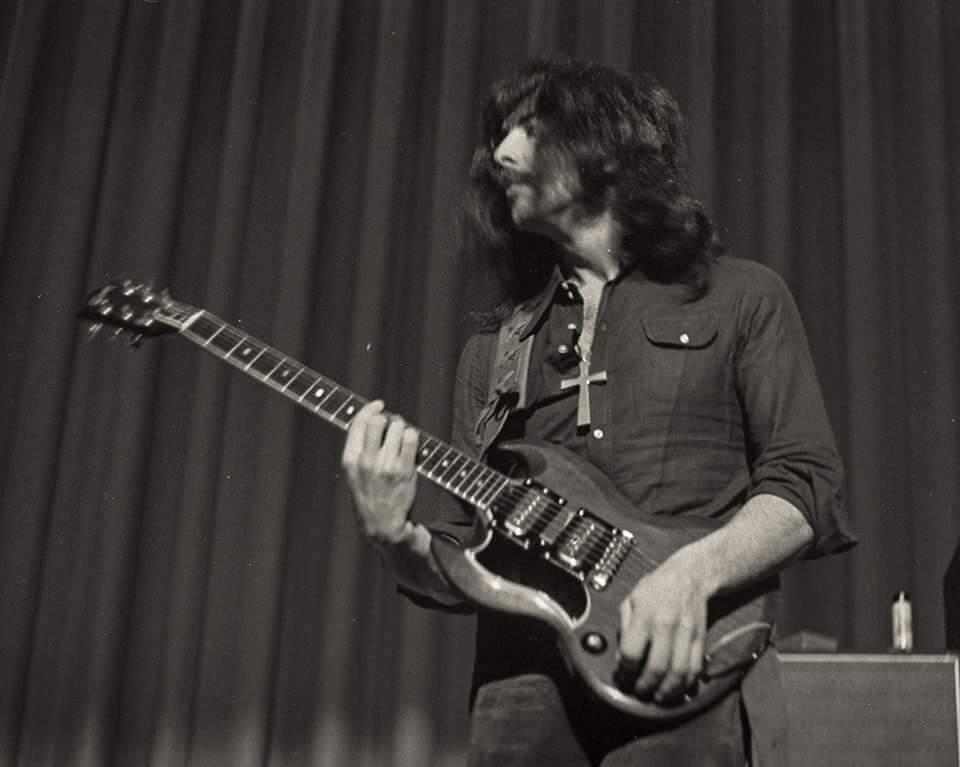 While it is somewhat debatable on who started heavy metal, it is a fact that without Iommi the modern rock music wouldn't be as big as it is today.
What's more, the style he developed can also be heard in many other music genres today, with even mainstream pop sometimes including metal-sounding riffs.
His main strength lied in his writing abilities, implementing elements like tritone the way no one did before him. The riffs were so great that they sounded heavy even played on an average acoustic guitar.
However, in order to achieve their true potential, Iommi had to find the perfect guitar tone. Not the easiest task back in the old days when standard guitar pedals weren't a thing and achieving distorted tone was extremely difficult.
Nonetheless, Iommi managed to make his tone huge. You can hear this tone back in the early Sabbath days during their blistering early sets like this one.
While most of the people remember Black Sabbath for the Ozzy era, Tony Iommi kept the band's legacy over the years, being the sole original member.
Over the years, his music and tone evolved, but you could still hear that it's Tony. The 1980s and the first half of the 1990s were a bit weird for Sabbath, but there was some great material, featuring his amazing guitar tone.
During the late 1990s and early 2000s, with the original Sabbath reunion and his solo albums, his tone was more in the vein of the older Sabbath stuff.
With all this in mind, we figured it would be a great idea to explore Tony Iommi's setup over the years and find out more about the secrets behind his tone.
There's a lot of stuff involved and many of the things are still unknown to this day. So we'll try to focus on the equipment we know he used, but there will be a few mentions of the unconfirmed guitars and gear. So let's dig into it!
Guitars
Of course, by now, everyone is aware of his extensive use of Gibson SGs, with these guitars becoming a part of his sonic and visual identity.
However, what many don't know is that Iommi started his career playing a classic Fender Stratocaster.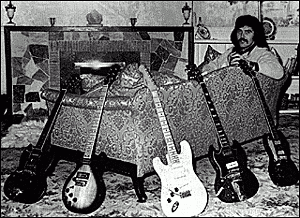 He used this particular guitar in his pre-Sabbath bands and he also entered the studio to record Sabbath's self-titled debut with the guitar, but only managed to record one song with it, the "Wicked World." After the session, the electronics on this Strat died.
Interestingly enough, the famous red 1965 Gibson SG Special was his spare instrument. After using it on the record, the guitar quickly became his number one weapon on choice, with Iommi recording most of the material on Sabbath's first six albums on it.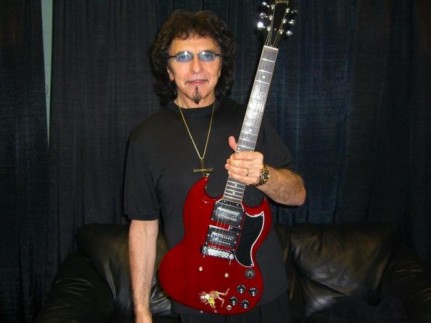 The guitar bares two P-90 single-coil pickups, as well as the "Monkey" nickname due to an unusual sticker. The guitar is currently located in New York City's Hard Rock Café over at Times Square. A legendary piece.
The next famous early SG is the white 1960s Gibson Les Paul, which was actually an SG before the official use of the SG name. It bears three humbuckers and a Bigsby tremolo. It's not completely certain whether he used this guitar on any of the recordings, but he's been seen using this guitar on a few occasions in the early days. Its whereabouts are currently unknown.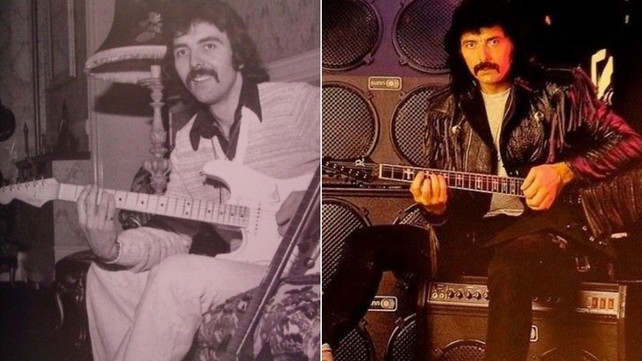 In 1975, Iommi got his first custom-built SG by John Birch, a guy who previously modded the old "Monkey" SG. This is a completely black guitar with a steel pickguard, 24 frets, and the well-known famous cross inlays Iommi is now known for. The guitar was used on the recordings between 1976 and 1981.
But the most notable of his SGs is his legendary "Old Boy," made by luthier John Diggins. The story behind this one is kind of odd and long, with one part of the building process being done on a kitchen counter. As a result, the guitar has that recognizable "rotten" paint job.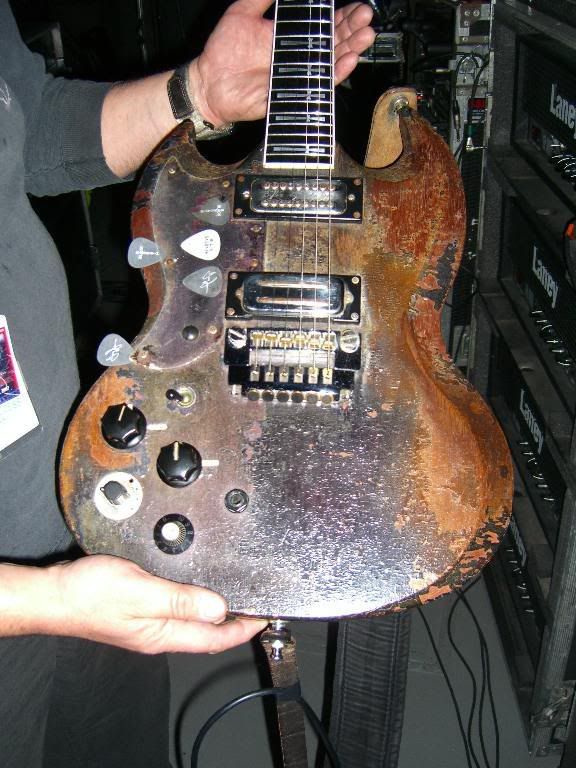 Again, the guitar has 24 frets and recognizable Iommi's cross inlays on the fretboard. The pickups are custom ones made by Diggins himself, while the bridge is a classic Schaller with fine tuners, something that was pretty innovative for the era. Sometime in the early 1980s, it became his No. 1 guitar.
A lot of other SGs went through his arsenal over the years. There were some Gibsons, including some with Floyd Rose bridges. At one point in the late 1990s, Gibson even made a special guitar for him, but that one got stolen in 2010. The whereabouts of this instrument are unknown at the moment.
But aside from many SG guitars, Iommi also had quite a few different models, some of which were pretty unusual. One of the examples is the B.C. Rich Ironbird Pro, which can be seen in the "Star Licks" instructional video where Iommi shows a few Sabbath solos from the early 1980s.
It's not certain why the collaboration stopped or whether he used this instrument on any of the recordings. But it is known that he had another B.C. Rich in his collection, the standard Mockingbird.
Iommi also partnered up with Patrick Eggle for a few guitars, one of them being the Tony Iommi Artist Model ñ a double-cutaway guitar with somewhat of a Super Strat-style shape. He also had a few SGs made by Eggle, but he sold them later on to private collectors.
In the 2000s and 2010s, Iommi used his signature Epiphone SG Custom.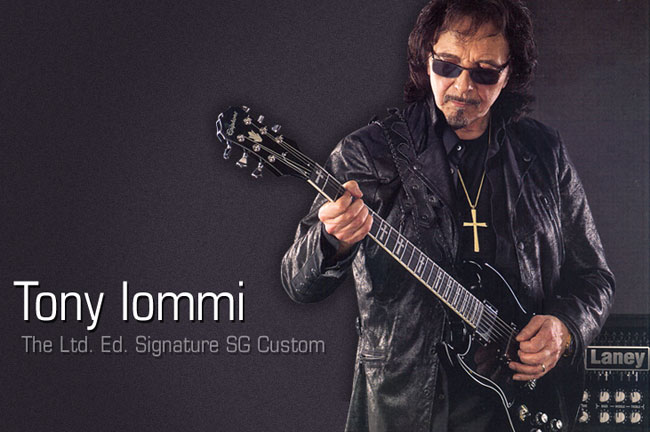 There were a few other odd or unexpected models here and there. He was seen a few times using a Les Paul, quite an unusual sight for Iommi.
At one point, Iommi also revealed that he used a certain Les Paul for some songs on the "Paranoid" album. Other guitars also include Steinberger GM4T, Guild Bluesbird Custom, Washburn EC29, Hamer Phantom, Gibson Barney Kessel, Gibson ES-175, and others.
It has been reported that Iommi played a Burns Trisonic and a Watkins Rapier – both of which are very old and pretty obscure at this point. But these have not been confirmed as there are no photos to prove it.
Now going over to his acoustics, there have been a few notable models in his collection. The latest ones we're certain of are Taylor 815L and Taylor T5s.
He also had a Washburn EA30 at some point, which he sold to private collections. There were some reports about him using Gibson J-45 back in the early days, probably on "Vol. 4" and "Sabbath Bloody Sabbath" albums.
Amps
Aside from his SGs and a few other guitars he used over the years, there were many amps that sculpted his tone.
Unfortunately, there are no official records on what he used in the earliest days of his career, but it is known that he had a certain Marshall 50-watt amp in the pre-Sabbath and early Sabbath era.
When the band went into the studio, Tony switched over to a Laney amp, a brand he stuck with for most of his career.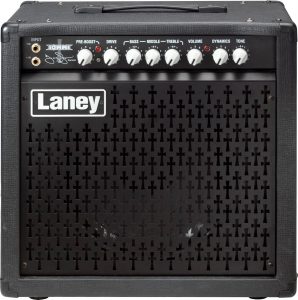 The reason behind this switch is that Laney was a new Birmingham-based company that started around the same time as the band and offered Iommi to use some of their stuff.
While it has not been confirmed, it is suspected that Laney LA 100 BL is the amp he played on the first two albums. Then came the third record with this huge bass-heavy tone.
While it's not certain, some are suspecting he played through a Laney Klipp. This is a fairly rare amp and can go well-over $2,000 if you happen to stumble upon one that's in good condition.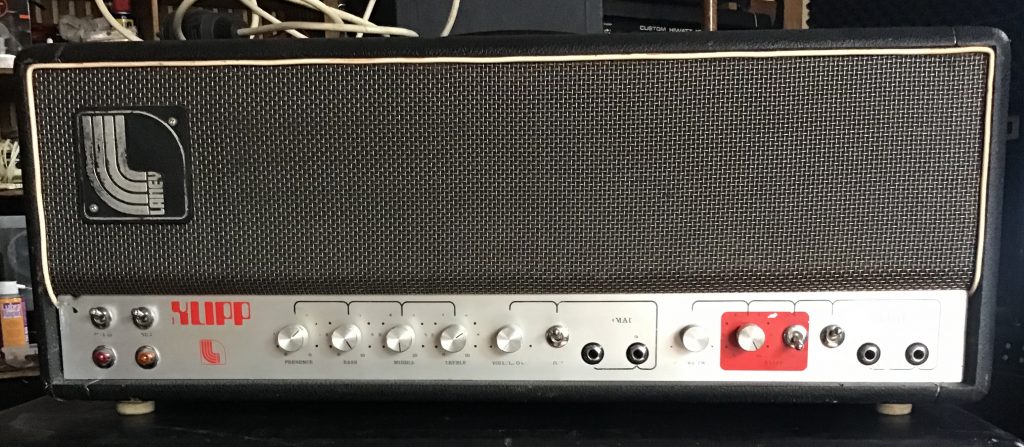 However, it is known that Laney Supergroup amp has been a part of his setup up until the very end of the 1980s. But over the years, he liked to experiment here and there, and it's known that he used the classic Vox AC30 during the "Technical Ecstasy" sessions in 1976. It is also assumed that he went with a Marshall Super Lead 1959 for the "Heaven and Hell" album.
During a certain period in the 1980s, Iommi went on to collaborate with Sunn for an endorsement. This didn't last for a long time, but there is one photo of him circulating online, holding the Ironbird signature guitar and sitting in front of a Sunn amp.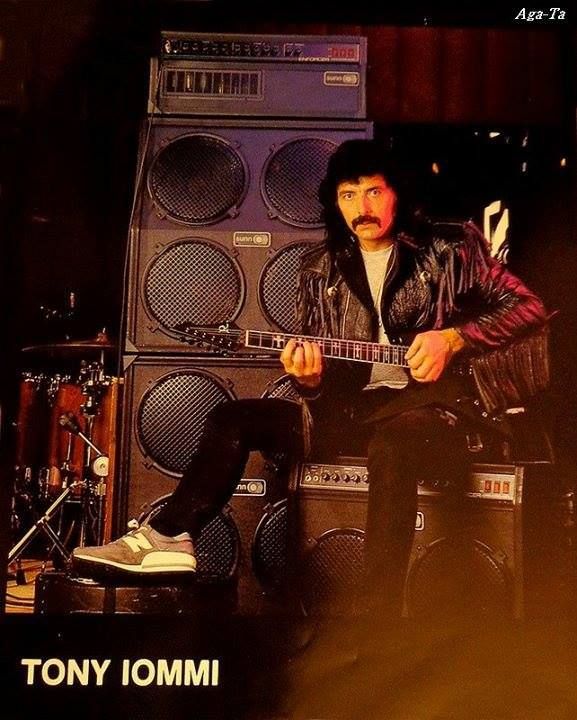 So he stuck with his reliable Laney amps and the company eventually made a special model GH 100 TI for him, featuring the classic "British" EL34 tubes. In 2012, they came out with the final Tony Iommi signature model, Laney TI100 with 6L6 tubes in the power amp.
It has also been rumored that he used other amps during certain periods, like the Mesa Boogie Mark IIB in the early 1980s, as well as the ENGL Powerball during the Heaven and Hell band back in 2009.
Effects and pedals
Just like any professional guitar player, Tony Iommi also had some interesting pedal and effect setups over the years.
However, only a few pieces are widely known. It seems that Iommi was pretty much secretive about his pedals and other effects units, or that interviewers never really dug deep enough.
Going back to his earliest days, there is one particular device that made his tone stand out. Going back to his pre-Sabbath days, Iommi was a member of a blues-rock band called Mythology.
As the era is known for guitarists not being able to find a proper distorted tone, Tony was one of the guys who resorted to using the Dallas Rangemaster Treble Booster.
An unknown friend or an acquaintance of his modded the device, ultimately turning it into somewhat of a full-range booster.
As Iommi explains, he's not sure what the guy actually did, but it sounded great. This way, Iommi was able to use the clean signal boost and drive tube amps over their limitations and let them create distortion in a more "natural" way.
He used it until 1979 when, apparently, one of his tech guys threw it away, mistaking it for a random broken old device.
Another famous pedal in his arsenal is the very rare and peculiar-sounding wah called Parapedal, made by a short-lasting company called Tycobrahe.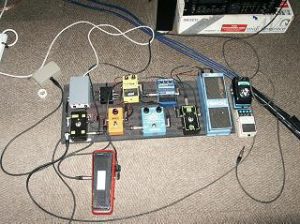 It's a really obscure piece, but if you actually manage to find one of the original pedals, it can go up to $1,000. There have been some replicas, but Tony Iommi used some of the original old models.
This is what you can hear on any of his solos where he's using a wah, or in songs like "Electric Funeral" where he used it for the main riff.
As for any other effects, it's been really hard to confirm anything else. Again, it seems that he's been pretty secretive about his setup.
Legacy
Of course, it was Tony Iommi's rumbling tone that helped shape metal music. Even to this day, you're rarely find anything as heavy as the guitar tone on "Master of Reality."
While he was inclined to experiment, like with the Vox AC30 in the mid-1970s, Tony was still a fan of huge guitar tones, especially on live shows.
After all, he was the only guitar player in Black Sabbath, so it was up to him to make the sound as big and as harmonically rich as possible.
As a result, he's still being praised by almost all of the metal musicians today. His legacy can be heard in all of the metal music, none of which would be possible without Iommi's innovative approach in the earliest days of Black Sabbath.
So it doesn't come as a surprise that he's known as the "Riff Lord."