Rage Against the Machine is one of those rare bands that started their work back in the 1990s and who managed to push something completely new.
Oftentimes carrying a strong political message within their work, they reached great success and cemented their place in the history of rock and metal music.
Now, you don't usually see bands taking this route, as everyone knows how risky it may be. And, for most, this approach has backfired. However, this is not the case with Rage Against the Machine.
Taking a listen to their songs, the music and lyrics complement each other perfectly, delivering a really strong punch.
But for a band that has created such powerful tunes, you would think that one guitar simply wouldn't be enough.
That might have been the case if the guitar player in question was anyone other than the almighty Tom Morello.
The genius of this man is elusive to a lot of critics. Morello's ability to use his guitar as more than just an instrument is impressive, to say the least. Listening to any of the Rage hits will show you exactly what we mean.
Morello certainly knows how to balance his tone in such a way that he could go crazy with solos, but still align himself and work together with the bass guitar and drums for that extra girth.
Even though that is pretty much all about skill, having the right equipment surely plays its part. After all, a master of such caliber would need some great guitars, amps, and pedals to use his full potential.
So with all this in mind, we thought that we could do a brief overview of Tom Morello's guitar rig, and talk about his primary choice of gear over the years.
The instruments and the setup, however, are not exactly conventional. Morello had a very specific approach, managing to push the boundaries of guitar-oriented music without using too much of a complicated rig in most cases.
Although not having quite a complex rig, he revolutionized the guitar and managed to inspire guitarists and other instrumentalists way outside the world of rock and heavy metal music. So let's dig into it.
Ibanez S570Ah – Silver Wave Black

Marshall Jcm800 2203X 100W Tube Head

Digitech Whammy Pedal Re-Issue With Midi Control

Dunlop Crybaby Gcb-95 Classic Wah Pedal W/2 Free Patch Cables

Rig Rundown
And just like we usually do, the first point of business is going to be Morello's guitars.
After that, we are going to quickly jump into some amps, and wrap up the whole thing by going into some details about his pedals and effects he's used over the years.
For the most part, replicating the essence of Morello's tone is not that much about gear, but it's good to know that a relatively simple setup can get you on the right path.
Without further ado, here are all the details.
Guitars
If you take a peek into Morello's guitar storage, you will see a variety of awesome and interesting guitars.
There will be some pretty standard models like the Gibson Explorer or SG, but there will also be some that are very unusual, like that Ovation Breadwinner he owns. But we'll get to that.
With all that said, there is indeed only one guitar that is associated with Morello during his Rage Against The Machine years. We are talking about his famous Arm The Homeless custom piece.
This instrument has been by his side throughout his entire career. Here he is showing Carson Daly some of his ingenious scratching techniques with his famous guitar.
When Morello got this guitar from an LA shop in 1986, he went on to pick and choose every single detail on the guitar. The basis for the whole project was a blue Strat type body.
The main difference between this one and any standard Strat comes from the fact that Morello's choice was loaded from the rear, not the front.
The neck he went with, in the end, was a Kramer design made of graphite, which is a rather interesting choice. Hardware wasn't standard either.
The choice of the bridge was reduced to Ibanez Edge locking tremolo. Even though this might surprise some folks considering that Floyd Rose would have probably been a more logical solution, that Ibanez design fits Arm The People perfectly.

In terms of electronics, we are looking at an EMG setup consisting of a somewhat standard EMG 85 and EMG H combo.
The guitar was used throughout his Rage Against The Machine career extensively, while he also used it recently while playing with Audioslave.
Interestingly enough, his first impression when he got the guitar out of the shop was rather negative.
After all, back in those days, it wasn't exactly the easiest task for an unknown musician to acquire a good custom-built guitar.
The original version of the guitar had a few different parts and was modified as the years went by. Now, years later, it's his main ax.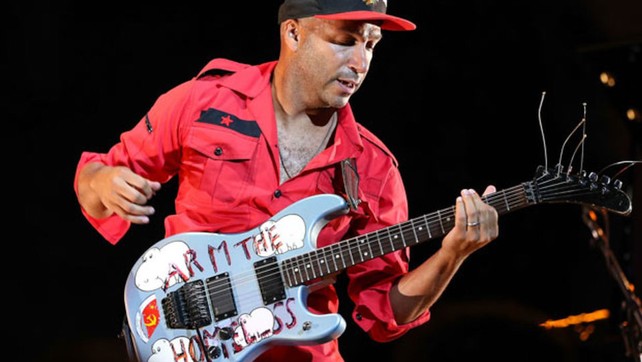 Another important guitar in his arsenal is that black Fender Stratocaster with the "Soul Power" writing on it.
The guitar was made sometimes around the year 2000, and Morello used it extensively during his time in Audioslave.
Featuring alder body, maple neck, and a rosewood fingerboard, it has the standard Stratocaster measures, like the 25.5-inch scale length.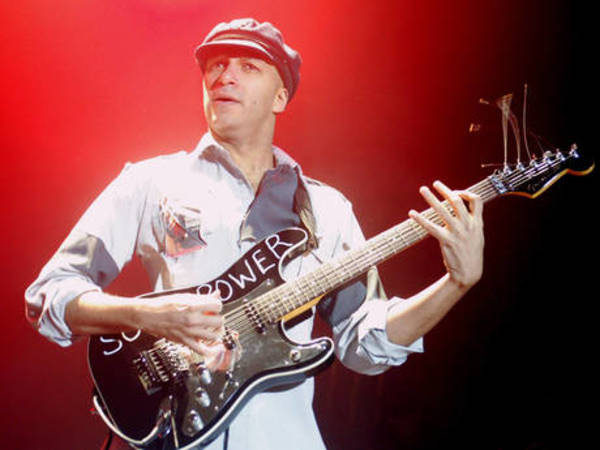 As for the pickups, we can find Seymour Duncan Hot Rails on the bridge and two single-coils in the middle and neck positions. The guitar is also known for its mirrored pickguard, as well as the Ibanez Edge locking tremolo bridge.
Morello is also known for his use of Fender Telecasters, and there are a few of these in his collection. For instance, there's the American Standard with the sunburst finish.
But the best-known of his Teles is the black "Sendero Luminoso," which was his main instrument for drop D tunings.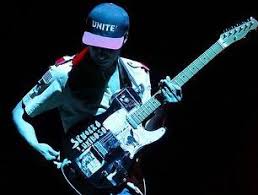 As for other Teles, we have the American Designer edition and the custom-built James Trussart Steelcaster. The latter one is pretty weird, featuring that rust-like finish.
Now, there's another somewhat unusual choice in his guitar collection, the Ibanez Artist that was custom built for Morello, sometime in the late 1990s. And this is a pretty interesting piece and an important one for Morello.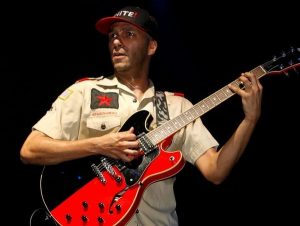 First off, we have the black and red finish, which symbolizes some of Morello's main political views. But what's thoroughly exciting is the fact that this instrument comes with some built-in effects.
Morello used this instrument over the years, most notably on "Guerrilla Radio," as well as on Cypress Hill's "Rise Up." We also got the chance to see him holding this one during Prophets of Rage shows.
There are plenty of other guitars we should mention. For instance, there's a rather odd guitar Ovation Breadwinner. He was seen with the instrument, but not much is known about his particular model. They're solid body guitars made of mahogany.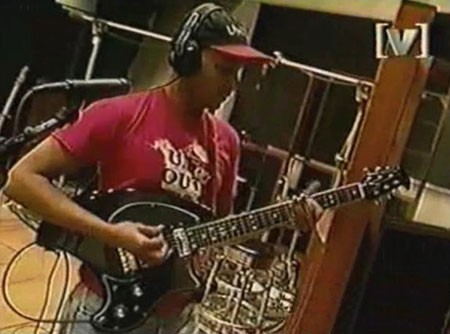 There are some SG models in there as well, like Kay K-20T. This was actually the first guitar he ever purchased and is a cheap beginner instrument.
Nonetheless, Tom still keeps this one as an important part of his playing career. Of course, there's also the double-neck SG, the legendary Gibson EDS-1275 model. It's not one that he uses that often, but it's still worth mentioning here.
He also owns one Gibson Explorer, the E2 model painted gold. According to Morello, he spent countless hours practicing on this instrument.
To make things more interesting, he added a Kahler tremolo bridge on it, which is quite an unconventional addition to such an instrument. He also said that this modification ruined the guitar's tone.
Although acoustic guitars are not much of his thing, we can find a few interesting ones in there. For instance, there's the legendary Gibson J-45 and the Ibanez GA6CE which is a nylon-string instrument.
Amps
Those who know Morello probably also know that he's a Marshall man to the bone. Ever since he started playing guitar, he used a Marshall amp of some sort.
When his first one got stolen, Morello went on to buy a JCM 800 2205 head, which he used extensively until just recently.
The head was paired with a Peavey 4 12 cab, not so much due to his taste, but rather pure necessity. That was the only cab available at the store when he went to pick up that Marshall Head.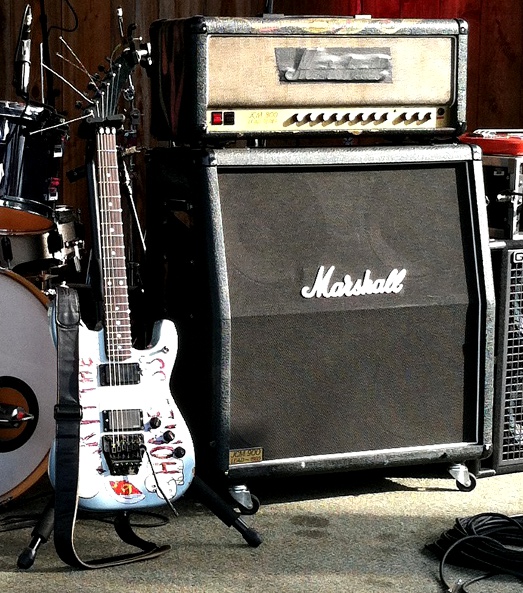 This combo stuck around with Morello for a long, long time. He grew to love the tone, including the cab. Whatever you may think about his approach to amplification, you simply have to respect his utilitarian style.
Lately, however, Morello introduced some different amps. One of the few names that stand out is the Vox AC30, the reissued version, and the Marshall Lead 20 combo.
But other than these few shared examples, Tom Morello's amp setup wasn't exactly the most colorful one. He's pretty much a Marshall guy.
Effects Pedals
When it comes to effects pedals, we see that same Spartan approach as well. If there's a single effect that became synonymous with Morello, it has got to be Digitech WH-1 Whammy.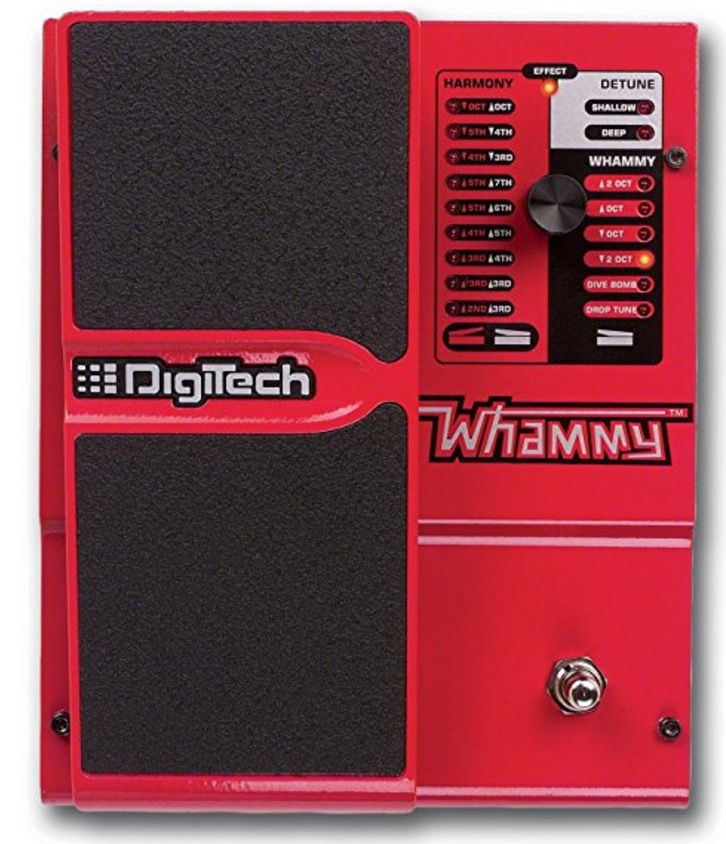 Ever since he found this modern classic, Tom fell in love with it. After all, you can see just how much of his tone was invested in this unit by listening to a variety of Rage Against The Machine songs.
The most notable example is the solo in "Killing in the Name" where he uses the full potential of the DigiTech Whammy and jumps up an octave and back throughout this whole section.
Aside from his trusty Whammy, Morello also used, and still uses a Jim Dunlop Crybaby Wah. In terms of pure modulation, there's a small cluster of pedals that include Boss TR-2 Tremolo, Ibanez DFL Flanger, and others.
The aforementioned Ibanez's DFL Flanger pedal is a rather interesting piece. This one was made back in the 1980s, and no other series of Ibanez pedals had anything similar. It's a rare pedal and he still uses this same thing for live and studio work.
Distortion, or rather, overdrive, was always sourced from the amp. There are, however, a few simple and classic distortion pedals. The best example is MXR's M-104 Distortion Plus. It's one of the company's best-known and longest-produced pieces.
He is also known for using his Boss DD-3 Digital Delay to make things space-like at times. Occasionally, Tom will also use a phaser pedal, most notably the MXR M101 Phase 90.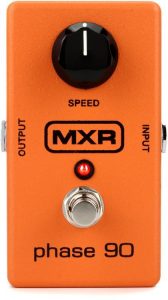 He also has a special place in his heart for analog delays. Just like the old Ibanez Flanger we mentioned, Ibanez's AD9 delay is an analog piece relying on the so-called bucket brigade devices. As a result, the pedal gives that warmer and a little "muffled" tone, at least compared to digital products.
Like we already said, Tom Morello likes to keep things tidy. There's nothing too complex about his rig, yet he still manages to deliver some of the best and most easily recognizable tones.
Conclusion
You could say that Tom Morello is one of those guitar players who know how to do more with less.
Whether it's the simple fact of not having to deal with a complicated signal chain or his love for a pure tone, Morello never really complicated his guitar rig all that much.
It just so happens that this type of approach worked out perfectly with his style of playing, and the music he was creating.
That also translated well when he moved on from Rage Against The Machine and joined Audioslave.
Getting his exact tone comes down to a pair of EMGs and a decent Marshall amp.
This combo is probably as generic as it gets these days, meaning that any fan out there shouldn't have much of a problem replicating Morello's tone with high levels of accuracy. With that said, the impact this man had on the '90s music scene is still to be fully revealed.
Rage Against The Machine gave a whole generation a common banner to stand behind together. Often criticized for their political standpoints, they are one of the few bands who stayed true to their cause.