Last Updated on
By Youtube Music Sucks
Heavy metal music has come a long way since its inception back in the late 1960s. From the bluesy, yet really doomy, songs by Black Sabbath and Led Zeppelin, it began going into multiple different directions.
As a result, we got some unexpected subgenres, that even led to some more extreme territories. But, at the end of the day, the classic elements of the genre remained, and some bands keep this legacy alive even to the present era.
One of these bands is Avenged Sevenfold, where the lead guitar duties are taken by Brian Haner, also known by his unique stage name Synyster Gates.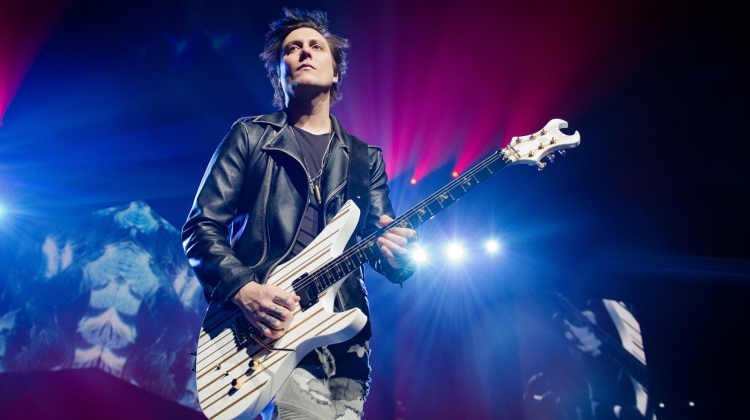 Forming back at the very end of the 1990s, Synyster Gates joined the band sometime before the release of their debut album. It was an unusual time for heavy metal, and new movements were emerging all around.
Avenged Sevenfold started off as a metalcore band, but they slowly moved into the classic metal and hard rock lane. This was a rather exciting turn of events as they added some modern metal elements and twists to the old genre.
These days, they're even experimenting with some progressive elements. And that's all thanks to Syn Gates and his approach to songwriting and playing.
Another vital component in this story is Syn Gates' tone.
With this in mind, we thought we could dive deeper into the topic and explore all the gear A7X's axeman has been using over the years. There's an abundance of great instruments, pedals, and amps, and we just can't afford to skip over this guitar master. So let us begin.
Guitars
The most recognizable part of his whole setup and the one that became his personal stamp is the Schecter Synyster Gates signature model.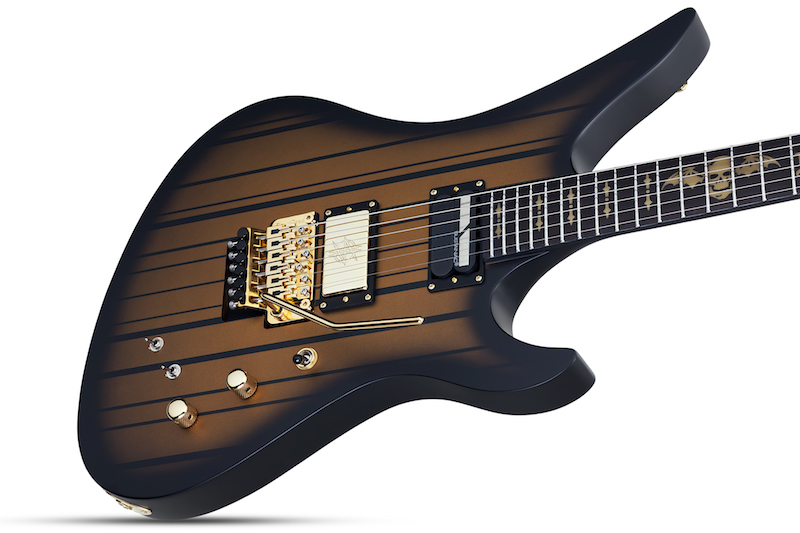 Almost all of the studio recordings and the live performances were recorded using some of these guitars. The band blew up early on in their career, so it wasn't hard for Syn to land a deal with Schecter for his one-of-a-kind model.
As the years went by, this guitar evolved, and there have been many iterations, finishes, designs, and different hardware and pickup combinations. There are even some exclusive models that were sold as limited series.
As for Syn's guitars, there are a few notable models. For instance, the one that he often today uses is the Custom-S. This is one of the newest iterations and has a few variants.
It's a prestigious and expensive instrument and an all-round versatile instrument capable of delivering different styles.
The Custom-S has a mahogany body and a three-piece mahogany neck that's enforced with strong carbon rods. The guitar features a 25.5-inch scale neck with a 24-fret ebony fretboard.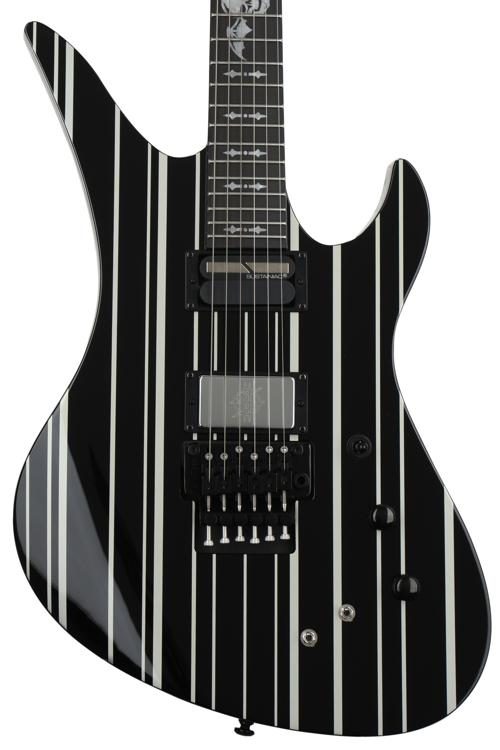 The neck profile proves that the Custom-S model is made for real shredders. It's the so-called "thin C" neck, the same as the classic "C" profile, only thinner. Seeing that the guitar also has a Floyd Rose 1500 Series bridge, it's a pure heavy metal mean machine.
One of its strongest points is the addition of the Sustainiac pickup on the neck position.
There have been plenty of other versions of this guitar over the years. Some of those include the Bat Country Avenger model that has a classic tune-o-matic bridge with strings going through the body.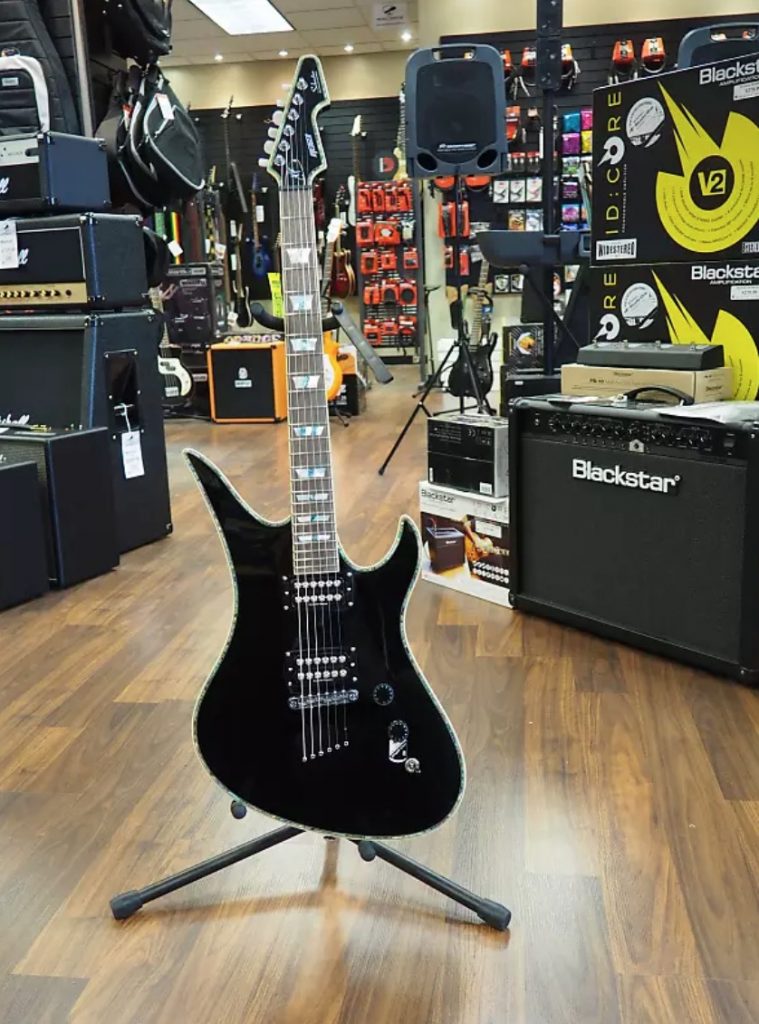 These other Syn Gates signature models are pretty similar in construction, although they have a few different features here and there. Custom-S still stands as his No. 1 weapon in the arsenal.
But he's also used a few other guitars over the years. In the band's earliest days, Syn could be seen holding a Parker Fly Deluxe model. It's a classic instrument, used by many guitar players of countless different genres.
What some may not know is that Syn Gates is also deeply rooted in old school stuff like blues and jazz. So it doesn't come as a surprise to see that he has a Gibson ES-335 in his possession. The guitar was used for studio sessions over the years.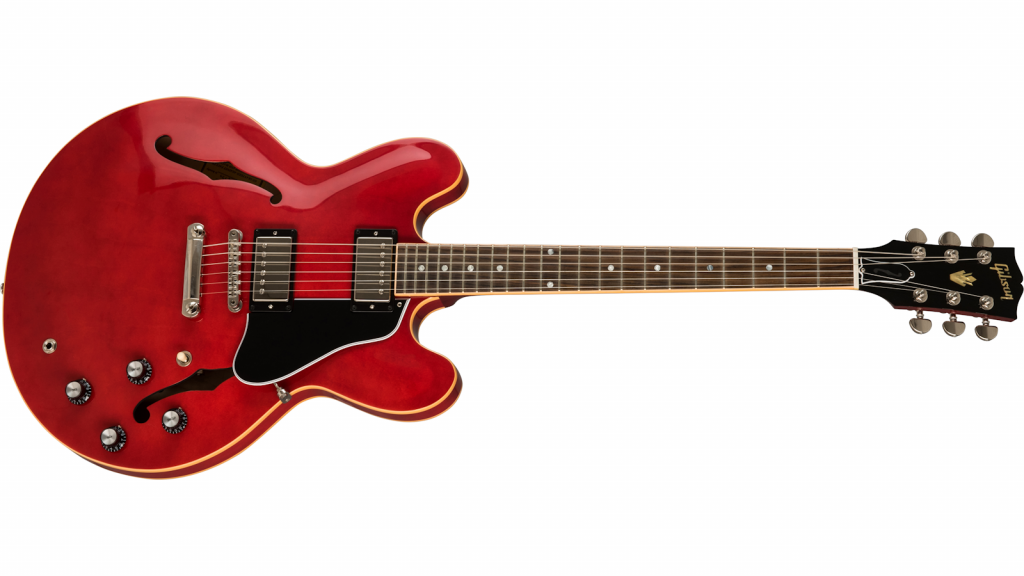 Of course, it's not unusual to find a Gibson Les Paul in his collection. He owns one LP Custom, and you can see him rocking it out in the "Unholy Confessions" video. However, this guitar hasn't seen that many live shows.
Another electric worth mentioning is his Schecter Blackjack PT that he used earlier in the band's career.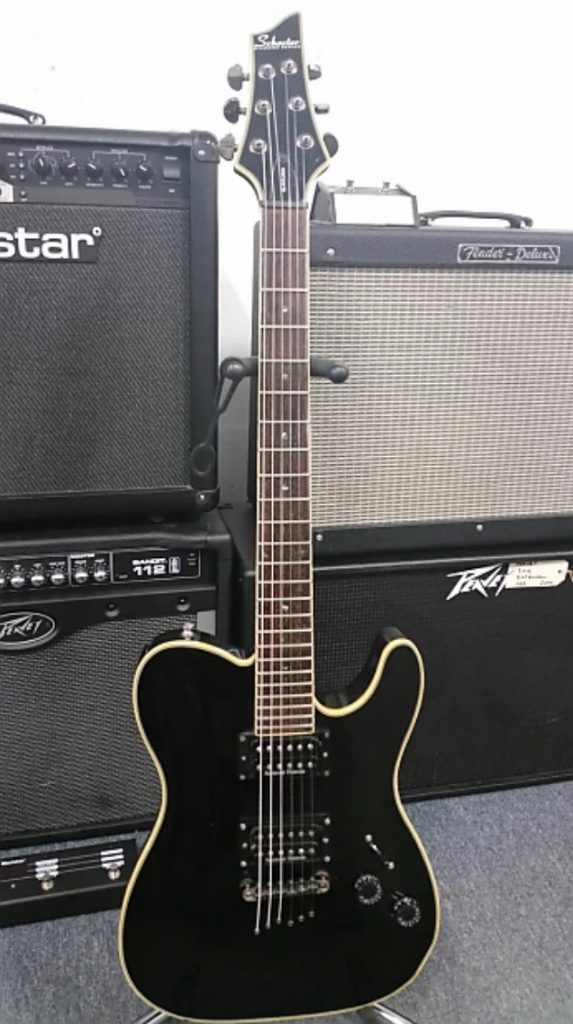 It's a two-humbucker Telecaster-shaped guitar with the strings going through the body. The Blackjack is a very playable piece and a great solution for all the heavy tones that Syn certainly needed over his career.
As for acoustics, there are a few exciting pieces worth mentioning in his arsenal. Since he's been a partner of Schecter for so long, they also made signature acoustic guitars for him – the Synyster Gates 3701. It's a single-cutaway guitar with a slightly peculiar twist on its design.
Just like the electric Custom-S, it features the easily recognizable Avenged Sevenfold logo on the fretboard's inlay. It also includes a Fishman pickup and a preamp, along with a 3-band EQ. It's a very versatile acoustic guitar and an overall quality instrument.
Then there's a surprising addition of Godin ACS-SA that he began using since 2016's "The Stage" album. This thin profile nylon-string guitar is often used by jazz players.

But since Avenged Sevenfold began diving into some unexpected proggy territories, it comes as a great addition to Syn's collection.
Generally speaking, the Custom-S still remains his primary weapon and his main workhorse. It's really easy to play, it has good access to higher frets, and certainly delivers the classic metal punch, kind of in the vein of standard Gibson guitars, although it had a bit of a sharper edge to the tone.
Amps
Quite a few different amps came through Synyster Gates' setup over the years. Unlike his choice of guitars, he wasn't stuck with one particular brand of amps. If we were to look at all of his choices, the picture is pretty clear ñ he likes heavy sound with an in-your-face mid-range punch.
So let's start with his Schecter amp. Yes, the company is not that well-known for their guitar amplifier line, but the Hellwin model is a powerful 100-watt all-tube amp in the style of classic Marshalls.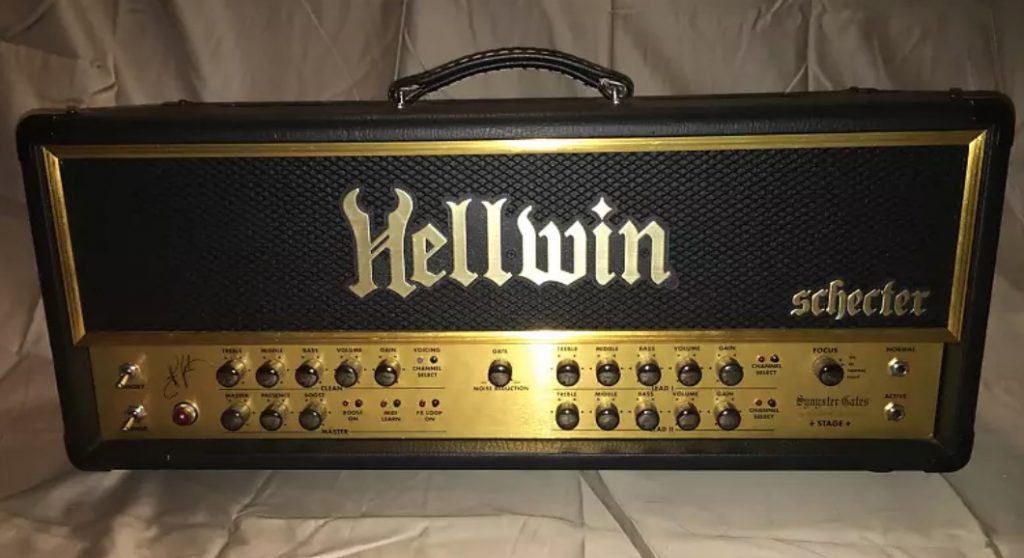 This can be seen with the implementation of EL34 valves. He always used it in pair with the Hellwing SYN412 cabinet. For some reason, Synyster Gates stopped playing it after a while.
While we're at Marshall amps, he's also known for using the JVM205H 50-watt head. These are pretty versatile amps, and cranking up a 50-watt amp is a great idea for larger gigs.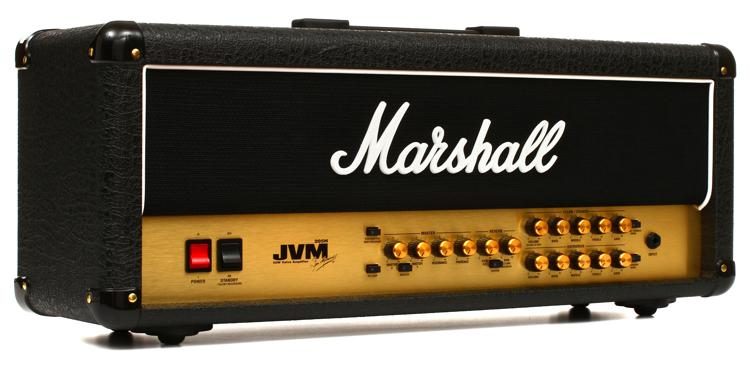 Since it can be miked up for live shows, he's able to get that authentic "organic" drive out of them by pushing the volume all the way up. It features the classic configuration of two channels – clean and drive.
He also owns that real beast of an amp, the Mesa Boogie JP-2C. Yes, the John Petrucci signature model, based on the good old Mark IIC+ amp. It's an extremely versatile piece of gear and can create anything from smooth jazz up to big crushing tones for riffs and screaming leads.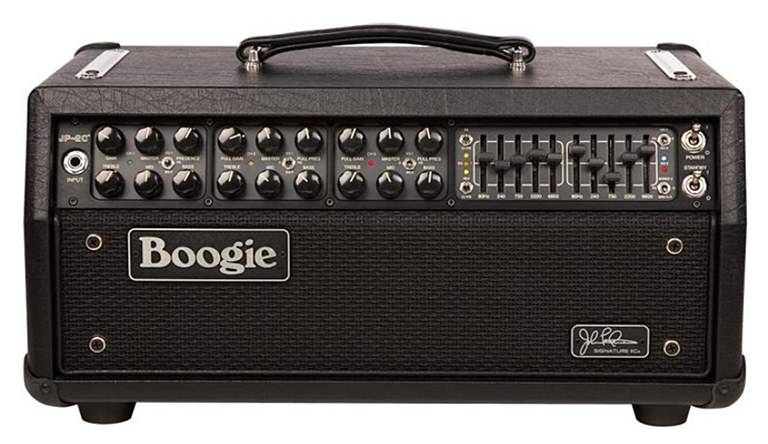 While we're at it, Syn's also known for using the legendary Mesa Boogie Dual Rectifier amp. Another great example of the company's rich and tight-sounding guitar amps.
Now, Bogner Uberschall is a really delicate piece. A real jewel in his collection, it's a 120-watt amp head with some of the most mindblowing tones you'll ever get the chance to hear.
However, a real change came when Synyster began using the Fractal Audio's Axe-FX III. Just like Kemper and a few other examples, it caused quite a stir in the guitar community.

Since Syn himself is all about modern technology, the addition of such a piece to his rig was inevitable. Needless to say, this powerful amp modeler successfully replicates any of the most advanced tube amps we've ever heard.
We wouldn't be surprised to see his entire rigs replaced with one or two of these.
His love of modelling amps came some years ago when he began using the Axe-FX II. However, he used it only for some features and effects and not actual amp models. The story goes that he really likes the harmonizer in this digital processor.
Effects pedals
When it comes to pedals and other effects, he never really had too much of a complex layout. There have been a few compressors here and there, delays, boosters, wahs, and a few other occasional pedals.
His choice of wah is pretty interesting. Steering away from conventional pedals, he has Dunlop's rack module Cry Baby DCR-2SR.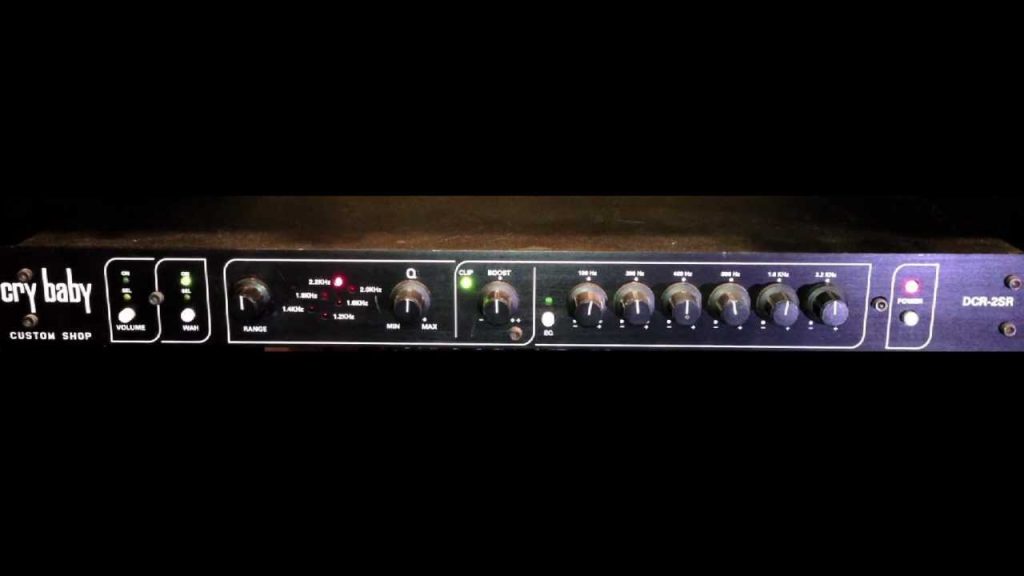 It's a potent piece that allows you to shape your own wah and to determine what kind of sweep will it add to your tone. This is as pro as it gets with wahs.
He's known for using a few different compressors over the years. There's the classic choice of Boss SC-3 here, which is a continuation of the old CS-2 pedal. Then we have another piece like the very simple MXR CSP202.
Among modulations, delays, and other effects, there's one rather interesting piece in his signal chain that Syn uses even today. It's called Visual Sound H2O, and it's a chorus and echo pedal in one.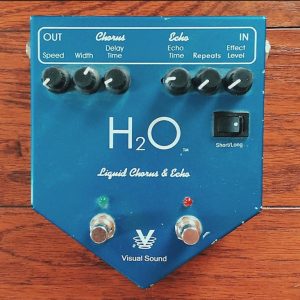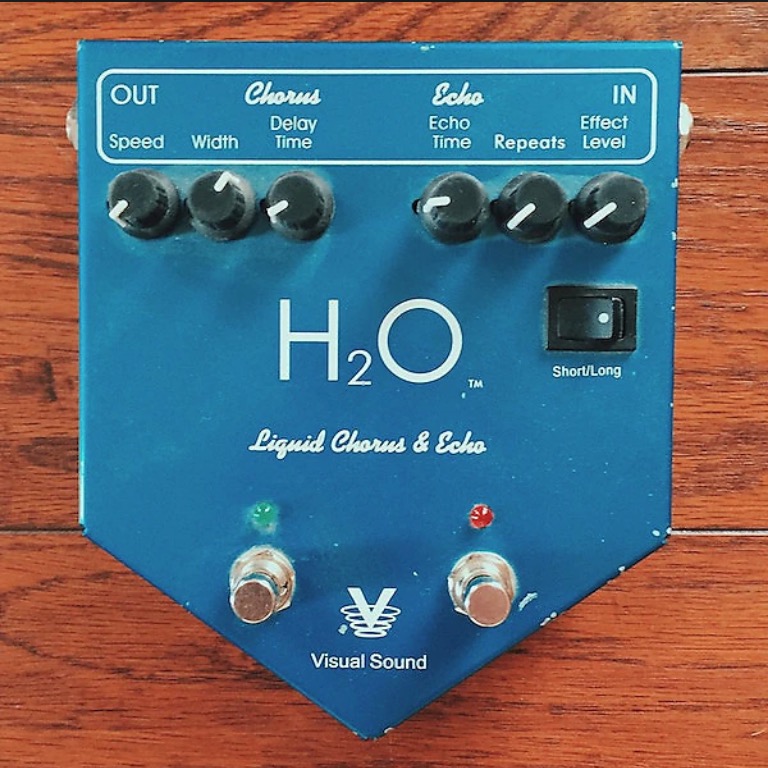 This unconventionally shaped 2-in-1 pedal gives delays between 10 and 800 milliseconds and allows you to use a chorus or delay individually.
As for the aforementioned clean boost pedals, he uses a very simple yet effective MXR MC401. This little piece can do wonders when paired with the kind of tube amps that he's using.
And just to throw in another one in here, Syn's been seen using Electro-Harmonix POG, or the so-called "Polyphonic Octave Generator." It's a very intricate pedal, although we're not sure how much he's been using it in actual songs.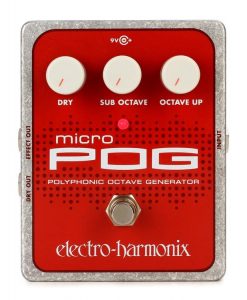 There have been a few other pedals here and there, but the ones described above are worth mentioning. Like we already said – Syn Gates has always kept it simple when it comes to the signal chain.
Accessories and other gear
Being a professional player that he is, it's only expected to see a whole bunch of different accessories in Syn Gates' setup. For instance, there's Ebtech HE-2 Hum Eliminator in his setup.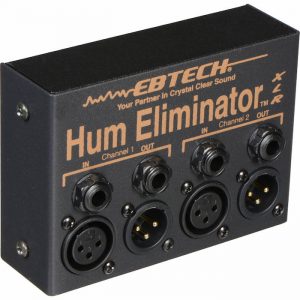 This one allows the elimination of unwanted noise from AC adapters and other electrical interferences. Although small, it's a very complex piece that does magic to your tone.
Since he has a few different pedals and devices, there's got to be a reliable power supply in there somewhere. For this purpose, Syn uses the classic Dunlop DC-Brick – a 1-amper device that can power up to 10 pedals and effects at the same time.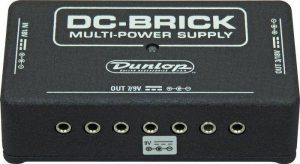 Avenged Sevenfold are the classic arena metal band, so it's only expected to see them using wireless systems. Synyster Gates' choice for this is Audio Technica AEW-5111a.
It's a very advanced and expensive rack-mounted wireless unit that provides stable operation in these large venue settings.
Schecter 6 String Synyster Gates Custom-S, Satin Gold Burst (1743)
Schecter Hr412-Sle Hellraiser Stage 4X12 Slant Cab
Marshall Jvm M-Jvm205H-U Guitar Amplifier Head
Truetone V3H2O Liquid Chorus And Echo
Final thoughts
From looking at this brief guitar setup and rig rundown, it's pretty evident that Synyster Gates has evolved over these past two decades, along with his band. It's always welcome to see this kind of an approach.
A great surprise came when Syn revealed that he's interested in jazz music and that he plans on recording a full-blown jazz album. There are a few videos of him online playing some swing jazz.
With this being said, it's highly likely that we'll see his setup evolve even further. And this is already taking place with his use of Fractal Audio Axe-FX III. His overall tone and setup will depend on the direction that Avenged Sevenfold as a band will be taking in the future.

Hearing "The Stage" that they launched back in 2016, we're pretty excited about what they'll do in the future.
After all, now that all the old metal bands are retiring one by one, they'll be the one to continue carrying the torch of the genre, and they'll be free to take it into any direction they want.