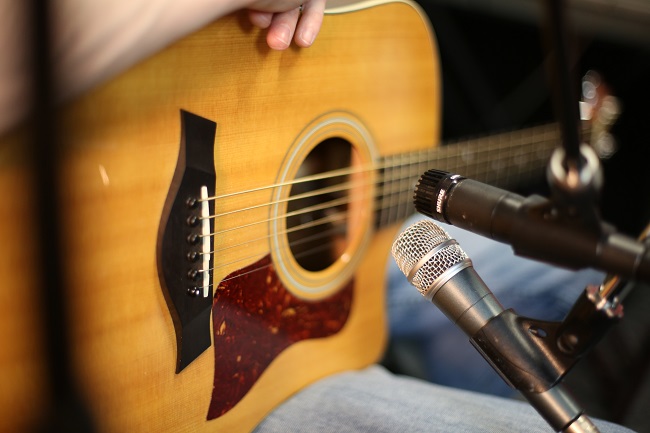 Capturing Acoustic Guitar Nuance
Shure SM81
The SM81 is produced by Shure, which has been a reliable supplier of microphones for years. It's considered a workhorse in terms of durable mics for recording guitars.
Features:
Cardioid polar pattern
Stage and studio use
Rugged construction
Condenser microphone
Frequency response: 20 to 20,000 Hz
Polar Pattern
One of the biggest decisions you'll have to make regarding your microphone is the pattern. This is a cardioid, unidirectional mic that won't pull in noises from the back and minimal noise from the sides. This will minimize the reverb, so keep that in mind when purchasing a mic for your recordings.
Pros for the SM81
The Shure family of microphones have been around for generations. You really can't go wrong when choosing a Shure for your musical recordings, studio performances and stage recordings.
Rode NT2A Anniversary Vocal Condenser Microphone Package
Features:
Variable polar pattern
High-pass filter
Polar Pattern
There are three positions on the body of the microphone that allow you to change the pickup pattern to one that suits your needs at the moment. It's a large capsule condenser meant for the studio recording.
Included in Package
The Rode NT2A Anniversary package comes with a shock mount, dustcover and instructional DVD. It's perfect for the beginning musician who might not know how to capture the sounds of the guitar using this kind of varied polar patterns.
In the past, USB microphones were thought to be amateurish and unsuitable for anyone serious about recording their music. The Blue Yeti Pro breaks that barrier with a microphone that's accessible for all musicians who want to capture beautiful music with their computer.
Features:
Different pattern settings
Can be used with studio mixers and peramps
Direct controls for volume and pattern selection
Pros for the Blue Yeti
This is a fantastic microphone for recording at home and also translates into a studio setting where professionals will be impressed with the quality. It's more than a simple plug-and-play mic with a USB connector.
Patterns for Recording
The Yeti has stereo mode, cardioid, omnidirectional, and bidirectional mode. These modes are easy to select with the switch of a selector knob.
AKG P420 High-Performance Dual-Capsule True Condenser Microphone
This condenser microphone comes with three polar patterns to record as much or as little of the guitar as you want. As a musician, you want to have ultimate control of the sound that is produced as well as the what is captured with the mic.
Features:
Mic with three polar patterns
High SPL application
Shockmount included
Metal case
Dual diaphragm
Polar Pattern
There are three different polar patterns with this microphone. Each can be selected and controlled by the musician or producer to capture the best sound. There's a cardioid, omni and figure-8 pattern, which means you'll never struggle to position and capture the guitar's beautiful sound with this microphone.
MXL 990 Condenser Microphone
This is a great microphone if you're capturing vocals along with your acoustic guitar at the same time. Normally, that's what you'll be capturing in a home studio is singing and guitar playing. This will provide the best of both worlds as far as recording.
Features:
Vintage body style
Frequency response 30Hz to 20kHz
Shockmount included
Mic stand adapter
Case
Diaphragm on the Condenser
This diaphragm is 3/4" gold-sputtered, which helps create a professional sound that is well-suited for both analog and digital recordings.
The microphone has a very thin layer of gold on the diaphragm that helps it conduct electricity better. The result is a smooth, quality recording.
Conclusion
The manufacturers of these condenser microphones have been around for generations and some have been the old-standby professional for years of stage performances and studio recordings.
You can't go wrong when you pick one of these microphones since they're the 5 best mics for acoustic guitar recordings.