Last Updated on
By Youtube Music Sucks
Ever since its inception in the 1950's and the 1960's, rock music was first among all the other genres to push the boundaries and bring something new.
And it was up to the guitar players to do their best to shock the people by showing them what their instruments can do.
The constant struggle to achieve the heavy tone eventually led to the complete innovation within the genre, ultimately giving birth to heavy metal and all of its sub-genres.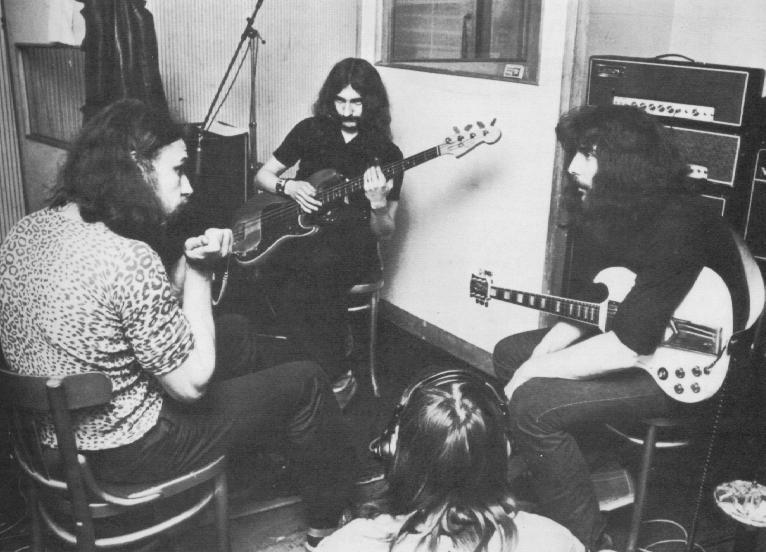 But the main thing always remains – if you want to play rock music, you need to know that the standards are high and that you have to have a good tone.
This means you need a solid guitar, solid pedals, and a solid amp. With all this in mind, we will be digging deep into the world of guitar gear and finding the best amps for rock music.
Table of Contents:
Let's get into it!
---
Boss Katana 100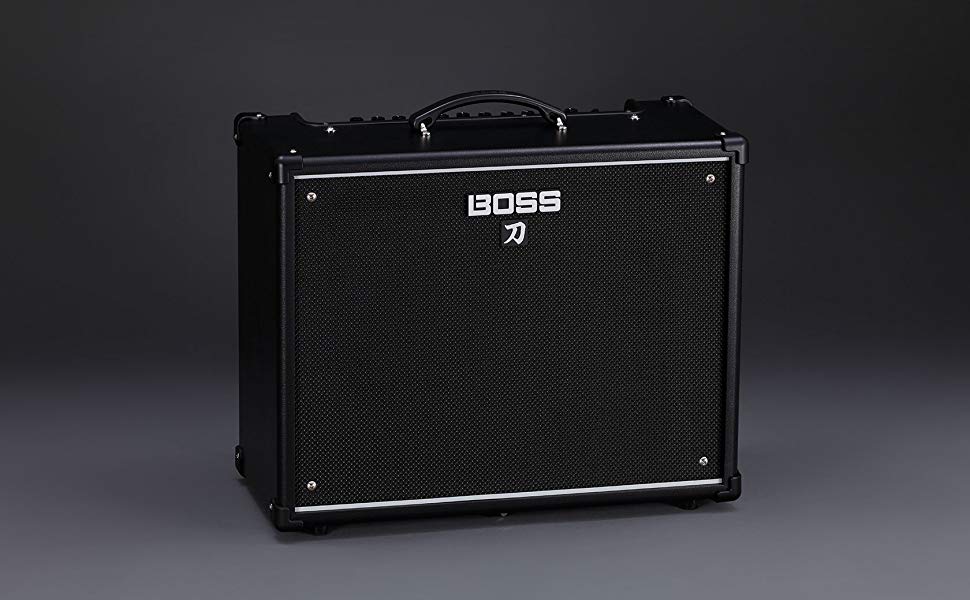 After all these years, tube amps are still generally regarded as the best amps for pretty much any genre. However, some prefer to use solid-state amps, not only because of their lower prices but also due to their distinct tones. And that's especially the case with rock music.
Boss introduced the new series of products in 2016, solid-state amps called Katana. Among the few variations, all of which are great, Katana 100 stands out. This 100-watt amplifier can deliver some seriously tight tones with pretty surprising quality for a solid-state piece.
There are five different amp models on it, a 3-band EQ, additional effects, two channels, one 12-inch speaker, FX loop, and power attenuation for 50 watts and 0.5 watts. The inclusion of power attenuation is kind of unusual for a solid-state amp, but it certainly gives some versatile options here.
Here is a video demo of the Boss Katana 100 by Anderton's Music Co.
Up next, the Peavy Bandit 112…
---
Peavey Bandit 112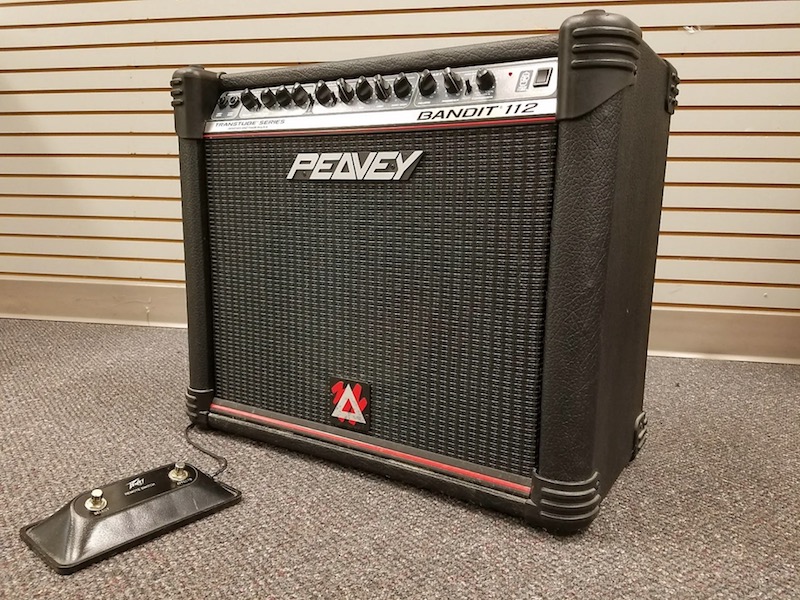 Peavey Bandit amps are another cheaper alternative that still manages to deliver some solid tones. Although solid-state, the Bandit 112 implements the so-called TransTube technology that manages to imitate the tone quality and dynamic response of classic tube amps.
The overall output power is 80 watts and the amp features one 12-inch speaker. There are two channels – one clean and one lead – both of which work with two separate outputs ñ high gain and low gain. This way, you're able to use the amp normally if your guitar has high output pickups.
The lead channel gets pretty interesting with different voicing options and separate controls for pre and post gain. Despite its relatively lower price, this amp works great for some solid rock tones.
Here's a video demo of the Peavy Bandit 112 by Willy Booger.
Up next…the Orange Rocker 15 Terror.
---
Orange Rocker 15 Terror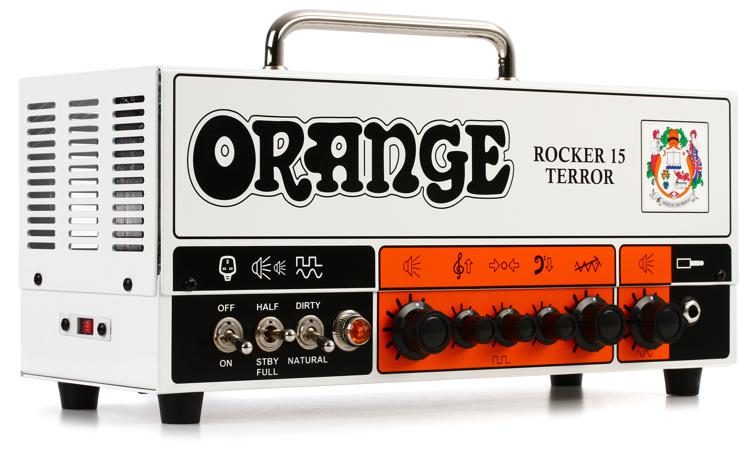 If you're looking to buy a tube amp, know that 15 watts can be more than enough if the amp is good. This is the case with Rocker 15 Terror by Orange.
The company has built its reputation over the years for building some of the best amps for rock and metal tones over the years. With Rocker 15 Terror amp head, we realize why there's all the praise for Orange as it is a two-channel amp with a simple layout and loads of possibilities that can deliver some serious rock and metal tones.
It features three 12AX7 tubes and one 12AT7 tube in the preamp, while the power section holds two EL84s.
At full potential, you can feel its sheer power and that raw high gain that still manages not to sound too muddy even at higher settings. There's also power attenuation for 7 watts, 1 watt, and even 0.5 watts for some late-night bedroom practice sessions.
It's a straightforward rock tube amp and worth every penny.
Here's a review of the Orange Rocker 15 Terror Amp by Guitar Interactive.
Up next, the Vox AC30C2…
---
Vox AC30C2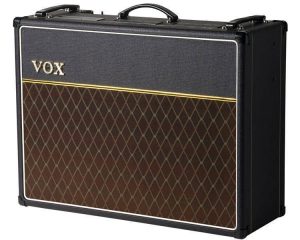 There's barely any other amp model out there that as famous as the good old Vox AC30. First introduced way back in 1958, the model is still being made to this day, with the tone staying pretty much close to the original but delivering some new modern features.
This 30-watt amplifier has two channels, two Celestion G12M Greenback 12-inch speakers, and four different inputs ñ high and low gain both for normal and top boost modes. As for the tubes, there are three 12AX7s in the preamp and 4 EL84s in the power section, the standard configuration for British-style amps.
Overall, this amp delivers a lot of solid tones but is largely popular for classic rock and hard rock tones. It can get bright and a bit heavy on the high-end spectrum, but that's something that a lot of guitar players are looking for. Also, it rocks that beautiful classic Vox design.
Here's a demo of the Vox AC30 by Dave Devlin Music.
Up next, the Hughes & Kettner Black Spirit 200…
---
Hughes & Kettner Black Spirit 200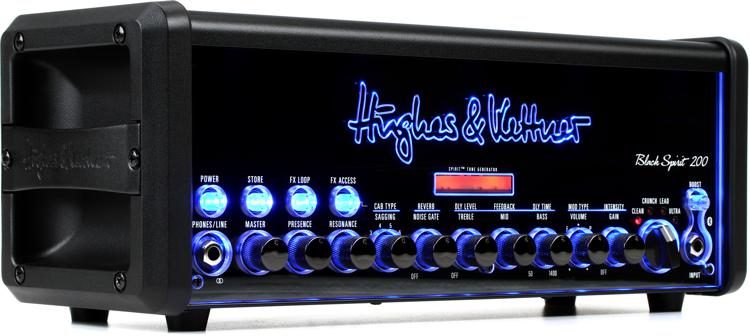 German-based amp manufacturers Hughes & Kettner are well-known for making solid amps and other products with some of the fullest, thickest, and most powerful tones. But just when we thought they can't surprise us after great amp series like Switchblade or Tubemeister, we get the Black Spirit 200 amp head.
This extremely powerful 200-watt amp has four channels on it ñ clean, crunch, lead, and ultra ñ all of which can be tweaked in countless different ways to suit player's needs.
Being a tube amp, it's surprising to know that you can get those full tones even with the master volume even on the lower settings. Besides, there's power attenuation for 20-watt and even 2-watt modes.
As if this wasn't enough, it has an abundance of amp models and a DI output to go straight into the mix.
Here's a demo of the Hughes & Kettner Black Spirit 200 by Ola Englund.
Up next…the MESA/Boogie Mark V.
---
MESA/Boogie Mark V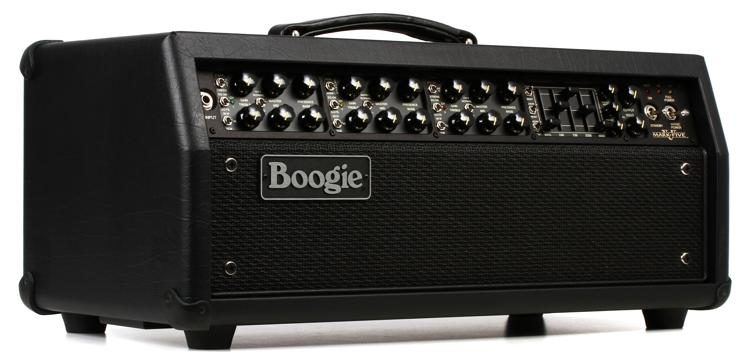 Mesa Boogie is pretty much a standard go-to brand for rock musicians. On their Mark V model, they further developed what they did on their old amps, like the legendary IIC+.
Bear in mind that it's not cheap and that it's designed for professionals. But the abundance of options and the mind-blowing tone is worth it.
Three channels with separate EQ's and voicing controls, 90 watts with 10- and 45-watt options, and even an additional independent switchable 5-band graphic EQ to add more flavor for special lead or rhythm sections.
This amp is a pure beast and something that you should check out.
Here's a demo of the Mesa Boogie Mark V by MESA/Boogie.
Up next…some experts give their take on the question at hand.
---
Guitar Shop Picks
We spoke to Jim Deitzel from Cottonwood Music Emporium in Costa Mesa, California, to see if he had any favourite amps for rock he wanted to recommend. 
Jim says: "The Divided by13 BTR23 is a great amp for rock. It sports KT88 which rock, has a push/pull volume for extra gain.  It works perfectly with pedals and just kills."
Good one!
---
Conclusion
If you are a musician and your goal is to play rock music, these are each amplifiers that you should at least take into consideration, before deciding what amp you really want to go with. 
Amps like these may sound great out of the gate, but there's always new tricks to learn.  Let us know what you consider to be the best amp for rock music in the comments below.
Thanks for reading!