Back in the late 1960's, rock music began going into many different directions. However, one of the new movements stood out and has, later on, evolved into a genre of its own.
Usually considered to be its inventors, Black Sabbath pioneered heavy metal along with Led Zeppelin, Deep Purple, Judas Priest, and a few other bands who rose to fame during the 1970s.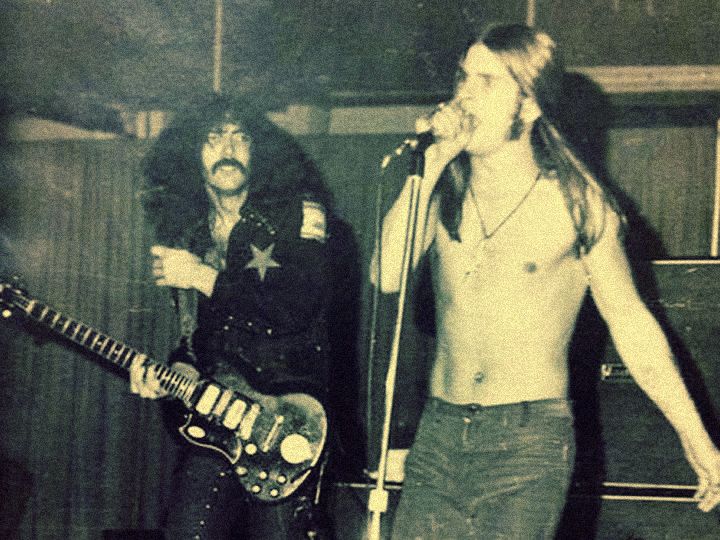 The sinister-sounding guitar riffs and intricate lead sections were enhanced by a huge distorted guitar sound.
Although it was a bit difficult to achieve a great distorted tone back in the day, companies slowly began making great pedals and amplifiers that eventually became of great importance to the genre.
In case you're trying to achieve some seriously sinister tones, here are some of the best amplifiers for heavy metal that you should check out.
Table of Contents:
Let's get into it!
Diezel VH4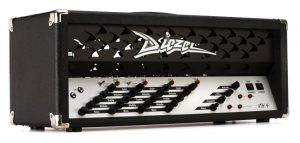 This particular amp became somewhat famous among metal tone lovers after Adam Jones of Tool began using it. Although he uses the "Blueface" version of the VH4, the ones you can buy today are pretty similar. Of course, these are all really expensive amps, but what you get is worth it.
Featuring a peculiar looking front panel, this is an amp with four channels with individual controls and includes four 12AX7 tubes in the preamp section, as well as four JJ KT77 tubes in the power amp section.
Aside from a presence knob that can often be found on other amps, the VH4 also has a "Deep" feature that allows more shaping in the low-end spectrum.
Here's a video demo of the Diezel VH4 100W 4-channel Tube Head by Sweetwater Sound.
Up next…the Randall Thrasher.
Randall Thrasher

Randall is a company known for its high gain metal amps, and the Thrasher 120-watt head is most certainly one of their best products. With its two channels and different parameters, you have solid control over the high gain tones. The addition of the gain boost switch is also very welcome.
Overall, as its name suggests, the Thrasher is designed for the classic thrash metal tones and can achieve both mid-range-heavy and scooped tones. Although its drive works well, Thrasher's clean channel has some great potential if you want to use specific distortion pedals.
Here's a video demo of the Randall Thrasher by Joey Concepcion.
Up next…the Peavey 6505 Plus.
Peavey 6505 Plus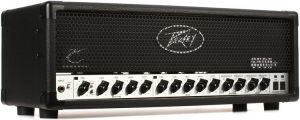 Of course, there's no way to avoid Peavey on a list like this one. Within the huge arsenal they built over the years, we would like to single out 6505 Plus amp head with its 120 watts of power, "Rhythm" and "Lead" channels, and separate detailed controls for both of these.
What's interesting here is that you have pre and post gain controls for specific tone shaping as well as presence and resonance knobs for each of the individual channels.
The "Rhythm" channel also features "Bright" and "Crunch" modes that allow some sparkling clean and specifically overdriven tones. With these, you can even do more than just metal, making it a bit of a diverse product.
Here's a video demo of the Peavey 6505+ 112 Combo by Peavey themselves.
Up next…the Friedman Amplification BE-100.
Friedman Amplification BE-100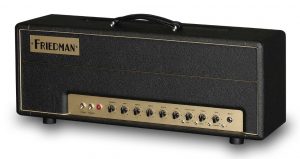 Looking at this amp, it's pretty clear that the model is inspired by some of those vintage British hard rock and metal amps from the 1970s and the 1980s. With the configuration of four 12AX7 and four EL34 tubes, you can expect some of the classic rock and classic metal tones and can even dive into some serious high gain territories.
While the amp is designed for some older metal, it can also satisfy some modern tone tastes. In addition to standard knobs, there are a few switches on it that can further help you define lead and clean tones. There are even different voicing options and the "bright" feature for those sparkling tones.
Here's a video demo of the Friedman BE100 Tube Amp by Sweetwater Sound.
Up next…the Marshall JVM410H.
Marshall JVM410H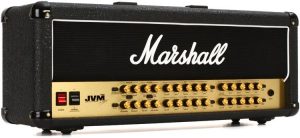 While we're at it, Marshall deserves a mention on the list of the best amps for heavy metal. The company's JVM410H is an interesting piece since it adds the functionality and tonal spectrum to the classic British vibe that these amps are known for.
All of the four channels ñ Clean, Crunch, OD1, and OD2 – have detailed controls for some serious tone shaping. Whatever is the guitar that you're playing, you can get anything from sparkling cleans to crunchy bluesy tones, all the way to screaming metal leads.
However, despite its versatility, the JVM410H is specifically designed for some seriously heavy tones.
Here's a video demo of the Marshall JVM 410H by Guitar Interactive.
Up next…the Orange Brent Hinds Terror.
Orange Brent Hinds Terror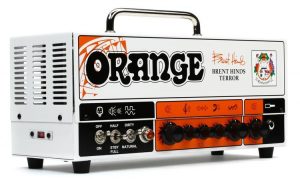 Speaking about metal, there's one pretty interesting piece done in cooperation between Orange Amplification and the modern guitar champion, Mastodon's Brent Hinds. Nicknamed Terror, this 15-watt amp head certainly justifies its name.
However, Orange amps are usually designed for those with specific tastes as the high gain tones often get a bit fuzzy. Of course, this is in no way a bad thing, but it should be noted that they're designated for those who like stoner metal or the early Sabbath vibes.
Aside from its simple layout, this little tube-driven monster has power attenuation. The full power of 15 watts will be enough for gigs and rehearsals, but 7-watt, 1-watt, and 0.5-watt options come in handy for practice sessions and home use.
Here's a video demo of the Orange Brent Hinds Terror by Riffs, Beards & Gear.
Up next…the PRS MT 15 Mark Tremonti.
PRS MT 15 Mark Tremonti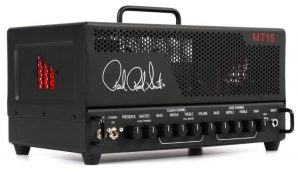 Aside from the signature guitars with the company, Mark Tremonti of Alter Bridge has a signature Paul Reed Smith amp called MT 15. Featuring relatively lower power output, there's an abundance of tones that you can get with the MT 15 and its clean and lead channels.
But what's so great about this one is that it can deliver quality tones even in the highest gain settings. You won't have any issues with those blurry or muddy tones and even some chords will manage to sound good played through the MT 15. Also, there's a power soak option that delivers 7 watts.
Here's a demo of the PRS MT 15 Mark Tremonti Signature Amp from Anderton's Music Co.
Up next…the MESA/Boogie Triple Rectifier.
MESA/Boogie Triple Rectifier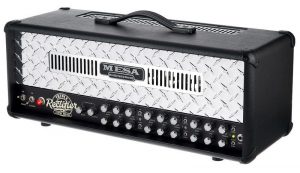 Many would argue that Mesa Boogie is the best amp brand for metal. While this is open for discussion, we're most certainly aware of why this is the case. After all, Mesa Boogie made the famous Triple Rectifier, known for some of the most brutal tones of all time.
While there's an abundance of things that you can do with its three channels and all the knobs and switches, it became famous for its use in heavy metal music. The 150 watts of sheer power will simply blow you away, no matter the specific tones you're trying to dial in.
Here's a video demo of the MESA/Boogie Rectifier by Ola Englund.
Conclusion
Heavy metal is more than just a guitar tone – it's a state of mind. But if you happen to have both going for you, plus some lightning-fast fingers, you'll be unstoppable. Let us know if there's some amps you know of that belong on this list that we missed, we always enjoy hearing from you!
Thanks for reading!