In this article, I chat with my friend Bryan Rogers, self identified ex-mod, about his time growing up in and around the music of London, England, in the late 1950's and early 60's, where he experienced the birth of rock 'n roll in the UK first hand. This was before Beatlemania, so pre-1963…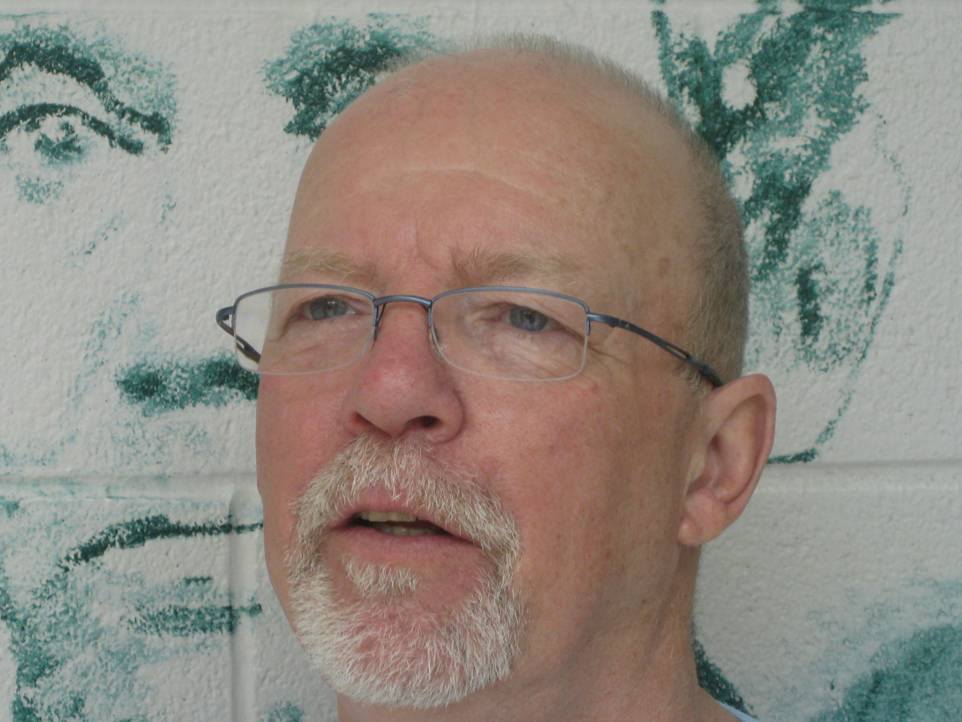 Bryan Rogers was born on the 10th December, 1940, in Hitchin, Hertfordshire, England.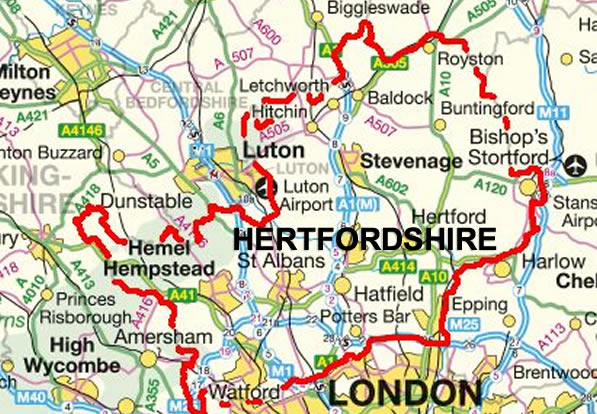 Here he is around age 2.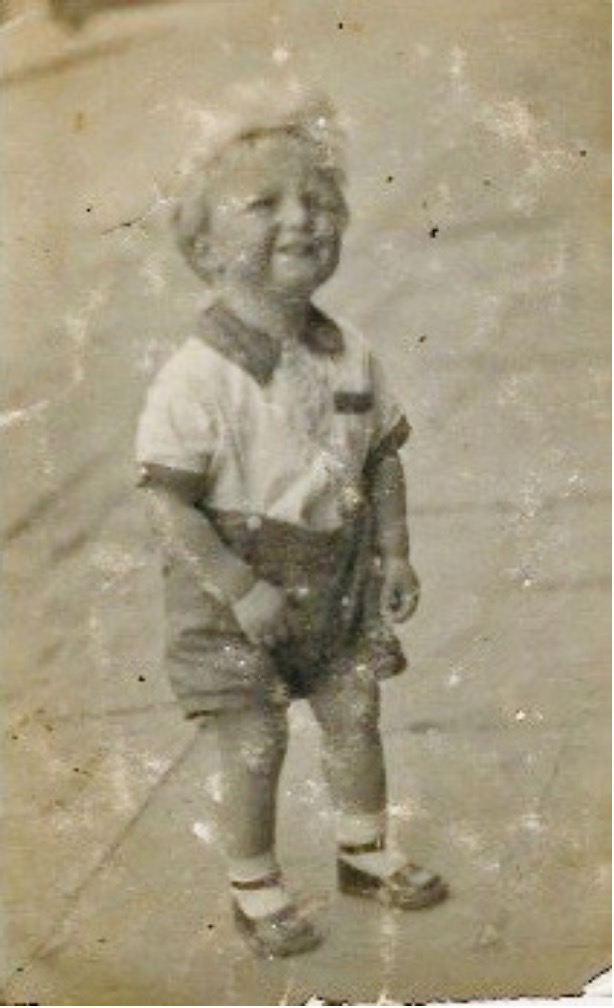 These were the pre-British Invasion days, and Bryan was there in person as bands like The Beatles, The Stones, and many more started playing small dance halls and theatres in and around London, before heading off to America to make it big.
Venues like the Locarno Ballroom in Swindon, the Lyceum in London, McIlroys in Swindon, The Locomotive Pub, Farr's, Gaumont State Kilburn Ballroom, and so forth…these were places that Bryan would frequent to listen to these rock 'n roll groups, whether they played live, or a DJ was there playing records so the teens could boogie-woogie, as it were.
All this was happening around the same time that American rock legends like Bill Haley and the Comets, Buddy Holly and the Crickets, and many others were coming over to the United Kingdom to find new fans in the youth of England, and influencing those British bands who would later "invade" America.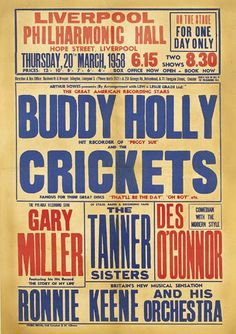 In speaking with Bryan over the years, I'd heard tell of his adventures in and around jolly old England (particularly London), seeing all of these bands and having some first hand encounters with a few of them.
Finally, I had a chance to sit down with Bryan Rogers, and chat with him on the topic of early rock 'n roll in England in the early 1960's, and what all went down back then – the way it was.
Bryan is, by nature, a curious cat, and usually cats live perilous lives, but this cat has fortunately survived to relate his tale to me, who was very interested to hear about his (mis)adventures and dirty deeds over across the pond.
Hope you all enjoy our chat, and if you have any comments or stories of your own, please leave them below!
On 50's music and the 1960 British pop music charts
Bryan: So back in the '50's, it was mundane music compared to what it is today, like Doris Day and Frankie Laine …for Chrissakes!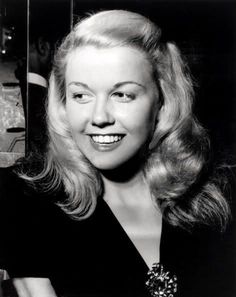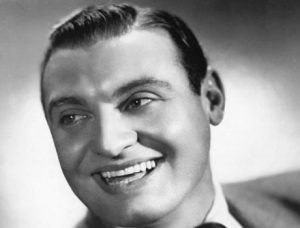 And then there was The Shadows, who were the back-up group for Cliff Richards…they recorded a tune on their own called "Apache", which was a knock off of an American group.
Anthony Newly was another English film star who became a singer, and then there's Shirley Bassey…
Who else we got here? Roy Orbison's in there with "Only The Lonely".
Presley started to pop up around then too. Lonnie Donegan, Emile Ford and the Checkmates. Cliff Richards and the Shadows again, yeah. The Everly Brothers…these people are slowly coming on…yeah, these are the British, not the American charts, mind you.
And then there was people like Tommy Steele, who wanted to be American, like Elvis Presley, but he never was.
YTMS: Tommy Steele, never heard of him. Was he really famous?
Bryan: In England, he was…he was on a merchant ship, and he learned how to the play the guitar, so he sung a few songs…became a big hit. Because people like Bob Dylan were on the go, right?
YTMS: So he was a troubadour kind of guy?
Bryan: He was a folk singer…
YTMS: Big changes in music between 1960 and 1970…
Bryan: Yeah, the whole British Invasion happened. The Animals, Freddy and the Dreamers, The Kinks, and all those groups. I think The Animals come from Newcastle…
Seeing Rock Bands in the Early 1960's (Pre-Beatlemania)
YTMS: When you were growing up over there in England, you saw a lot of these groups when they first came up?
Bryan: Yes, at the local dance hall, on a Saturday, they'd come and play, and we'd dance to them.
YTMS: What was the place called?
Bryan: The Locarno Ballroom, in Swindon.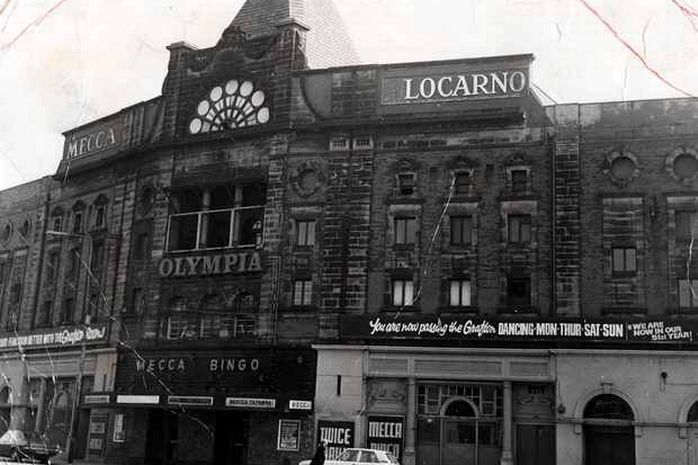 YTMS: Locarna?
Bryan: Locarno.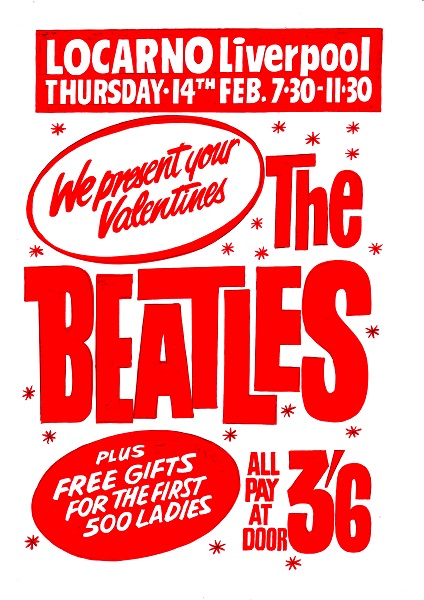 YTMS: How big was it?
Bryan: Probably …
YTMS: 1000 people or so?
Bryan: Yeah. I'd also go to the Lyceum Theatre, in London, just off the Strand, in the center of London. It was all mainly records there.
YTMS: Just records?
Bryan: DJ's, yeah.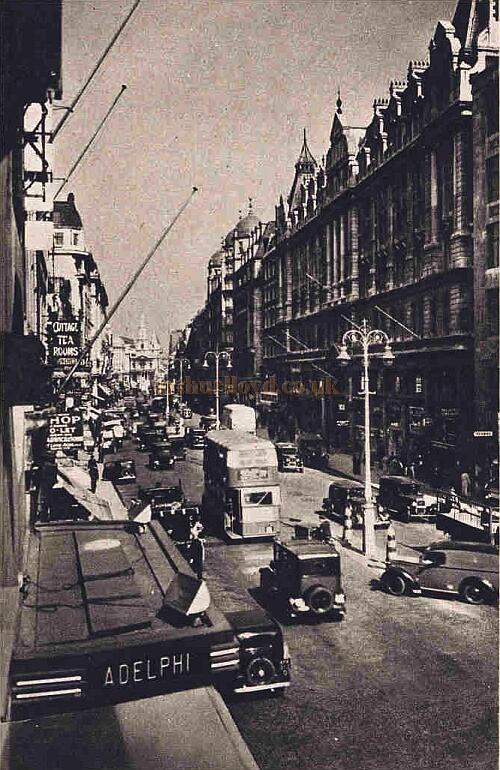 YTMS: Any bands there?
Bryan: No.
YTMS: Ah, it was just a dance club, not really a venue for live bands to play.
Bryan: Right.
YTMS: So where did you start seeing actual bands play, and when?
Bryan: Most of the people from that time, most of the bands…like The Undertakers, that was one of 'em…because of the success of The Beatles and The Stones, bands started coming around to the dance halls to play.
Some of these groups found success, like Freddy and the Dreamers.. I didn't really like them, but there you go. Uh, who else? There was the Dave Clarke Five.
YTMS: They were a rock group?
Bryan: Yeah. "Bits and Pieces" was one of their songs. "Glad All Over" was another one of their hits. They come from Tottenham area of London.
YTMS: So they played at the Locarno?
Bryan: No, but I saw them play in Tottenham.
YTMS: You'd travel around to see bands play?
Bryan: Oh yeah. When I was livin' in London, I had a scooter, and I'd tour around to the different city halls, dance halls…
YTMS: How far would you go to see a group?
Bryan: Half way across London.
YTMS: Really?
Bryan: Yeah, and London's a big place.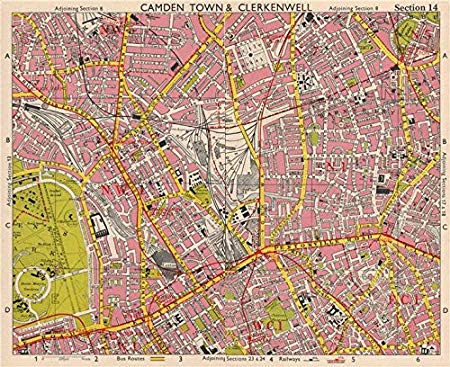 YTMS: Just scoot on over?
Bryan: Yeah, Seven Sisters Road… just down the road from the stadium, there was a pub on the corner… at the pub, they'd have these dances, play all these pop songs…
YTMS: You were big on the clubs at the time around there? You and your friends?
Bryan: Yeah…we'd hang out at Baker Street, which is in the book about Sherlock Holmes. 22B Baker Street.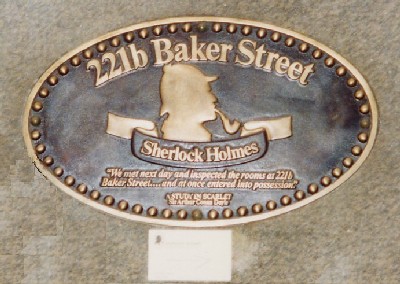 I used to go to a club called Farr's. F A double R apostrophe S, Farr's. We were about 14 or 15 then. So we'd go there, and we used to have tailor-made suits.
YTMS: Really?
Bryan: Ok, here's the scoop. My friend Dennis and me.. Dennis lived down the road from me.. and he says, "Bryan, do ya want a job?" Paperboy…I said "Sure." We had to walk two miles up the road, to this place called Ellington's. We go straight up Carlton Vale, and if you'd continue up Carlton Vale, at the end is a T junction, and that's Abbey Road. THE Abbey Road.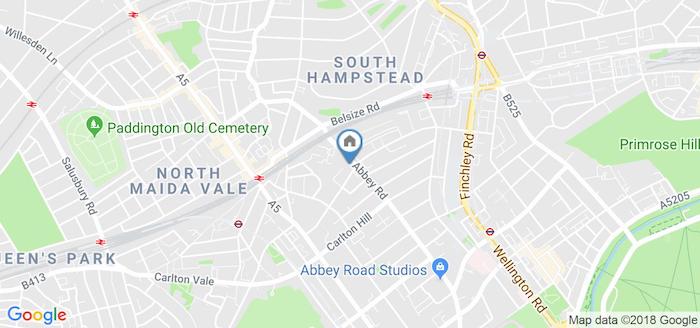 So, prior to coming to Abbey Road, on Carlton Vale, we turn right on Maida Vale I believe it was, and we'd walk along there, and turn left, across from Maida Vale underground, and there was Ellington's. So, we were paid to mark up the papers, like, everybody in England had the morning paper. We'd get the address for some apartment building, or "mansions" as we called 'em, take a Daily Mirror paper and a Women's Own magazine, put them together, write the address down, fold them, put them aside, and a paper boy or girl would come and take them.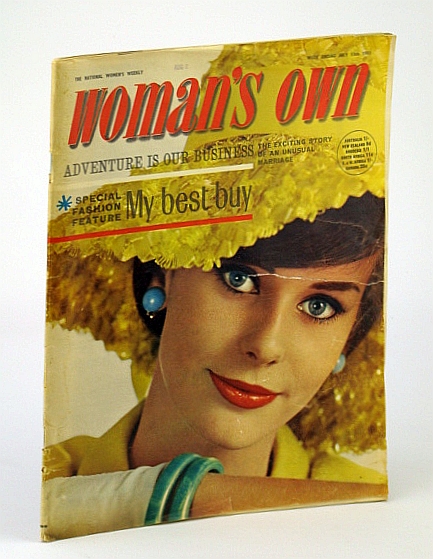 So we used to mark up the paper rounds, and we also had a round of our own. Now, let's put it in dollars, it'll be easier to understand. They were pre-paid, say, 50 cents a week to deliver papers…
YTMS: Ok…
Bryan: Dennis and I would get, say, 3 dollars a week to mark up the papers every morning to deliver a round, and our own round as well. A suit back then, it used to be guineas, would be, say, around about 17 dollars for a tailor made suit. So we were makin' 3 bucks… what do you think we'd spend our money on? Sharp linen. So when we're 14, we'd save our money. And another thing, we'd have a con game going. We'd go around to all these different apartment buildings, or mansions, that we knew were the other paper boys' routes… knock on the door every Christmas, tell 'em we were the paper boy…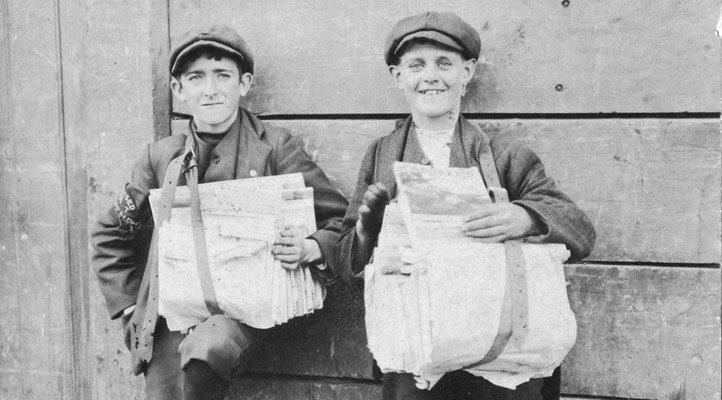 YTMS:
Bryan: …and they would give us a tip. Maybe 50 cents or a dollar.
YTMS: That's pretty good…
Bryan: So that used to go towards our suit fund. Twice a year we'd have tailor-made suits!
YTMS: Wow!
Bryan: Yeah.
YTMS: You bought more than one I guess…had a whole wardrobe full of 'em?
Bryan: Yeah. Dennis had some overcoats made, but I never got those.
On Becoming A Mod
YTMS: What were you guys like you called?
Bryan: Mods. We had the short hair.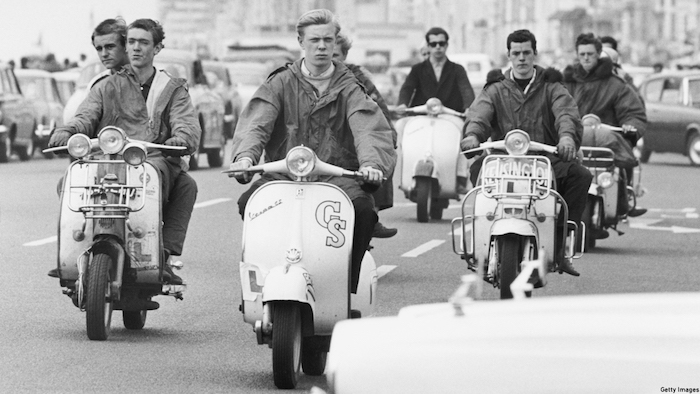 YTMS: You were trying to be a mod on purpose?
Bryan: We never thought about it at the time, but yeah. We'd pick up some shoes, they were tapered. Pointy, tapered shoes. Fake crocodile skin…We had flared trousers…
YTMS: Yeah…
Bryan: …with a little slit on the side at the bottom. And maybe 2 or 3 covered buttons going up the seam on our jackets. Single or double breasted, covered buttons, as well.
YTMS: Hm…This is what it was like to be a mod. Any other defining characteristics?
Bryan: We had short jackets.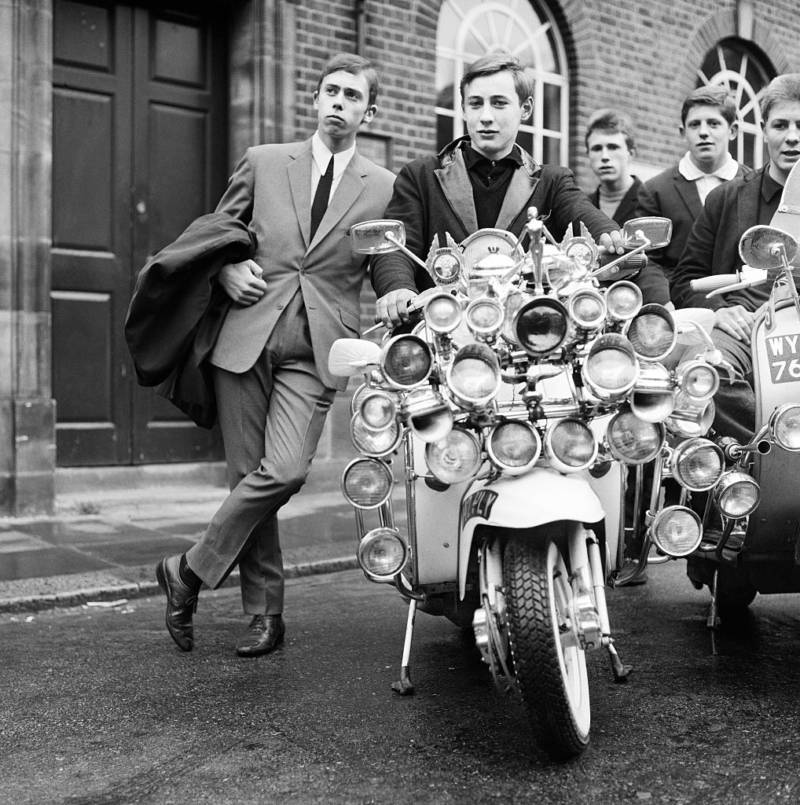 YTMS: Does that mean you were cool?
Bryan: Yeah, we were with it.
YTMS: Tough?
Bryan: No, no, no. We had our own little clan, and we'd gyrate together, at these dance halls.
YTMS: Yeah, yeah.
Bryan: Now, if there's any "teddy boys" around, or "rockers"…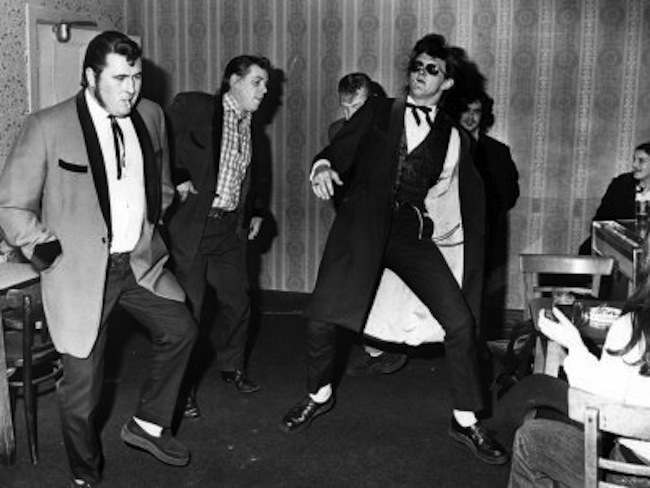 YTMS: Is that what the other guys were called?
Bryan: Yes. Now, they wore jackets down to their knees…black velvet collars…and had really tight jeans on. And they had these boots called "chukka boots". They used to have crimped soles about that thick , black or dark blue.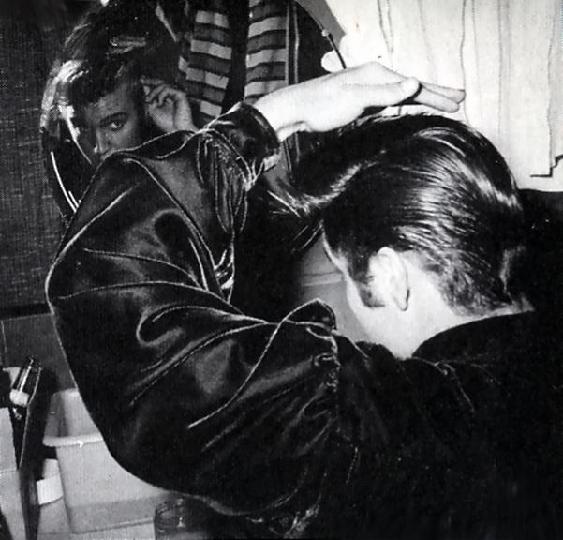 Bryan: So imagine – big pairs of boots and long jacket with hair down back, like Presley, you know.. a D.A. .. Tony Curtis, you know.. film star.. he had that down there, and that was called a duck's ass. Parted down the middle, it all come down.. and then a quiff over here …So they were teddy boys, yeah. And if we ever met… it was a punch up. Sometimes, we'd get on our scooters, and we'd drive down to Bornemouth or Brighton..south end, that's on the coast…and we see any rockers, it them or us.. we'd go for it.. like Quadrophelia.
YTMS: Did you go looking for 'em?
Bryan: Nah.
YTMS: Were you worried about seeing them?
Bryan: No, there was usually more of us than them.
YTMS: Were there a lot of fights?
Bryan: Just now and again, not that often.
YTMS: People get stabbed?
Bryan: No, no. But, prior to that, the teddy boys…they used to have razor blades, put them in their collar, or in their hat. That was their weapon of choice – a razor.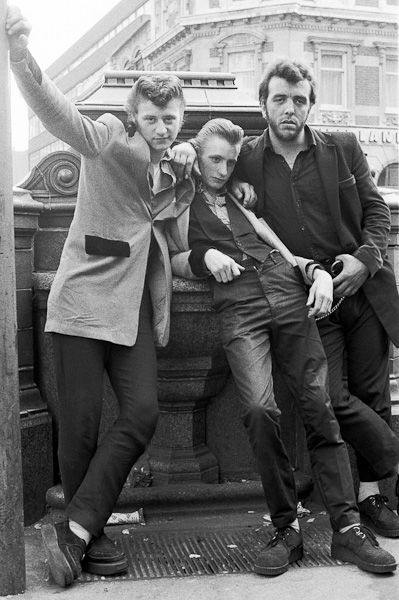 YTMS: Sounds dangerous…
Bryan. So I come in at the end of the teddy boy era, basically, and at the beginning of the mod era. Which was good…I prefer to dress smart than scruffy with messy hair.
YTMS: Did that work better with the birds?
Bryan: The birds, yeah…
YTMS: Did the girls like rockers or mods better?
Bryan: The mod girls liked the mod boys and same with the rockers. You could tell by looking at somebody who was who.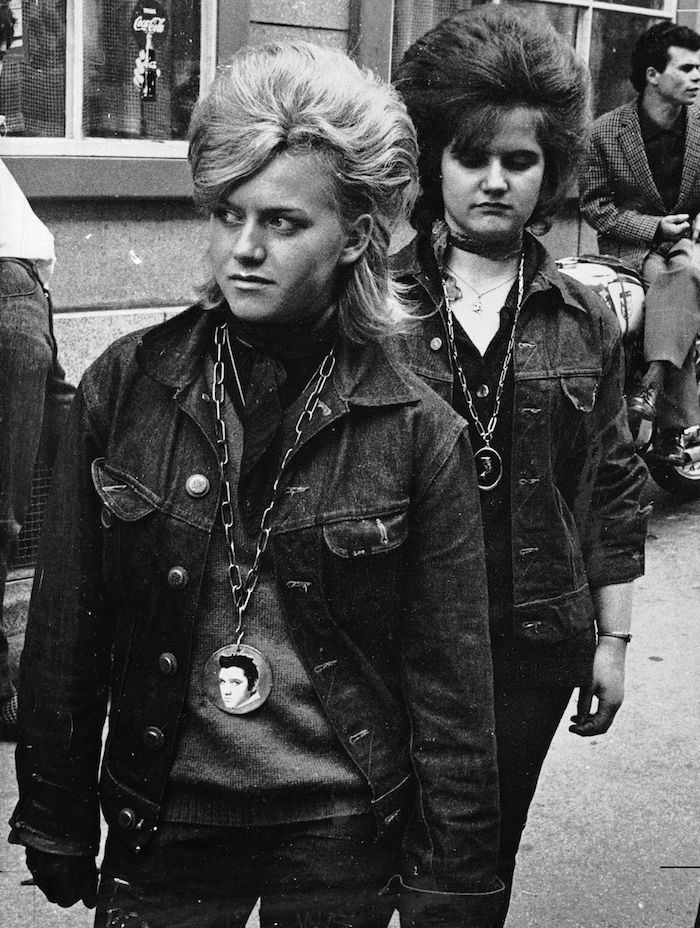 YTMS: Did mods and rockers ever get together.
Bryan: Probably…well… I doubt it.
YTMS: So for bands at that time, who did you see?
Bryan: Prior to going down to the town Swindon where the Locarno was, I told you before I went to the Gaumont State Kilburn. It could hold 4000 people.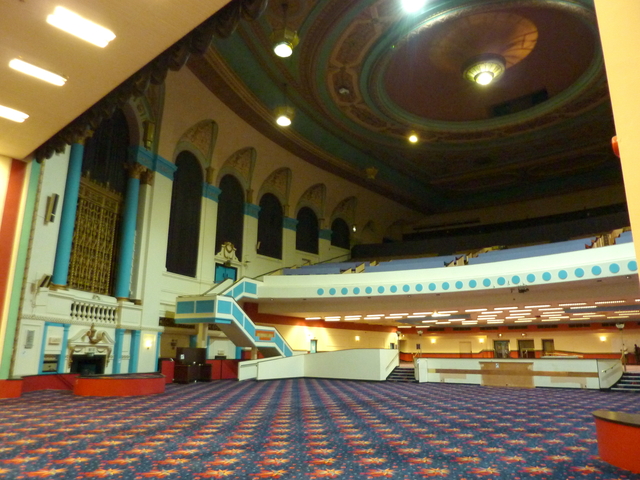 Guy Mitchell was in that early list here . Singin' the blues, we went and saw him. When I was a young kid, every time I'd go by this theatre, I'd see Louie Armstrong would be advertised, Ella Fitzgerald, all the jazz people, yeah.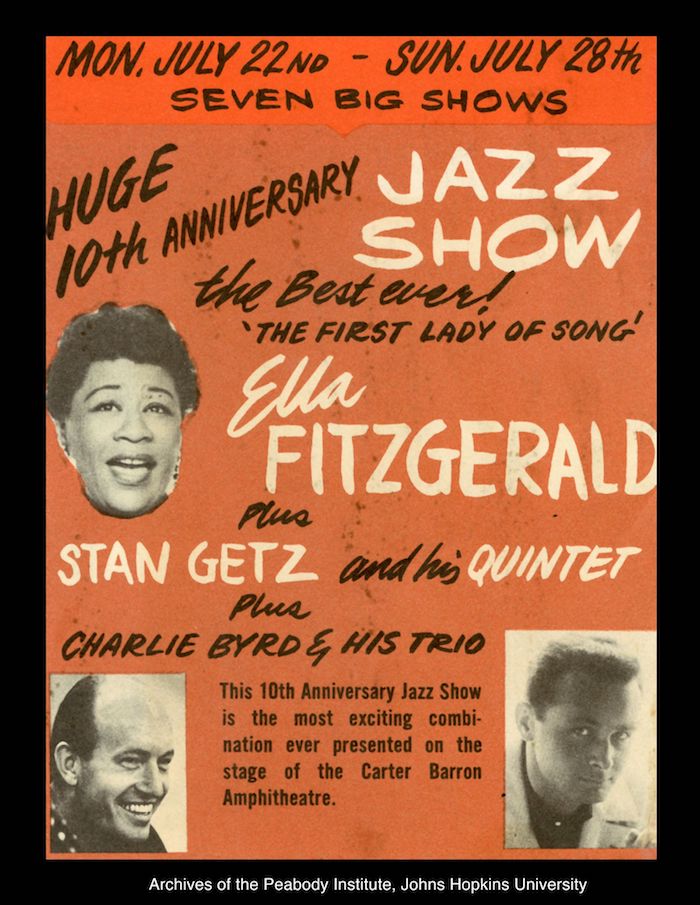 YTMS: Did you check them out?
Bryan: No, we were too young. Maybe 10 or 11.
YTMS: Not interested?
Bryan: No. And then we went up and we saw Guy Mitchell. We went and saw Bill Haley. I've told you this in the past.
Barging In On The Platters
And then, we saw The Platters. You've heard of them?
YTMS: Yeah.
Bryan: So we said, let's see if we can get in backstage and see them. Well, lo and behold, the first door we tried – it opened. You don't usually… We pushed on the door and it opened. As we walked in, The Platters were there, as close as you are…there they were! I thought the girl was pretty.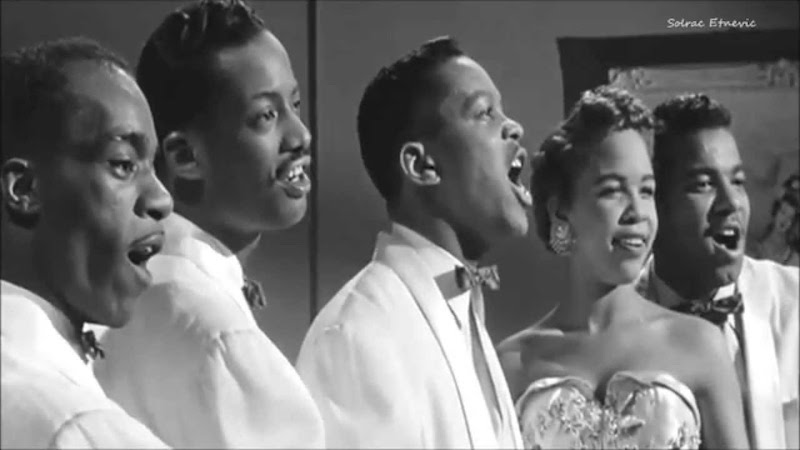 They stood and looked at us, we stood and looked at them. Nobody said a word. Then somebody goes, "Hey, what the f*** you doin' here, get the f*** out of here! And we were gone!
But…not only did they have this little stage at the state theatre, but they had this little dance area…and Gene Vincent came in…and he sung there. Be Bop A Lula. And that was another person who I told you before that you are aware of…The Beatles liked him. They all followed these guys.
YTMS: This is pre-Beatlemania? '62?
Bryan: Maybe a little before that.
YTMS: Did you ever end up seeing those big British bands. The Beatles, The Who?
Seeing The Beatles
Bryan: No, never followed The Who. I saw The Beatles and The Stones in Swindon. It was like an Eaton's store, and they had a restaurant on the second floor…and on a Monday night, they used to have groups there. Or lone singers…and this was prior to The Beatles becoming famous, they were there…The Rolling Stones another week. Long John Baldry was there. He was there, he was talking to this guy, he had a woman with him, and I was there with my friend Dave…and we could hear everything they were saying, we were standing by the bar…
YTMS: Didn't you tell me some weird story about this guy?
Bryan: Yes, I did. So after a long conversation, this guy says to Long John Baldry, "Who's the girl?" and Long John Baldry turns to the girl and says, "What's your name again?" So, all these singers at the time, they all knew one another… they used to meet up. Elton John got his name…it's allegedly said… they were lovers, Elton John and Long John Baldry. I heard this many years later, on the radio.. and…they split up, Long John Baldry dumped Elton John.. his real name was something like "Jimmy"…
YTMS: Reggie…
Bryan: Reggie something-or-other, yeah yeah…so, he changed his name, and because he liked Long John Baldry, he called himself John…this is the rumour, anyway…where he got Elton from, I don't know…but it's been successful for him.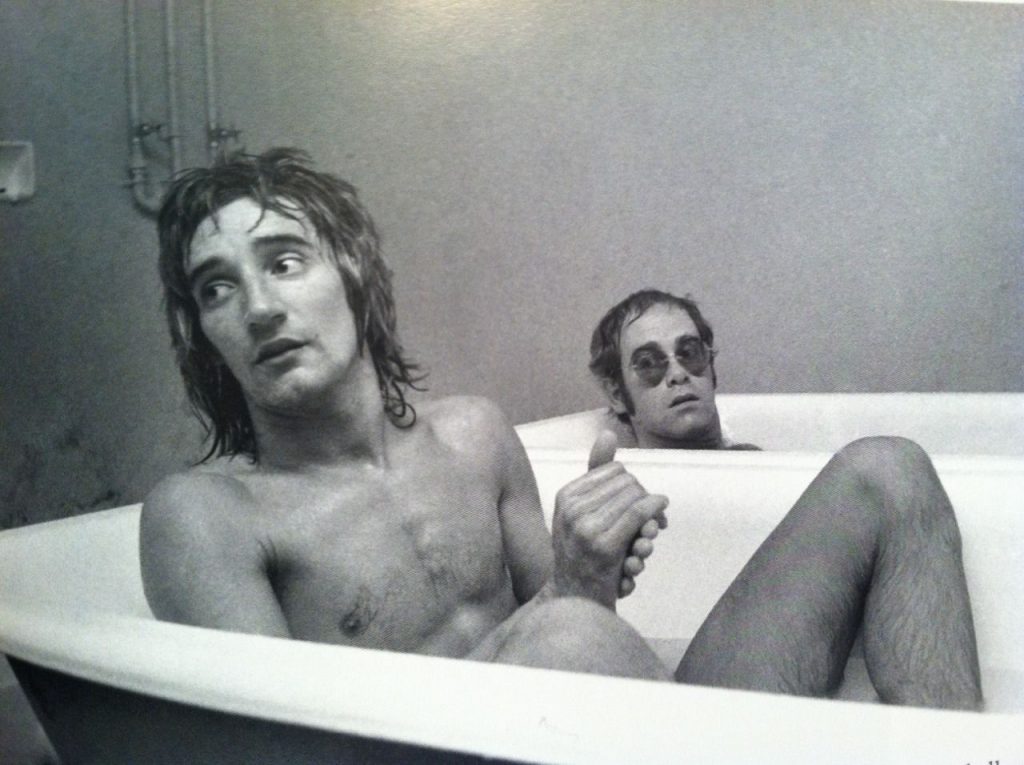 YTMS: Yeah…
Long John Baldry Reuinion (Many Years Later)
Bryan: So, fast forward to a few years ago in Cambridge. There was a bar over by Soper Park and Highway 8. There was a little blues bar in there.
YTMS: The Cave?
Bryan: No, that little plaza with the pizza place. Around the corner, they had a blues bar. And Martin says to me, cause he was workin' there…he says, "Dad, come, Long John Baldry's here! Why don't you come and see him?" So I went and saw him…he had this hat on, he always had this thing for a hat… and long hair now…When he was at Swindon, he wasn't wearing a hat when he was talking to that guy and that gal, and he had short hair…blonde hair…he was a tall guy, about 6'4″, maybe taller. That's why they called him Long John, I guess. He was in this blues bar here and Cambridge and I went to see him…And, as he walked towards the dressing room I went to speak to him…
YTMS: He didn't remember you, did he?
Bryan: No, no…I just wanted to say "Hey, I saw you in Swindon!", but he just poo-poo'd me away and went into the dressing room. So Martin spoke to him after the band were done for the night. He said "Yeah, I remember Swindon, yeah" But I didn't know he was gay 'til Martin mentioned it.
YTMS: Really?
Bryan: I had no f***** idea.
YTMS: He came to Cambridge (Ontario)?
Bryan: Yeah, he came and sung in that bar.
YTMS: Wow.
Bryan: To me it's the end of the road if you're singin' there. But, he was known by a lot of people.
YTMS: Yeah, he was famous.
Bryan: Yeah…I've got all these books here about all these different musical groups, and now and again they'll cross paths.
McIlroy's in Swindon
YTMS: So what was that place that was in Swindon, the restaurant?
Bryan: Yeah, on Monday nights it was a dance club, and during the day, a restaurant. One night, we saw Jerry and the Pacemakers. The place was called McIlroy's.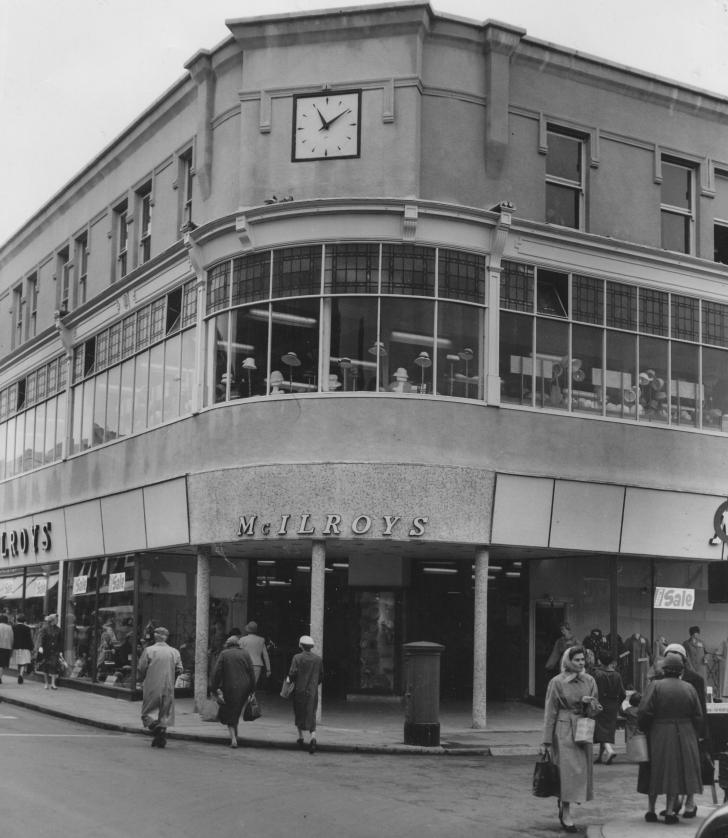 YTMS: Was this a cool place to play?
Bryan: Yeah, and it probably held about 500 people. And a lot of the performers came there just when they were getting famous, or prior to.
YTMS: The Stones played there?
Bryan: Yep. This was before they were locked in a room and told not to come out before you write a f***** hit song.
Bryan: If you look up McIlroy's in Swindon, you'll see some of the flyers of the Beatles and the Stones.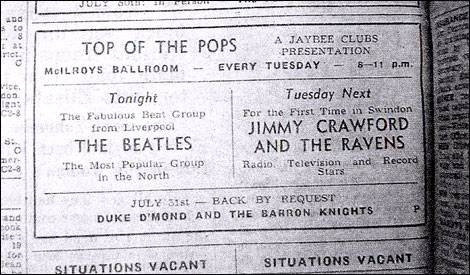 YTMS: You were allowed in to this place, at 14, 15?
Bryan: Yeah, there was no booze. Actually, maybe there was. You used to be able to drink at the Locarno. I was 19 or 20 then. But you could drink when you were 16…there were no drugs back then. No one talked about them, and they didn't even really exist to us. The only people doing drugs were the groups – the Beatles and the Stones. In the circle of people I moved with within London, and within Swindon, we didn't do drugs. We didn't have a clue.
YTMS: Probably for the best…
Bryan: I remember…I used to hang out with a guy named Eric Heaton. We eventually had an apartment between us, and had all the birds over. We had a friend, Willie, who used to hang out at Locomotive pub in Swindon.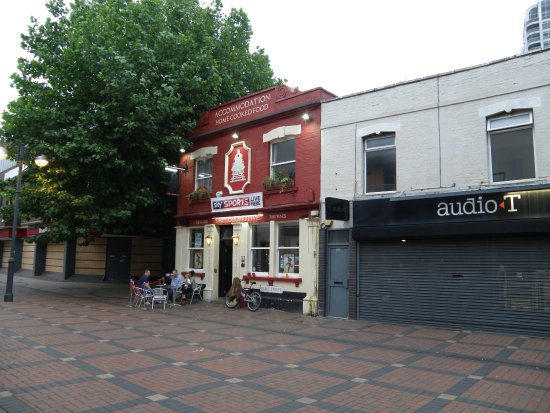 Eric used to go there more than I did. One time, we finished drinking in there, they closed the bar. Willie says "Come on boys, let's go back to my place and have some carrot wine." "No," i said…I'd had some of my mother's homemade wine, knocks the s*** right outta ya. "No, no," he says, laughing like a crazy Irishman. So we go back to his place and have some carrot wine, on top of all the beer we drank. Then we staggered up the hill, until we got to the flat we were livin' in. I laid on the bed, and the f***** room was goin' round and round. Then I had to throw up, so I fell off the bed, got on my hands and knees, and crawled round to the bathroom. Oh, that carrot wine!
YTMS: I never heard of carrot wine.
Bryan: Brutal. So those groups back then, we'd watch them, and after a while we'd dance to them. They were pretty cool.
YTMS: Were you a fan of the American bands when they came to England?
Bryan: We might have seen a few of them.
Jerry Lee Lewis – No Encore?
YTMS: Didn't you say you saw Buddy Holly?
Bryan: Buddy Holly was when I lived in London, and went to the Gaumont State Kilburn.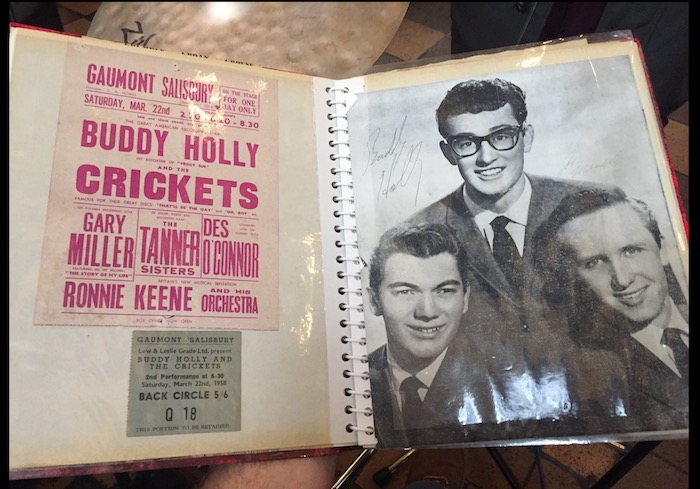 Like I said, the first guy we saw was Guy Mitchell. "Singing The Blues" – that was his big hit song. After that, it was Bill Haley and the Comets, and then Buddy Holly and the Crickets, and then there was Jerry Lee Lewis. I checked on this – he only sung in three concerts, and that was it.
YTMS: In the UK?
Bryan: Yeah, the press gave him a hard time, cause he had married his 13-year-old cousin. But I read many years ago in about 1980, in the Penthouse or Playboy, I was reading that, and here's an article on Jerry Lee Lewis, and then there was a paragraph about Jerry Lee singing at the State Kilburn, and it said we boo'ed him off the stage, because he married his 13-year-old cousin. It wasn't because of that. We listened to him…he did his bit, and here's the reason why we boo'ed him…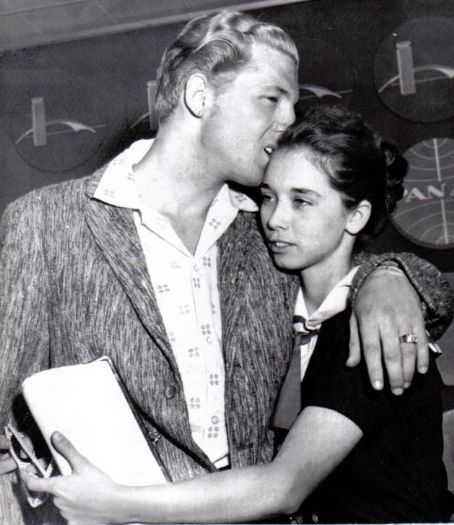 YTMS: Why?
Bryan: Why do you think?
YTMS: He sucked?
Bryan: No, he was fabulous. It was because he left the stage, and wouldn't come back and do an encore. NO ENCORE. And another guy that would not play an encore was Roy Orbison. When I used to ride my scooter around London with my pals, we'd see tour posters with Roy Orbison and the Everly Brothers…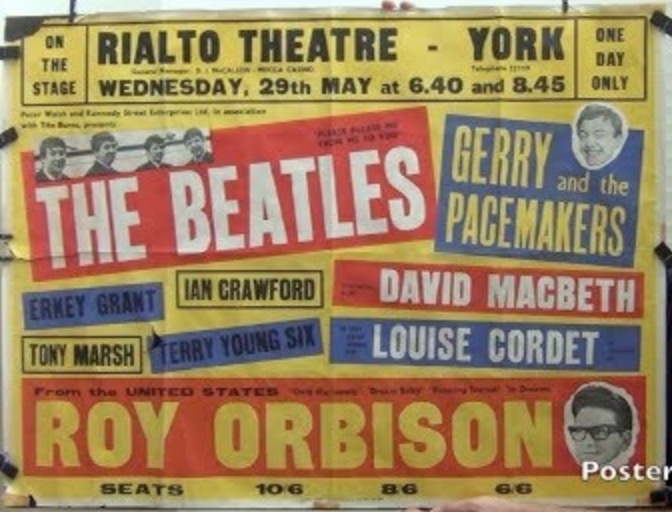 But you know, they were the best of times, the 60's, and all those groups. There wasn't 1 group, or 2 groups…we used to have parties at my house, with my parents.
After the British Legion closed on a Saturday night, people come over and we'd play records like Little Eva "Locomotion", The Beatles, The Stones, and whoever else was popular at the time.
They were good parties, they really were, and then we'd sit around and play cards afterwards, drinkin' my mothers' home made wine. Then I'd get up and say "Holy f***! It's broad daylight!" and everybody'd be gone…
And so concluded my chat with ex-mod Bryan Rogers. Stay tuned, we may yet chat again!
Read about Bryan Rogers' life story – http://imnotadoctorbutillhavealook.com