Anyone's top 10 list of C64 game music is bound to feature a few efforts by Matt Gray, with a long and engrossing list of tracks to his name ranging from the legendary The Last Ninja 2 to the likes of Tusker and Hunter's Moon.
Quedex
Quedex was his first published work for Thalamus' puzzler featuring a chrome ball having to overcome a lot of tricky levels in 1987.
Coming a little later to the scene than many of the musical heroes we've covered, he knew the bar was set very high and aimed to top, or at least match them with a blistering mix of modern sounds.
Quedex was scratchy, fast-paced, and had an insistent hook with plenty of bass.
Driller
Gray's follow up was the music for Driller, a 3D game with destructible scenery that helped raise the profile of polygons and set up the 16-bit generation as the must-play system.
Even so, the C-64 soundtrack was an epic that could grace any sci-fi film today, with strident tones and perfect pacing for the levels where mining was a tactical puzzle as part of the game.
Hunter Moon
With more work heading his way, based on the success of those early efforts, Hunter's Moon was one of the next projects.
With Gray showing he was king of the loading screen and those initial pieces of music that kept gamer's rapt as the slow but sure tape loader crept along.
Hunter's Moon packed in plenty of depth to the track with amazing levels of fidelity for the SID chip. The shooter/puzzler lacked in-game music, but every other part of the game was an aural delight.
Treasure Island Dizzy
Most of Matt's game music was for titles that had a darker, edgier side to them, but he was able to play to a lighter audience with the soundtrack to Treasure Island Dizzy from Codemasters.
The eggy hero has always been one of the jollier characters in gaming, and his music, still with depth and some complexity helped bring this episode of the series to life.
Rambo First Blood Part 2
A lot of Gray's music has been remade by fans, and the man himself has always worked on remakes of other artists' work, such as this example of Rambo First Blood Part 2, originally by Martin Galway.
This all helps keep the community alive and interest in both the games and the soundtracks that people loved.
Matt's story ended on a sour note in the games industry, when working on the NES version of Micro Machines, he was promised a credit and royalty on sales, none of which emerged, causing him to leave the scene.
But, many years on, the man and his music is back, which brings us to the man's latest project.
Matt Gray's C64-Era Tunes for the Modern Age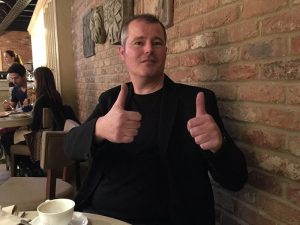 Some musicians faded away from the gaming scene, others went on to do bigger, bolder work in different media. But, once a tune is exposed to the world through thousands or millions of sales, it never dies.
The Last Ninja
So, the musicians are remembered and, sometimes, they bring back their memories for a new listening audience. Matt Gray's Reformation was a successful Kickstarter project, raising over $100,000 to get the tunes from The Last Ninja and more to a modern composition standard.
Check out some of the tunes on Soundcloud and hear them in a whole new light, while the originals, both his own work and those of other famous C64 music artists, will never fade these are truly something you can listen to in the car on on run without anyone looking at you in a funny way.