This revival has brought back a fun, unique instrument that can be used to play a variety of musical styles. The beauty of an instrument is finding one you love and adapting your favorite songs to the tone of the instrument itself.
That's before you start writing your own songs and playing them on the instruments.
Specifications
Remo Head
Closed chrome tuners
Drum size 8.46 inches
Length 23.03 inches
Sapele mahogany
Rosewood fingerboard
Tuner included
Zippered bag
First Impressions of the Kmise 4-String Banjolele
The Kmise 4-String Banjolele is constructed from quality tone woods that will bring a rich sound to your music. It's a beautiful-looking instrument that sounds even better than it looks.
It doesn't seem possible, but it's true. When you first strum the strings of this instrument (after tuning, of course), you'll be blown away by the sound it produces.
After some time learning the chords, the next people blown away by the sound will by your appreciative audience.
As a banjo ukulele, it has a unique sound. While it leans towards the banjo side of sound, it is a blend of sounds that will be something nobody else in your circle has heard before.
As a musician, you likely want to do something different than all your friends. It'll help you in a group or a band if you can do something aside from strumming a guitar like everyone else.
Required Setup
When you receive any instrument in a box from the manufacturer, you're going to need to make some adjustments like fixing the bridge. If the company left the bridge in place with tightened strings, you'd end up with a broken instrument when you lifted it out of the box.
While we'd normally recommend that you take this untuned banjolele to a professional to tune for you, this instrument comes with a tuner.
You can easily learn to tune the banjolele yourself. Once you've learned to tune an instrument, you won't have to rely on anyone else to tune any of your instruments.
The bridge is easily slipped under the strings. Turn it sideways then flip it upright once it's under the strings. Each string will be cradled in one of the grooves.
You might have to loosen the strings to get the bridge under it, but then you can tighten them to hold the bridge.
Instrument Materials
The instrument's fretboard is made from a material that is traditionally used for these parts of stringed instruments. That material is rosewood.
Kmise 4 String Banjo Ukulele Uke Concert 23 Inch Size Sapele With Bag Tuner

Gold Tone Little Gem Ukes 4-String Ukulele Right, Blue Lg-S

Tfw Banjolele Starter Kit – With Case And Accessories

Luna 8″ Banjolele With Ulu Design, Tobacco Burst

The rest of the banjolele is made from a wood that isn't as common, which is Sapele mahogany. It's a hardwood that is used to replace mahogany in some cases.
It's originally from tropical Africa, and has an interlocked, wavy pattern that resembles the mahogany that many instrument creators use in their production.
Along with being a great tone wood, it's a material that is very durable and resists decay. That's important in an instrument since you want it to last for years.
You could easily pass this down to your children after you're done with it, or when you've moved on to a more expensive instrument.
Remo Head for the Banjolele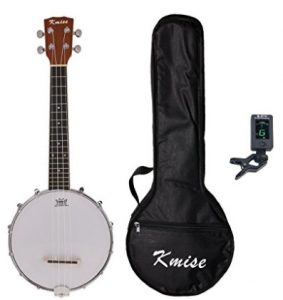 When you purchase a banjolele, you can expect it to have a head stretched across a rim. This part of the instrument is what resembles a banjo.
It's also where the resonator is attached if the banjolele comes with one. They usually do. The Remo head on this Kmise Banjolele measures 8.46 inches.
Resonator or Open Back
The Kmise Banjolele has a resonator to increase the volume of the sound produced with this instrument. The resonator is normally used to increase the volume and project the sound forward towards the listener.
There isn't really another reason to have a resonator. Some people like having the extra volume while others would rather not have one. Most resonators can be removed quite easily to change the sound.
Frequently Asked Questions
How is the banjolele tuned?
The tuning is G-C-E-A.
How much does the instrument weigh?
The banjolele is incredibly lightweight. It weighs 3.84 pounds.
Is there anything else included with the banjolele?
The instrument comes with a tuner as well as a zippered bag for carrying the instrument.
Conclusion
This banjolele from Kmise is a beautiful instrument that melds the best parts of the banjo and ukulele to create a unique instrument that you'll thoroughly enjoy playing with friends or your band.
Once you learn to make music on this instrument, everyone will want to see you perform with it. It's also lightweight enough to be taken everywhere you might want to go.