In every generation of musicians, there will be a couple of those that stand out from the rest. It's the type of artist you can instantly know will reach the stars, and become one of the best in their respective fields.
During the '60s we had Jimi Hendrix while the next decade was all about Eric Clapton. Today, one name that definitely has the necessary potential to join the rock and roll hall of fame is John Mayer.
Whether or not you like his music, you have to admit that he has some serious skill in his fingertips. Not only that, but he can sing as well. What makes Mayer so special is his ability to fuse various genres of music in a way that actually sounds great.
With that said, a lot of people are wondering just what kind of gear is necessary to replicate his tone. As you are about to find out, Mayer uses a pretty standard setup which makes it easy to dial in his sound for the rest of us.
We are going to go over his guitars, amps and effects pedals today, which should give you a clear enough picture of what his tone is made of. Without further ado, let's get on it.
Rig Rundown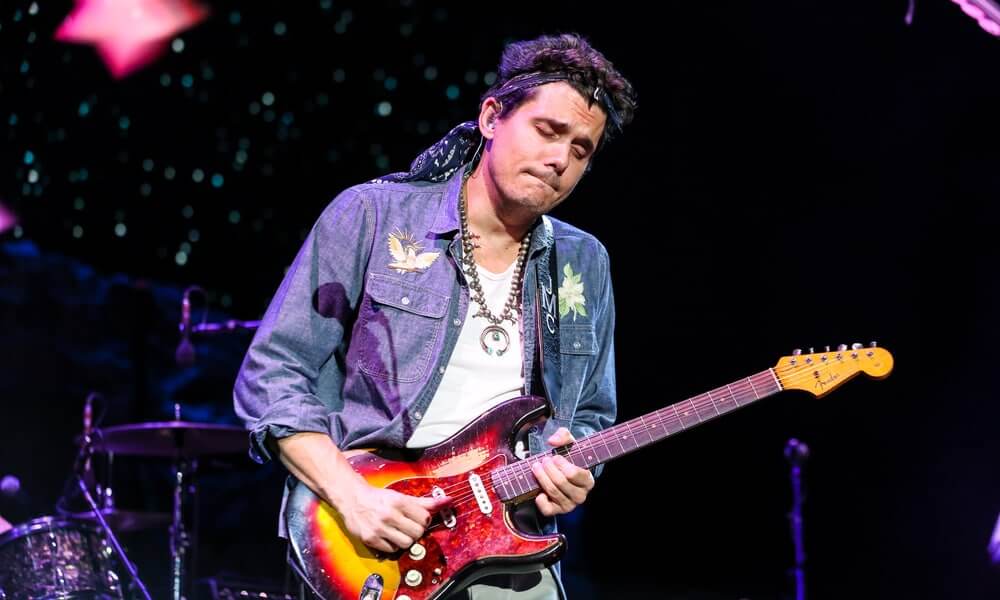 If you really think about it, most of the modern guitar wizards can be divided into two types. There are going to be those who are heavily dependent on various equipment to create their sound, and then there are those who like a more basic setup.
Mayer is somewhere in the middle. His pedalboard is definitely saturated with different pedals, but most of them fall within what you could consider as average. On that note, let's check out what kind of guitars Mayer is playing these days.
Table of Contents:
Let's dig in!
Prs John Mayer Silver Sky Signature Series Electric Guitar Horizon W/Gig Bag An

Ibanez Ts808 Overdrive Pedal

Uk, Hong Kong, Ireland Travel Adapter Plug By Ceptics – Usa Input

Favorite Guitars
John Mayer is a huge guitar collector. On any given performance, he will have at least 10 to 20 guitars backstage, sometimes even more.
If you look closely at any of his long shows, he has a specific guitar that he uses for each song. With that said, it's no secret that he's a Stratocaster fan.
Mayer owns a number of Strats, including several of his signature models. His very first one was the Fender Stratocaster SRV Signature model which he got while still working at a gas station.
At that moment, he probably didn't even think that one day he would have his own signature Strat.
Aside from his Stratocasters, Mayer loves a good Gibson tone from time to time. You will often times see a Gibson SG Stardard T in his active lineup, although there are some Les Pauls in there as well.
As of late, Mayer turned heads by rocking a PRS Silver Sky, adding yet another range of slick guitar tones to his sonic arsenal.
In terms of acoustic guitars, Mayer has a signature model Martin OM28, which is also his main go-to guitar when he needs to go unplugged.
Favorite Amplifiers
Mayer's amps represent a very interesting combination of brands and models. For the most part, his amp setup is dominated by several Fender models.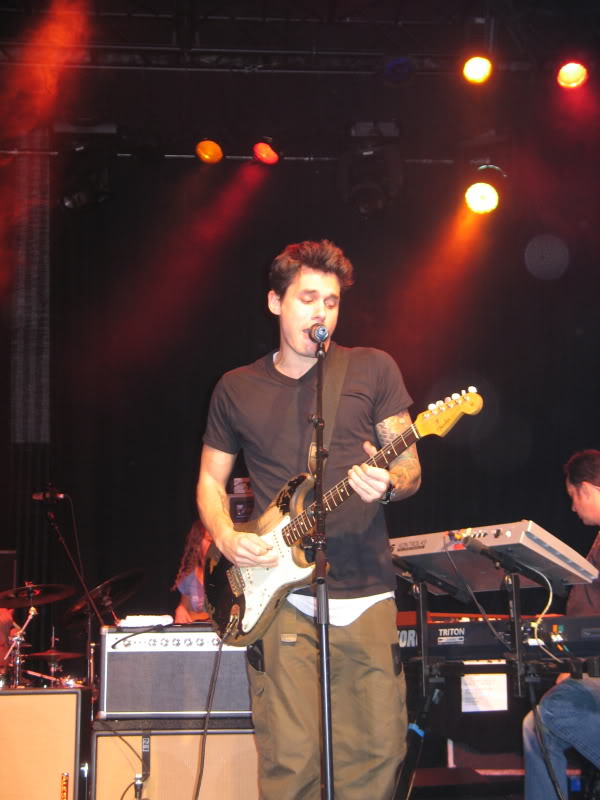 One of the reasons for this is the pure quality of clean channels on models such as the Fender Band Master or Vibro-King. Aside from these, there are two rather special models in his inventory.
He has a Two Rock signature model of his own, and a Dumble Steel String Singer.
Both of these, combined with a Fender amp of his choice for the day, are hooked up to several Alessandro cabs which are packed full with Celestion speakers.
Even though this is a bit of a non-standard combination, Mayer and his sound tech crew figured out a very sweet and balanced tone which is a result of all three amps being hooked up together.
When connected to his pedals, Mayer gets a lot of versatility in terms of tone shaping.
Effects Pedals
Before we get into various effects pedals you can see in his setup, let's quickly mention the system that he's using to control said pedals. Instead of a standard pedalboard, you will see him using the Custom Audio Electronics Power System.
The whole idea behind this is to have pedals in a remote location backstage, and control them using a footswitch board. Even though this might sound like a redundant solution, Mayer can actually use more pedals this way while the Power System allows him to save several presents he can call up at any time.

In terms of pedals themselves, his overdrive selection comes down to the good old TS808 Tube Screamer, along with the Fulltone Fulldrive 2. Aside from these two, you will also see a Klon Centaur overdrive in there as well.
One of his favorite stompboxes is the Keeley Katana clean booster pedal, which he likes to use in just about any of his presets. Watch this video demo of the Keeley Katana to get a feel for this little stompbox does.
Moving on to delays, we see a Way Huge Aqua Puss and Eventide Timefactor.
As a matter of fact, Mayer actually has several Timefactors which are set up in a different way. When it comes to other pedals worth noting, we have to mention the Boss GE-7 seven-band EQ and the Boss RT-20 processor.
And let's not forget another one of John's secret weapons – the Source Audio SA170 Programmable EQ pedal.
Conclusion
As you can probably see by now, there is nothing all that special in his guitar rig that is hard to obtain. You can pretty much achieve his tone by using a TS9 or TS808, a Fender Stratocaster of some sort, and a Fender amp.
If you really want to go authentic, then you would probably need to get his signature model Strat as it comes packed with rather special pickups.
Other than that, Mayer bases a lot of his sound on nothing more but his skill. With him, it's all about making that guitar sing in ways others are rarely even trying to achieve.
Some might say it's a bit pretentious to have approximately 40 guitars present at any given live show, but the man loves to be precise with his tone.
We hope this short rundown of John Mayer's guitar rig has given you a good idea what he uses, and what kind of gear you'd have to get in order to replicate his tone.
John Mayer – Live in Concert