The importance of Marshall as a brand when it comes to electric guitar amplification is very hard to emphasize. They are one of the largest and most authentic amp manufacturers in the world.
That is a reputation they have achieved early on in the game. Over the years, a whole lot of their models became classified as legendary for one reason or another.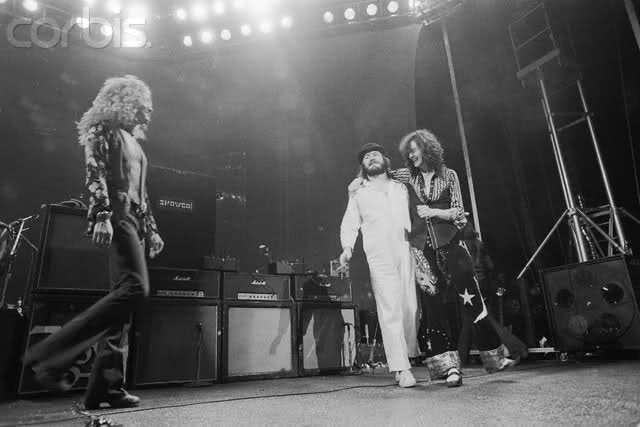 For the most part, it was their impressive tone that kept guitar players coming back for more. The one we are going to take a look at today is one of their oldest models that is still in production.
That is a perfect testament to their quality, and the type of power boxes they are capable of creating. Meet the Marshall 1959 SLP Super Lead – the amp of choice of legends such as Jimmy Page, and others.
Created in the early 1960s, Marshall 1959 SLP Super Lead was among the very first amp models which featured two channels.
That was a bold move by Marshall, and one which caught them a lot of flak. However, the amp persisted and lived on to achieve awesome results both in terms of sales and tonal quality.
Marshall took that very amp, and made a near perfect copy of it using modern materials and technologies.
If you put the old 1959 SLP next to the new one, you wouldn't be able to tell the difference aside from the new one having some limited new features. Tonally, they are the same thing.
Features
Even though appearances are not really the first thing your are looking for in an amp, we definitely have to spend some time talking about this aspect of the Marshall 1959 SLP Super Lead. You have probably heard about Marshall Plexi amps?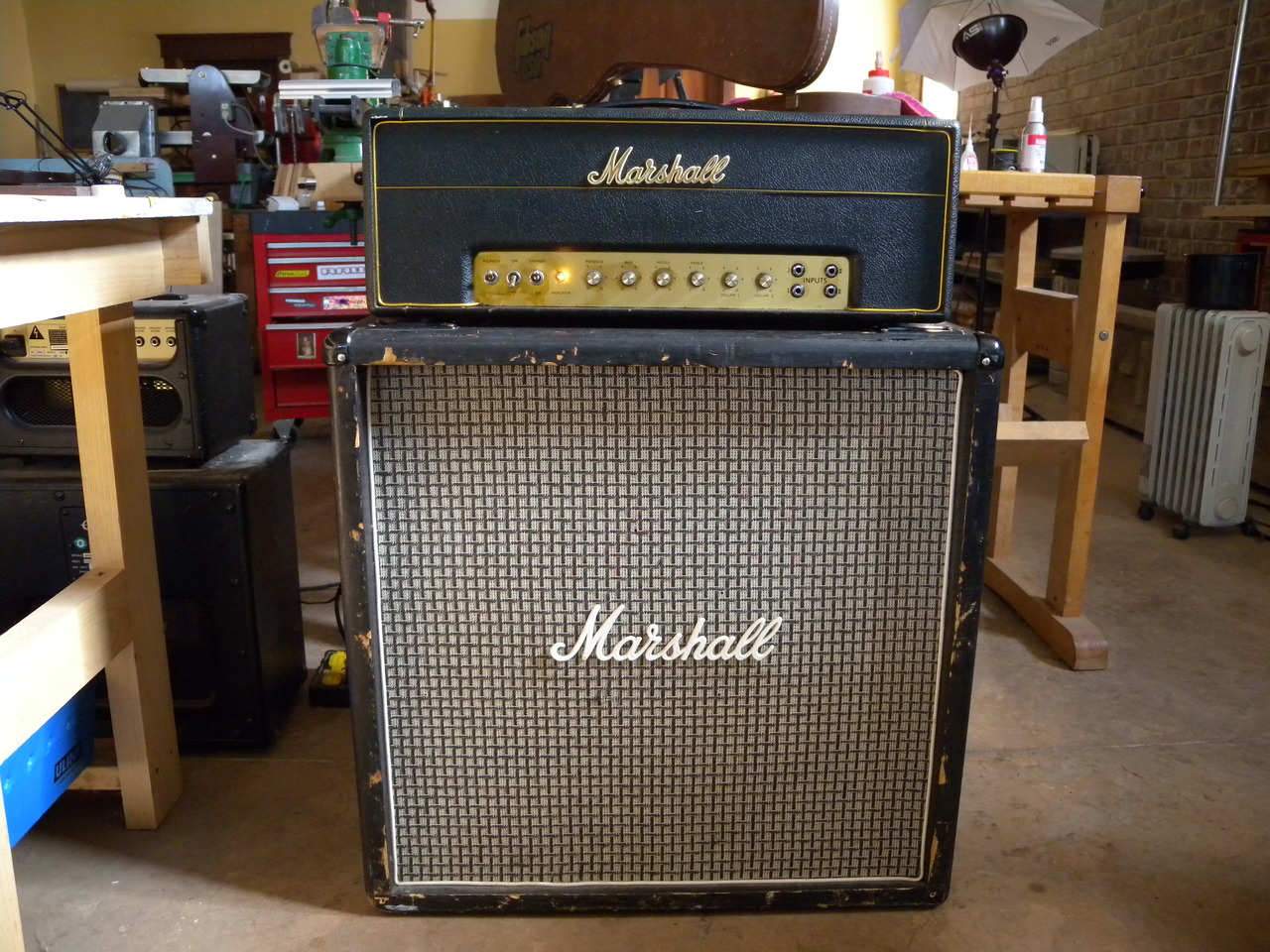 Well, that famous Plexi designation comes from the plexiglas front panel which they first used with this family of amps.
It's all black with golden lines and other minor details. Overall, even after all this time, this amp is among the most aesthetically pleasing models ever made.
Once you take a look inside, you will see a piece of artwork that just also happens to produce some of the best vintage tone you can get at the moment.
We are talking two ECC83s in the preamp stage, and one ECC83 combined with four EL34s in the power stage. Together, these are capable of pushing out some 100 Watts of power.
This power output became synonymous with the Plexi nickname. Chances are Marshall will never stop building 100 Watt Plexi heads, no matter what.
In terms of controls, the situation looks pretty rudimentary compared to its contemporary counterparts. You have Presence, a standard three band EQ, and Volume for each channel. Speaking of which, there are two sets of inputs you can plug your guitar into.
Those new features we have mentioned earlier come in form of an effects loop, which the original lacked, and true bypass.
Overall, in terms of design and features, Marshall 1959 SLP Super Lead among the more simple amps. As you are about to find out, simplicity isn't mutually exclusive with top tier performance.
Performance
First thing you notice when you plug your guitar into a Marshall 1959 SLP Super Lead, and turn everything on, is just how loud this amp really is. These are usually delivered with 1969AX cabs, and there is simply nothing basic about having four 12 inch Celestion Greenbacks screaming at you as you start to roll off the volume.
The range of tones you can dial on the Marshall 1959 SLP Super Lead is very wide, but that width doesn't reduce the quality one little bit. Naturally, an amp of this persuasion is going to be best suited for hard rock or blues. It's very easy to push into natural overdrive, and once you go for the OD channel, you are greeted with a bit more fuzzy tone. This is one of the rare vintage tube amps that plays well with various guitar effects pedals.
Once you try it, scooping the mids will feel like the whole technique was invented specifically for this Marshall amp.
You could say it brings that 'Marshall sound' but that would be too broad of a term. Among all Marshall amps, this Plexi is among the more authentic ones.
If you decide to go for a full stack, like Jimmy Page used to, the amount of noise you can make is just about enough for full on concert performance.
With that said, if you are looking at a quality amp for gigging, having one of these at your side is a sure fire way to set yourself up for success.
Conclusion
All things considered, Marshall made a great decision by revamping this vintage legend. The new Marshall 1959 SLP Super Lead are every bit as good as the original ones.
That is mostly thanks to Marshall's policy of delivering true remakes of their old models. They didn't try to enhance it, or 'bring it closer to modern times'.
No, they've take one of their old Marshall 1959 SLP Super Leads out of the vault, and replicated every single thing on it.
The addition of the effects loop and true bypass is as far as they were willing to got to make the amp a bit more flexible in practice. We can't really fault them for doing so.
Whether or not the Marshall 1959 SLP Super Lead is something you could benefit from depends on how much you value a good tone, and how you feel about investing into an amp that is timeless.
The type of performance this beast offers is not something you can find everywhere these days. Marshall's formula is a closely guarded secret, especially when it comes to their vintage models.
Fortunately for us, the market has voiced their opinion and the demand for this type of vintage tube amp is only going to increase.
Chances are we are going to see a lot more than just the good old Marshall 1959 SLP Super Lead in Marshall's lineup.