Jane's Addiction is an American rock band created in the mid-1980s in Los Angeles, consisting of Perry Farrell (vocals), Dave Navarro (guitar), Stephen Perkins (drums), and Eric Avery (bass). They significantly influenced alternative music in many ways great and small, and the band is widely regarded in alternative circles as a pioneer of grunge and alternative metal. Their most popular songs include radio staples "Jane Says", "Been Caught Stealing", "Mountain Song" and "Just Because", but they are generally not considered a pop band.
L.A.'s Favorite Sons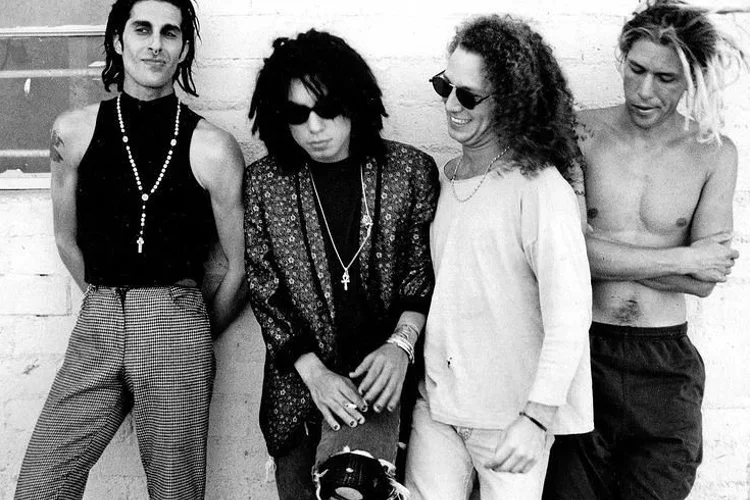 Jane's Addiction took influence from the hard rock of the 1970s and 1980s, as well as funk, which really set them apart from the pack. In particular, their music calls upon the spirit of bands like Led Zeppelin (to name one big influence) in terms of monster riffage. At one point in time, the band came across more like a California hippy drug damaged surrealist version of some of the 60's and 70's biggest rock bands, who, to be fair, were pretty drugged out to begin with. Additionally, they often used world music stylings in their music (a la Zeppelin) and for this are often considered a precursor to the crossover genre that birthed alt rock, along with Boston's Pixies and a number of other rock weirdos.
Jane's Addiction combined all these different styles of music with semi-religious sacral symbolism, giving them a pagan vibe that made them seem uniquely "culty" for lack of a better term. They were decidedly freakier than many of the L.A. bands of the 80's when they arrived on the scene, and this oddness made them different from normal shredding rock bands of the time.
Album covers, song lyrics and concert performances often displayed sexual representations based on home made artwork, and for this reason some covers were censored. The albums are still available in censored and uncensored versions.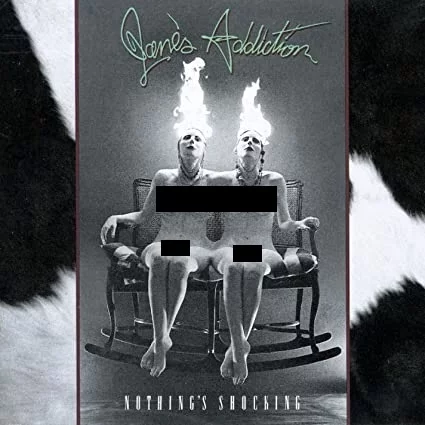 Read our review of Nothing's Shocking
History of Jane's Addiction
The band emerged in 1985 from the cast change of Perry Farrell's first band, Psi Com. He initially sought a new bassist, whereupon he met Eric Avery. However, Psi Com broke up before the band made an appearance with Avery. Soon after, Avery's sister introduced the two to drummer Stephen Perkins, who in turn brought in a guitarist, Dave Navarro. The band quickly fell into place.
Navarro was a former band colleague of Perkins', and it was Navarro who made the name suggestion "Jane's Addiction" in reference to a roommate of Farrell's. Two years later, the band released the Triple X debut album Jane's Addiction, which was followed in 1988 by Nothing's Shocking.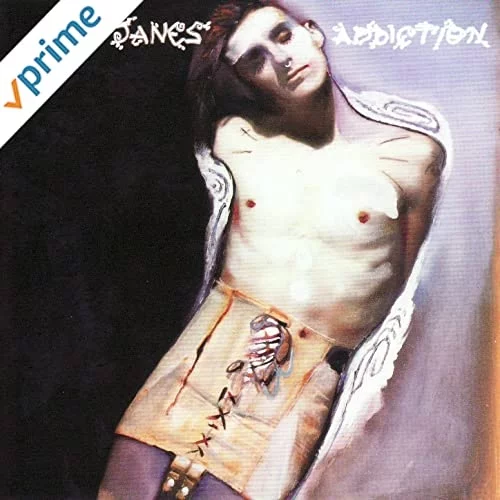 Read our review of Jane's Addiction's Triple X Debut Album
After the release of their second studio album in 1990, Ritual de lo Habitual, the band decided to break up and started a farewell tour in 1991, featuring some of the band's friends, goth greats Siouxsie and the Banshees and metal-funk hybrid Living Colour.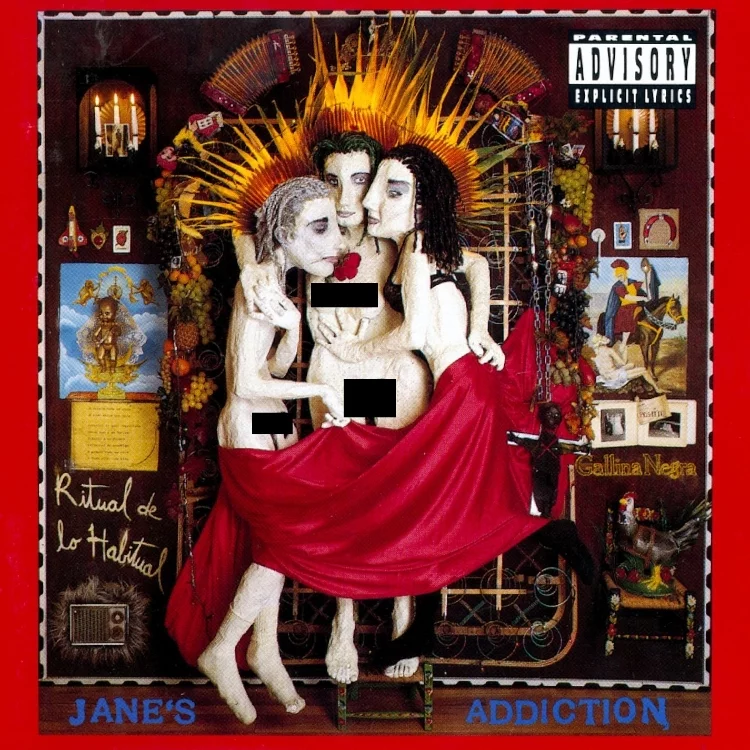 Read our review of Ritual de lo Habitual
Lollapalooza
From this tour, the first Lollapalooza was launched. Lollapalooza has since become a popular alternative rock festival - legendary, in fact.
One of the reasons it became such a big deal is because it was the first major outdoor rock festival to invite all manner of rock acts into its midst, from metal, to rap, rock, and on and on. Bands who would never be seen together were here all on the same bill.
Porno for Pyros / Red Hot Chili Peppers
Singer Perry Farrell and drummer Stephen Perkins soon started the project Porno for Pyros, whose success, however, could not rival that of Jane's Addiction. The other band members went on to some smaller projects.
Guitarist Dave Navarro joined the Red Hot Chili Peppers in 1993 for five years. The resulting album One Hot Minute sold moderately, but there were murmurings that it was a failure, due to it not out-selling their previous mega-hit album, Blood Sugar Sex Magik. Of course, we all know that One Hot Minute is an amazing album and a special entry into the RHCP catalog with great tracks like "Warped" and "Aeroplane", carrying that distinct Navarro vibe. Be that as it may, Dave Navarro eventually left the band and returned to his "home base" of Jane's Addiction in time for their '97 reuinion.
In 1997, the band gathered together for a few live performances with Michael "Flea" Balzary of the Red Hot Chili Peppers on bass, as Eric Avery had long since left. They also released an album of unpublished studio and live recordings.
In 2003, the band reunited with Chris Chaney on bass, releasing the album Strays for a successful reunion before disbanding once again. "Just Because" was their first single, and they played the shit out of it for a while to promote the album. The song "Superhero" from this album snuck in to popular culture and became the title song for the American television series Entourage.
2008 saw the original lineup embark on a world tour. They then released their fourth studio album, The Great Escape Artist, in 2011. In 2016, Jane's Addiction was finally and deservedly nominated for the Rock & Roll Hall of Fame…although they're still not in it!!!