Welcome to YTMS! Today we interview Bill Welychka about his career in broadcasting thus far, from his days at MuchMusic to the present (2019). But first, we must set the scene…
Canadian Music in the 1990's
To some, the 1990's seem like the distant past by this point, while others like myself still consider that time as being "not long ago".
Part of the reason the '90's stand out in my memory as bright and vibrant was the 90's music scene here in Canada.
(Here's a clip – Ed.)
(BTW, television wasn't all "grainy" in the '90's, but a lot of people recorded stuff off of TV with a VCR, onto a cassette tape, and that's when it got grainy…then uploading it to Youtube makes it even grainy-er – Ed.)
Basically, if you were a teenager in the 1990's (like I was), particularly in Canada, many consider this to be a heyday for music in a variety of forms.
"Alternative" music was taking over the radio, and music videos had already conquered television in the 1980's. Music videos were in full rotation, playing around the clock.
In America, it was MTV that was the major television station featuring music, and in Canada, it was MuchMusic, AKA "The Nation's Music Station".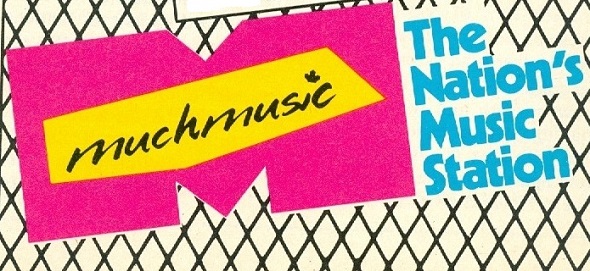 Keep in mind, the internet itself was just coming into existence around 1995, but if you were "logging on" to it, there was no YouTube, no Pirate's Bay to rip songs off of, no iTunes – no nuthin'!
If you lived in Canada, and you were into music, ie. bands and such, MuchMusic was the TV station that you turned to for most things. Bands and music videos of all genres were featured on this channel, which was ummm.. channel 29, on my cable TV, if I remember correctly.
Here's a picture of the MuchMusic building, home to much musical activity as well as unique features like "Breakfast Television", and "Speakers Corner". This highly recognizable building is located downtown Toronto.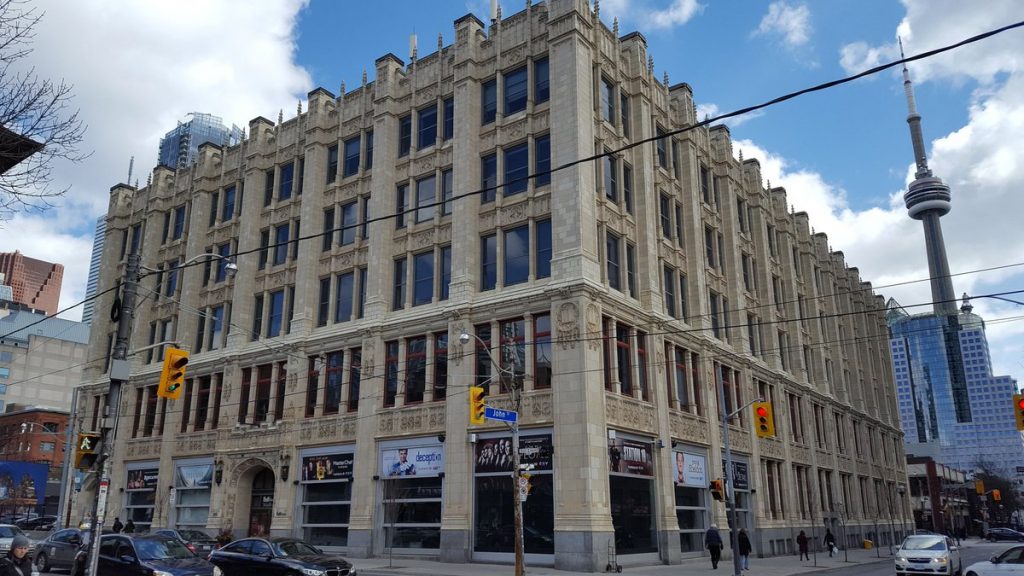 This building, home to MuchMusic, also known as the CHUM-City building, or 299 Queen St. West, was (and still is) a fixture known to everyone in and around the greater metropolitan area.
I'd be remiss not to share with you a sample of what went on on Speakers Corner, which was part of the MuchMusic building, and which was (as far as I know) the original "vlog" platform back in the early 1990's. Nothing I know of pre-dates it, as far as random people talking into a video camera goes.
As I was saying, there was basically nothing like this at the time, and, wouldn't you know, this format basically is how the world operates now in 2019 via platforms like Youtube. Crazy, eh?!
MuchMusic
Though it still exists today, I think many would agree that MuchMusic isn't as culturally significant today as it was in the 1990's. Really, how could it be? The music world is completely different now, in terms of who people turn to for their music. It certainly isn't one television station, like it was back in the '90's.
Back then, everyone I know that liked music turned to MuchMusic at this time for the latest news on bands, music videos, and live concert information.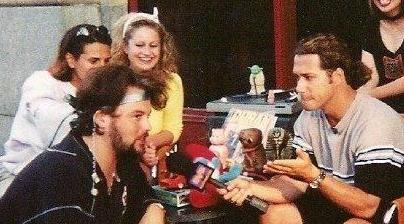 Today, there's much less of a need for "music television" as the internet has taken over that role.
That said, back in the 1980's and 1990's, MuchMusic built its reputation as one of the coolest places in town, and anyone in the area would stop by, stare through the windows, trying to get a peek at what was happening.
Often times, there'd be a famous band or artist in the area, and they'd swing by MuchMusic and play some songs and talk to a VJ (video jockey) or interviewer. These two roles, as I recall, were often one and the same.
It was a very cool time and place to be, and, unlike certain venues which weren't known for their overall friendliness, MuchMusic had a fairly welcoming vibe to it that drew visitors from all around the world to it.
(Here's Weird Al posing with well known MuchMusic VJ, Master T. – Ed.)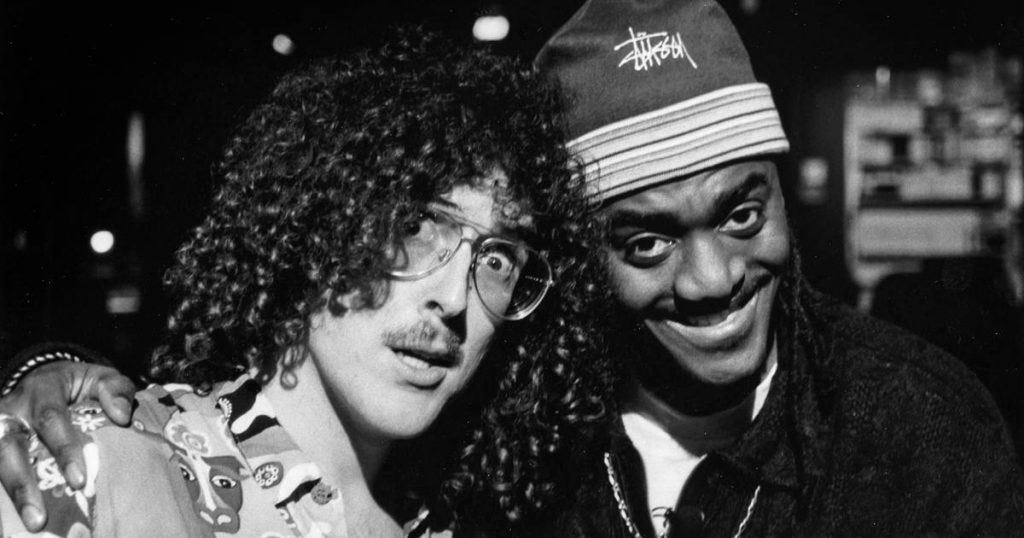 Here's a typical scene you'd see at MuchMusic, with a band playing in-studio (The Refreshments), and one of the hosts / VJs (video jockeys) interviewing them before and / or after their set. (Forgive the video quality, it was probably recorded on some old VHS tape, but it's a good clip!)
Often there'd be people's faces pressed up against the glass to watch the band, but you can't see that here, because sometimes people weren't aware of who was there, or it was elsewhere in the building, ie. not the front.
So, this was back in 1995, and this was a song you'd hear on the radio all the time.
Now, the long-haired guy casually chatting with the band here is Bill Welychka, one of Much's main VJ's from back in the day.
And, as it happens, I got a chance to ask him, now, in 2019, some questions about his time at MuchMusic during the late 1980's, 90's, and early 2000's.
Bill Welychka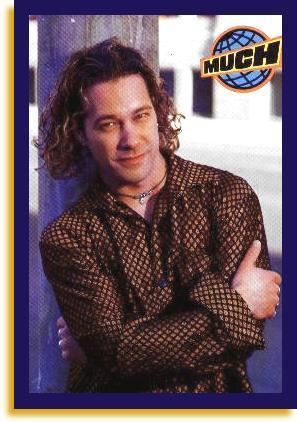 Before we dive into my Q&A with Bill, I want to mention that I watched a lot of MuchMusic during the 1990's and early 2000's, and Bill was definitely a familiar face you'd see on there basically any day of the week.
There were many VJ's who'd get air time at MuchMusic, and Bill, as I recall, was known for his gregarious nature and easy ability to talk to people and connect with them.
He was always laughing and doing some kind of zing-y back and forth with whichever musician or band was in town, pretty much regardless of their stature. Nothing really seemed to phase him. Even when he interviewed increasingly famous guests, he looked like he was having a good time.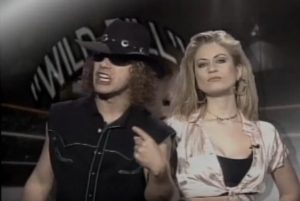 To clarify, Bill wasn't always joking around with his guests. If need be, he could buckle down and be a little more restrained, asking what seemed like un-rehearsed, topical questions that just came to him. Not sure how he did it. (but maybe we'll find out in the interview…)
MuchMusic VJ's, around this time, were known for "breaking the 4th wall", as it were, and not coming across like boring straight-laced reporter-types to their interviewees, or their viewing audience.
The general feeling I got from watching MuchMusic around this time is that it must have been a blast to work there, with fun things happening all the time and lots of surprise guests.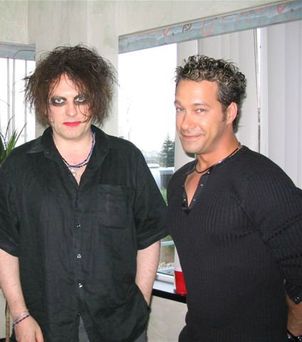 This is kind of why I wanted to ask Bill what it was like to work at MuchMusic back at that time. Luckily, I was able to reach him and ask him some questions about his career in broadcasting, with regards to MuchMusic, MuchMoreMusic, and beyond!
Enjoy our chat!
Prior to being on MuchMusic, what was your connection to or experience with music / interviewing?
I was the youngest of six kids so from grade 2 on, I had the advantage of listening to older brothers' records like The Who, Led Zep, David Bowie and so many others.
As I got older, starting from age 11, I began my own collection of records and into high school music became a "badge" for me.
My tastes over many years changed, but it also grew – never forgetting what I learned.
My penchant for learning about new music and styles and history encompassed Blues, Rock, Glam, Hard Rock, Gospel, Metal, Folk, Alt-Rock, Country, Pop, New Wave, Goth, Punk, and so much more.
I was never a musician but music became a best friend and escape for those sensitive teen years.
I felt by the age of 18, I was a musicologist and knew everything I could about music, songs, lyrics, album covers etc.
When did you start working at MuchMusic and how did that happen?
1988. The week I graduated from Seneca College's "Radio and TV Arts" program, I was accepted at MuchMusic as a video-editor, dubbing commercial video breaks and dubbing new videos from all the record labels that came into the building for our vast library.
(Here's an old picture of what MuchMusic apparently looked like in the early to mid-80's, found online – Ed.)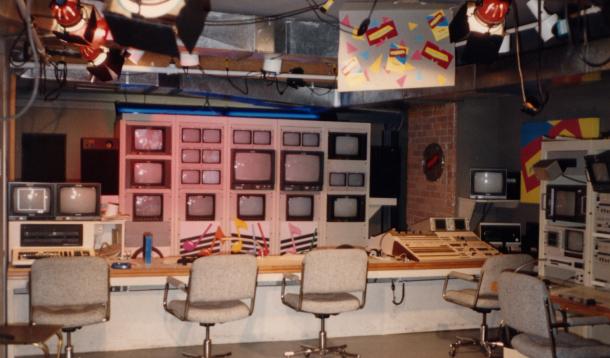 Prior to that, I was volunteering for a few months…college during day, home for a nap, volunteering at Much overnight, home for a sleep and back to school.
During that period I was also working part time at a bakery. I have always been blessed with a solid work ethic. Still have it!
When you arrived at MuchMusic, what was the scene like?
MuchMusic was THE GO TO destination for new and breaking music videos and artists and live interviews when I was in high school (mid 80s).
There were some music video shows on CBC and other Canadian channels but even at ages 16 or 17 I sensed a "corporate" fakeness to it all.
MuchMusic had a sense of cool and a ground-breaking vibe to it. Even before Much was launched, I was an avid viewer of "The New Music" on Toronto's City-TV.
The MAN Moses Znaimer became a hero to me.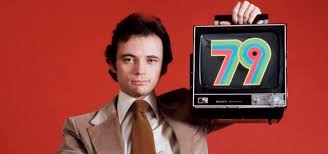 When I started at Much, the main VJs were Chris Ward, Steve Anthony, Erica Ehm, Michael Williams, Laurie Brown, Denise Donlon and Terry David Mulligan.
(here's a clip of Terry David Mulligan interviewing Sarah McLaughlan – Ed.)
I watched these people navigate through live (and taped) interviews and I was enamoured but also learned a lot about timing, good questions, bad questions, research etc.
I started there shortly after the move to a huge TV factory/ empire at City/ Much to Queen St. West from what I understand was a tiny cramped building on Queen St. East.
There was a vibe of WOW for everyone in that new building. Creativity, ideas and passion was everywhere. It was new and standards were we being broken and new benchmarks were being set.
Did you replace anyone when you arrived on the scene at Much?
My whole gig before being on-air was editing and producing taped segments and hour specials. To this very day, my favourite thing about television is editing and producing.
Every person on-air in TV has their own personal story how they got there. It is the same with Much VJs. (Although, some won a contest to be on-air.)
It was unlike the US system of broadcasting…hire an agent, go for auditions bla bla.
My personal story was while dubbing all the new videos for Much's library, there were all these new country artists breaking through. Steve Earle, Garth Brooks, Randy Travis and so many others and many new Canadian country artists releasing videos.
I submitted a proposal for a weekly Country music video show to the head of Much at the time (John Martin.)
Eventually "Outlaws n Heroes" was born on Much.
(here's a clip of a promo for Outlaws and Heroes – Ed.)
I helped produce, interviewed many artists and edited features.
The show's host went away on mat-leave, I filled in hosting and interviewing (First time on-air Nationally!), kept hosting and moved over to regular flow VJ duties when the show was cancelled because a new Country music station surfaced in Canada.
That was my entry to being on-air.
At what point did the whole "VJ" concept come into being, and were you personally part of that at all?
The term and role of VJ was well established before I got there.
Chris Ward I think was the first in Canada to be a "video-jockey"…throwing to music videos, interviewing guests, providing info. To me, he was THE GUY!!!
(Here's a clip of Christopher Ward on-air throwing to a video – Ed.)
Steve Anthony did that but added to it with his brand of humour.
Denise Donlon added to the role with professionalism and a drive for relevance and issues. (She remains my biggest influence and role-model.)
The best part is I don't think any one of us were reigned in or told how to act or how to dress.
Moses and our bosses let us be US.
I was never the cute one, silly one, nor stupid one. My goal was to show a passion for music and let the artist shine, and always hopefully appealing to passionate music followers.
I never called the audience "fans". I have worked with many egos and quite frankly, many media people have egos.
Some VJs I have worked with thought they were more important than the artists they were interviewing. I always fought against that.
My whole thing over 30 years of broadcasting is THE SINGLE MOST IMPORTANT part of the equation is the viewer.
They are doing us a favour by watching. Some in media believe they are doing the audience a favour by being on their TV screens. That attitude makes me want to vomit.
(here's some clips of Bill Welychka on air doing his thing, a "Best of" – Ed.)
MuchMusic was known for not really being too "serious" as far as how the VJs interacted with the various guests, many of them rather famous. How did this go over, generally?
Many musicians have told me they absolutely loved our presentation of music far more than our counterparts in the US, MTV. We were less corporate and more fun. The artists knew it and so did the audience.
The best part for me was after a live interview, the artist not wanting to leave and continue to talk. Or wanting to hang out after the show.
There were a few times were the record label got mad at me on a Monday because after a big show on a Friday or Saturday, I would take the artist out after their gig…at their request! Hahahaha!!!
Collective Soul were late once for a gig after being in Toronto. I took them to a late night booze-can in Toronto. Not my fault!!!!
Was the group or cohort of VJ's you were with basically a tight knit group who were friends outside of work, or was it not like that?
I have been asked this many times before. I think the audience would like to imagine a huge group of friends always hanging out.
No one was really like that, other than work functions. For me, I was mostly friends with behind-the-scenes people.
I have always had a close small group of loyal friends.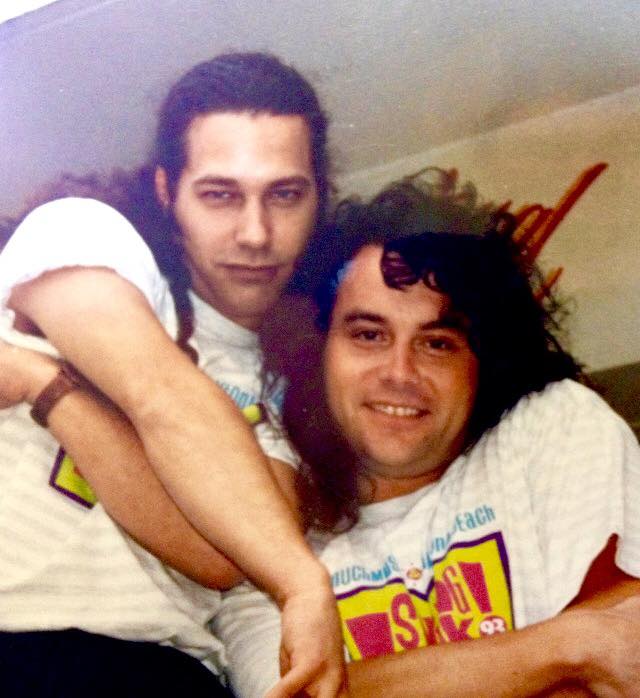 To this day, my best friends I have known have been for 30 or 40 years. I do still keep in touch with some Much co-workers through social media.
Who was the interviewee that most surprised you in some way, or one of?
I would hear horror stories about some interview subjects that I had to interview.
But ALWAYS, looking back I have met every single one of my heroes and have always produced great segments and even specials with every single one.
I have heard David Bowie was difficult, Madonna, Robbie Robertson, Oasis and so many others. I have interviewed these people and have spent a lot of time with them. They were absolute treasures!!!
Liam and Noel from Oasis are actually funny, entertaining, VERY SMART sweet lil puppy dogs.
(Here's a clip of Bill talking to Noel back in '98 – Ed.)
I have met all my idols and they were always amazing and genuine.
I am the luckiest and most grateful person I know.
When MuchMoreMusic came along, what was your thoughts on that, and did you understand the point of that?
I so welcomed MMM! A channel that played singer-songwriters, legends, adult-contemporary. Perhaps some progressive artists.
I envisioned a channel without incessant VJ chatter.
Let it be about cool music for music lovers! Age to me, didn't matter. It's about the music and the art and the creativity and the legends.
On paper it seemed obvious. The execution was eventually sloppy and misguided.
I jumped at the chance to be a part of it and was given that chance in 2000. I developed and created new shows while there.
I could do what I loved to do…travel, interview legends, produce, edit and host hour specials. The station went through some program directors and line producers that were out of their league.
It is a shame that MMM faded into oblivion when I left.
Hahahha…I am not saying it died when I left. I am saying I saw the writing on the wall with how music television was being presented and how new corporate bosses took over that didn't understand music and I literally jumped ship.
That was when I left "entertainment" for good.
(Here's a clip of Bill hosting a show with Prince as the guest on MuchMoreMusic, in 2004 – Ed.)
After leaving Much, then what happened next as far as your career went?
After leaving MM, I was at MMM for 5 years. I then took on a hosting duty in Edmonton at the newly re-branded City-TV…doing a Morning TV show.
I loved Edmonton for that year but I missed family and friends in Ontario. After a year in Edmonton, I took on a weather presenter position with A-Channel in Ottawa (a Chum owned station).
(I loved learning weather! It became a huge passion!)
A new owner for the station came in and a new manager started a major round of lay-offs. I saw many amazing talented people let go in Ottawa.
After 5 years there, after dodging a few bullets, a bullet found me. I was given a year package and could not work in TV in Canada for a limited time as per the package I agreed to.
My mother was dying of cancer that year I was off. It's weird how things work! I had an entire year off to visit my mother in Barrie, On.
A lot of driving. A lot of spare time listening to music on long lonely drives.
A few months after her passing, I was offered a great job here in Kingston at CKWS-TV (A Corus Entertainment/ Global TV station.)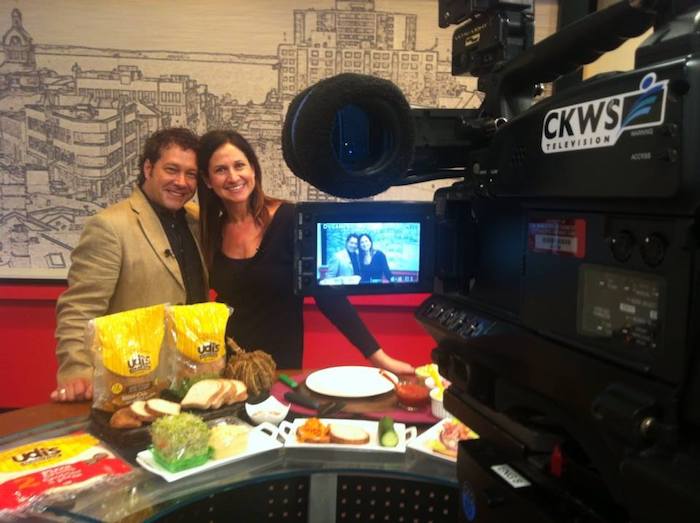 That was seven years ago and I freakin' love Kingston! It is a beautiful, historic city with a vibrant music and arts scene.
I became a columnist for The Kingston Whig-Standard. I followed a dream of learning to pro-wrestle.
One of my favourite things about Kingston? I have renewed friendships with some of our boys from The Tragically Hip, after many interviews with them over the years…going back to 1995.
(Here's a more recent clip where Bill takes a look at Canada's house band, the pride of Kingston, Ontario – The Tragically Hip – Ed.)
(back to the chat! – Ed.)
I am loving life and work. For the first time in a very long time. The music industry has drastically changed since MM.
There are limited avenues for new artists to break-through and have exposure. Yes, YouTube is an avenue. But here in Kingston, it seems to me it has come full circle. I welcome new and established music acts on Global News Morning.
What I left has now come to me.
Life is grand!!!
Thanks for reading, y'all! If you have anything to add, leave a comment below, we'd love to hear from you!