The Behringer Xenyx 1204USB mixer is a great multifunctional analog mixer that offers a lot of value at a very reasonable price for what it can do. It has a lot of built-in functions that makes it an attractive option for small venues and its USB capabilities mean it can also be perfect for home studios and podcasting.
Key Technical Specifications:
4 XENYX phantom-powered mic preamps with 130dB
4 studio-grade compressors
"British" 3-band EQs on all 8 main channels
3-4 fader control
4 additional input channels
Built-in stereo USB/Audio Interface
Free Professional-Grade Software Bundle
Audio Quality
The Behringer Xenyx 1204 USB mixer has a lot of functionalities to offer, but before one looks into the bells and whistles, they should look into the core. And in this case, it's outstanding. This mixer has 4 phantom-powered mono channels, especially suitable for microphones.
The XENYX preamps on those channels offer supreme warm audio quality with outstanding dynamic range and bandwidth. The experience of running your mics through this mixer is comparable with studio-grade outboard gear which says a lot. This is offers a huge benefit when you use those channels for musical instruments as well.
If you want to see the Behringer XenyxUSB in action, watch this video review.
Onboard Effects
Besides the incredible sound you are going to get from the preamps, the mixer offers two more ways to boost the sound quality useful both live and in the home studio. First of all, there are built-in compressors into each of the 4 mono channels that are operated by dedicated knobs with the addition of LED indication which is priceless when dealing with inputs with a lot of dynamic range like microphones or many musical instruments.
On top of this, your main 8 channels all have dedicated neo-classic British-style 3-band equalizers that can add a lot of warm analog feel to the sound of your mix.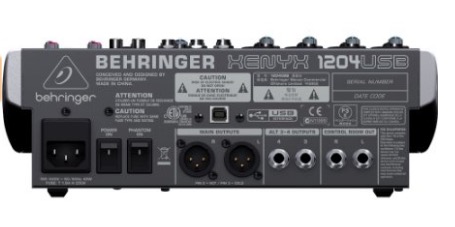 Mixing Options
Speaking strictly technically, this is actually a 12-channel mixer despite its smaller size, but you should keep in mind that 8 of those channels come with some limitations. First of all, you get 4 outstandingly flexible mono channels with phantom-powered XRL inputs besides the standard mono jacks. Those are suitable for everything and take advantage of the maximum control you could have including individual compressors, EQs and AUX sends. Then you get 2 stereo channels that have all of the same options without the XLR input and the compressors. Those are perfect for dual-channel musical instruments like keyboards, synthesizers and sequencers. Since those channels are stereo, the two of them actually count as 4 mono channels on the mixer despite the fact that each pair shares volume, EQ and Aux Send controls. The last four channels are designated for external music players and lack most controls, but still add a lot of flexibility for venues that need to play music from different sources while the performers are not performing.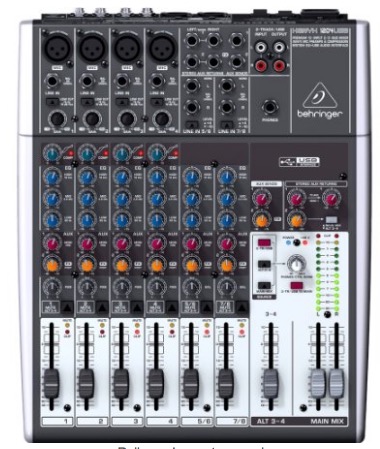 In order to make life extremely pleasant in many applications, this mixer has a wide array of outputs as well. First of all, it has dual XLR stereo outputs that are each controlled by a separate fader and are considered the mixer's main output. Then you get two alternative 3-4 outputs that have their own volume fader and can have a variety of applications and on top of that, you another control room stereo outputs. You can get a great deal of functionality out of those additional inputs thanks to the 2 Aux Send controls that you have on the main 8 channels. As a bonus there is also a stereo phones output on the front face of the mixer.
An additional layer of flexibility is also added by the ability to connect outboard effects and the incredibly powerful USB interface that would be of huge help with your analog to digital conversion if you want to use this mixer for recording purposes.
On top of this, there are built-in compressors into each of them, operated by dedicated knobs with the addition of LED indication.
Besides the 4 mono channels, there are also 3 more stereo channels that give you a total of 8 channels and 6 instruments or sources you could be working with. Another functionality that makes the mixer quite versatile and adds to its sound quality is the neo-classic British-style 3-band equalizers that can add a lot of warm analog feel to the sound of your mix.
Live Gigs
One of the possible applications of this mixer would be at live music events or comedy clubs. This is not a large mixer, so it doesn't have enough channels to properly function as the main mixer of a larger venue where drums need to be miked, but it can really shine in smaller ones. One if its killer features for such occasions is the fact that it has 2 Aux Sends. This alongside the alt 3-4 fader gives a huge deal of flexibility and allows a small show to be comfortably mixed for both audience and performers. This means that you can have 6 instruments and/or microphones to work with and you don't need to keep any channels open for the house to connect their music sources while the performers are on a break.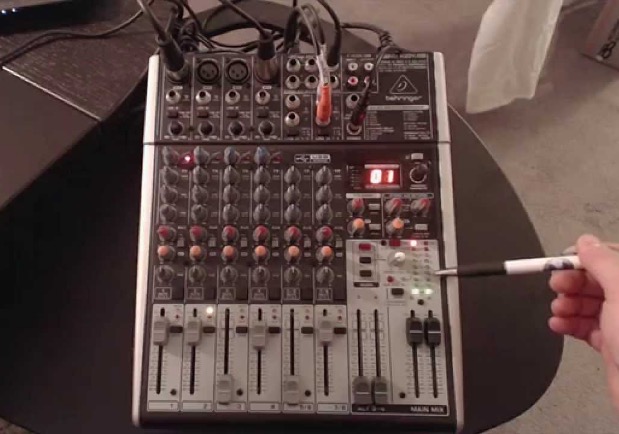 Home Studio
The Behringer Xenyx 1204 is a really great mixer that can easily become the focal point of your home studio. It is extremely flexible and more importantly offers outstanding sound quality. But what you will probably love the most is the ease of use. Using this mixer, you would not need a separate analog-to-digital audio converter since this awesome piece of gear can be connected to your computer via USB as an external audio device.
Perfect for podcasting
Now there is one application this mixer will also be perfect for besides mixing music – podcasting.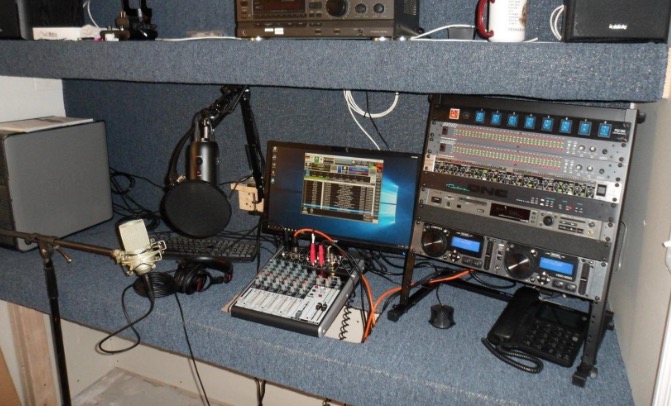 This mixer's flexibility, numerous input and output options and USB interface mean that it will easily become the command center any podcaster could dream of. It has 4 microphone channels, so a podcast with two hosts and two guests could be miked very easily. And the sound would be great and customizable for each speaker. On top of this, all of the inputs and outputs would allow playing prerecorded effects and interstitials with ease and mixing your podcast live. The 3 stereo outputs and additional stereo inputs means that remote guests will no longer be a challenge and a pain, because you could send them a separate mix without their own voice.
But the killer features don't stop here. While musicians building their home studio will probably prefer to rely on their own specialized software or would anyway have access to Audacity, the podcasting software included in the bundle means that you will be covered all the way through production.