No wave is a genre of music and art that came about in 1977 in the Upper East Side of New York City.
Taking some inspiration from jazz and post-punk, it has otherwise turned its back on most conventional genres of music to instead produce its own distinct sound of dissonance, disharmony and nihilism.
We've written about it before, in a previous article called the No Wave Moment.
However, in this article, and in no particular order, we'll discuss the 10 most prominent and influential bands and artists of no wave that have contributed to the movement.
James Chance and the Contortions


James Chance
James Chance is a saxophonist, keyboardist and singer from Wisconsin, and a key figure in the no wave movement.
Chance was educated first at Michigan State University, and then at Wisconsin Conservatory of Music. While attending school, he joined a cover band called Death, performing covers of the Velvet Underground and the Stooges.
After this band dissolved, however, he moved to New York City and began taking part in the no wave scene, as well as experimenting with free-form jazz.
He created the no wave band James Chance and the Contortions in 1977. Their first ever recording was on Brian Eno's compilation album "No New York", released in 1978.
Their debut album "Buy" was released in 1979. It was said by the music website All About Jazz that "through the anger and aggression Chance made a solid record that had a sound nothing before or since."
They released another album, "Off White", in 1980, under the name James White and the Blacks. Below you can listen to the full album "Buy".
What is unique about James Chance is that, unlike some other artists of the no wave movement, he expects and demands a certain instrumental skill-level in himself and his band members, elevating his band in certain respects.
Their music is erratic, spontaneous, and jazz-like but distinctly different from jazz. However, it is easy to see that James Chance was largely inspired by jazz, as any saxophonist often is.
Teenage Jesus and the Jerks


Teenage Jesus And The Jerks
Teenage Jesus and the Jerks formed in New York City and helped to create the no wave movement.
It started when poet and musician Lydia Lunch met James Chance in the popular New York music club CBGB (standing for Country, Blue Grass and Blues). They began living together as roommates.
At this time, Lunch was experimenting with her poetry and acoustic guitar. Being inspired by the New York City rock band known as Mars (who is number 9 on this list of no wave artists), Lunch decided she wanted to start a band. She first recruited Reck as a drummer and bass player. Other band members included James Chance and Bradley Field.
Teenage Jesus and the Jerks were also featured on Brian Eno's album No New York in 1978.
Although the group was not together long, disbanding at the end of 1979, they still released several recorded albums and singles, and had great influence on the no wave music of the time.
All the songs they recorded were later compiled onto the 1995 album "Everything". Their music has an intense, slightly angry sound, with repetitive guitar rhythms and unique twists and turns of the music that keep you on edge the whole time you're listening.
Lunch's singing is droning and loud throughout the music.
Teenage Jesus and the Jerks were mentioned in the book "Rip it Up and Start Again: Postpunk 1978-1984" by Simon Reynolds. He wrote that the band "defined radicalism not as a return to roots but as deracination."
In other words, ripping up the roots and starting fresh. He also said that, rather than rebelling against rock music by turning instead to electronic music, they used the traditional rock instruments (guitar, drums, bass) just in a very different way. Lunch in particular was very disdainful of punk rock and wanted to break away from the genre.
Glenn Branca and the Theoretical Girls


Glenn Branca
Next on our list is Glenn Branca. Branca was an influential member of the no wave genre, arriving at the scene in New York City in 1976. It was here that he met Jeffery Lohn, who was at the time a member of another band.
The two of them decided to start their own band called the Theoretical Girls. Lohn's girlfriend joined as the bassist and another of Lohn's band members became drummer for a time.
The band's first performance took place at the Franklin Furnace, an establishment that serves to promote avant-garde art. Branca also did a performance with guitarist Rhys Chatham (who we'll discuss next), a very important experience that would later influence Branca's style of composition.
The Theoretical Girls played a good number of live shows throughout New York City (and three shows in Paris) and released one single which gained a bit of attention in the UK. This single was "U.S. Millie/You Got Me".
Although the band was never signed by a record company, their style of mixing classical composition with punk rock did not go unnoticed, and they are considered a cornerstone of no wave music.
Branca also did some solo work, releasing the album "Lesson No. 1" in 1980 under his own name. This album showcases repetitive guitar techniques that Branca learned from Chatham and his fellow band member, Lohn.
The track "Lesson No. 1 for Electric Guitar" was inspired by Joy Division's "Love Will Tear Us Apart".
Below you will find the two songs – compare one to the other and you will see Joy Division's influence on Branca.
Rhys Chatham


Rhys Chatham
We mentioned Rhys Chatham before, as he worked with Glenn Branca, but now we will look at his work in a little more depth.
Chatham is a multi-instrumentalist but is best known for his "guitar-orchestra" work.
In 1978, he performed his single "Guitar Trio" around New York City, with musicians including Glenn Branca and Nina Canal.
"Die Donnergötter" was another single of Chatham's, released in 1982.
Chatham was inspired by an early Ramones concert as well as many other no wave bands. His music had a punk-rock aesthetic, but he put a lot of thought and quality into his compositions.
Y Pants


Y Pants
Y Pants were an all-female no wave band that formed in 1979. They were a trio, consisting of Barbara Ess, Virginia Piersol, and Gail Vachon. The Y Pants had a unique sound from their acoustic toy instruments.
They had a toy piano, a ukulele, and a Mickey Mouse drum set. They also played with electric bass and electric keyboard. Their poetic lyrics often focussed on feminism which gained them popularity in the scene.
They also sang about relationships and the perils of everyday life, such as laundry and materialism.
In 1980 they made their first four-song EP, recorded by Glenn Branca and released with the record label 99 Records.
Two years later, their LP "Beat It Down" was released by Glenn Branca's own independent record label, Neutral Records, which also released the first few albums of the band Sonic Youth.
8-Eyed Spy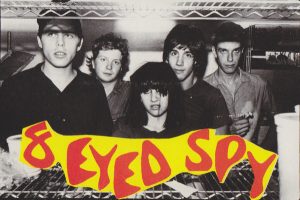 8 Eyed Spy
8-Eyed Spy was a no wave band made up of the aforementioned Lydia Lunch (from Teenage Jesus and the Jerks), Jim Sclavunos (who also played with Lunch in Teenage Jesus), as well as Michael Paumgardhen, Pat Irwin, and George Scott III.
Compared to Teenage Jesus and the Jerks, 8-Eyed Spy was regarded as more overtly musical.
You'll hear Lunch's familiar, jarring voice in their songs, as well as some crazy instrumentation and jazz influences.
The band released one self-titled album, as well as a live album called "Live". They also covered some songs, including "Run Through the Jungle" by Creedence Clearwater Revival and "White Rabbit" by Jefferson Airplane.
Sadly, the band broke up after the death of George Scott in 1980.
Lizzy Mercier Descloux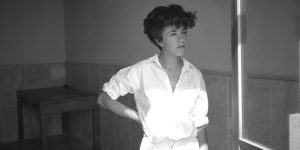 Lizzy Mercier Descloux
In New York she created a performance art duo called Rosa Yemen with guitarist D.J. Barnes and the two of them released a self-titled mini-album in 1978.
It was released by her partner Esteban's own record label, Ze Records. Later, Descloux released her solo LP, "Press Color", also through Ze Records. Her style of no wave was minimalistic.
Being a self-taught guitarist, she didn't rely on heavy or overly-complicated guitar work, but instead on single-string notes that delivered a clear sound and got the message across. Here is "Hard-boiled Babe" from "Press Color".
Her second album, "Mambo Nassau" was inspired by African music as well as funk.
This album was what won her a contract with the French record company CBS Records. Returning to France, she released a popular single called "Mais où sont passées les gazelles?" ("But where have the gazelles gone?") as well as her third album "Zulu Rock", both in 1984. "Zulu Rock" was recorded in South Africa and was an eclectic and unique mix of African folk music and 80s French pop. It was well-received by critics.
Judy Nylon



Judy Nylon
All the musicians we've looked at so far had been residents of New York City at one time or another, because that is where the bulk of the no wave scene took place.
Judy Nylon, however, while she was an American musician, moved to London in 1970. All the same, she was an important artist who was appreciated by other no wave bands.
In fact, in 1974, Brian Eno released an album called "Taking Tiger Mountain (By Strategy)". This album featured a song named "Back in Judy's Jungle" – Judy Nylon is who he is referring to.
In the 1970s she was part of a punk rock band called Snatch, along with a woman named Patti Palladin. She then began some solo work as well as some collaborations with other artists.
In 1982, she and a fellow musician Adrian Sherwood released the LP "Pal Judy", which was praised on the website NME as being "a classic rainy-day bit of sound and song to drift away to".
Mars

Mars
Mars was a no wave band from New York City consisting of China Burg (a.k.a. Lucy Hamilton) on guitar and vocals, Nancy Arlen on drums, Mark Cunningham on bass, and Sumner Crane as vocalist.
The band's sound was ambient, with non-standard drumming techniques and surrealist lyrics. Surprisingly, all of the musicians in this band were self-taught.
Mars was most active between the years of 1977 and 1978. They played many live shows, all in Manhattan.
The band had a unique sound, a little chaotic and all over the place at times, but in a way that was interesting and compelling. They released their debut album in 1978, "3-E (11,000 Volts)". About a year later they released a live EP, although the band had broken up in 1978.
DNA
Last but not least, we have the band DNA, formed in 1978 by guitarist Arto Lindsay and keyboardist Robin Crutchfield, and consisting of a handful of other talented musicians.
The band actually got their name "DNA" from the title of a song by Mars.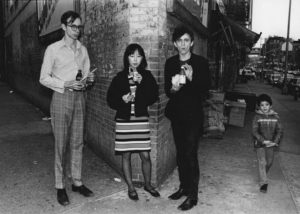 Soon after the formation of the band, Crutchfield left to join another group and was replaced by Tim Wright. This switch brought a drastic chance to the band's music.
It became more abstract, concise and simple. DNA made frequent live performances in the lower Manhattan area between the years of 1979 to 1982, playing mostly at CBGB, Max's Kansas City and Tier 3.
They developed a cult following especially after the release of their debut album "A Taste of DNA" in 1980.
Their last three concerts sold-out because of their loyal fan base. The band broke up in 1982.
No New York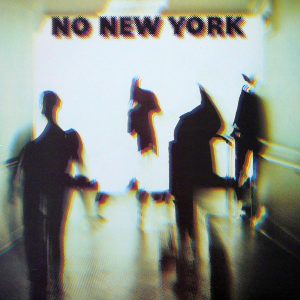 "No New York", as mentioned earlier in the article, was a compilation album curated by Brian Eno. It played an important role because it was the first album to bring no wave to an audience outside of lower New York City.
The album featured four bands; all four bands have been mentioned in this article. They were James Chance and the Contortions (known as just "The Contortions" on this album), Teenage Jesus and the Jerks, Mars, and DNA.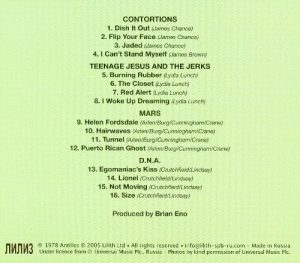 Honourable Mention: Sonic Youth
While I first thought of the band Sonic Youth as more of a conventional rock/post-punk band, it is undeniable that they rose up out of the no wave scene in the early 1980s and even had an acquaintance with Glenn Branca.
Based in New York City, the band was formed by Thurston Moore, Kim Gordon and Lee Ranaldo. They are well known for their genre of noise rock, playing with an unconventional and eccentric guitar tuning as well as altering their guitar's timbres to create different sounds.
The band played at Noise Fest in 1981 and were signed to Glenn Branca's record label Neutral Records in 1982, soon releasing their debut album "Sonic Youth EP", which although was not very popular, did earn some positive reviews.
Here is one of the tracks off that album, "I Dreamed I Dream".
Conclusion
The no wave scene was very intricate and had a lot of contributors to make it as unique as it was. Certainly there are even more artists who had an influence on the genre but these are, in my opinion, the top ten that every no wave fan should be aware of.