As many other professions and hobbies, DJing requires some serious equipment and if you want to do this gig at the club level, you need to invest in getting reliable gear that will serve you well and that will not impose limits on your ability to perform.
So let's look at what you might need or want exactly, starting with the things you could not do without.
Turntables and/or Other Input Devices
No matter if you want to use vinyl, CDs, other digital turntables, a laptop or something exotic like a Kaossilator, input devices are your bread and butter. You can't play songs if you don't have something to play them off of and your personal MP3 player will not be up to the task. You need at least two sources because you want to be able to mix.
Here is a clip of DJ Nick Kim keeping the party going.  Pay attention to his use of flanger.
Classic DJ Club Setup
The classic DJing setup includes two turntables that use vinyl and if you are serious about your art, that might be the best option. If you think analogue sound is overrated and you don't want to deal with the whole records and needles jumble, you can also get two CD decks. No matter what route you take, you need to get equipment that would allow you the highest level of control and the highest sound quality so you will not be limited or crippled while mixing, scratching or performing.
Here are some of the bestsellers below…
Mixer
So after you have your audio sources figured out, you need to be able to work with them and you need to be able to work with them easily, flexibly and reliably. So a good DJing mixer is an essential tool of the trade.  It is going to be your command center, so the general rule is the more control, the better. The most basic setup will include a two-channel mixer to connect two turntables to, but you might find that limiting as time goes and if you want to add more input devices, you will also need more channels to work with.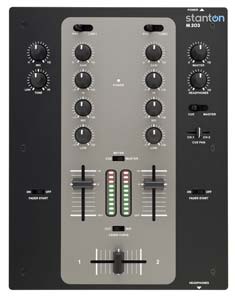 Check for deals on the Stanton M203 Mixer on Amazon now
Another thing to consider is available effects and equalizer, options to expand with outboard, sound quality and build quality. Don't underestimate the last item on this list, because you are likely to be lugging that thing around from club to club and if that is the case, it should be able to withstand that.  
Headphones
Now this is something simple and small, but absolutely essential. No matter what you want to do exactly, the ability to listen to a different part of the mix than the one you are blasting through the PA is essential and should not be overlooked.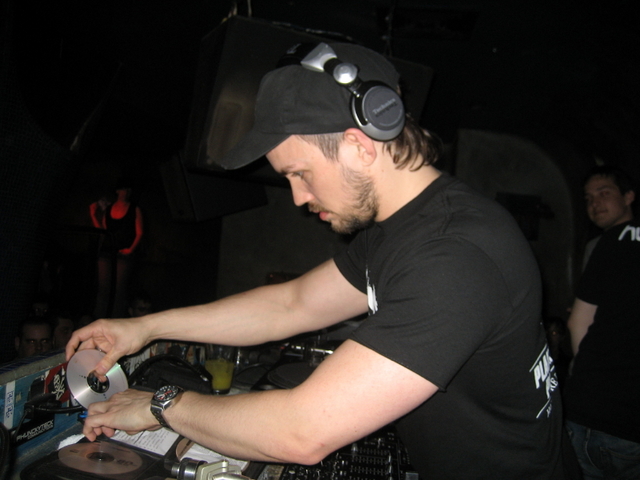 At the club, you are going to be using your headphone all the time and you need a set that is going to be reliable, that is going to provide high quality and level and that is going to look good on you. Just make sure that you don't compromise with anything else just for the look. Here are some of our favorite headphones including popular bestsellers on Amazon.

PA / Sound System
Now getting a sound system or a PA is not a small thing and it really depends on your budget and the desired gigs you are trying to get. At most clubs, there will be a house PA that you will be able to connect your mixer to and you will not find yourself dragging your own PA to most clubs around the world.
Still, having your own sound system might provide you  with a level of freedom that you cannot get otherwise and you might also need one for your practice sessions as well. Sound systems come in all shapes and sizes from large amplifiers and speaker stacks, to the simpler to use and move around powered speakers that have their own amps built in. Having your own PA suitable for small or medium venues or rooms will allow you to get gigs you otherwise wouldn't like house parties or other special occasions, but my advice would be to research the options before committing to a purchase. Here are some of our favorite PA / Sound Systems available on Amazon now.

Additional Tips
Hopefully, you already have a better idea about what you might need to get to start showcasing your DJing skills to the wide public, but let me share a few tips that might still help you out:
Find a way to test the equipment you want to buy first.
If you buy online, you're going to have to trust other peoples' reviews of that product, but we always recommend going to your local music store when possible.  There are many options for all of the things you are going to need and it is important to get something that fits you. Finding a way to spend some time with a piece of gear you're interested in before getting it is always a good idea. Test extensively as many options as you can.
Stay away from the DJ-in-a-box packages
If you are going to hit the clubs, you want to be professional and getting professional equipment is a must. Those types of packages are aimed at hobbyists and you'll find them severely lacking as your skills start to get better.
Second-hand equipment will get you more bang for your buck
As mentioned already, getting professional grade equipment is a must if you want to be a professional and since it doesn't come cheap, you can take a look at the second-hand market where you can get things at much lower prices. But stick only to high quality models that were built to last and that were designed to take the punishment of constant use. Also make sure what you are getting works well and is in good condition.
Get hard cases for your most valuable pieces of equipment
Lugging gear around will take a toll on it, so keeping it safe is never a bad investment.
Thanks for reading!