Last Updated on
By Youtube Music Sucks
The Singtrix home karaoke system is one of the most recommended, not to mention affordable, complete karaoke systems on the market currently, and it is the subject of today's review.
This popular machine was designed by the creators of Guitar Hero, John Devecka and Eric Berkowitz. It was first introduced on SharkTank a few years ago and, and, since its debut, the company has everyone talking about it. 
The Singtrix system has even been endorsed by Ellen Degeneres, The View, and many other talk shows.  Impressive! 
It's known for being good quality and easy to use. It's a "plug and play" system, so it doesn't take a lot of time or effort to set up.
The Singtrix is the only karaoke machine I know of that has ever been endorsed this much by multiple celebrities.  So, is it all hype, or does this system really bring the goods?  Let's take a closer look.
What the Singtrix System Includes
The Singtrix karaoke system includes a 40-watt portable speaker with a subwoofer, a customizable control panel that allows you to select from the hundreds of effects available, a professional quality microphone, a microphone stand with an adjustable arm, all the required cables, and, lastly, some different coloured faceplates so you can change the colour of your machine if desired.
We'll go into more detail on each of these pieces of hardware below.
The Singtrix karaoke system has everything you need, which is great if you're a karaoke enthusiast, and even better if you're completely new to home karaoke, because you don't have to worry about a thing.
The system comes with everything you could possibly want and it will be so much easier for you to get started. It's all taken care of for you!
The system also has the option of buying a monthly membership so that you can enjoy more extras from the Singtrix app.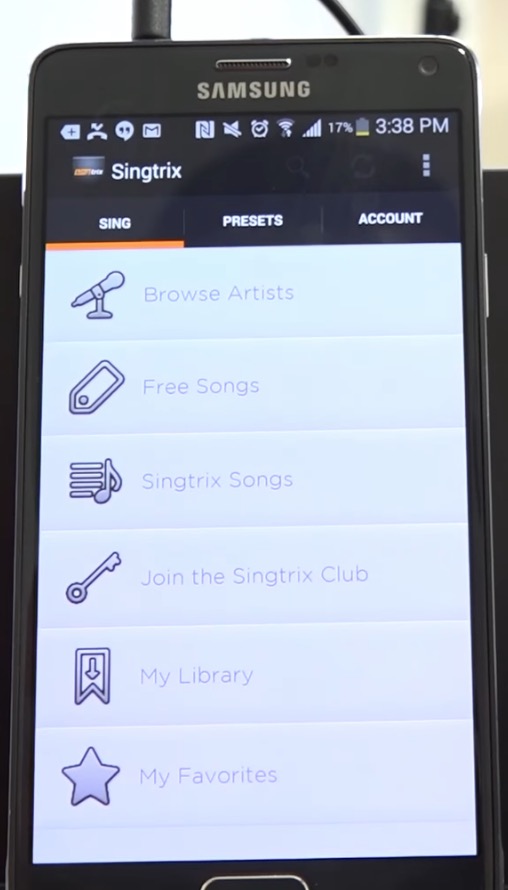 This feature, however, is totally optional and definitely not necessary; you can still have a blast without paying the monthy membership. But if you really love the system and are an avid karaoke singer, then the extra benefits might be worth it. It's all up to you!
The Speaker
As mentioned, the speaker is a 40-watt speaker with a built-in subwoofer, meaning you can really amp-up the bass. The speaker has a deep, full sound and can handle many different styles of music with high notes and low notes.
It packs a powerful sound but it's also compact and portable which is great, because it allows you to take your karaoke parties wherever you want! You can even use the speaker for other purposes such as connecting it to your TV for movie-watching or connecting it to a gaming system. It can also be connected to headphones.
It's a really convenient and functional piece of equipment to have. 
The Singtrix speaker is luckily not at all complicated to work. So if karaoke is your forte but  the tech-stuff isn't, Singtrix has you covered.
There is one round button for the power. You know your speaker is on when the blue light is on. The three little knobs beside the power button control the volume, treble and bass.
You can obviously use these knobs to adjust these, but you can also adjusts the levels via the Singtrix app.
The speaker, while lightweight, is sturdy. It has four legs that it sits upon and the speaker part itself is angled upwards to project the music.
On the back of the speaker you'll find a few different ports. First of all there's the power plug to be able to plug in the speaker.
Then there's two ports to allow up to two microphones to be plugged into the speaker, so you can sing with a backup singer if desired.
There's a USB port as well if needed, and lastly a headphone jack. Nothing super complicated, but definitely everything you need. 
The Singtrix system can also be connected to two speakers instead of one, if you're playing at a larger venue and need a much louder sound. 
The Microphone
The microphone that comes with the Singtrix karaoke system is of good quality. First of all, it comes with a mic stand that has an adjustable arm, so you can adust the height and position of the micophone.
This is definitely beneficial because the microphone can be adjusted to suit the height of whoever is singing. It's the thoughtful extra touches like these that make this system one of the best.
The mic stand is also portable, and folds down easily for transportation. Another nice addition that the system includes is a clip-on phone or tablet holder, so you can look at your screen for lyrics when singing. 
The microphone is quite sensitive to your singing. It's also weighted and balanced just right to make it easier to hold when you're giving your dazzling performance.  
The microphone is also unique in that it has a built in "HIT" control which activates harmonies and other effects simply by the touch of a button. 
The Effects
With over 300 effects, this sound system covers every genre and generation of music, allowing you to get the type of sound you want for the type of song you're singing.  
This is great, because if you want to go with an older track, you can sound like you're from that era.  If you want to sound like today's artists with those types of modern-sounding effects, you can do that as well.
Some of the most popular effects include hard-tune (which is like auto-tune), harmonies, choir effects, delay, reverb, voice morphing, gender-bending effects and so much more. 
The system is also known to help those less fortunate souls who are terrible at karaoke sound a lot better than they are. The Singtrix claims it makes "bad singers sound good and good singers sound amazing". It gives everyone the ability to show the audience a performance of a life time. 
So, if you naturally are not that good at singing, fear not, because certain features are there to help.  The machine features natural pitch-correction which can make you sound better than you ever thought you could be!
As founder John Devecka said, his home karaoke machine strives to share the musical experience with non-musicians, allowing them to enjoy the feeling of making music themselves even if they're not the most musically-inclined. With this system, ordinary people can feel like rockstars.
Here is a quick 2-minute video of Singtrix home karaoke in action, from the show SharkTank. From this video you can hear just a few of the many vocal effects that come with this karaoke machine, and you can see how the machine can improve anyone's vocals as well.
It's fun and interesting to see just how diverse this machine is, and how much fun it can be to fool around with the seemingly endless effects!
In terms of overall vocal quality, this machine was designed to sound similar to a recording studio or concert performance.  The system doesn't skimp on quality, and the price reflects that because it isn't cheap.  
Still, I find it to be rather affordable considering everything that comes with this system. And you know that what you're getting is good quality and will last you a long time. In my opinion, this system has great value.
Speaking of quality, the Singtrix home karaoke machine really is one of a kind, as it has it's own patented plug, which allows it to be powered by live vocal effects technology that are only generally available to professionals in the industry.  
With these effects at your disposal at home, you can become a serious vocal threat if you have the chops to back it up.  
The Console
Lastly we'll go into a bit more detail about the console. The console has a screen on the front and 6 different buttons, plus the power button on the back.
This is what allows you to see the different effects available and choose among them. The buttons allow to to choose effects and adjust the volume.
Choosing your effects from the console is simple and intuitive. As you become more familiar with the machine and the effects you like to use for your own voice and for certain songs, you can add them to a favourite's list.
This is a great feature because with over 300 effects, it might become difficult to remember all the ones you like best. Keeping them together in your favourites list will make them easy to find and use!
In one of the online reviews for Singtrix, it was noted that it can throw you off a bit to hear your own natural voice coming from your mouth at the same time that you hear your pitch-corrected voice coming from the speakers.
To remedy this, the reviewer suggested turning the volume up slightly on the speaker and putting it behind you. It does take some getting used to, but with some practice you'll be sounding great (or at least better). 

The App
As mentioned earlier, Singrtix has an app that can be downloaded on any smart phone. There is a free version of the app as well as a paid for membership which has a monthly fee.
The free version of the app doesn't really give you much to work with. It comes with 12 free songs that you can use, ranging from Justin Bieber to Willie Nelson. So there's a bit of variety, but these 12 songs would get old fast. 
Beyond this, you can either join the Singtrix Club and pay a monthly fee, or you can buy songs as you go. It's approximately $10 for 5 songs (this price may have changed, but to give you a general idea, this is how much the songs would be).
In my opinion, it's not really worth it to buy songs as you go. The monthly fee might be a better deal if you're someone who is really committed to karaoke. But keep in mind that you can often find karaoke versions of all the songs you want for free on YouTube. 
There are also separate third party apps such as Sing! and Karaoke Cloud that are free and can pull karaoke versions of songs from YouTube for you. This is a good option as well. 
Singtrix Home Karaoke Packages
The package I've been talking about up until now has been the "Party Bundle Premium Edition". This is the bundle that gets you everything mentioned in this article. It's the most expensive, but you get the most from it. 
The Family Bundle is another good option. It contains less separate pieces and is a bit more compact. It's also a bit cheaper, as it doesn't come with a mic stand or a clip-on phone holder, and the speaker is a bit different in that it is attached to the console, as seen in the photo below. 
The Personal Bundle is the cheapest bundle available. It comes with a microphone and the Singtrix console with customizable face plates. It does not include, however, the speaker or the mic stand, making it the sparsest bundle.
This is good if you already have a good quality speaker of your own that you know how to use. You'll still be able to enjoy the high quality micrphone with HIT effects, as well as the hundreds of voice-enhancing effects on the console. 
Singtrix also sells the microphone separately and the speaker separately, if you decide you want an extra mic or speaker for your system. 
Just How Fun Is This Thing?
Personally, I really dig it.  The Singrtix home karaoke machine looks and behaves quite uniquely, and that's very evident when you try it out for the first time.  It's not hard to set up, or use, plus it looks cool.
As I've said, with over 300 effects, this machine can keep you singing/busy for hours as it's quite fun trying to figure out what effect makes you sound more like Beyonce and less like a dying dog.  
Obviously not every effect sounds good with every song, or with the voice singing it, so playing around and finding cool sounds is half the fun.
This machine will keep the party going all night! Everybody will be entertained with the exciting effects and the karaoke songs available on YouTube.
This home karaoke system is also way more convenient and fun than going to a karaoke bar, in my opinion. The device is very easy to use and you can simply find your favourite songs on YouTube, instead of flipping through a book of karaoke songs trying to figure out what you want to sing.
Attached to the microphone stand there is the clip-on device holder allowing you to keep your devices close.  In fact, this is probably on of my favorite features because, as you may know, most songs that are available for doing karaoke are just there on Youtube.  
If you wanted to get a projector, to make it like you're at a bar, that's a different story.  I don't feel like that's really needed, but it is cool if you happen to have one.
Other Uses
The system is unlike any other as it can be used for various things besides home karaoke. You could use it for a simple coffee house show, studio recordings and pretty much anything else you would need a system for. 
You can also use this system for a vocal training tool. The unique natural pitch corrector in the mic will feel like the singing instructor you never had.
Some say, using Singtrix has helped them develop and improve their voice naturally and gave them the confidence to perform.

Pros and Cons
So let's quckly sum up the basic pros and cons of the Singtrix home karaoke system! 
Pros:
– Easy to set up and to use "plug and play" system
– Party package comes with everything you need for your karaoke parties
– High quality technology
– Speaker is powerful and loud, with adjustable treble and bass
– Speaker and mic stand are portable
– Mic stand has an adjustable arm and a clip-on device holder
– Fun and exciting to try out all the different effects
– You can save your favourite effects in a favourite's list
– Will improve the sound of your singing
– Fun for all ages
– Option for different bundles (family bundle, personal bundle)
– Can be multi-functional 
Cons:
– The free app doesn't get you much
– Paying for songs on the app can get pricey
– Paying for the monthly membership get pricey
– With all the effects available, not all of them are great/useable, some effects might get lost in the crowd
– Party package might seem expensive to some 
Conclusion
Basically, this thing is the shit.  The Singtrix home karaoke system is innovative, one of a kind, and practically sells itself.  I believe that this is the best karaoke machine out there right now, and that it will allow anybody feel like their professional AF.  
With this thing, you have no excuse but to sing and have fun.  Lastly, I'll say this – this system is for anyone who wants to have a killer karaoke set up.