Last Updated on
By Youtube Music Sucks
There's nothing like the joy of hearing that smooth, yet somewhat rugged, overdriven guitar tone. While many players often aim at those "scorched" tones of regular distortions, overdrives have their important role too.
They just give a different flavor, while maintaining enough thickness of the tone. Whether we're talking about guitars with single-coils or humbuckers, overdrive always manages to give that highly desirable and distinctive creaminess.
While many consider it to be just a milder version of regular distortion, there's actually another important distinction.
Yes, overdrive is indeed a type of distortion, but with softer clipping. Compared to fuzz and regular distortion pedals, the tone of overdrive has softer "edges" in the clipping process.
Essentially, these pedals add their own tone coloration but still manage to keep the natural tone of your guitars and amps. In a way, it replicates the tone of clean tube amps pushed over the limits.
This is why overdrive pedals are quite popular among blues, jazz, or and vintage-oriented guitar players.
In many cases, they'll use them in pair with tube amplifiers to push them into uniquely smooth, yet distorted territories.
Even to this day, various manufacturers are still producing overdrive pedals. While these find use in many different genres, including modern metal, they're mostly still popular among blues and blues-rock players.
This is why we decided to look more into the topic and find out – what are some of the best overdrive pedals for blues today?
After a lot of digging, testing, and experimentation, we came up with the following list. Now, whatever your musical tastes are, these pedals can come in handy for a wide variety of genres.
However, we would argue that they work best for blues and blues-rock.
---
Boss BD-2 Blues Driver
It's not a surprise that we open up this list with a pedal featuring "blues" in its designated name. Made by Boss, the BD-2 Blues Driver has been popular among blues guitarists for quite some time now.
The pedal is pretty simple to use, and features the always present three controls – volume, tone, and drive. Just like with the classic Tube Screamer, there's nothing more that you need.
While it mostly comes in handy with tube amps, trying one of these with a solid-state will do just fine. In fact, it will even slightly enhance the tone and add the much-needed warmth in the mix.
While it's great for any type of guitars, we would argue that it shines when you use it with guitars equipped with single-coil pickups.
A few years ago, Boss also made the BD-2W version, featuring their Waza Craft technology.
---
Fulltone OCD V2
The only thing we didn't like about this pedal is the Comic Sans font on the front panel. Other than that, this could easily be one of the best pedals of all time.
Its rich harmonic content and the responsiveness of controls are what make it so great. Aside from the three basic controls, there's an additional switch for highpass and lowpass filtering.
This way, any guitar player can orient their tone towards the bottom or the higher end of the spectrum.
Also, there's an internal switch that allows you to use it in true bypass and buffered bypass mode. So that's a pretty neat addition.
Visit the Fulltone website here
---
TC Electronic MojoMojo
TC Electronic's MojoMojo has got to be the best deal for the price. Although it's pretty cheap, it deserves to be mentioned among the best pedals you can find today.
This true bypass pedal allows a lot of versatility with a 2-band EQ and the "Voice" switch that toggles between the vintage and modern-sounding drive.
Knowing that Paul Gilbert uses one, it's pretty clear that MojoMojo is worth it. It's just a simple little piece that can do wonders when pugged into clean or distorted channels of tube amps.
Trying one of these out, you won't believe that the retail price is just around $50.
Visit the TC Electronic website here
---
Electro-Harmonix Soul Food
What many don't know is the fact that Electro-Harmonix made Soul Food according to the legendary, and somewhat mysterious, Klon Centaur pedal.
Knowing that Klon is no longer in production and that they reach some astronomical prices, Soul Food comes in as a viable solution. Although reasonably priced, it still does a great job of capturing some of the original pedal's tone.
Featuring only three basic controls, Soul Food will give you some very transparent and bright overdriven sounds.
While it comes in handy for any type of pickup, we thoroughly loved how it sounded with humbuckers.
It's also important to note that Soul Food features a true bypass.
---
Boss OD-1X
Knowing what a great line of products they have in their arsenal, we just couldn't help but add at least one more Boss overdrive to the list.
Here we have the old classic OD-1X Overdrive, made according to the classic old pedal released back in the 1970s.
Some controls are added, but the tones replicate the warmth of the original pedals. The best part comes with this pedal's dynamic response.
You'll feel as if though you're playing through a tube amp.
---
MXR M193 GT-OD
Anything from subtle sparkling overtones, up to harmonically rich and tasty drives – this pedal has it all with just three basic controls.
It's interesting, though, how it manages to keep all the smoothness while also delivering that bright, transparent, and very defined edge.
What's more, MXR's M193 adds a decent amount of sustain to your tone without adding any unwanted noise. We've gotta say, it's a real mystery to us how they managed to make it so good.
If you like adding something in front of your tube amp to push it over the limits, while adding some coloration and clarity to your tone, you should definitely consider getting the M193.
While the looks of it might suggest that it's just another Tube Screamer imitation, it's actually a completely different type of overdrive.
Visit the Jim Dunlop website here
---
Chase Bliss Audio Brothers
Audio Brothers by Chase Bliss is a fairly expensive pedal, at least compared to many of the products that we listed above. However, it's definitely worth every penny.
First off, it's a pedal with two separate stages. While on the top panel we have six main knobs, there are many other mindblowing and complex features.
With its numerous controls, it allows anything from simple clean boosting, over smooth overdrive, and even the buzzsaw-like fuzzes.
Audio Brothers pedal fuses analog and digital technologies, allowing you to save 33 different combinations of presets.
You can combine channel A and channel B in different ways, and even blend them together. It's one of the most complex and intricate pedals that you can buy today.
Visit the Chase Bliss Audio website
---
Ibanez TS-9 Tube Screamer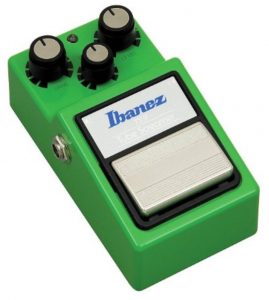 And we finally come to the legendary Ibanez Tube Screamer. The history of Tube Screamer has been explored by many guitar pedal fanatics, but for a good reason – there are so many great versions and clones.
What started back in the late 1970s with the original TS-808 has evolved into so many different overdrives. Today's TS-9 is a direct continuation of that pedal, with just a few minor modifications done over the years.
This version is made according to the old Tube Screamer made in the first half of the 1980s. The circuitry is completely the same and the tones are some of the best that you can get for blues.
At the same time, this pedal presents a great basis for any kind of modification.
---
Keeley D&M Drive
You don't often find a pedal that's as good as Keeley's D&M Drive. Here we have a two-stage piece that incorporates simple boost within an overdrive pedal.
Interestingly enough, you can use it as two standalone pedals. But what's really mindblowing is that you can choose whether boost comes before or after the drive section.
This provides some great tone-shaping options. What's more, you're also able to choose between true and buffered bypass. So aside from quite a great tone, we have a lot of functionality features.
As a result, the types of tones you can get are pretty much endless.
Visit the Robert Keeley website
---
Strymon Sunset
Strymon is a one-of-a-kind pedal company that manages to surprise us with every single piece they've ever made.
For this list of the best blues overdrives, we'd like to include their extremely versatile Sunset. Additionally, you can also venture into the world of distortion with this pedal.
What's really great about the Sunset is that it manages to convincingly replicate the responsiveness of a tube amp.
To be fair, many would fail a blind test and between Sunset in a solid-state amp and an actual tube amp. It's just that good.
Similar to the aforementioned Audio Brothers, this dual overdrive has so many features, including the expression pedal connectivity. You can also choose the order of the two gain stages, or just blend them together. Barely anything comes close.
One of the best things we liked about it is the replication of those vintage germanium diode tones.
Visit the Strymon website here
---
Origin Effects RevivalDrive
Now here's a very intricate piece. At first glance, it's pretty clear that Origin's RevivalDrive hides so many different tone-shaping options with it.
Like some of the others we mentioned, it's also a two-stage drive, with one on/off switch and another one that toggles between the channels.
One channel is inspired by tube tones, while the other one features the classic silicon transistor.
But then we come to an abundance of controls that would take days for us to fully explain. RevivalDrive brings the best of two worlds in one pedal.
Visit the Origin Effects website here
---
EarthQuaker Devices Westwood
Although the controls look like on any other overdrive pedal, EarthQuaker's Westwood hides a few tricks up its sleeve. What's special about it is that it has a so-called "active" 2-band EQ.
This means that, when shifted to left and right, the frequency band changes drastically, cutting or boosting up to 20 dB. Also, the drive control is voiced in a special way, providing much more response than standard controls on other pedals.
This compact piece comes in handy both as a booster and an overdrive. It's a very crunchy pedal, to an extent where it might lack some smoothness to it.
It doesn't mean that it's bad, it's just different and very useful for those who love these types of overdriven tones.
Visit the Earthquaker website here
---
Fender Santa Ana
While we mostly remember Fender for their guitars and great tube amps, it's a shame that people sometimes overlook their extremely versatile and abundant arsenal of effects pedals.
Up next, we have the company's impeccable Santa Ana overdrive. This is a classic two-stage pedal with very sensitive and responsive controls.
There are six basic controls for a 3-band EQ, presence, volume, and drive. It also comes with a voicing switch that picks between the classic American and British types of amps.
There are two switches on it, one to turn it off and the other one to add the boost. What's interesting is that you can choose whether the boost option will add more drive or volume to the equation.
Another great feature comes with the addition of true and buffered bypass switching.
Overall, this is a fairly flexible pedal that manages to create a wide array of different overdriven tones.
---
Analogman King of Tone
King of Tone is a very special pedal. So special that you need to get your name on the waiting list, and wait for who knows how many months until you finally get it.
These boutique overdrives made by Analogman are in such demand that people started reselling them for higher prices. In fact, there's a limited number of these pedals an individual can order in their lifetime.
And it's no wonder that it achieved such a legendary status since it sounds so damn great. Sure, it comes with some customizable features, but the circuitry is almost the same with every one of these.
It's a two-stage distortion that gives anything from smooth creamy drives up to sizzling heavy distortions. If you want the ultimate blues tone, then get on the King Of Tone waiting list.
Visit the Analogman website here
---
Thanks for reading!  Have you purchased any of these overdrive pedals?  What did you think?