Last Updated on
By Youtube Music Sucks
Let's face it – any of us would just love to spend our whole lives just jamming out and looking for those perfect guitar tones. With this said, it seems like creating the perfect rig is an impossible task.
Yeah, you'll buy something new, whether it's a pedal or a rack-mounted effect or a new amp, but you'll always manage to stumble upon something new and fresh that grabs your attention.
And there'll be all sorts of stuff that you'll want to buy, all those flashy and exciting effects that turn your tone into a strangely pleasant mush of harmonically rich content.
However, it seems that we often tend to forget about some of those less exciting but essential pieces of gear.
At the end of the day, it's not all about the crazy stuff, there's supposed to be something in your signal chain that controls your tone.
Strangely enough, compressor pedals often tend to get overlooked. Yeah, they might be a bit dull, but when applied properly, they do wonders for your tone.
Whether it's the rhythm or lead parts, or whether we're talking about distorted or clean tones, dynamic compression always serves its purpose.
By making quiet parts louder and louder parts quieter, these pedals practically "squash" your tone, bringing much-needed dynamical control and sometimes even additional thickness to it.
In most of the band settings – especially if we're talking about larger groups of musicians – you just cannot go without a compressor pedal.
No matter if you need those tasty funky rhythm tones, chugging riffs, or excessively loud screaming leads, we decided to bring you the list of the best compressor pedals for guitar that you can find these days.
---
Xotic SP Compressor
The first one we're going to mention is fairly simple and compact. Nonetheless, this small pedal can do wonders for your tone.
What's more, the operation is extremely simple, which makes it a perfect choice for those who don't feel like bothering with parameters too much.
Xotic's SP features two knobs, one for volume and the other that blends processed and unprocessed signals. But there's more to this simple pedal, as it features a 3-way switch for low, mid, and high compression.
More tone shaping is available through four internal dip switches for attack, release, high cut filtering, and input pad. There aren't many options for tweaking mid-session, but simplicity is the main idea behind such a pedal.
---
MXR M228 Dyna Comp Deluxe
There's a lot of great stuff in MXR's arsenal, and they're pretty well-known for their quality compact guitar pedals.
Talking of compressors, they have a fairly simple and popular M102 Dyna Comp. However, we would like to include an upgraded version, the MXR M228 Dyna Comp Deluxe, on this list.
As opposed to the M102 that has only two controls, the M228 features four knobs. There's the output volume and "sensitivity," which determines the strength of compression and the overall sustain.
The clean blend control does the classic mix between the processed and unprocessed signals, and there's also a regular tone knob on it. An additional switch in between the knobs switches between faster and slower attack time modes.
---
TC Electronic HyperGravity
Among a variety of their pedals, TC Electronic's HyperGravity has earned quite a reputation among tone lovers. And it definitely lives up to its name, as the pedal adds some quite tight and "squeezed" tones for any possible occasion.
First off, the pedal offers four basic controls for volume, blend, sustain, and attack. We can also find a switch for three modes of operation – Vintage, TonePrint, and Spectra.
Vintage mode, as the name suggests, offers the old school kind of tones. Spectra brings some very bright and clear compressed tones, very useful for clean settings.
And there's the TonePrint feature, that allows you to either download presets from the company's website, or create your own that you can upload to TC Electronic's library.
But that's not all. The pedal also has an internal switch for true bypass and buffered bypass modes. This feature comes in rather handy for different signal chain preferences.
---
Boss CS-3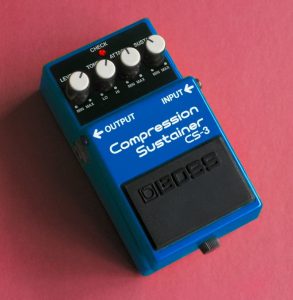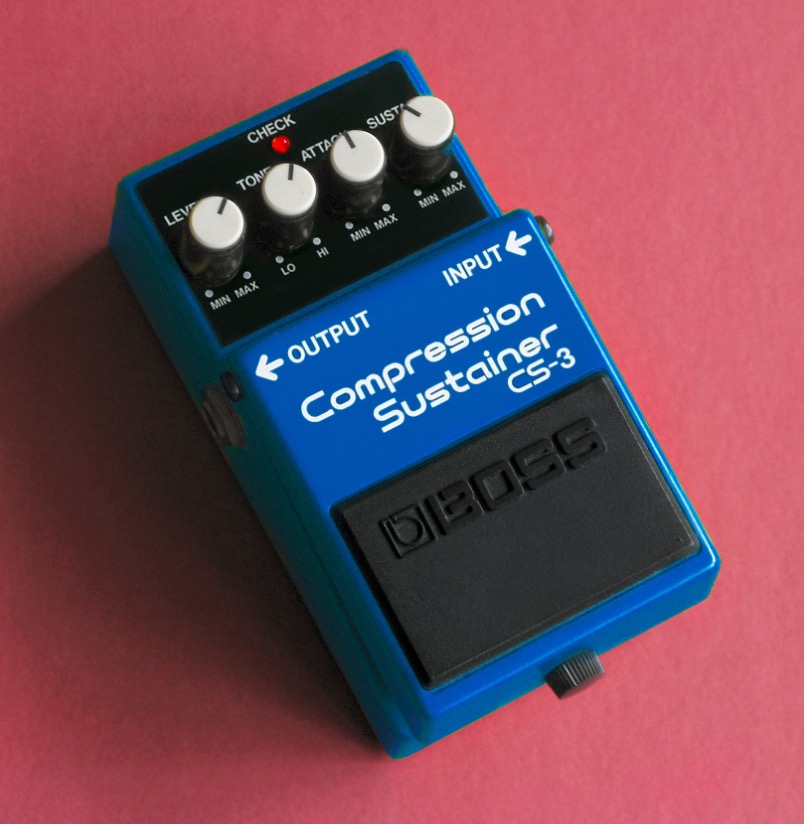 And it's the good old Boss up next, with their CS-3 Compressor. This pedal is the continuation of the company's old CS-1 and the very well-known CS-2, both of which are still highly valued among vintage pedal fans.
The CS-3 brings a bit more functionality, while it still retains that bottom-end-heavy squashed, yet really defined tone and low-noise operation.
You can sculpt your tone through four basic controls for volume, tone, attack, and sustain.
The sustain knob determines the intensity of compression, while it adds actual sustain as a "side effect" of compression. It's not expensive, it does the job well, and fits perfectly for any musical style.
---
Behringer CS400
Okay, some might give us weird looks for deciding to include an actual Behringer pedal on this list. But there's a good reason for it – the CS400 actually works rather well and is extremely cheap.
It's usually somewhere below $30, which is ridiculous for a guitar pedal. The only downside is the plastic casing, and possibly the overall design and choice of LED color. Other than that, the pedal works like many other compressors out there.
As for the controls and the tone, the CS400 is pretty similar to Boss' CS-3 we discussed above. There are Level, Attack, Tone, and Sustain knobs on it.
---
Foxgear Squeeze
Appropriately named Squeeze by Foxgear will thoroughly squeeze your tone. And this one is as simple as it gets. There's the input, the output, and two knobs for output volume and ratio.
While it's not very versatile, the pedal does bring some amazing compressed tones. The thing is, this is an optical compressor pedal, meaning that the input signal is converted into light and processed as such.
As a result, you get a very peculiar tone that no other conventional compression pedal can replicate. The response and the whole feel are a bit different.
Also, the signal is pretty clear and you can add strong compression with a vintage vibe without any interference or noises whatsoever. Plus, it looks very cool.
---
Pigtronix Philosopher's Tone
There's a lot of unusual yet very useful stuff made by Pigtronix over the years. But aside from those wacky synth pedals, they also have a fairly simple and compact compressor called Philosopher's Tone.
And its main philosophy is to bring regular compressor pedal functionality within a smaller sized unit that fits today's trendy standard of crowded pedalboards.
So aside from the output volume, blend, and sustain/intensity knob, there's also a treble control. In some way, it operates like the tone knob, with just a little accent on the high-ends.
The tones can get bright, especially because this is a true bypass pedal. We'd argue that it does a great job for those funky single-coil rhythm tones that you can get from Strats and Teles.
---
Origin Effects Cali76
Now, Cali76 by Origin Effects is a high-end piece, something that gets pretty obvious with the first glance at this pedal. The interesting thing that makes stand out from most of the pedals out there is that it's only powered by an adapter.
The main idea behind this approach is that the higher current always provides a clearer tone. But at the same time, you can run it either on 9 volts or 18 volts, which brings a significant difference in tone and overall output.
We have six control knobs on it. Interestingly enough, there are separate controls for input and output signal, while you can also adjust the ratio, attack, and release.
All this provides some very detailed tone shaping, and you can achieve some great compressed tones for literally any type of music and combination of pedals. Yeah, it's a bit more expensive, but it's quite worth it.
---
JHS Pulp 'N' Peel V4
You know how you can use compressor pedals as boosters and push vintage tube amps over their limits, while also shaping their tone? Well, JHS has a great pedal for this occasion, called Pulp 'N' Peel Version 4.
There are those basic four controls that we can find on most of the compressors, like blend, compression intensity, volume, and tone that's labeled as "EQ."
But there are a couple of additional goodies here that make it stand out. With just one switch, labeled as "dirt," you can tighten up the tone further and add some bottom-end to it.
The second feature is the XLR output that lets you plug it directly into a mixer. This comes in handy when you want to make a practical gig setup without amps. What's more, there's an internal switch for true bypass and buffered mode.
---
Keeley Compressor Pro
Here's another high-end compressor pedal that comes in handy for all those who want to make fully professional signal chains and guitar rigs.
Robert Keeley is a famous pedal builder who created and modded effects units for many famous guitar heroes.
Since the early 2000s, he's been making some of the best boutique-tier pedals on the market under the Keeley Electronics brand. For this list, we're including the company's Compressor Pro.
At the first glance, we can see that the controls are very detailed, offering precise attack and release times, threshold settings, gain, as well as ratios that go well into the maximum limiter territory.
Then comes even more exciting part with the hard and soft knee switch that switches between the harder and softer attack modes. The soft mode offers more control over tone and can be useful for solos and other lead sections.
There's also the Auto mode switch that dynamically changes attack and release times according to your playing. Now, that's an advanced feature.
---
Walrus Audio Deep Six V3
Continuing the streak of high-end compressors, we have Walrus Audio with the third version of their Deep Six compressor.
The interesting part about its circuit is that it internally doubles the voltage, bringing more headroom to the tone. The effect is adjusted through the 5 basic controls for volume, intensity, tone, blend, and attack.
We could say that the pedal's build lives up to its tone and name, as it is one of the most robust pieces out there. Obviously, this makes it a valuable addition to live pedalboards.
---
Carl Martin Andy Timmons Signature Compressor/Limiter
Andy Timmons is one of the unrightfully underrated maestros of the guitar world. Carl Martin has designed and built Andy his very own signature compressor pedal.
It's not a complicated piece at all, but it has some interesting additions to it and makes some pretty unique compressed tones.
However, the pedal offers a 2-in-1 deal with two separate compressors in it. That's a pretty useful option for those who don't feel like tweaking a lot of knobs and switches but need two modes of compression during the same gig or a session.
While there are separate controls for compression intensity and output volume, threshold and response are shared and operated only through two simple switches.
---
Wampler Ego
We can talk for days about different compressor and limiter pedals that the market has to offer these days, but a lot of people are singling out Wampler's Ego as the best possible choice.
This pedal, that's become so popular among guitar players of all genres, adds significant versatility to the effect. It's especially popular among the fans of true bypass.
The controls are fairly simple and are the standard ones that you can find on most of the higher-end compressor pedals – sustain/intensity, tone, attack, blend, and output volume.
However, the tone-shaping is different and allows more flexibility compared to average compressors out there.
If you want a universal and fairly flexible piece without any complicated features, you should definitely check out Wampler's Ego.
Looking through their list of products and seeing how great their pedals are, it's safe to say you won't be disappointed with the Ego.
---
And that about wraps it up for now!  Have you used any of these?  What are your thoughts?  Comment below!