Just how important Megadeth was for the evolution and propagation of metal is easy to figure out. They've introduced a lot of new ideas that weren't necessarily present in the mainstream scene.
One more thing this band did was to show people that driving leads can push a song to a whole new level. When it comes to specific individuals who were responsible for Megadeth's popularity, the first name that comes to mind is Dave Mustaine.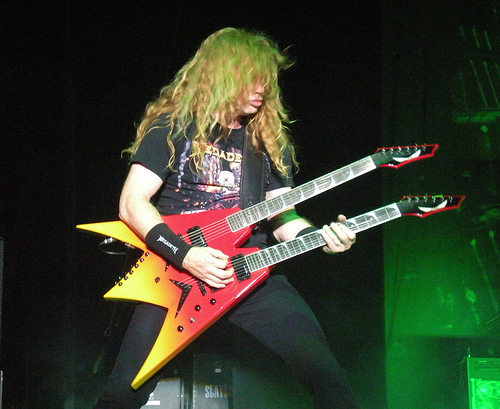 This talented guitarist/vocalist is known for using a variety of pretty interesting guitars. His sound is somewhat conservative but also very flexible.
Today we are going to take a look at what gear does Dave Mustaine use, and how you could go about replicating his legendary tone.  
Just to remind everyone who we're talking about, here's a clip of Megadeth playing live and you can hear that tone live and loud in this blistering solo from "She-Wolf"…
Dave Mustaine Preferred Guitars
We are going to kick things off with the guitars that Dave Mustaine uses.
If there's one thing that you can tell straight away, that is Mustaine's affection for Flying Vs and other 'unusual' guitar body styles.
He was also among the first to use electric guitars with two necks. With that said, let's check out some of the notable models he was seen using over the course of his career.
B.C. Rich Bich Perfect 10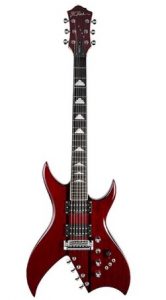 When he was just starting out, long before he ever laid his hands on a Flying V of any kind, Mustaine rocked a B.C. Rich Bich Perfect 10.
It was a decent guitar and still is. However, his relationship with this particular model didn't last for too long.
Soon enough the '80s rolled around, and Mustaine switched focus to some more interesting models that just started appearing on the market.
Hardcore Megadeth fans will still respect this particular B.C. Rich, and give it a certain amount of credit for Mustaine's success so far.
Up Next…
Jackson King V
As soon as Mustaine first saw this guitar, he changed camps for good. His love for Jackson began in the mid-'80s, and has resulted in an endorsement deal with this company.
Needless to say, he could choose whichever guitar he wanted at that point, but Dave still remained in the Jackson camp for a long while.
The significance of Jackson King V is the fact that it was one of the first Jacksons Mustaine ever played. Because of that, this guitar definitely deserves praise and attention.
Up Next…
Dean VMNT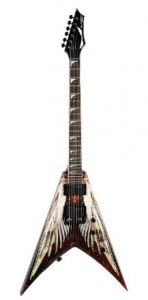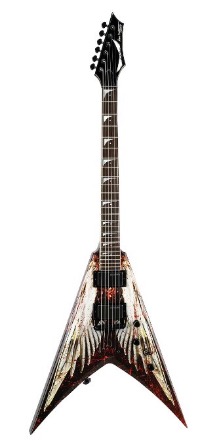 Mustaine's gig with Jackson wasn't the only endorsement deal he ever made with guitar manufacturers. Dean was another brand that was more than happy enough to work with this incredible artist.
Over the years they have released a number of Dave Mustaine signature model guitars that all featured the Flying V design.
On a similar note, he had a short stint with ESP as well, which also produced some Flying Vs based on Mustaine's input.
Up Next…
Dave Mustaine's Favorite Amps
When it comes to amps, Dave Mustaine started pretty simple but ended up using a variety of different brands and amp models.
What you will notice is that most of his amps, at least ones he is personally fond of, are various Marshall models.
Mustaine never really felt the need to swap them for anything else, while he included various preamps to get the desired effect.
Marshall JCM800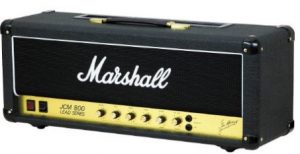 Back in the day, Marshall JCM800 was a very popular amp. It was used by a large variety of artists, but it just seemed to be naturally good at delivering a more than decent metal sound.
As a matter of fact, Mustaine used the JCM800 to record a number of Megadeth's initial albums. Ever since then, his love for Marshall has only grown.
Up Next…
Marshall JVM410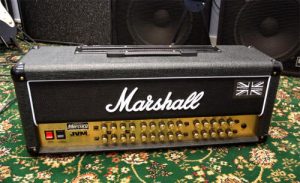 Another notable amp we have to mention is the Marshall JVM410. It has found its way into Mustaine's set-up quite recently, but he was more than happy to use it for a very long period of time.
Did it significantly change the sound of the band? No, not really. Marshall amps are Marshall amps.
They all share that same core quality which is the main reason why so many people love them in the first place. The Marshall JVM410 is just a more modern representation of that very sound.
Check for deals on the Marshall JVM410 on Musician's Friend
Up Next…
Dave Mustaine's Favorite Guitar Effects
If you've been listening to Megadeth for any significant period of time, you will know that Mustaine's tone is pretty conservative. Dave isn't a fan of large pedalboards that are filled with layers upon layers of distortions and overdrives.
His policy is to get the best sound out of those tubes and use that to achieve the wanted results. With that said, Mustaine does use some guitar pedals.
Zoom G2.1DM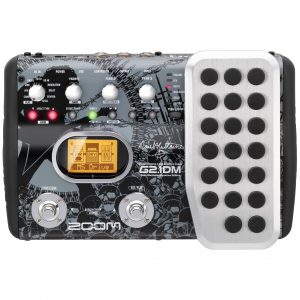 One of the most interesting things you will find in Mustaine's signal chain is this Zoom effects processor. Not only was it designed based on the input of this great guitar player, but it pretty much gives you that 'Deth sound straight out of the box.
In fact, it is so good that Mustaine himself uses it quite often. This is definitely not something you see every day. Usually, guitar players of his caliber will stay far away from devices like these. However, no one can deny the practical value of this unit.
Conclusion
What we showed you in this article is a rundown of Dave Mustaine's most notable gear. As you can imagine, he probably uses a much wider range of equipment than what we listed above.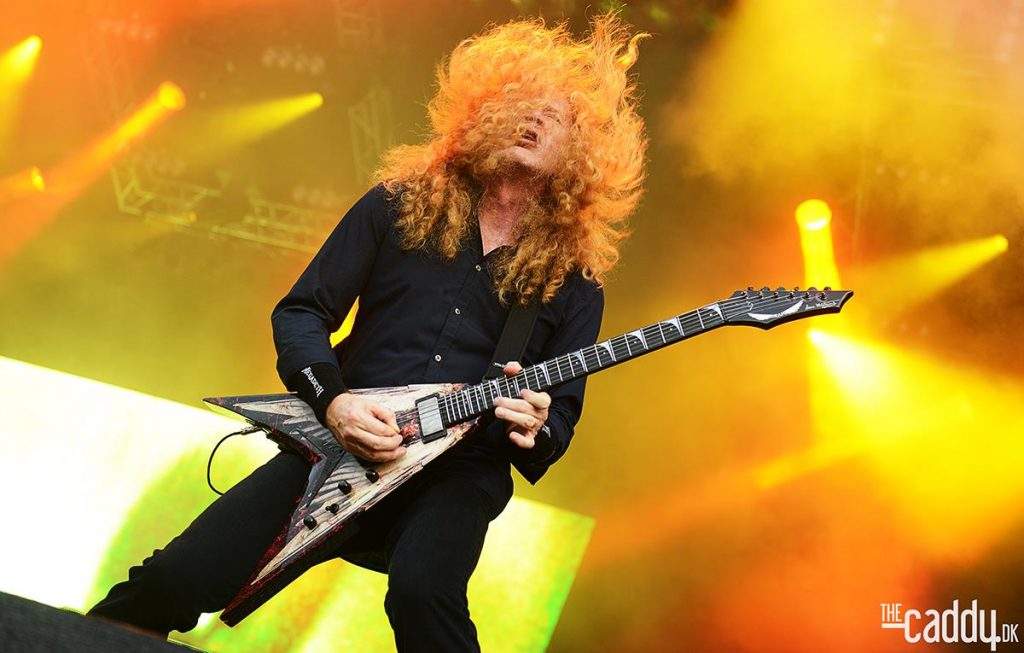 It's worth noting that most of that gear is rather stage-oriented stuff that you probably won't need to use anytime soon. The stuff we listed will be more than enough to perfectly replicate this tone.
Sure, it's not that complex of a tone to emulate, but if you want to literally mirror his setup, these instruments and accessories will get you there with the least amount of effort.
Mustaine's very simple and spartan approach to his gear has lead many to follow his example. This is especially true today when a lot of guitar players are ditching their solid state amps and are turning to more traditional tube  amps to get that organic sound.