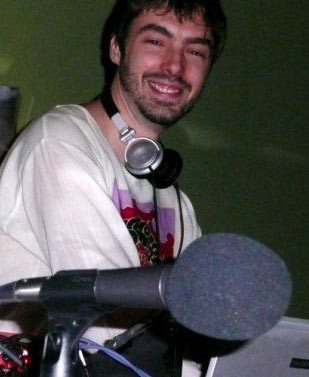 This is going to be a fairly unorthodox review of the Korg Triton Studio keyboard synth workstation (88-key version), because I will admit to you off the top that I am basically a newb.  As such, I can't say that I know everything about this formidable beast of a workstation / sampler / keyboard, but I do have some experience with using it, as it happens.  In fact, I recently made a full length album with the help of the Korg Triton, as well as several DAW's like Reason and Ableton Live, with the help of my buddy Curtis Maranda from Tiger Suit (pictured right).  The album we made is called All The Rad Snakes and I will link to it at the bottom of this review, if you're interested.  For the record, I am Young Coconut, musician and recording artist for Fauxtown Records.
So, rather than pretend to be a tech geek, which I'm not, I will try to keep this review on the level to what I actually know about the Korg Triton Studio.  So let's get started.
Shop Korg samplers on Amazon now
One thing I can tell you about the Korg Triton off the top is that it is heavy and long.  And it takes up a lot of space.  I'm going to guess that it's about 4 feet long, and frickin' heavy.  Drop it on your foot and see.  Triton is a fitting name for this thing, because it is sort of all powerful in terms of what it can do.  In fact, I don't even know all of what it can do – this machine is probably smarter than I am.  My familiarity with it comes from recording my album, and how I used it in particular.  I do know that this is more of a "retro" synth at this point, coming out in the '90's sometime, and possessing the ability to sound exactly like Fresh Prince of Bel Air if that's what you're after.  Many people use the Triton for beat making in a more serious and contemporary manner, such as this dude, King David of YouTube (BeatClass).
See, now this guy knows what he's doing.  I couldn't do that kind of thing by myself.  I still have miles to go when it comes to understanding all the ins and outs of this machine.  Be that as it may, let's continue!
The Keyboard
Now, the Triton is foremost I would say a keyboard, and authentic one at that.  The one I used has the full 88-keys like a legit piano, and the keys are weighted like any good keyboard should be if you're going to use it properly.  I'm not even a "real" piano player, but when I'm composing musical parts on a keyboard, I would say that the Triton has got to be one of the best I've ever used.  The keys are fully weighted as mentioned and when you bang something out on it, the sensitivity is there which you will need for certain dynamics in your song or playing.
Coupling the Triton with the Reason DAW in this case, I came up with many parts which we were able to make sound great just simply through performance on the Triton, and then in Reason we could make them sound even better by shifting a few notes around and changing the entire instrument sound as we are talking about MIDI notes here.  Here we are working on a new track and doing just that.  Playing stuff on the Triton and then fiddling around with the notes in Reason.  
For the album I did using the Triton, we did a lot of the changing of the sounds in Reason because it has some pretty good VST's, but Triton also has countless synth samples that can be accessed, and you can refer to those in the guide which comes with it that shows your options for sounds, and there are a vast number.  I actually feel bad I didn't use more sounds straight from the Triton, as you are definitely spoiled for choice in that department.  If you happen to get the manual along with this thing, it's basically a monster tome of like 100-200 pages.  It's not even called a manual, it's called the "parameters guide" or something.  These guys at Korg back in the 90's seriously expect you to be living the Triton life by handing you this guide.  You can put down the Bible or War and Peace because you will be too busy reading the guide to the frickin' Triton and basing your life around that from now on.
Aesthetics and Body
Another thing I can talk about re: the Korg Triton is just the way it's set up, and the overall look of it.  It looks great, IMO.  I love the silver grey body, and all of the switches and buttons are a uniform colour.  
This is sort of the opposite of a lot of synths and samplers today which light up and kind of look like the county fair.  The Triton is basically black white and grey, and I think it benefits from this utilitarian look.  You just get down to business right away – no distractions.  Even the computer screen it has sort of looks like a Gameboy – grey on grey.
Here's a little joke video we made giving you a little tour of the Triton.  Sorry about the colour of the video – I accidentally turned the contrast all the way up and hit upload.  I kinda like it, I guess.
If I was shopping for a keyboard and I was a real piano player, I'd do well to have this thing because it can be a keyboard or it can be anything you want it to be.  It is durable as you can ask for in a synth keyboard, and I've had a couple others in my time, such as a very hefty Yamaha which was somewhat similar to this, with less functions.  Now, take a look at the back of this thing for a second…
This is where my non-tech background comes into play.  I know it has lots of places to run things in and out, but this isn't really my area of expertise to be honest.
That said, it's not too hard to understand.  You've got your in's, your out's, and they do what they do.  It's all labelled quite clearly.  We had the Triton routed to some very large speakers – a Yamaha S215IV, as well as a Yamaha MSR800w.  This was for playback.  We also had it routed into the computer where we were using Reason and Ableton Live to put our tracks together.  We definitely weren't using the full functionality of the Korg Triton.  For instance, we didn't once use the SCSI port.  On the top side, we often used the toggle dial or the note-bender or whatever it's called.  The thing on the left – definitely a cool thing.  What we didn't do is play around with the ability to store samples and actually use this beast as the true workstation that it is.  You don't *need* to route the Triton into your computer, but most DAW's people use now are on laptops, so you're probably going to have to.  That said, the Triton can be self contained.  If you use discs, it allows you to pop those in and save and load things that way, which we never did.  
Conclusion
Sure, I know there's a ton more that can be said about the Korg Triton Studio.  But at this point I'm too ignorant to be the one to say much more.  I would say if you have access to this studio workstation, do use it.  I can't see how you'd regret it.  If you get the chance to buy one, I'd recommend that also if you have a music production studio with all the trimmings.  This thing calls itself a "studio" and it is not kidding. 
If you have any comments about your experiences with the Korg Triton, please let us know in the comments below.  We love to hear from people!  Also, here's my album that I made with the help of the Triton.  I can answer more specific questions if anyone has any.  Thanks for reading!