Last Updated on
By Youtube Music Sucks
We're reviewing the InnoGear MU007 Cardioid Condenser Studio Recording Microphone.
This is a microphone that can be used to record your voice in your own home. You don't have to be a professional voice over specialist or a professional podcaster to use this microphone, but, if that's the case, this mic wouldn't be a bad choice either.  
It is, however, just perfect for those just starting out who want to record their voice.
Who Would Benefit from the Microphone?
It's great for those who want to start podcasting. People who want to do voice overs of videos or start reading audiobooks professionally can all use this microphone. It's simple to set up and doesn't require tons of extra equipment.
What's Included?
MU007 microphone
Shock mount
3.5 mm audio cable
Anti-wind foam cap
User manual
Innogear Mu007 Professional Studio Broadcasting & Recording Microphone Set Cardioid Condenser Mic With Shock Mount Ball-Type Anti-Wind Foam Cap And Xlr Cable
Noise Reduction
The shock mount as well as the cardioid pattern makes for less noise picked up during the recording. Whether you're recording yourself for a podcast, voice over, interview, lecture, or audiobook, unless you're in a sound-proof booth, you'll need to reduce the noise in the room.
It's incredible the amount of noise that we can ignore because we're used to it. A fan softly running in the background can become as loud as a jet engine over a recording if you don't take advantage of the right kind of microphone pattern for capturing your voice recording.
The best microphone for voice overs will be the one that reduces all the background noise and leaves you with a clear rendition of your voice.
This cardioid microphone has the option for an omnidirectional input and figure-8 that favors recording sound from the front.
Reason for a Shock Mount
You'll want to have a shock mount with your microphone. This mic has one included with the cost of the mic itself, which is incredibly convenient.
The shock mount fastener will keep the parts of the mic together as well as provide isolation from vibrations. While they can protect from damage, their main purpose is to keep the mic safe from mechanically transmitted noises.
Those noises could come from vibrations in the floor, the desk, a person's hands on the mic, and noise through the pole. When you want clear recordings, all that noise has to be removed as much as possible.
Frequency Response
The flat response of this microphone is in line with most mics that record vocals. It's between 20Hz – 20KHz, which is the most accurate frequency response for creating an accurate representation of the recorded voice.
This makes the Innogear MU007 a good mic for vocals, whether it's voice overs, audio recordings, or podcast recordings.
How is the Microphone Powered?
You can power this microphone with your desktop computer. If you plan on using a laptop for your recordings, you'll need to ensure that the computer is plugged into an outlet, or it'll completely drain your laptop's battery very quickly.
If you would like to make this a portable recording device with your laptop and microphone, you can purchase a separate 48V DC power supply. The company recommends Phantom Power. The power supply requirements can actually have an impact on the sound quality, so keep this in mind when ordering.
Easy Set Up
Once the microphone is removed from the box and connected to the computer, you can open the control panel on a PC. Press the Windows key and type control panel if you don't know how to open the panel.
Under hardware and sound, you'll be able to adjust the sound settings. In that window, you'll be able to see the option for recording. It'll have the computer's default recorder checked. Change this to the microphone you just plugged into the computer.
For a Mac, click the Apple icon and find system preferences. Select sound to make changes to the microphone.
You don't need added software to install the microphone for use with your computer. If you need to change the settings of the mic, click the properties button then save any changes you make.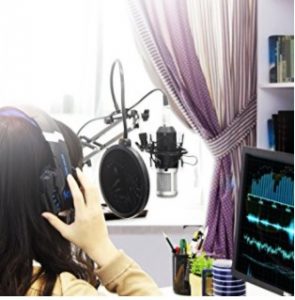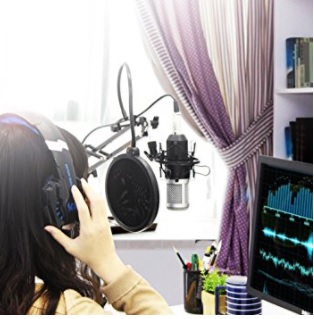 Your Computer's Sound Card
This microphone is compatible with a variety of computers from a Windows system to a Mac as well as older computers. Before purchase, though, you should check your computer's sound card to be sure you'll get the best sound.
This isn't a problem with this specific microphone, it's one you'll have if you're trying to record on an older computer. Old computers have a 3V sound card while a new computer will have a 5V sound card. The 5V records better sounds than a 3V.
Frequently Asked Questions
Will this work if I pull it from the box and plug it directly into my desktop computer?
Yes. You won't need a separate power supply when using a desktop.
Do I need software for recording my voice?
Definitely. There are plenty of programs for you to use like Audacity or Camtasia that can be downloaded from an online source. They're not included with the mic.
The InnoGear MU007 Cardioid Condenser Studio Microphone is great for anyone who wants to record their own voice for professional or personal purposes.