Synthesizers! They are so cool, right?  You take the most reliable aspects of a computer – programmable, reliable in its mathematics – attach a keyboard; amplify the sound through electronic speakers and be taken to another dreamy and sometimes intense world.
Synthwave today is a lot different from 70's and 80's synth-pop, the genre that spawned it. The very first wave of synthesizer music was used for science-fiction and action movies.
Once the 1980's settled in, synths became more common, but the people who used synths were often considered "nerds" and "dorks", as evidenced by scenes like this from "Revenge of the Nerds".
Synths, at this point, were not as accepted and cool as they are now.  In the beginning, when they were just getting used by regular musicians for the first time, they were stereotyped as being a bit dorky.
That said, the "nerds" who used them of course loved them.  Tru composers would use the powerful, electric synthesizers to make futuristic, space-like musical sound, resulting in grand, otherworldly sounds that would go on forever, or at least until the player lifted their fingers.
Who Invented The Synthesizer Keyboard?
Its different keys and programmable functions made it a favourite for many artists. It was very first invented in 1876 by Elisha Gray (when it was called the "musical telegraph" and further developed in the late 1950s.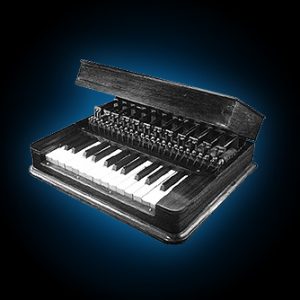 You will notice a growing use of synthesizers in music from the 1960s and especially by the end of the decade as we moved from a folk sound with bells, mandolins and flutes to a slower, electrified, building thunderstorm that would spit down prog-rock by the end of the decade.
Of course, into the 1970s, we have more prog-rock and a new synthpop emerging: bands like Kraftwerk, dressing and moving as cyborgs/robotic humans. Entertaining, intelligent and a little eerie. They called it machine music.
You ask most people today what synthesizers remind them of, and they'll likely say "The 80s." And it was indeed a very good decade for the synthesizer.
For the proliferation and abilities of new technology in the 1980s damn near required every movie soundtrack or pop song to include a synthesizer.
Okay, okay, we joke – but try it. Ask someone about the synthesizer and if they mention the 1980s you owe us $80. Synthesizers were also big for video game music and the like.
The First Popular Synth-based Artists
These first artists like Depeche Mode or Ministry or Yazoo did not refer to themselves as synth-pop necessarily; this was rather a colloquial description that would soon become a cashable genre in which to pigeon-hole oneself.
To get a good idea of what synth music of yesteryear sounded like, look no further than this mega synthpop playlist:
Whatever synthwave was in the '80's (synthpop), synthwave as we know it today is different, but has similarities, of course.
Modern synthwave took root in the early 2000s, and it is more of an underground culture of music-makers who have a significant appreciation for old video games and 1980s movies.
It is utter nostalgia for anyone who was a kid in the 1980s; very much a curiosity and new experience for anyone who is a kid (rather, a teenager) in the early 2000s.
It certainly gives that feeling of cruising down a digital highway or playing a virtual game of golf, but it also gives one the feeling of a certain indescribable nothingness – an utterly inexplicable grips-you-at-your-core-this-ride-is-coming-to-an-end type of feeling.
The way nostalgia does. But it is all the more peculiar to feel a nostalgia for something you did not previously know.
And then we run into our dystopic futurism, evoking motion in darkness, nocturna; underground gothic nightclubs and smoke machines. A drive, an aura of invincibility, a harnessing and becoming.
With that, we now present to you:
10 Synthwave Artists You Should Know
Based in Paris, France, James Kent performs as Perturbator, combining the tingling fear one gets from horror movies with melodies you might hear on a metal guitar and spitting out epic, fear-inducing video game sounds that are utterly motivating.
This makes sense when you learn that Kent played in several black metal bands before releasing his solo synthwave sounds. There is an utter seriousness in his music, a sense of danger; sometimes you're the hunter and others you're the quarry.
Yes, Perturbator lives up to his name, perking curiosity with his instrumental compositions, giving the listener a bit of uneasy uncertainty and spilling out into unfurling relief, all to heavier, faster beats that would be great for driving, dancing and other physical activities.
Carpenter Brut is another French artist, from Poitiers. His real name is Franck Hueso but that's about all he wants you to know about him, preferring the music to be focus.
He has opened for metal bands like Ghost and produces sounds to fill arenas, performing live with guitarist and drummer.
His work is dark and danceable: the sounds are large and pummeling like large bullets that would pierce and shoot adrenaline right through you, but you'd feel no pain.
With song titles like 347 Midnight Demons or Inferno Galore, his work has a real dark tone, but it's wholly and completely empowering. Make sense?
Waveshaper embodies retro/throwback synthwave just perfectly, with music that is very 80s-inspired, purposely crafted to replicate the fuzzy keys of that decade.
Waveshaper is a film composer creating retro-inspired sounds that weave in and out of each other like – well, waves. And this is entirely noted and intended by the maker: waveshaping refers to the altering of a waveform in electronic music so as to distort the sound.
There is a certain truth and intensity to all synthwave music, since its electronics produce sounds that, as we said, play on interminably, until the player lifts his fingers.
There is a calmness to Waveshaper reminding one of a cruise down a digital highway, just like we previously mentioned.
Kavinsky has also played with Justice from which you will probably recognize the funky, dance-inducing waveshaping of drilling both high and low keys within soundscapes taking one to unprecedented lands.
Unlike the first three synthwavers on our list, some of his songs feature vocals. He is also from France; full name Vincent Belorgey. His stage identity is about a man who crashes his car in 1986 and resurfaces as a zombie, 30 years later, to make music.
Phoenix's vocals and musical style are very 80s synth pop, conjuring impressions of Janet Jackson or Madonna.
If you are craving synth music with lyrics, check out this Torontonian. Falsetto choruses, distorted vocals, sweet and syrupy whispers over killer synth beats.
Droid Bishop is an Australian musician. His work provides a super chill atmosphere that you can get lost in. It's impossible not to groove out when you hear his music.
There's a real fantasy element to his work, something magical and reassuring. Imagine, if you can, thousands of stars descending gently upon you, enchanting and electrifying you: that's the effect Droid Bishop will have on you.
Great for nighttime drives. Can't help snapping your fingers to this one.
Scandroid is a synthwave artist from Detroit, Michigan, who writes android love stories to strong, punching beats with a rocky vibe. Like a heavier Depeche Mode.
It is absolutely the kind of energizing, emotive stuff you want to hear when you're going out for the night.
8. Miami Nights 1984
Before we even heard the music we knew it would be hot, sexy and totally vintage. Picture cruising down rows of palm trees in an '84 Mustang with big old aviators and neon tiger print.
Miami Nights 1984 is on a mission. You get the perfect mix of 80s synth sounds mixed into some real quality samples. Also, they win Favourite Album Art on this list. 
Nick Force. This artist truly appreciates, embodies and celebrates the 1980s in everything from his music to the aesthetic (80s female models and cars) to his logo.
Not much is known about Nick Force other than his synthwave music projects: he is known for being featured on the Drive soundtrack (2011). His sounds are on point with the coolest 80s pop tracks you might hear on the radio, mixed with a bit of disco funk.
The kind of coolness you'd throw on during a heatwave. His songs usually take on a slower tempo than others on our list, so if you're looking for some really chilled out synthwave, check him out. Laid back and cruising. That's Nick Force.
Akahandsdown is based in Pärnu, Estonia. They bring a rather unique element to this list, and that element is pure magic.
We've commented on the magic and fantastical qualities of other artists, but AKAHANDSDOWN transports one to a land of glistening ice crystals and faeries, shimmering constellations and utter peace.
They make retro music and music for movies.