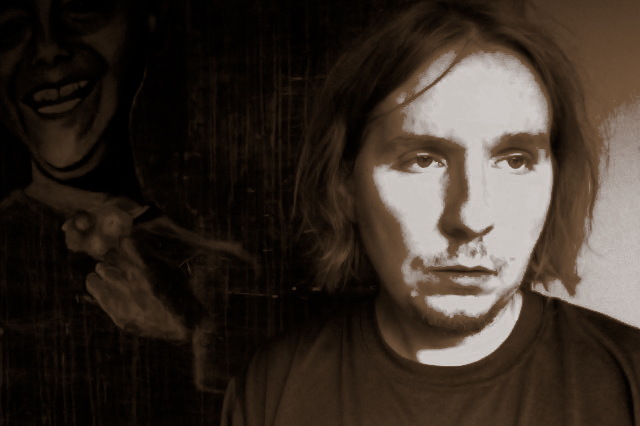 Young Coconut is the co-founder of the Fauxtown Records collective out of south-western Ontario, and has been associated with many of the bands that have been known to hoist up the Fauxtown Records banner, such as Try Hardz, Childebeast, Vanity Plate, The 'Rents, Lazu Lie, Whatever, The Approachables, Tiger Suit, and Yim Tin Tam.
The way Young Coconut fits into many of these groups is usually as a principle songwriter, composer, producer, and sometimes front guy.  In other words, he does a lot of shit, but he often finds himself back in the role of band front person.  This role he often takes on a bit reluctantly and mostly out of necessity… 
"Usually, I'm bringing a lot of my own songs to whatever band I'm in, so it just seems to make sense that I play them and sing them.  Although I would often rather just play drums."
Here's a song he wrote with his old band, Yim Tin Tam, who broke up.  Actually this song is by an even older band he was in called guard!, who broke up way before that.  For this recording, YC is playing drums and helped write the song in the first place.  
With all these bands breaking up, what keeps Young Coconut involved with music these days?
"Personally, I just like writing songs, and I like performing them.  I'll probably always do that.  I may not be the best guitar player, but I enjoy performing my songs.  Also, its fun to be in a band when the band is functional, ya know?  But mainly, these days, I just record stuff when I feel like it and release it however I want."
Yep, over the years, Young Coconut's recorded output has been slowly stacking up.  With albums like Bieber Heads, The Approachables' Cemetery Sweets, and Vanity Plate's Blown To Stardust, YC has been fairly busy making music.  The style of music is always changing from project to project, whether its electronic, rock, rap, psychedelic, etc.
Take a listen to this track, called "Sabrina", from Bieber Heads, which is a collaboration between Young Coconut and Curtis Maranda of the band Tiger Suit.  More of an electronic feel…
Where does he get his inspiration from?  He says its from listening to a lot of music. "Yeah, I listen to a lot of shit.  All kinds of stuff, from pop, to rock, to jazz, to classical.  Not only that, but a lot of my musician friends have had a big influence on me over the years.  I know some very talented people, I must say."
Here's another song of his with a different flavor – Hangin' With The Clones from his album Stand Back, that he recorded with Eric St-Pierre of the Timeless Void and his co-conspirator in the band Whatever.
That said, Young Coconut isn't just a happy-go-lucky guy that loves all music and thinks everything is just great.  On the contrary, he says, "Yeah, there's so much music that I really hate. How could I not?  Some music just fucking sucks, so I feel the hate is justified.  I could get drunk and list of hundreds of bands that I think suck and tell you exactly why, but why bother?  Still, I think its important to know what you don't like musically, and why, in order to define what it is you do like.  Its all educational."  
You can call Young Coconut a hater, and maybe that's somewhat true… "People always say I'm a snob or whatever when it comes to music.  Sometimes somebody be like, why don't you like this <insert shitty band or godawful singer songwriter>?  And I'm like, yo, because its terrible and you have no taste, apparently.  <sigh> I'm just picky, what can I say?  Isn't it good to be kind of picky in life? Otherwise, you just do random shit like hook up with super lame people who suck your soul and then you have no personality left for yourself.  Oh, and then you marry someone who has very little taste in music and you end up listening to shitty bands for the rest of your life. Have fun with that…"
Here is a song that Young Coconut didn't write – it was written by his friend M.D. Edwards AKA Matthew Davey when they were both in the band Lazu Lie.  YC drummed on it – he likes to get behind the kit when he can!
To hear more songs, see videos, and more, check out Young Coconut's personal Youtube channel, where he posts personal playlists of favorite songs, podcasts, as well as his own material.  Oh, and don't forget to SMASH THAT MOTHERFUCKIN' LIKE BUTTON!